Did you know that dog food can go stale? If you buy kibble in bulk, don't just leave the bag open. Once air gets in, it causes the kibble to oxidize, which results in the degradation of Omega-3 fatty acids and other healthy nutrients in the food. And this can happen in less than two weeks after you open the bag. The easy solution is to keep your kibble in an sealed dog food container or better yet an airtight storage container. Here are our top picks for popular and unique dog food storage containers.
At A Glance: Best Dog Food Storage Container For…
| Airtight | Movable | Design | Travel |
| --- | --- | --- | --- |
| | | | |
| Unique Dog | IRIS USA | simplehuman | Unique Dog |
| | | | |
| | | | |
Best Dog Food Storage Containers
We based our best dog food container rankings on several factors, including durable and airtight construction, user reviews, pricing, and more.
Best Airtight: Gamma2 Vittles Vault Review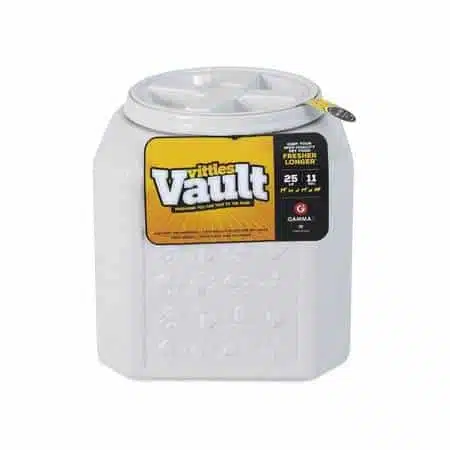 Gamma 2 gets our nod as the best airtight dog food storage container. The heavy-duty, FDA-approved food-grade plastic is BPA-free and completely recyclable. These tubs have an easy spin on-and-off top and molded handles, so they're easy to carry. Gamma2 also carries a line of stackable dog food storage containers if you have multiple dogs or cats eating different diets. Our pick for the best airtight dog food container comes in a variety of sizes as well.
| Pros | Cons |
| --- | --- |
| Made from high-density polyethylene, FDA-approved food-grade plastic | Some users complain that the seal breaks after time |
| BPA-free | No wheels |
| Airtight seal | |
| Recyclable | |
| It comes with a one-cup scoop | |
| Stackable options available | |
| Made in the USA | |
Price
Best Moveable: IRIS USA Nesting Airtight Pet Food Container Review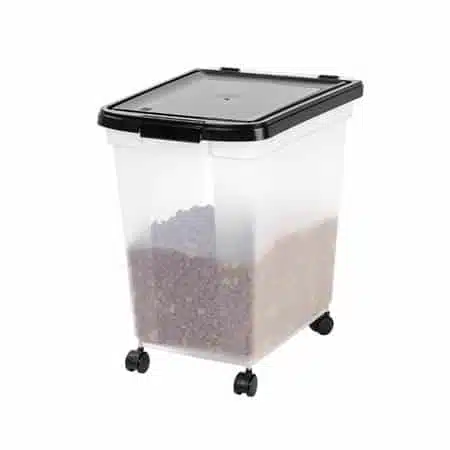 The IRIS pet food container is a super-budget buy. The plastic is BPA-free, and they have an easy snap-tight latch on the top. They're also translucent, so it's easy to spot at a glance when food levels are getting low.
And the two largest sizes include four free-wheeling casters, so you can easily roll them in and out of your pantry. This container doesn't come with a scoop, but here's a dog food scoop we recommend.
We have used this container to store our dry dog kibble for 6+ years. We hold the contents of an entire 30lb bag of food inside, keeping it fresh. The plastic lid hinges come unattached regularly, but it is easy to fit them back together and continue using it with no issues.

– Michelle S., Canine Journal
| Pros | Cons |
| --- | --- |
| Budget-friendly | Must purchase scoop separately |
| BPA-free | Some users say that the snap lid breaks easily |
| Airtight seal and easy snap-tight latch | |
| Two large sizes come with casters | |
| Stackable (when wheels are not attached) | |
| Made in the USA | |
Price
Best Design: simplehuman Pet Food Storage Can Review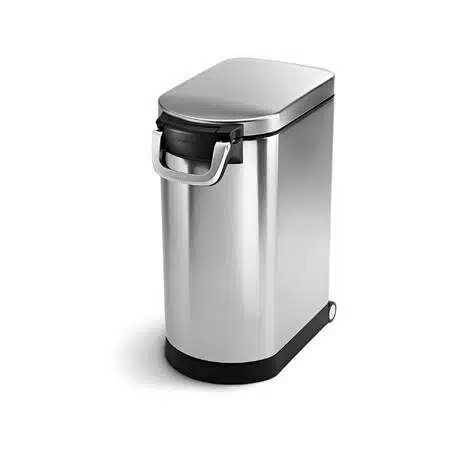 Want something more aesthetically pleasing than plastic? This metal dog food container is a much more attractive, albeit expensive, option. Simplehuman's airtight storage bins are brushed stainless steel and have a removable BPA-free inner food-safe bucket.
The lock-tight handle is easy to open and close. And built-in rear wheels make these bins easy to maneuver around.
| Pros | Cons |
| --- | --- |
| Attractive design | Expensive |
| Removable BPA-free inner food bucket | Available in fewer sizes |
| Lock-tight handle forms an airtight seal | Several complaints that they arrived dented |
| Magnetically mounted scoop under the lid | |
| Built-in rear wheels | |
Price
Best Travel: Unique Dog Travel Bag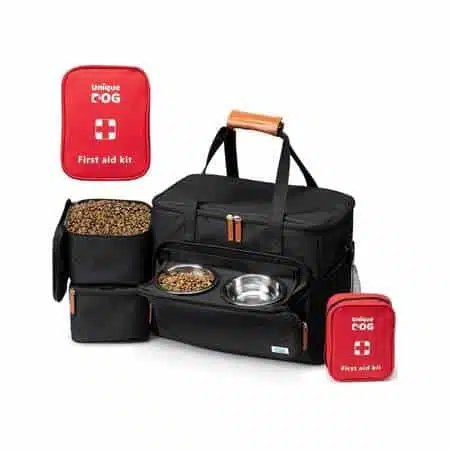 The Unique Dog Travel bag is perfect for parents on the go. It has a fold-out food and water storage stand elevated off the floor and comes with two stainless steel bowls. There are pockets and ample storage to carry extra food, toys, treats, and more. The bag also has a mini first-aid bag for dogs, so you can fill it with your dog's medications or supplies your pup might need.
| Pros | Cons |
| --- | --- |
| Waterproof material inside | Big and bulky |
| Affordable | Most suitable for one dog |
| Removable stainless steel bowls and first aid bag included | Limited storage space |
| All in one bag with ample storage space | |
| Multiple pockets | |
| 30-day risk-free guarantee | |
Price
Best Wet Dog Food Storage Options
You don't have to find separate storage containers for wet dog food because it comes in cans. But if you find yourself only using a partial can, you can store it in the fridge for up to 5-7 days — as long as you cover it. These BPA-free silicone pet can lids will fit most standard wet food cans for dogs and cats. They're FDA-approved, non-toxic, and dishwasher-safe.
If you make your own food or looking for a container to hold larger portions of wet food safely, we recommend a Pyrex glass storage bowl and lid. It will keep your food safe from plastic BPA contamination and is freezer, microwave, and top-rack dishwasher-safe.
Tips On How To Store Dog Food Properly (Video)
Check out this brief video for some handy tips on what to consider when storing your pet food.
Dog Food Delivery Services
No time to shop for dog food? Consider having your dog food delivered right to your door. These dog food delivery services can be a huge time saver. Our reviews include companies that deliver all-natural kibble, fresh, human-grade, and traditional dog food. Some companies also allow you to set up recurring shipments so you never run out of food.
Tagged With: Comparison