Best For…

Overall

Puppies

Braided

Odorless

Springs
You might have heard about bully sticks or seen these brown bones at the pet store. But what are they, and are bully sticks suitable for dogs? There are many reasons dogs devour bully sticks. We'll share the pros and cons and which are our top picks for each category.
Article Overview
What Is A Bully Stick?
Well, you may not want to know this but bully sticks are dried bull penises. Another name for a bully stick is pizzle, a word derived from the Middle English word for penis. If the blood and urine have been drained from the organ before it is dried, this "odor free" product should have less of a bad smell when your dog chews it. Also, the longer the stick is dried, the less it will stink. You may also have heard of "junior" bully sticks that are thinner and made from castrated steers.
Benefits Of Bully Sticks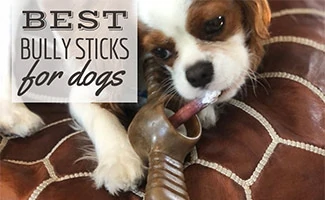 Dogs and pet parents love bully sticks because they:
Provide a good source of protein
Contain taurine (an amino acid that contributes to healthy heart muscles and eyesight)
Are tough and effective at keeping teeth clean
Last longer than other products like rawhides or manufactured bones
Give mental stimulation and reduce anxiety
Bully Stick Negatives
On the flip side, bully sticks can be:
Expensive – Because they are pricy, we recommend getting a holder to help lengthen how long they last.
Smelly – while dogs might enjoy the smell, many people find the odor offensive. Luckily there are odorless bully sticks available. We give our top picks for both in our reviews below.
High in calories – Bully sticks are yummy, but they can put pounds on your hound's yummy. For that reason, we recommend that you don't give your dog more than two to three sticks a week. If your dog is medium to large and active, then it wouldn't hurt to give to them daily (and you might want to adjust their caloric intake accordingly to account for the extra treat). Talk to your vet first to decide what frequency is ideal for your dog.
Are Bully Sticks Safe For Dogs?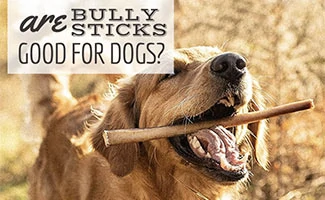 Unfortunately, there is not a clear answer when it comes to the safety of this product. Most veterinarians and websites will tell you that bully sticks are perfectly safe and digestible. However, it's debatable if bully sticks are ethical, and some worry that they are high in calories or contaminated with bacteria.
But, if you decide the pros outweighs the cons, you will find our bully stick recommendations include natural and high-quality ones. As long as you keep an eye on your dog to monitor him for choking, they can be a good treat when consumed in moderation. Also, make sure you get the right size sticks for your dog. Learn more about the safety of bully sticks for dogs.
Bully Stick Reviews (By Type)
You have several options for bully sticks. We pick the best brand bully sticks based on reviews, ingredients, value, popularity, and more. Click on the menu below to jump to a particular category, or keep scrolling to read all of our bully sticks for dogs reviews.
Size Matters
Note before you buy: you should get bully sticks that are 6″ for small and medium dogs and 12″ for larger dogs. If the bully sticks are too big, your dog can't chew them; if they are too small, your dog could choke.
Best Overall: Best Bully Sticks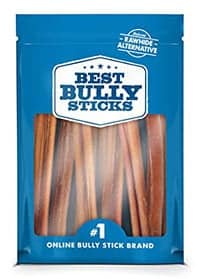 View Best Bully Sticks at Chewy
We recommend Best Bully Sticks as our best overall pick. Best Bully Sticks sources many of its products from the U.S. Their sticks are 100% all-natural and USDA-approved. They come in multiple shapes — bully pretzels, spirals, braids, bows, and more. Best Bully Sticks offers odor-free sticks, and Chewy offers an auto-ship option that can save you 5%.
Price
Best Bully Stick Subscription: Bully Bundles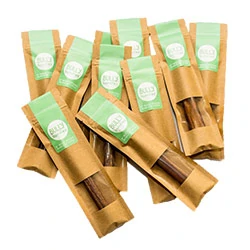 View on CrateJoy
If you want bully sticks delivered to your door regularly, a subscription service might be a good solution. With Bully Bundles, you can choose 6″ or 12″ sticks and quantities anywhere from 6-60 sticks (30 for 12″ sticks). They send your first shipment when you order, and you'll receive it within 2-5 business days. Bully Bundles' sticks are low-odor, chemical-free, and 100% natural. You save 15% if you pay upfront for six months worth of deliveries, and you can skip or cancel anytime.
Price
Best Bully Sticks For Puppies: Nature Gnaws Small Natural Dog Chews
View on Amazon
Nature Gnaws' extra-thin natural dog chews are the perfect size for puppies. Because they are soft, these sticks are more gentle on a puppy's teeth. Nature Gnaws partners with farms in South America to source their beef, and they clean their chews without chemicals (only water). All bully sticks go to a certified food-safety lab, and each chew is hand-inspected to ensure high quality. Plus, they're packaged in the U.S.
Price
Best Braided Bully Sticks: Natural Farm Braided Bully Sticks
View on Amazon
If your dog is big or a heavy chewer, he might need something a little more sturdy, like a braided bully stick. Natural Farm's braided bully sticks use grass-fed Brazillian beef. They slow-oven bake their sticks and use no hormones, chemicals, or additives. And their braided bully sticks are also odor-free. Nature Farm's packaging is eco-friendly with recycled plastic, and they donate a portion of the proceeds to shelters and dogs in need.
Price
Best Odorless Bully Sticks: Jack & Pup Odor-Free Bully Sticks
View on Amazon
Jack & Pup sources their bully sticks from grass-fed, free-range cattle without any hormones or antibiotics. Their "odor-free" sticks are hand-inspected in USDA Human Grade Certified facilities and prepared by boiling, roasting, smoking, and then drying them. The multi-step process locks in natural flavors and the long dry time minimizes odors. Jack & Pup sticks come in various sizes and thicknesses, so they're a yummy, non-smelly option for pups of any size or chew level.
Price
Best Springs: Pawstruck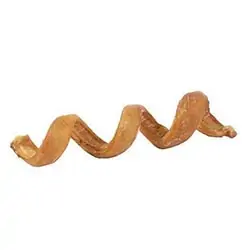 View on Amazon
If your dog gobbles down bully sticks quickly, a spiral-shaped spring might be more of a challenge to chew. They're slightly more expensive than other bully sticks, but the curly shape makes them last longer. These springs from Pawstruck are made with all-natural, slow-roasted beef muscle, harvested from free-range and grass-fed cows, ensuring high quality. There are no artificial chemicals or preservatives, and they are odor-free. Crunchy for dental health but soft enough to absorb flavor and digest safely. Subscribe and save 5%.
Price
Our Personal Experience
Georgie the Cavalier with Pawstruck Spring Bully Stick

Pawstruck sent us a sample of springs to try in exchange for an honest review. Our Cavalier King Charles Spaniel puppy loves them! Typically he'll gnaw through a bully stick or duck foot in 10-15 minutes. But these springs last for hours. The curly shape also helps him grip it better than a traditional stick. There was no odor, and it was effortless for him to soften the bone with his saliva. -Sadie C., Canine Journal
Best Bully Stick Holder: Benebone Real Bacon Durable Interactive Pawplexer Dog Chew Toy
View on Amazon
Bully stick holders help your pup slow down during the chewing process. With the stick in a holder, your dog will have to work harder to get it. Many holders roll or turn it into a game, making it more fun. It can also assist your pup in the chewing process by having something for him to grip.
We've tested several bully stick holders over the years, and our current favorite is the Benebone Pawplexer Dog Chew Toy. It's more durable than some of the other rubber alternatives and gives dogs a better angle to chew their stick. The best part? The holder is flavored with real bacon to enhance the fun.
Our Personal Experience
We have a Benebone Pawplexer Dog Chew Toy for our Cavalier King Charles Spaniel puppy, and he loves it. The weight is a bit heavy for him, but he's still able to pick up the bully stick in the holder and carry it around to his favorite chewing spot. And the larger size prevents the stick from falling into cracks in the sofa or allowing him to hide it. Without the holder, he'll gobble his stick right up. But the Benebone Pawplexer lets him enjoy the stick longer. It's easy to add and remove the stick from the center of the toy. – Sadie C., Canine Journal
Price
Dog Eating A Bully Stick (Video)
Want to see what a dog chewing a bully stick looks like? Watch this Husky chew and lick his bully stick — it's almost therapeutic to watch.
Best Alternatives To Bully Sticks
Are you looking for a more traditional savory snack for your pup? You might try one of these rawhide alternatives or check out our best dog treats article. If your dog loves to chew, you might also consider one of these indestructible doy toys or a subscription box for heavy chewers.
What's you biggest praise or concern about bully sticks?