To sustain this free service, we receive affiliate commissions via some of our links. This doesn't affect rankings. Our review process.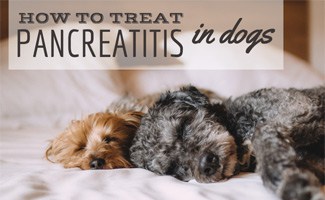 Pancreatitis, or inflammation and swelling of the pancreas, is a painful and seldom-understood affliction that affects dogs worldwide. While spontaneous canine pancreatitis is not particularly well understood, veterinarians do have an idea of the causes that contribute to this condition, its related conditions and symptoms, and treatment methods to lessen symptoms. Navigate to the section of the article that interests you:
What Is Pancreatitis in Dogs?
Get 3 Free Pet Insurance Quotes
The term pancreatitis refers to the general condition of inflammation and swelling of the pancreas.
There are two degrees of pancreatitis in dogs recognized by the veterinary community: mild and severe. There are also two variations of pancreatitis that describe the length of time which your dog has suffered from the condition: acute and chronic
. Acute pancreatitis is when the condition is sudden in onset, and there is no previous sign of the condition existing. Chronic pancreatitis is when pancreatitis occurs over a period of time. When the condition occurs suddenly in a dog, it takes many owners by surprise, and it can also cause a considerable amount of pain for the affected dog. The pancreas is a small organ shaped like the letter 'V,' sitting directly behind the stomach and the small intestine. The pancreas is responsible for producing specific enzymes that are used to promote digestion and enable the body to absorb fats in food. Without the pancreas, dogs would have no way to absorb nutrients from food.
Symptoms of Mild Pancreatitis
There are quite a few different symptoms of pancreatitis, and not all dogs show the same ones when they experience this illness. One of the most common symptoms seen in dogs is distention or pain in the abdomen. A dog with a distended abdomen will appear bloated and uncomfortable, unable to find a comfortable place to lie down. Your dog may also flinch or whine if you touch their abdomen. It is important to mention that other conditions can cause this symptom, including canine bloat, a serious condition which requires immediate medical attention. (For more information on canine bloat, and how to tell the difference between it and pancreatitis, see our Canine Bloat article)
Dogs with pancreatitis can also display the following symptoms:
Dehydration is often caused by a lack of appetite or thirst because eating and drinking elevates discomfort and pain.
Appearing hunched over when standing or walking is also commonly seen as well as bloat. Dogs walk this way because of the pain and pressure felt in their abdominal area.
Vomiting.
Diarrhea that often appears greasy and yellow in color.
Fever.
Symptoms of Severe Pancreatitis
Dogs that are experiencing more severe cases of pancreatitis may display the symptoms listed above; however, it's more likely that they'll exhibit more serious symptoms that, if left undiagnosed and untreated, can be life-threatening. Some of these more serious symptoms include:
Disseminated intravascular coagulation (DIC) is a condition in which multiple hemorrhages can take place resulting in possible death.
Heart arrhythmia can occur in more severe cases of canine pancreatitis.
Sepsis is also something that can occur if a severe case goes untreated. Sepsis is a body-wide infection that occurs when toxins are released into the blood.
Can cause difficulty breathing.
In the most extreme cases, the pancreas and the organs surrounding the pancreas can be digested by pancreatic enzymes that are released from the ruptured pancreas. Once organs become partially digested, the damage that has been done is irreversible.
What to Do if you Suspect Pancreatitis in Your Dog
If you suspect pancreatitis in your dog, the first thing you should do is to ensure that your dog is in a stable condition. The next thing you want to do is to get your dog to your regular veterinarian. If your dog begins to display signs of the condition when your veterinarian is not on duty, your vet clinic may have a vet on call. Otherwise, they will refer you to an emergency vet's office. It is crucial that you act quickly if you do suspect the condition as it can worsen and, not only cause your dog significant pain but can even kill them.
How Will my Vet Diagnose?
Another commonly asked question is: How will pancreatitis be diagnosed by the veterinarian? There are a number of important factors that play into an accurate diagnosis, including your dog's medical history, a physical examination and laboratory testing.
Your Dog's Medical History
Your dog's medical history is important because dogs that have experienced a bout of pancreatitis once are far more likely to experience it again during their lifetime. If your vet has already treated your dog for this condition, then it is likely that they (and you) will be able to recognize signs right away. The age of your dog can also play a part in the risk for concern, as older dogs are more susceptible to suffering. Lastly, any current medical conditions may also play a part in your dog being diagnosed. While going over your dog's medical history with you, your vet will also ask about current symptoms you have observed that lead you to suspect pancreatitis.
A Physical Examination
A physical examination will allow your vet to determine whether your dog is exhibiting any of the physical signs of pancreatitis. If you have already mentioned swelling in the abdomen or any of the other "tell tale" signs of this condition, your vet will confirm this with a thorough physical examination. Don't be surprised if your veterinarian notices physical signs that you did not; you are not a trained professional and cannot be expected to notice the slight physical differences that vets are trained to look for. The physical exam will consist of visually examining your dog's stomach area in addition to palpating it gently to check for bloating and tenderness. Your vet will also check your dog's gums, take your dog's temperature, listen to their heart, and look into their eyes and ears to check for any other signs of illness.
Laboratory Testing
Laboratory testing involves drawing blood and testing it for the presence of pancreatic enzymes. While dogs with this condition generally have increased white blood cell counts, this is not relied upon solely as a diagnostic criterion because there are many conditions that can increase white blood cells. When dogs experience pancreatitis, they usually have elevated levels of two specific pancreatic enzymes: lipase and amylase. If a blood test reveals high levels of these enzymes in the blood, then this diagnosis is usually confirmed. In addition to testing the blood for pancreatic enzymes, vets may also test for the presence of other enzymes such as those created by the liver. In cases of severe pancreas inflammation, the dog may also experience inflammation of this organ which can cause increased levels of liver enzymes in the blood as well. Veterinarians may also perform x-rays and ultrasounds to confirm a suspected diagnosis.
Pancreatitis Treatment
Treating Pain
One of the most important steps, for all concerned, in treating a dog with pancreatitis is controlling pain. For some dogs experiencing severe manifestations of this illness, the pain can be excruciating which is why vets will administer pain relievers when necessary. The type of pain reliever given may depend upon what your vet has on hand, any allergies your dog has, and any sensitivities your dog's breed has to a specific medication.
Treating Potential Infection
Dogs that are treated for pancreatitis by vets also often receive a round of antibiotics. Antibiotics are taken as a prophylaxis to protect the dog against any infection that could result from complications associated with this illness.
Withdrawal of Food
Pancreatitis is a tricky condition in that the best medicine is resting the pancreas and controlling any complications that have arisen as a result of inflammation. Resting the pancreas, of course, means refusing food, water and any other consumable substance for 24 hours. This allows the pancreas to rest completely by removing any stimulation received by consumption. If the dog shows improvement after a resting period, they are permitted very small amounts of bland food. The type of food preferred by most veterinarians is a bland, prescription dog food designed to be easy on the stomach due to fewer ingredients and lower levels of fats. Food intake should be increased gradually rather than introducing full meals immediately because this can strain the pancreas and cause a relapse of symptoms. Depending on the individual dog, how they responded to treatment, and how severe their case is, the dog may require bland prescription food for the rest of their life or they may be able to return to their former diet.
Treating with Fluids
As with many canine conditions, it is important that a dog suffering from pancreatitis receives adequate hydration. Hydration not only means water but also a solution of balanced electrolytes. Most commonly in dogs with this condition, these electrolyte-rich fluids are given through an IV drip or subcutaneous injection. This method of hydration ensures that the animal is hydrated without taxing the pancreas more.
Surgery
Very rarely is surgery suggested in cases of pancreatitis; however, there are cases when it is necessary. Most commonly, veterinarians will turn to surgery for patients that are experiencing significant intestinal complications such as bleeding. While surgery is not a preferred method of treatment, if bleeding or other intestinal complications are not addressed as soon as possible, they can result in even bigger complications such as sepsis or even death.
Avoid Do it Yourself Treatments
While many pets benefit from holistic medicine and natural treatments, some conditions should be evaluated by a professional veterinarian. If you prefer to treat illness through a holistic route, there are plenty of certified holistic vets available that can help immediately treat your dog's pancreatitis. It is crucial that you never attempt do-it-yourself treatments such as tips read on the internet or "cures" that work for people; dogs are not built like humans, and they do not respond in the same way to certain foods and chemical substances. While you may think that you are administering a "calming herb" to your dog, you may actually be worsening their condition or even poisoning them. This is a serious condition and should always be assessed by a trained professional.
Determining the Cause of Pancreatic Symptoms
While no one knows exactly what starts pancreatic symptoms, there are some suspect elements that your vet will be familiar with. One of the common causes is medication. In this instance, your vet will be aware that the medication that they were prescribed could cause pancreatitis and they will know how to prevent future occurrences. In other instances, you may have to go through many questions and answers before you have any idea what started the pancreatic symptoms. Regardless of how you figure out what started it all, it is important to try to narrow it down so that you can reduce the risk of another episode in your dog.
When you find yourself being able to breathe again after the panic of rushing your dog to the vet, you may feel that you have more time to narrow down what could have caused your dog's condition. You may find that the food you have chosen to feed your dog is simply too high in fat or that it was table scraps that caused the trouble or you may find that it was a medication your dog was taking for another condition. Regardless of what you find as the cause, try not to beat yourself up over it. We cannot undo the things that have already been done, but we can certainly learn from them. For example, if table scraps caused an issue, it is up to you to ensure that no one feeds your dog table scraps again. Become a responsible dog owner and take your dog's health into your hands.
Here is a video to learn more Dr. Karen Becker, an integrative wellness veterinarian about Pancreatitis and some ways to prevent it in your pet.
What Is Fatal Pancreatitis?
The term "fatal pancreatitis" is used to refer to when the condition causes fatal complications to develop that eventually take the life of the dog. If pancreatitis becomes extremely severe or if a dog suffers repeated occurrences they can develop a number of other conditions that can lead to death including maldigestion syndrome and diabetes mellitus. Both of these conditions are treatable; however, when left untreated they will almost certainly lead to a fatal outcome.
Predisposition
There are a number of things that the veterinary community believes contribute to the development of this condition.
Overweight dogs are more likely to suffer from this illness, in addition to other serious health conditions.
Dogs with hypothyroidism.
Female dogs more commonly experience it than males.
Ingestion of a single, high-fat meal can also cause the onset of acute pancreatitis.
Dogs with diabetes mellitus.
Certain bacterial or viral infections have also been known to predispose a dog to this condition.
Dogs with hyperandrenocorticism also known as Cushing's disease.
Dogs with epilepsy.
Dogs with gastrointestinal tract disease.
Dogs with idiopathic hyperlipemia.
Recurrence
Pancreatitis is like that relative that just won't leave: Even when they are gone, the thought of their return hovers in the back of your mind. If your dog has ever suffered from a bout of it, there is an extreme likelihood that they will experience a recurrence. Recurring episodes can be mild or severe in nature regardless of the severity of the original occurrence.
Preventing the Recurrence of Pancreatitis
As a responsible pet owner who cares about their dog, there are a number of things that you can do to help reduce the chance that your dog will experience a repeat episode of pancreatitis. Some of the tips that veterinarians offer to help reduce the chance of recurrence include:
Reducing food intake and increasing the exercise level of an overweight dog. Make sure not to underfeed or over-exert your dog during this type of approach, though. Weight loss should be slow and steady.
If your dog experienced a severe episode that left their pancreas damaged, provide any necessary medications to supplement pancreatic function.
Avoid feeding any human foods to dogs. Many human foods, particularly table scraps, are high in fat content which can prompt an episode this condition.
Feed multiple, small meals during the day rather than feeding one large meal at a time. This not only reduces the strain put on the pancreas during digestion, but it also lessens the likelihood for certain breeds to develop canine bloat.
If your veterinarian suggests keeping your dog on a low-fat diet, ensure that you comply to maintain healthy lipid levels in your dog's body. High lipid levels can result in aggravation of the pancreas.
Vigilance is the Key in Catching Pancreatitis
Whether your dog has already suffered from a bout of pancreatitis or whether your dog has never experienced this painful illness, vigilance is the best way to guard against this unwelcome visitor. Aside from understanding what caused any previous attacks, being vigilant in helping your dog live a healthy lifestyle is the best thing that you can do, not only to ward against illness but to also extend the life of your furry companion. Read more about other illnesses in dogs and how you can treat t=.
Have you ever treated a dog for Pancreatitis?
Disclaimer: The information provided through this website should not be used for diagnosing or treating a health problem or a disease. It is not a substitute for professional care. If you have or suspect you may have a health problem, you should consult your health care provider.
Disclaimer: This website contains reviews, opinions and information regarding products and services manufactured or provided by third parties. We are not responsible in any way for such products and services, and nothing contained here should be construed as a guarantee of the functionality, utility, safety or reliability of any product or services reviewed or discussed. Please follow the directions provided by the manufacturer or service provider when using any product or service reviewed or discussed on this website.