Many different supplements are available on the market to improve our dogs' digestive health, but it can be difficult to figure out which one is right for your pup. If you're looking into digestive enzymes to help treat your furry friend's chronic tummy troubles, we have all the information you need to know about this digestive aid for dogs. We've also chosen our top picks for the best digestive enzyme supplements.
At A Glance: Best Dog Digestive Enzyme Supplements
It's crucial to discuss any chronic stomach problems with your veterinarian to get a proper diagnosis and treatment. Ongoing stomach upset, diarrhea, or vomiting are symptoms of many different conditions, such as food allergies, intestinal parasites, inflammatory bowel disease (IBD), pancreatitis, and cancer. And don't give your pup any dietary supplement without your vet's approval.
Probiotics vs Digestive Enzymes: What's The Difference?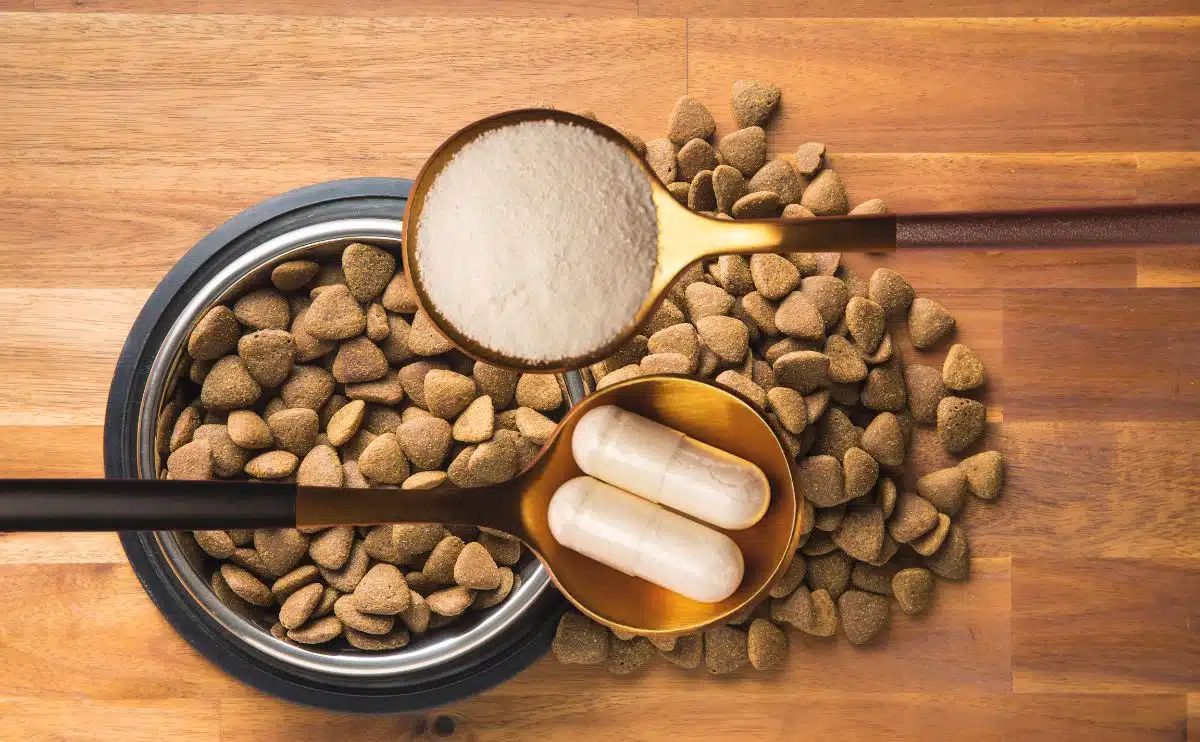 The two main types of dog digestive supplements are probiotics and digestive enzymes. Both promote improved digestion and gut health, but each affects a different function of GI health. Probiotic supplements are live bacteria and yeasts that help maintain the ideal balance between good and bad bacteria that reside in the community of organisms called a gut microbiome.
On the other hand, digestive enzymes help break down food into tiny pieces for optimal nutrient absorption. Therefore, they treat different digestive problems. A healthy gut microbiome can not only improve diarrhea, flatulence, and other intestinal troubles, but it can also boost the body's immune system, ease allergy symptoms, heighten energy levels, and more.
Want to discover your dog's gut health? If you suspect your dog's digestive distress could be due to an unbalanced gut, you may want to give him a gut microbiome test. We recommend AnimalBiome's at-home gut health test kit that analyzes a small stool sample to determine the makeup of good and bad bacteria in your pup's gut microbiome. You can then share the results with your vet to determine a treatment plan.
How Do Digestive Enzymes Benefit Dogs? (A Vet's Expert Opinion)
Just like humans, dogs naturally produce digestive enzymes that are essential for the body's overall health. While they're made in the salivary glands, stomach, and small intestine, the pancreas produces the most crucial digestive enzymes our bodies need. For dogs, the most important digestive enzymes that break macronutrients down into micronutrients are:
Protease: breaks down proteins into single amino acids
Lipase: breaks apart fat molecules into free fatty acids and glycerol
Amylase: breaks down complex carbohydrates into simple sugars
Healthy dogs produce enough of these enzymes (and get some from their normal diet). However, some illnesses and conditions require supplementation. "Digestive enzymes are usually prescribed to dogs who have specific gut problems causing a lack of digestive enzyme production," says Dr. Hannah Godfrey, BVetMed, MRCVS, a small animal veterinarian at Bridges Veterinary Surgery in Cardiff, Wales.
"An example of one of these conditions is exocrine pancreatic insufficiency (EPI), where the pancreas gland doesn't produce enough of the enzymes amylase and lipase," says Godfrey. Another condition that may require temporary supplementation is pancreatitis (inflammation of the pancreas).
Some breeds are more likely to develop EPI, including German Shepherds, Rough-Coated Collies, Chow Chows, and Cavalier King Charles Spaniels. EPI is caused by the loss of pancreatic cells as well as chronic pancreatitis. Typically, veterinarians use prescription digestive enzymes to treat EPI, which are required for life-long use.
"Affected dogs can develop chronic diarrhea and weight loss that won't improve until they receive regular enzyme supplements," says Godfrey. "I remember treating a German Shepherd with EPI. At the point where he was diagnosed, he was emaciated, and you could see all of his bones. Thankfully, once we started supplementing him with the enzymes he was lacking, he gained weight and started to look and feel much better."
Are Digestive Enzymes Safe For Healthy Dogs?
Digestive enzyme supplements are generally safe for dogs, but that doesn't mean yours needs them. Many veterinary experts say there's no scientific evidence that digestive enzyme supplementation provides benefits for healthy dogs.
In a small 2017 study involving 14 healthy adult male Beagles, researchers administered digestive enzyme supplements to seven healthy adult Beagles on a typical commercial dry diet while the other seven didn't take supplements. When scientists measured the digestibility of proteins, fats, and carbohydrates, they found no differences in digestibility between the two groups. Based on their findings, they concluded that "routine use of such products is not recommended."
Dr. Hannah Godfrey, BVetMed, MRCVS, says, "Don't be tempted to supplement your dog with digestive enzymes to try to keep their gut healthy. Your dog's body should produce everything that they need in the right amounts, and supplementing with extra enzymes could cause a stomach upset or even ulceration of the mouth. If you're concerned that your dog isn't digesting their food well, or they have any symptoms, speak to your veterinarian for advice."
Still, there's anecdotal evidence that digestive enzyme supplementation in smaller doses may help improve some gut problems. Some holistic and integrative veterinarians are proponents of these supplements, even for healthy dogs.
And many pet parents say the digestive enzyme supplements we include in our reviews here have helped their dogs with pancreatitis symptoms, excessive flatulence, and other GI symptoms, as well as keeping their dogs at a healthy weight.
Digestive Enzymes For Dogs: Side Effects
When taken in high doses, digestive enzyme supplementation can cause mouth ulcers, an upset stomach, diarrhea, and vomiting. Dogs who are allergic to pork may have allergic reactions to these supplements because some brands use enzymes derived from the porcine pancreas. This can result in difficulty breathing, facial swelling, or hives.
Best Digestive Enzymes For Dogs
We've chosen our recommendations of the best digestive enzymes for dogs with pancreatitis, EPI, or other conditions based on several factors, including quality and strength of ingredients, brand reputation, customer feedback, pricing, and more.
Note: All of these products contain the three essential pancreatic enzymes for dogs, amylase, protease, and lipase. Some also include less important digestive enzymes for dogs, such as cellulase and hemicellulase, which break down cellulose.
Winner: PetHonesty Digestive Probiotics Review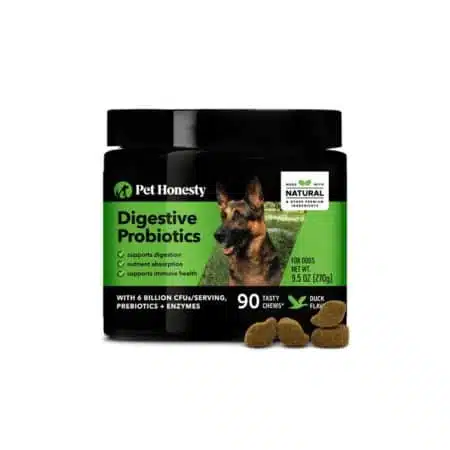 PetHonesty's all-natural, plant-based Digestive Probiotics soft chews combine many carefully chosen ingredients for ultimate gut and immune health and optimal nutrient absorption. This supplement includes essential digestive enzymes, prebiotics, nine different strains of probiotics (six billion CFU), and pumpkin for a powerful digestive aid. Fortified with papain, bromelain, and flaxseed, it also helps support dogs with allergies and inflammation and maintains skin and coat health.
Made in the USA, it holds the quality seal of approval from the National Animal Supplement Council (NASC) for safe manufacturing and quality-testing practices. PetHonesty is a well-respected, pup-owner favorite company that offers a wide variety of supplements for allergies, joint health, anxiety, and much more.
Ingredients: 9 Probiotic Strains (B. subtilis, B. coagulans, L. acidophilus, B. bifidum, L. lactis, L. plantarum, L. brevis, E. faecium, L. fermentum), Enzyme Blend (Amylase, Protease, Lipase, Cellulase, and Hemicellulase), Pumpkin, Dried Chicory Root, Dried Pineapple Stem, Papaya + Nutritious Superfood Base: Carrots, Sweet potatoes, Flaxseed
| Pros | Cons |
| --- | --- |
| Veterinarian formulated and quality tested | Some owners said it wasn't effective for their dogs |
| Excellent blend of 5 enzymes, 9 probiotics, and prebiotics | |
| Fortified with fiber and vitamin-rich superfoods | |
| NASC-certified supplement | |
| Comes in duck and pumpkin flavors | |
| 30-day money-back guarantee | |
| Made in the USA | |
Price
You can save 20% by subscribing for auto-shipping with PetHonesty.
Get free shipping over $49 – no coupon code required. Use this link to take advantage of this offer.
Runner-Up: NaturVet Digestive Enzymes Review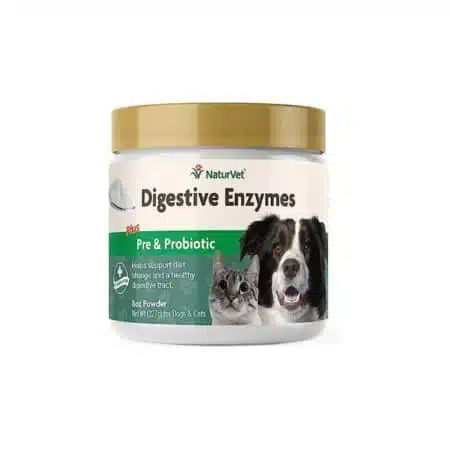 The most popular digestive enzyme supplement in our reviews, NaturVet's product is another excellent option for dogs, and it's also made for cats. This plant-based supplement was formulated by veterinarians in the U.S. to help with food transitioning, sensitive stomachs, and flatulence.
It contains amylase, protease, lipase, and cellulase enzymes, as well as a prebiotic and one strain of a probiotic (100 million CFU Bacillus coagulans). Available in powder form, soft chews, and chewable tablets, this NASC-certified supplement gets excellent reviews from pup parents saying that it's extremely effective for their dogs' GI problems.
Ingredients: Fructooligosaccharide, Dried Aspergillus Oryzae Fermentation Product, Dried Aspergillus Niger Fermentation Solubles, Dried Trichoderma Longibrachiatum Fermentation Product, Carica Papaya, Dried Bacillus Coagulans Fermentation Product, and Maltodextrin.
| Pros | Cons |
| --- | --- |
| Veterinarian-formulated and quality tested | Some owners said it made their dogs vomit |
| Includes a prebiotic and probiotic | Some complaints that the chews are too hard |
| NASC-certified supplement | |
| Comes in powder, soft chews, and tablets | |
| Made in the USA | |
| For dogs and cats | |
Price
Starts at: $18.99 (4-oz powder)
Third Place: Animal Essentials Plant Enzyme & Probiotics Review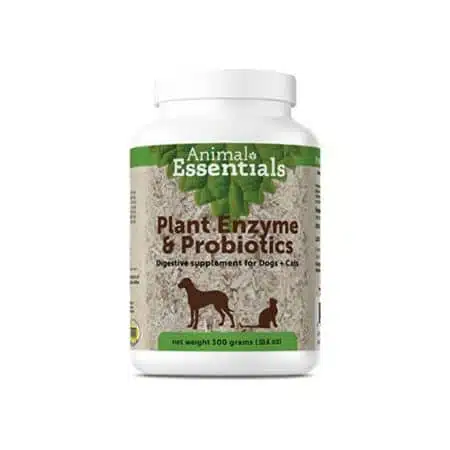 Animal Essentials' all-natural supplement was formulated by experts in holistic pet care to assist in the digestion and absorption of proteins, fats, and carbs. It contains a blend of enzymes (amylase, protease, lipase, cellulase, and hemicellulase) produced by plants and fungal microorganisms, none from animals. It's also fortified with bromelain and the probiotic Bacillus coagulans (100 million CFU) for added digestive support. It comes in powder form that you can simply sprinkle over your pup's food.
Ingredients: Calcium sulfate, Alpha & beta-amylase (Aspergillus orzye), protease (Aspergillus oryzae and Bacillus subtilis), lipase (Aspergillus niger), cellulase (Trichoderma longibrachiatrum), hemicellulase (Trichoderma longibrachiatrum), bromelain (pineapple), and Bacillus coagulans (probiotic)
| Pros | Cons |
| --- | --- |
| Human-grade ingredients independently tested for purity | First ingredient calcium sulfate may not be safe for dogs with heart or kidney disease |
| Includes probiotics | Some customers said it wasn't effective |
| NASC-certified supplement | |
| Made in the USA | |
| For dogs and cats | |
Price
What About Bernie's Perfect Poop & Dr. Mercola's?
Although these products didn't make our top picks, they're certainly worth considering for your pup's specific gut needs.
Bernie's Perfect Poop Review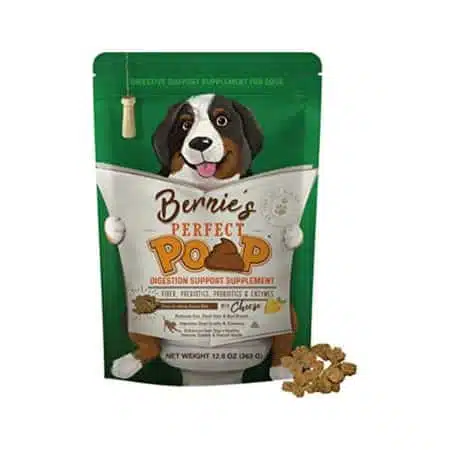 Bernie's Perfect Poop combines high-fiber grass bits, prebiotics, probiotics (1 billion CFU), and a 100mg blend of digestive enzymes to restore your pup's entire GI tract. In addition to improving nutrient absorption, this product claims to relieve constipation, diarrhea, bloating, clogged anal glands, and flatulence.
It comes in easy-to-serve, flavorful little pellets that you just mix in with your pup's food. Many customers call this supplement a "miracle" for their dogs' various digestive problems.
Ingredients: Sun Cured Miscanthus Grass, Dried Pumpkin, Flaxseed, Potato Starch, Cane Molasses, Chicken Fat, Microorganisms (Bacillus Subtilis, Bacillus Coagulans), Enzymes (Protease, Amylase, Cellulase, Hemicellulase, Lipase, Papain, and Bromelain), Inulin, Natural Cheddar Cheese Flavor, Mixed Tocopherols (for freshness), Citric Acid (for freshness), Rosemary Extract
| Pros | Cons |
| --- | --- |
| All-natural, non-GMO, gluten and grain-free | Some owners said it wasn't effective for their dogs |
| Fortified with fiber, prebiotics, and probiotics | Not for dogs with chicken allergies (both flavors contain chicken products) |
| Some ingredients sourced locally from small farmers | |
| Comes in cheese and chicken flavors | |
| Made in the USA | |
Price
Dr. Mercola Barks & Whiskers Digestive Enzymes Review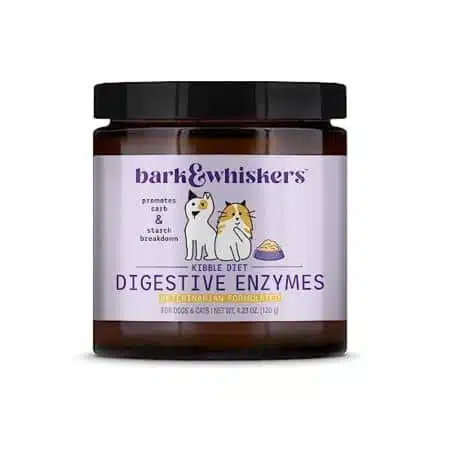 Dr. Mercola's Barks & Whiskers is a high-quality powder supplement that includes the three primary digestive enzymes dogs need: amylase, protease, and lipase. With lower levels of pancreatic enzymes for dogs, this supplement is a great choice if you're concerned about possible side effects. It's formulated for dogs who eat diets that are high in starches and carbohydrates, including rice, ancient grains, potatoes, or legumes.
It also contains cellulase, hemicellulase, and xylanase digestive enzymes, as well as papain (from papaya) and bromelain (from pineapple). Both bromelain and papain have been shown to help with inflammation and pain and are beneficial for immune support.
Ingredients: Microcrystalline Cellulose, Betaine Hydrochloride, Papaya, Pineapple Stems, Porcine Pancreas, Fungal Blend (Aspergillus oryzae, Trichoderma longibrachiatum, Aspergillus niger)
| Pros | Cons |
| --- | --- |
| Veterinarian formulated | Not safe for dogs with pork allergies because it contains porcine pancreatic enzymes |
| Lower potency minimizes risk of side effects | No probiotics included |
| Non-GMO, soy-free, and gluten-free | |
| 30-day money-back guarantee | |
| For dogs and cats | |
Price
Frequently Asked Questions
Here are some of the most commonly asked questions regarding dog digestive enzymes.
Can I Give Human Digestive Enzymes To My Dog?
No. Digestive enzyme supplements for humans don't have the specific kinds of enzymes that our canine companions need. A human digestive enzyme supplement is not onlyn't helpful for your pup, but it could make her GI symptoms and any pancreatic problems worse. You should always purchase a digestive enzyme supplement made specifically for dogs.
Are There Natural Digestive Enzymes For Dogs?
Yes, some foods contain natural digestive enzymes. These include pineapples, papayas, mangoes, honey, bananas, avocados, kefir (unsweetened), sauerkraut, kimchi, kiwifruit, and ginger. But any of these foods should be given to your dog in moderation, and you need to take precautions with some of these fruits.
What's The Best Dog Food With Probiotics And Digestive Enzymes?
Traditional dog food isn't your best source for supplemental digestive enzymes, but we think the brand Holistic Select is the best option if that's what you're looking for. Most dog foods don't contain the specific digestive enzymes that supplements provide, but Holistic Select is a great option for added probiotics and some whole fruits that contain natural enzymes.
Pet Insurance Can Help With Your Pup's Health Problems
Conditions like EPI, pancreatitis, allergies, and other chronic health issues can hit your wallet hard with all the veterinary costs of testing, ongoing treatment, prescription meds, and more. But securing your pup with pet insurance can help protect your finances, so you never have to choose between what you can afford and your precious dog's health. Find out whether you should consider pet insurance for you and your pet.
Tagged With: Comparison, Supplements