Is your dog scratching incessantly? Or do you think your dog isn't tolerating his food well? There's an easy way to test your dog for suspected "allergies" from the convenience of your home. We review some of the best at-home dog allergy test kits that can help you uncover what may be pestering your pup.
Article Overview
What Types Of Allergies Are Tested?
These kits test for sensitivity or intolerance to food and environmental factors that develop over time, rather than IgE (Immunoglobulin E) allergies, which are caused by the body's immune system.
IgE allergic reactions occur within minutes of ingestion or exposure and are diagnosed through a blood test or skin prick test by veterinarians. These kits also aren't meant to replace a consultation with your veterinarian if you suspect your dog has intolerances or sensitivities.
What Can Dogs Be Allergic To?
Like humans, dogs can develop allergies to a multitude of substances, including a variety of foods, medications, shampoos and environmental factors. The most common food allergens include wheat, dairy, beef, egg, chicken, lamb, soy and pork. Common environmental triggers include fleas and dust mites as well as molds and pollens from trees, grasses, weeds and flowers.
How To Tell If Your Dog Has Allergies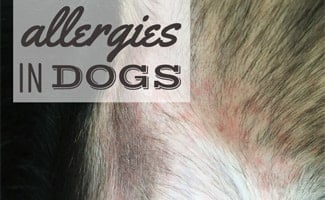 Dog allergy symptoms can vary widely based on what's causing the allergy, but some common symptoms include:
Read our article on dog allergy symptoms for more detailed information on specific allergies and their corresponding symptoms.
Best Dog Allergy Test Kit
We based our rankings on several factors, including accuracy of testing, the information you get with your results, customer reviews, pricing and more.
Easy DNA Dog Allergy Test Review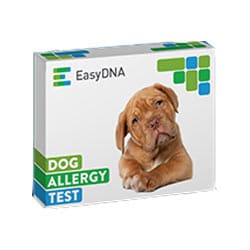 #1
The Easy DNA Dog Allergy Test kit tests for 114 common food and environmental allergens by measuring the antibodies in your dog's saliva against each allergen. High antibody levels indicate a sensitivity and intolerance to the item. Once you mail in your dog's saliva sample (they have an easy-to-use collection syringe tube), you'll receive a report in 2 weeks by email.
The report ranks each substance: strong intolerance, mild intolerance or no reaction. For each item your dog shows a strong or mild intolerance for, the report gives you details about each substance and associated symptoms to look for. It also includes extensive dietary and lifestyle guidelines such as elimination diets, topical treatments, supplements like probiotics and the use of corticosteroids (steroid hormones).
Pros

Cons

Competitive pricing
Tests for 114 food and environmental allergens
Simple at-home saliva collection
Results within 2 weeks
$10 discount on each additional test kit and discounted bundles
Live chat support
Website lists all allergens they test for and has a sample results report
Good website resources about dog allergens

No direct phone support (must request a call back)
Price
Coupon
Read Our Full EasyDNA Allergy Test Review
5Strands Pet Intolerance Test Review
#2
The extensive 5Strands Pet Intolerance Test kit tests for a whopping 200 food ingredients and preservatives and 100 environmental items. The laboratory scans your pet's hair sample (10-15 strands) using bio-resonance technology and provides you with an easy-to-understand report. The results are color-coded with red being foods and other triggers to avoid and those flagged as yellow to use caution.
However, the site lacks a sample report and doesn't specify whether they give you any dietary or lifestyle advice (like Easy DNA does). It's also unclear if the kit includes any kind of consult like some other companies offer.
Pros

Cons

Tests for 300 food and environmental allergens
Only requires hair samples
Get results in 7-10 days
Website lists all allergens they test for
Customer support via phone & email
For dogs and cats

Website doesn't have a sample report to view and doesn't indicate whether they offer a consult or advice with results
Price
Coupon
Check out this 6-minute video to learn more about 5Strands Pet Intolerance Test and how to take action after you get your results.
Allergy Test My Pet Review
#3
Allergy Test My Pet (A.T. My Pet) tests for 110+ items, including food, environmental and common household products. Like Easy DNA and Nutriscan, A.T. My Pet checks the antibody reaction in your dog's saliva against each allergen and reports if there is a positive, possible or negative reaction to each allergen. Their site, however, doesn't indicate if all you get is a list of items to avoid or if they provide advice or a consult.
Pros

Cons

Competitive pricing
Tests for 110+ common allergens
Simple at-home saliva collection
Get results in 2 weeks
Website lists all allergens they test for

Site doesn't have sample results and doesn't indicate if the results include detailed advice or a consult
Customer support via phone only (no toll-free number)
Price
Coupon
Other Dog Allergy Test Kits
Glacier Peak Holistics | Nutriscan
Glacier Peak Holistics Pet Wellness Life Stress Scan Review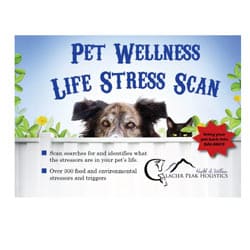 The Pet Wellness Life Stress Scan by Glacier Peak Holistics tests for over 300 stressors in your pet's diet and environment using a method based on traditional Chinese medicine, homeopathy and Western holistic medicine.
The testing method uses energetic analysis with a "biofeedback device." What exactly does that mean? According to their website, biofeedback "has the ability to read the energetic resonance that emanates from the hair and saliva samples." If you're into holistic medicine for your dog, you may find value in this test kit.
Pros

Cons

Easy saliva and hair sample collection
Tests for 200 food and 100 environmental triggers
Get results in about 2 weeks
A consult with their holistic wellness coaches is included with kit purchase
Free standard shipping
For dogs and cats

Can take up to 10 days for test kit to arrive at your home
Website doesn't have sample results or a list of each allergen they test for
Website lacks resources about pet allergens
Price
Nutriscan Review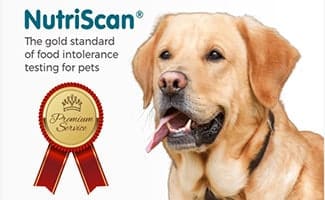 Unlike the other kits we review here, Nutriscan is only a cat and dog food allergy test and does not test for mold, pollens, fleas and other environmental triggers. Nutriscan was developed by a world-renowned veterinarian who's an expert at pet nutrition. They've conducted two clinical trials that validated the test's efficacy and have tested 23,000+ dogs.
This test measures antibodies to 24 selected foods in the saliva of dogs and cats. The results tell you which foods to avoid, and you'll see which foods your pet tested for a high, intermediate, borderline or no reaction. The high cost of this kit kept it out of our top 3 rankings.
Pros

Cons

Easy saliva sample collection
Get results in 2-3 weeks
Extensive website knowledge base
Test validated in clinical trials in Europe and U.S.
For dogs and cats

Expensive
Only tests for food intolerances (and not as many foods as other tests we review here)
Added $30 fee to consult with pet nutrition experts for personalized dietary advice
Price
Need A New Dog Food Diet?
If you've discovered from one of these tests (and in consultation with your vet) that your dog isn't tolerant of certain ingredients he's been eating, you'll want to switch dog food brands. We encourage you to read our reviews of the best dog food delivery services to find a possible alternative.
Some of the fresh food options contain all-natural ingredients, and you can tailor some for your dog's food sensitivities. And be sure to read our article on how to change your dog food gradually and safely.
What symptoms is your dog suffering from?