To keep the lights on, we receive affiliate commissions via some of our links. Our review process.
Is your dog scratching incessantly? Or do you think your dog isn't tolerating his food well because he's having ongoing digestive issues? If so, you may be wondering how to find out what your dog is allergic to. Allergy testing is the most efficient method, and now there's an easy way to test your dog for a wide variety of food and environmental allergies from the convenience of your home. We review some of the best at-home dog allergy test kits that could help you uncover what's pestering your pup.
| Winner | Runner-Up |
| --- | --- |
| | |
| A.T. My Pet | 5Strands |
| | |
| | |
What Types Of Allergies Are Tested?
These kits test for sensitivity or intolerance to food and environmental factors that develop over time, rather than IgE (Immunoglobulin E) allergies, which are caused by the body's immune system. IgE allergic reactions occur within minutes of ingestion or exposure and are diagnosed through a blood test or skin prick test by veterinarians. Here are some examples of what these kits test for:
Food intolerance and sensitivities (proteins, grains, veggies, fruits, oils, etc.)
Artificial food preservatives and additives
Airborne allergens (pollens, grasses, dust, fungus)
Fleas, ants, and dust mites
Household cleaning ingredients
These kits aren't meant to replace a consultation with your veterinarian if you suspect your dog has allergies. Rather, you should discuss these kits' results with your veterinarian. They can complement blood or skin allergy testing that your vet performs.
Important Note: Your dog cannot actively take allergy medication for two weeks before or when you are conducting this (or any) allergy test.
How Does At-Home Dog Allergy Testing Work?
Are you wondering how to test for dog allergies at home? How do these kits work? All you have to do is collect a saliva or hair sample (it depends on each company) and mail it to the company's lab. Then, you'll receive results via email within a few weeks. You should share your results with your veterinarian to determine the best treatment plan for your pup.
What Can Dogs Be Allergic To?
Like humans, dogs can develop allergies to a multitude of substances, including a variety of foods, medications, shampoos, and environmental factors. What are the top dog allergies? The most common food allergens include dairy products, beef, egg, chicken, lamb, wheat, and soy. Common environmental triggers include fleas and dust mites as well as molds and pollens from trees, grasses, weeds, and flowers.
How To Tell If Your Dog Has Allergies
Dog allergy symptoms can vary widely based on what's causing the allergy, but some common symptoms include:
Increased scratching
Itchy, red, moist, or scabby skin
Constant licking
Itchy ears and ear infections
Hair loss
Sneezing
Vomiting and/or diarrhea
Best Dog Allergy Test Kit
We based our rankings of the best allergy test for dogs on several factors, including accuracy of testing, the information you get with your results, customer reviews, pricing, and more.
Winner: Allergy Test My Pet Review (Sold By EasyDNA)
The EasyDNA dog allergy test kit, aka Allergy Test My Pet (A.T. My Pet), tests for over 120 common food and environmental allergens by measuring the antibodies in your dog's saliva against each allergen. Antibodies are produced by the immune system in response to something foreign invading the body. High antibody levels indicate sensitivity and intolerance to the item. Once you mail in your dog's saliva sample (they have an easy-to-use collection syringe tube), you'll receive a report in two to three weeks by email.
The report ranks each substance: strong intolerance, mild intolerance, or no reaction. For each item that your dog shows a strong or mild intolerance to, the report gives you details about each substance and associated symptoms to look for. The report also includes extensive dietary and lifestyle guidelines on elimination diets, topical treatments, supplements like probiotics and omega-3 oils, and the use of corticosteroids (steroid hormones).
You can also order an add-on Food Suggestion Report for an additional $39. It provides a personalized list of specific food brands and recipes you can incorporate into your dog's diet based on his food sensitivities.
| Pros | Cons |
| --- | --- |
| Competitive pricing | Long wait times for phone support |
| Tests for 120+ food and environmental allergens | |
| Simple at-home saliva collection | |
| Results within 2-3 weeks | |
| $10 discount on each additional test kit and discounted bundles | |
| Live chat, phone, and email support | |
| The website lists all allergens they test for and has a sample results report | |
| Good website resources about dog allergens | |
Price
$104 Dog Allergy Test
$169 Dog Allergy Test & Dog Breed Test
$195 Dog Allergy Test, Dog Breed Test & Dog Genetic Age Test
Looking for an Easy DNA promo code? Click here for the best deal we could find.
Full Review Of Allergy Test My Pet – via EasyDNA
Runner-Up: 5Strands Pet Food & Environmental Intolerance Test Review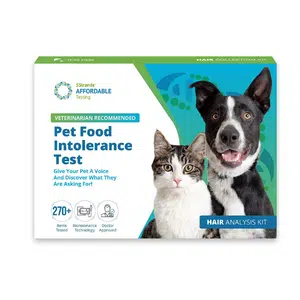 View on Amazon | View on Chewy
The extensive 5Strands Pet Food and Environmental Intolerance Test kit tests for a whopping 380 food ingredients and environmental items. The laboratory scans your pet's hair sample (10-15 strands) using bio-resonance technology, which "creates a profile of energies that radiates from a person or pet," according to the company's website. The test also provides you with an easy-to-understand report.
The results are color-coded, with red being foods and other triggers to avoid and yellow to flag those items to use with caution. They also give you dietary and lifestyle guidelines, including a recommended elimination diet (if needed), based on your dog's results.
If you suspect that your pup is only allergic to his food or only something in his environment, 5Strands also offers less expensive separate test kits for food intolerances and environmental intolerances.
| Pros | Cons |
| --- | --- |
| Tests for 380 food and environmental items | On the pricey side |
| Only requires hair samples | |
| Get results in 5-7 days | |
| Website lists all allergens they test for | |
| Customer support via live chat, phone, and email | |
| For dogs and cats | |
Price
5Strands often has discounted prices off of MSRP on Amazon.
More Dog Allergy Test Kits
As this market grows, more providers jump in with their allergy test kits. Who knows? Maybe you'll try more than one and find one of these works better for your unique pup and situation. We've also reviewed:
Glacier Peak Pet Intolerance Test Review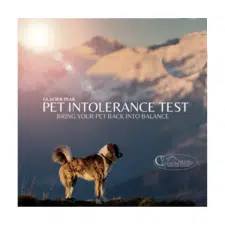 The Pet Intolerance Test by Glacier Peak Holistics tests for over 300 stressors or triggers in your pet's diet and environment using a method based on traditional Chinese medicine, homeopathy, and Western holistic medicine.
The testing method uses energetic analysis with a "biofeedback device." What exactly does that mean? According to their website, biofeedback "has the ability to read the energetic resonance that emanates from the hair and saliva samples." So this test measures imbalances that could indicate an intolerance or sensitivity to certain items. If you're into holistic medicine for your dog, you may find value in this test kit.
| Pros | Cons |
| --- | --- |
| Easy saliva and hair sample collection | Website doesn't have sample results or a list of each allergen they test for |
| Tests for 200 food and 100 environmental triggers | Website lacks resources about pet allergens |
| Get results in about 2 weeks | |
| A consult with their holistic wellness coaches is included with kit purchase | |
| Free standard shipping | |
| Also has tests for cats and horses | |
Price
Full Review Of Glacier Peak Holistics
NutriScan Review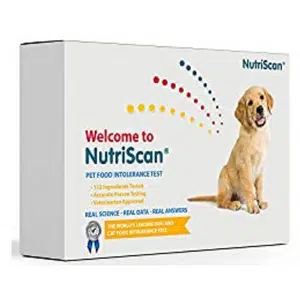 Unlike the other kits we review here, NutriScan is only a cat and dog food allergy test that identifies food ingredient intolerances. It does not test for mold, pollens, fleas, and other environmental triggers. NutriScan was developed by a world-renowned veterinarian who's an expert in pet nutrition. They've conducted two clinical trials that validated the test's efficacy and have tested 23,000+ dogs.
This test measures antibodies to 24 primary foods (e.g., beef, chicken, soy, corn, etc.) in the saliva of dogs and cats. The results tell you which foods to avoid. You'll also see the level of intolerance that your pet has to the foods that were tested: high, intermediate, borderline, or no reaction. The high cost of this kit kept it out of our top three rankings.
| Pros | Cons |
| --- | --- |
| Easy saliva sample collection | Expensive |
| Get results in 2-3 weeks | Only tests for food intolerances (and not as many foods as other tests we review here) |
| Extensive website knowledge base | Added $30 fee to consult with pet nutrition experts for personalized dietary advice |
| Test validated in clinical trials in Europe and U.S. | |
| For dogs and cats | |
Price
What's The Best Allergy Medicine For Dogs?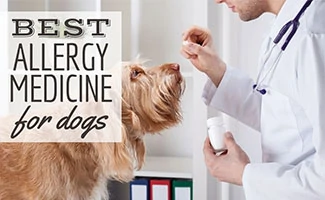 Whether your dog is suffering from digestive issues or skin problems, allergies can wreak havoc on a dog's body. How can you relieve your dog's suffering? You're likely wondering, what can I give my dog for allergies? We tell you all of the safe medications, supplements, and other products that can help your pup in our best allergy medicine for dogs article.
Frequently Asked Questions
Here are some frequently asked questions we've received from our readers regarding dog allergy testing.
How Do Vets Test For Allergies In Dogs?
IgE allergy testing for dogs in a veterinarian's office can be performed using two techniques, skin or blood testing.
Intradermal (Skin) Testing
Considered the "gold standard" in determining the cause of atopic dermatitis, an intradermal test involves an injection of a small amount of a potential allergen under the skin's surface. After about 20 minutes, the area is examined for a reaction at the site.
Large areas of your dog's coat must be shaved to allow the injection sites to be monitored for a reaction. Three things to note with intradermal testing: (1) your dog will need to be anesthetized; (2) it's only performed by veterinary dermatologists, who may not be available in your area; and (3) the test may be expensive.
RAST (Blood) Testing
RAST (or radioallergosorbent) blood tests can be performed by your veterinarian if they suspect that your dog has atopic dermatitis (inhalant allergy). No anesthesia or shaving of the injection area is needed. A RAST blood test looks for antibodies that the body produces in response to environmental allergens, such as pollen or mold.
The higher the level of antibodies, the more likely your dog has an allergy to that particular allergen. Dog allergy blood tests can be less precise than skin tests but are considered safer because there is less risk of severe allergic reaction at the injection site.
How Much Is A Dog Allergy Test At A Vet's Office?
Pricing varies by your vet and location, but in general, you can expect to pay an average of $200 for a skin test and $200-$300 for a blood test. You may also have to pay a vet examination fee and for sedation if your dog is getting a skin test. Sedation averages from $50-$100 for a small dog and $100-$200 for a large dog.
Does Dog Insurance Cover Allergy Testing?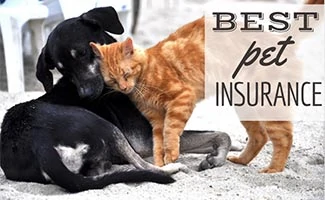 Depending on the condition or reason you're getting the allergy test and the coverage details from your insurance company, in most cases, the answer is yes; pet health insurance can help pay for allergy testing for itchy skin and other problems. Some pet insurance plans will cover the allergy test and the entire cost of the visit to your veterinarian, but coverage may vary based on the provider and your specific policy. Our experts review the best pet insurance companies.
Does Your Dog Need A New Diet?
Is dog allergy testing worth it? For sure. Discovering what's causing your pup's discomfort and getting the appropriate treatment can be life-changing for your dog's health, well-being, and overall happiness.
If you've discovered from one of these tests (and in consultation with your vet) that your dog isn't tolerant of certain ingredients he's been eating, talk to your vet about changing your dog's diet. We encourage you to read our reviews of the best dog food delivery services and best foods for dogs with allergies to find a possible alternative.
Some of the fresh food options contain all-natural ingredients, and you can tailor some for your dog's food sensitivities. And be sure to read our article on how to change your dog food gradually and safely.
Tagged With: Allergies, Comparison, Reviewed By Dr. Pendergrass, DVM