Are you concerned that your dog may be suffering from "allergies" to the food he's eating? You may want to consider an at-home test, like NutriScan, that could help identify the foods that are causing your pup adverse reactions, like excessive itching and gastrointestinal issues.
Hemopet's NutriScan food intolerance test is one of a handful of at-home test kits that analyze your dog's saliva to determine the food ingredients he has an intolerance or sensitivity to. But are NutriScan's results accurate? And is the high cost of this test worth it? We'll give you the answers to these questions and more details in our Nutriscan review to help you decide.
Nutriscan Reviews
Product Name: Nutriscan
Product Description: NutriScan offers at-home tests to discover food intolerances for your pet.
Summary
NutriScan is considerably pricier than other at-home dog allergy tests, and it only detects food allergens, not environmental allergens such as dust, dust mites, pollen, etc., which other firms also test for, in addition to food ingredients. Furthermore, customer reviews of NutriScan are mixed, with some questioning whether it is worth the cost.
Our team rates food intolerance tests for pets based on several factors, including the variety of allergens tested, turnaround time, informative results, pricing, customer support, and more.
Pros
Easy saliva sample collection
Get results in 2-3 weeks
Extensive website knowledge base
Test validated in clinical trials in Europe and U.S.
Also offers tests for cats and horses
Cons
Expensive
Only tests for food intolerances (and not environmental allergens like similar tests do)
Added $35 fee for a personal online consultation about your results
Key Features
Tests for 24 purified food extracts and 100+ related food ingredients
Easy saliva collection device with a volume indicator, which takes minutes to collect
Results tell you which foods to avoid and show you the level of intolerance to each food: high, intermediate, borderline, or no reaction
Customer support via email and phone
NutriScan Accuracy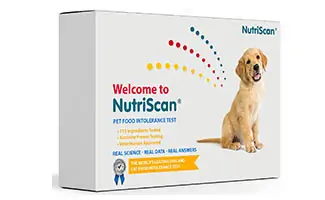 This test measures both IgA (secretory immunity) and IgM (primary immune response) antibodies in the saliva of dogs to the most common foods dogs eat. There's a lot of controversy in the veterinary scientific community about the accuracy of saliva testing to determine food intolerances and sensitivities in dogs.
However, Hemopet says they've completed two double-blinded clinical trial studies that validated the NutriScan test and affirmed its clinical use. One study was published in the American Holistic Veterinary Medical Association (AHVMA) Journal. Hemopet is a company that largely relies on alternative holistic diagnostics and therapies, so keep that in mind when deciding whether this test is right for you.
Price
How Does NutriScan Work?
In this three-minute video, Dr. Jean Dodds, who developed the NutriScan food sensitivity test, explains the science behind her novel test and lists all the food ingredients they analyze from your dog's saliva sample.
Our Final Verdict
Compared to other at-home dog allergy tests, NutriScan is quite expensive — and only tests for food allergens, not environmental allergens, like dust, dust mites, pollen, etc., that some other companies test for in addition to food ingredients. Customer feedback is also mixed about whether NutriScan is worth it.
Whether you decide to go with NutriScan or an alternative at-home test kit, it's important to know that these tests aren't meant to replace a consultation with your veterinarian about the symptoms your dog is experiencing. But you can share the results with your vet to help determine the best course of treatment for your furry friend.
Tagged With: Allergies