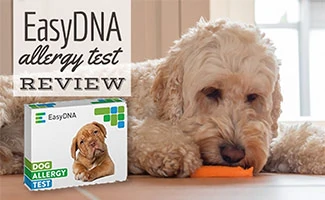 If your dog is scratching a lot or having frequent digestion problems, they could be intolerant to certain food ingredients or environmental factors, like pollen or dust. You can find out which substances are causing your dog distress through an at-home dog allergy test.
EasyDNA, a global company that offers a variety of at-home DNA and other tests for dogs and people, has a dog allergy test kit that's easy to do at home and promises results in just a few weeks.
Is their test worth it? And do the results give you enough information for you to actively help your pup? We'll answer these questions and more.
Important Note: Your dog cannot be actively taking and allergy medication for two weeks before or when you are conducting this (or any) allergy test.
EasyDNA Dog Allergy Test

Product Name: EasyDNA Dog Allergy Test Review
Product Description: EasyDNA offers an at-home test to determine a dog's allergies.
Summary
While EasyDNA's dog allergy test provides valuable information at an affordable price, it doesn't test for as many allergens as some of the other at-home testing kits available (although it does cover the most commonly tested allergens).
Our team determines our overall rating based on several factors, including the variety of allergens tessted, turnaround time, accuracy and detail of results, pricing, customer support, and more.
Pros
Competitive pricing
Tests for more than 120 food and environmental allergens
Simple at-home saliva collection
Results within 2-3 weeks
$10 discount on each additional test kit and discounted bundles
Live chat, phone, and email support
Website lists all allergens they test for and has a sample results report
Good website resources about dog allergens
Cons
Long wait times for phone support
Key Features
Test measures the antibodies in your dog's saliva against more than 120 allergens (high antibody levels indicate sensitivity and intolerance to the item)
Easy at-home saliva sample
Extensive results

Ranks each substance by strong intolerance, mild intolerance, or no reaction
Gives you details about each substance and associated symptoms to look for
Includes extensive dietary and lifestyle guidelines such as elimination diets, topical treatments, supplements like probiotics, and the use of corticosteroids (steroid hormones)

Add-on Food Suggestion Report provides a personalized list of specific food brands and recipes you can incorporate into your dog's diet based on his food insensitivities
EasyDNA offers a wide variety of DNA tests for dogs (breed, health risks, etc.) and people (health, ancestry, paternity, etc.), as well as DNA tests for cats, horses, and birds
All the laboratories where they process samples are highly accredited
International company with 25 offices around the world
Company makes charitable contributions
Price
$104 Dog Allergy Test

$39 Add-on Food Suggestion Report

$164 Dog Allergy Test & Dog Breed Test
$195 Dog Allergy Test, Dog Breed Test & Dog Genetic Age Test
Coupon
Looking for an Easy DNA promo code? Click here for the best deal we could find.
Our Personal Experience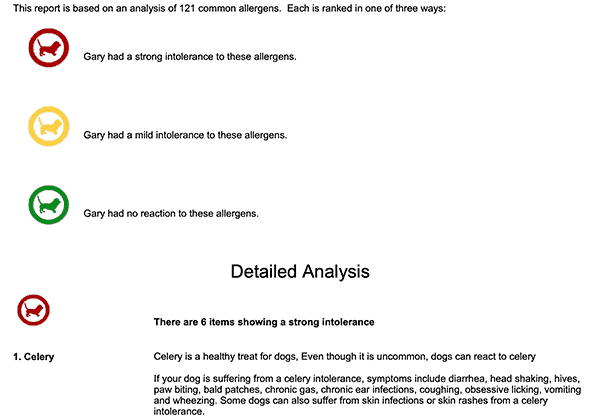 I purchased an EasyDNA Allergy Test for my Goldendoodle Gary because he suffers from chronic ear infections. I wanted to make sure there wasn't anything in his diet, contributing to the issue. The test was not hard to administer, and I received the results in about three weeks. The report was very easy to read and understand. I discovered that Gary had a strong intolerance to six items and mild intolerance to 16 more. Fortunately, none of those items are a staple of Gary's diet. Still, I was surprised to find out that salmon, one of his strong intolerances, was actually the main ingredient in an allergy relief supplement I had been giving him to help with the ear infections! I stopped giving him that supplement right away. – Jeff B., Canine Journal
Dealing With Food Sensitivities
Do you think your dog is suffering from an intolerance to certain types of foods? Check out this brief video that explains some of the associated symptoms and how veterinarians deal with dogs' food allergies.
What's Our Final Verdict?
EasyDNA's dog allergy test is a great value for the information you get in the results. However, it doesn't test for as many allergens as some other at-home kits (although it does test for the most common ones). See your other options in our reviews of the best dog allergy test kits.
We also encourage you to share your results with your veterinarian so together you can come up with a plan to try to eliminate the offending substances from your dog's diet or lifestyle. If it turns out that your dog is intolerant to certain food items, you'll likely want to change your dog's diet. We have reviews of some excellent dog food delivery services, many of which offer human-grade, fresh meals that can be customized for your dog's allergies.
Tagged With: Allergies