To sustain this free service, we receive affiliate commissions via some of our links. This doesn't affect rankings. Our review process.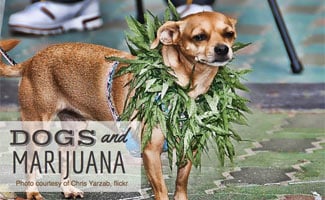 To legalize or not to legalize, that is the question. But it is just one of many questions we need to ask as dog owners in a country where the status of cannabis is in flux.
While we cannot predict whether your dog will be as excited about the legalization of pot as you are, we can help you better understand the possible items to think through before administering it to your canine companion.
We've compiled a list of the most common questions surrounding dogs and marijuana and researched them to provide answers for you.
Cannabis vs Marijuana
The language used to describe the cannabis plant varies widely because it has many nicknames (marijuana, weed, pot, reefer, ganja and Mary Jane). The botanical name for a hemp plant is cannabis but we may use these terms interchangeably.
Can Dogs Get High?
Get Free Pet Insurance Quotes
Yes, dogs can get high a few different ways.
Ingesting marijuana leaves/buds directly
Ingesting food laced with marijuana (cookies, butter, etc.)
Secondhand smoke
What Happens If A Dog Eats Weed?
What happens if a dog eats marijuana? The dog gets high. And, if a dog ingests too much, then it could die. This video shows the marijuana effects on dogs and what you should do if your dog gets into your edibles.
What Does Marijuana Do To Dogs?
Size plays a significant role in how cannabis effects dogs. If two dogs—one 8 years old, 75 pounds and the other 12 weeks old, 3 pounds—get into the same size stash, the smaller dog will have a different reaction than the larger dog.
Some dogs also become more "paranoid" after getting high; this is often shown by them panting and pacing. It's a challenge because you can't determine which dogs will have this reaction until they are high.
How Does Marijuana Affect Dogs?
Below is a list of the affects of marijuana on dogs.
Lethargic
Breathing problems
Lower blood pressure
Abnormal heart rhythms
Loss of balance
Urinary incontinence
Is Marijuana Bad For Dogs? (Research Studies)
Is marijuana safe for dogs? There are cases where some dogs have had longer lifespans thanks to the use of marijuana. Despite the opening for funding due to a hemp provision in a 2014 farm bill, however, there is very little research that has been done to date. For this reason, we are unable to provide you with 100% accuracy as to whether marijuana is bad, good or safe for your dog.
Since 2016, there have been two clinical studies by Dr. Stephanie McGrath, a neurologist and assistant professor at Colorado State University's College of Veterinary Medicine & Biomedical Sciences. She studied the effects of cannabidiol (CBD) in dogs with arthritis or epilepsy.
Is Cannabis Poisonous To Dogs?
According to the Pet Poison Helpline, the risk of cannabis poisoning in dogs is moderate to severe.
If your dog accidentally eats marijuana, you should call your veterinarian or Animal Poison Control immediately. The ingestion of too much marijuana can be life-threatening.
Symptoms to look out for:
Severe depression
Walking drunk
Lethargy
Coma
Low heart rate
Low blood pressure
Respiratory depression
Dilated pupils
Coma
Hyperactivity
Vocalization
Seizures
What About Medical Marijuana For Dogs?
Cannabis for dogs is a hot topic of debate. Some people are administering medical marijuana to their dogs on their own, while some pot shops are even selling dog treats laced with pot.
Unfortunately, due to a lack of research, it's unclear the proper dosage amounts for dogs, so administering it yourself can be dangerous to your dog.
Different types of weed and cannabis oil for dogs has similar effects on dogs as they do to humans—increased appetite and decreased nausea. Medical marijuana has provided dogs relief for arthritis and cancer, but it is still not approved by the AVMA, ASPCA or any other organization.
Is CBD Oil Okay For Your Dog?
Yes, it is if it made with no more than 0.3% THC. This is the only kind that you will find when you buy from the companies that we recommend. You can read more about the companies and products that may help your pet most in our CBD oils review.
Infographic: Dogs & Marijuana Guide
Learn more about marijuana and dogs in our infographic:

Source: CanineJournal.com
More Research Needed
While we aren't saying marijuana is bad for your dog, we aren't saying it's good either. There just isn't enough research on dogs and weed right now. The dosage amount for dogs is different than it is for humans, so it can be a scary result if your dog has too much. We warn you to be careful and keep your dogs safe. We know for sure that these foods should be avoided, so reference it in case your dog ingests something else it shouldn't.
Warning:
It can be dangerous to give your dog marijuana. If your dog needs it for medical reasons, be sure to follow your vet's protocol closely. As with any drug, giving your dog more than recommended, or giving it to your dog when it's not necessary, is irresponsible.
Do you think your dog needs medical marijuana?
The information contained in this article and website is not intended nor implied to be a substitute for professional safety advice; it is provided for educational purposes only.
Disclaimer: The information provided through this website should not be used for diagnosing or treating a health problem or a disease. It is not a substitute for professional care. If you have or suspect you may have a health problem, you should consult your health care provider.
Disclaimer: This website contains reviews, opinions and information regarding products and services manufactured or provided by third parties. We are not responsible in any way for such products and services, and nothing contained here should be construed as a guarantee of the functionality, utility, safety or reliability of any product or services reviewed or discussed. Please follow the directions provided by the manufacturer or service provider when using any product or service reviewed or discussed on this website.