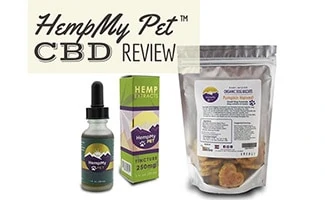 CBD oils and treats are an increasingly popular alternative remedy for such conditions as arthritis, anxiety, digestive problems and more. But not all CBD products are created equal. You want a high-quality formula without any fillers or harmful chemicals. Do HempMy Pet's CBD oils and treats meet the highest standards? And what's their product line? We'll answer these questions and more.
HempMy Pet Review
Summary
Our team determines the overall rating based on several factors, including quality of CBD and ingredients, variety of products, third-party testing of products, pricing, customer support, and more.
When selecting a CBD brand for your furry companion, quality is paramount, and HempMy Pet excels in this area. Although their products may not be budget-friendly, you can have peace of mind knowing that their oils and treats are free of any fillers that some lower-priced brands might use.
Pros
Third-party tested (Certificate of Analysis available on website and upon request)
They grow their own organic and non-GMO hemp
All CBD & ingredients are pesticide and solvent-free
1,000mg oil clinically proven to improve arthritis symptoms in dogs
CO2 extraction process
Biscuits made with organic, gluten-free and cruelty-free ingredients
CBD oils and treats are for dogs and cats
Made in the USA
Cons
Limited product offerings
5mg bag of biscuits is expensive for only 15 treats
Unclear if 60-day return policy applies to opened or only unopened products
Key Features

Ingredients and formulations are 100% human-grade
Products made in small batches to ensure the highest quality
Full-spectrum hemp extract (contains CBD, CBG, CBC, terpenes and other cannabinoids for the full entourage effect)
Certified-organic carrier oils (coconut and hemp seed), sourced responsibly and sustainably
Oils are vegan (biscuits include eggs)
All products contain less than 0.3% THC (the legal limit)
Autoship savings program: savings escalate 5% for each recurring order, up to 30% for your 5th auto-ship order – learn more about CBD subscription options
In a 90-day clinical trial published in the Journal of the American Holistic Veterinary Medical Association, HempMyPet's 1,000mg CBD oil was shown to improve symptoms in 93% of dogs suffering from arthritis
Company donates CBD products to animal rescues and shelters
Products & Pricing
You can save from 5% to 30% with auto shipping. And shipping is free on all orders.
Oils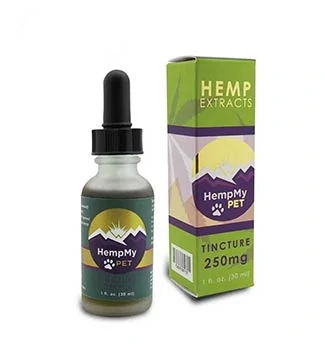 $39 for 100mg hemp-infused coconut oil (5 fl. oz. jar)
$89 for 500mg hemp-infused coconut oil (5 fl. oz. jar)
$49 for 250mg hemp seed oil (1 fl. oz. bottle)
$99 for 1,000mg hemp seed oil (1 fl. oz. bottle)
Free shipping on all orders
HempMy Pet also offers hemp-infused olive oil spray for horses (equine).
$399.00 for 5,000mg olive oil infused with hemp extract (4 fl. oz. bottle)
Treats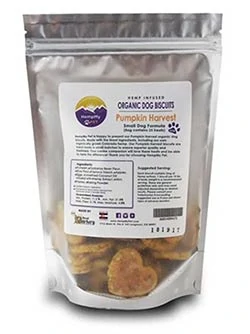 $25/bag for 2mg, 25-ct. Pumpkin Harvest Biscuits
$32/bag for 5mg, 15-ct. Pumpkin Harvest Biscuits
Free shipping on all orders
Coupon
Looking for a discount on HempMy Pet? Visit our dedicated HempMy Pet Discount Code page.
HempMy Pet Dosing Guidelines
Knowing which concentration of CBD is right for your pet and how much to give him can be confusing, for sure. Here are some helpful guidelines from HempMy Pet, but consult with your vet before giving your dog any amount of CBD.
Oils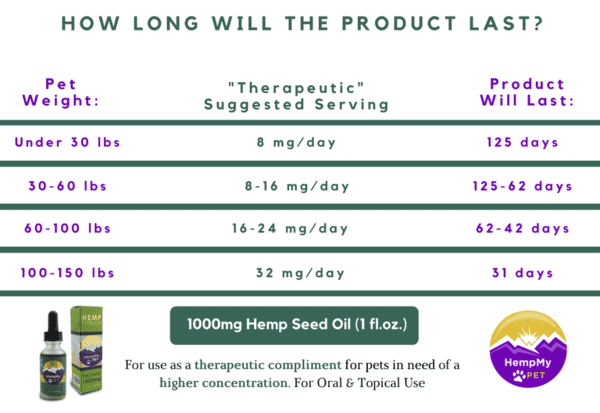 Which oil should you purchase? It depends on whether you're using CBD as a general daily supplement for preventative maintenance or for therapeutic medicinal purposes (arthritis, anxiety, etc.). Pet CBD experts recommend higher concentrations of CBD for medicinal purposes, while lower concentrations are good for general wellness. So, here are your best options for HempMy Pet's oils:
For general wellness: 100mg hemp-infused coconut oil or 250mg hemp seed oil
For medicinal purposes: 500mg hemp-infused coconut oil or 1,000mg hemp seed oil
Each product also has specific dosing recommendations based on your dog's weight range. You can find these on their website on each product page by clicking on the "Suggested Use" tab. And each product's packaging includes the dosing guidelines as well.
HempMy Pet recommends acclimating your pet to the oils over the first week by slowly adding it to their diet.
Biscuits
HempMy Pet's 2mg bag is for small to medium-sized dogs. They recommend giving one biscuit (2mg each) per 10 pounds of body weight. So a 30lb dog would get 3 biscuits. Their 5mg bag is for larger dogs, and they recommend one biscuit (5mg each) per 50 pounds of body weight. However, they don't specify how many doses to give each day.
How Can CBD Help Your Dog?
Check out this brief video to learn more about CBD oils and treats and how they can benefit your pup.
Learn More About The Benefits Of CBD For Dogs
Alternatives To HempMy Pet
One of the most important factors when choosing a CBD brand for your pet is the quality — and HempMy Pet delivers in spades. While their products aren't cheap, you can rest assured that their oils and treats don't have any fillers that some "bargain-brand" products use. To see other high-quality options, read our best CBD oils for dogs article and our reviews of several other CBD treats.
Tagged With: CBD