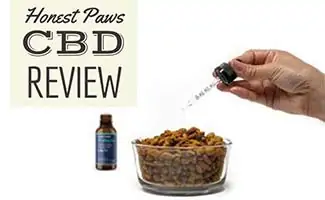 You may have seen some glowing testimonials online from pet parents that CBD has helped their dog with anxiety, arthritis, digestive problems and other ailments and want to give it a try for your pup. The key to CBD and pets is to go with a trusted manufacturer that produces high-quality products.
Honest Paws is an up-and-coming brand in the crowded pet CBD marketplace. They make a variety of CBD products specifically formulated for pets, including oils, soft chews, bites, peanut butter, topicals, and more. But are their products trustworthy and effective?
Honest Paws Review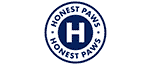 Product Name: Honest Paws
Product Description: Honest Paws offers pet CBD products.
Summary
Our team determines the overall rating based on several factors, including quality of CBD and ingredients, variety of products, third-party testing of products, pricing, customer support, and more.
Pet owners have given Honest Paws outstanding overall reviews for the efficacy of their premium CBD products and exceptional customer service. Their pricing is quite competitive among other top brands, and their 30-day money-back guarantee is one of the finest in the industry. However, it is perplexing that they use a third-party lab that does not test for pesticides, despite many other labs doing so.
Pros
Independent lab testing (results available for every batch on website )
CBD derived from organic hemp grown in Colorado
GMO-free and soy-free
Treats include glucosamine for joint health
Supercritical CO2 extraction
Products for dogs, cats, and horses
Made in the USA
30-day money-back guarantee (full refund or exchange)
Cons
Lab results say they don't test for pesticides or solvents (but they use organic ingredients)
Key Features

Full spectrum CBD (contains CBD, CBG, CBC, terpenes and other cannabinoids for the full entourage effect)
30-day money-back guarantee is one of the best — you can get a refund even if you've opened the product (many others only give refunds for unopened products)
Their Mobility Soft Chews are designed to reduce joint pain: ingredients include CBD, chondroitin sulfate, glucosamine HCL, hyaluronic acid and Boswellia serrata powder
Offers several different oils geared toward specific health concerns:

Well for overall health (CBD only)
Calm for anxiety (CBD and chamomile)

Mobility for joint stiffness (CBD and turmeric)
Learn More About The Benefits Of CBD For Dogs
Products & Pricing
You can save 15% if you subscribe to monthly auto shipments on all products. Shipping is free over $48.
CBD Oils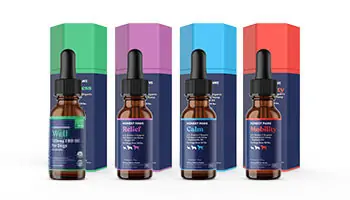 The milligrams are the concentration of CBD in each bottle (higher mg work better for bigger dogs).
$39.95 per 125mg bottle (dogs under 25 pounds)
$49.95 per 250mg bottle (dogs 25-50 pounds)
$79.95 per 500mg bottle (dogs over 50 pounds)
$39.95 for cats
$149.95 for horses
CBD Dog Treats
Bites (Calm & Relief): $24.95 per bag
Soft Chews (Calm & Mobility): $39.95 per bag
Other CBD Products
Coconut Oil: $23.76 per 120mg jar (for dogs and cats)
Peanut Butter: $25.46 per 160mg jar
Skin Balm: $29.95
Coupon
Use this link to take advantage of the best offers from Honest Paws.
Recommended Dosing
CBD dosing can be confusing for pet parents because every manufacturer is unique in its dosing guidelines. That's why we always try to give you a good idea of each company's recommendations in our product reviews. Here's the lowdown on Honest Paws' dosing suggestions.
Getting Started
This is what Honest Paws says on their website about getting started with CBD and your pet.
If your pet is new to CBD, we recommend starting with half the recommended amount and then increase from there. Your pet may respond well to 50% of the recommended amount. However, if you do not notice a change, you can increase the dose to the full, recommended amount.

As mentioned before, some pets may require more CBD. In that case, it is perfectly acceptable to increase the amount of CBD given. However, you will want to do so slowly over time.
IMPORTANT: We at Canine Journal recommend consulting with your vet before starting any new treatment. They can help you determine the best dosage recommendations for your pet.
CBD Oils
Honest Paws recommends giving your dog one full dropper of CBD oil each day. However, it's hard for us to give you more details than that. Unlike some other companies that have detailed dosing guidelines posted on their websites (which include how much CBD is in each dose), Honest Paws doesn't post that information on their site. And it's unclear if that information is included in their product packaging.
CBD Treats
Honest Paws' chews and bites are 5mg per treat. They recommend:
Less than 25 pounds: One treat per day
25-50 pounds: Two treats per day
Over 50 pounds: Three treats per day
How Did Honest Paws Get Started?
Check out this short video to learn the story behind Honest Paws and its dog-loving owners.
Alternatives To Honest Paws
Honest Paws gets excellent overall reviews from pet parents for the effectiveness of their high-quality CBD products and their customer service. Their pricing is fairly competitive among the top brands, and their 30-day money-back guarantee is among the best in the industry.
However, it's a head-scratcher that the third-party lab they use doesn't test for pesticides when many others do. To be fair, though, Honest Paws does say they use organic hemp for their CBD extract (organic=no pesticides). If you want to compare other high-quality options, read our best CBD oils for dogs article and our reviews of several other CBD treats.
Tagged With: CBD