If your pup suffers from ongoing gastrointestinal (GI) discomfort, including vomiting, loose stools, or flatulence, his dog food could be to blame. Sometimes, a simple change of diet will clear up the symptoms. So, we've found some of the best dog food for sensitive stomachs you may want to consider. We also explore what you can do to identify the specific food items that are causing your pup's symptoms.
At A Glance: A Few Of Our Top Picks
What's Causing Your Dog's Tummy Troubles?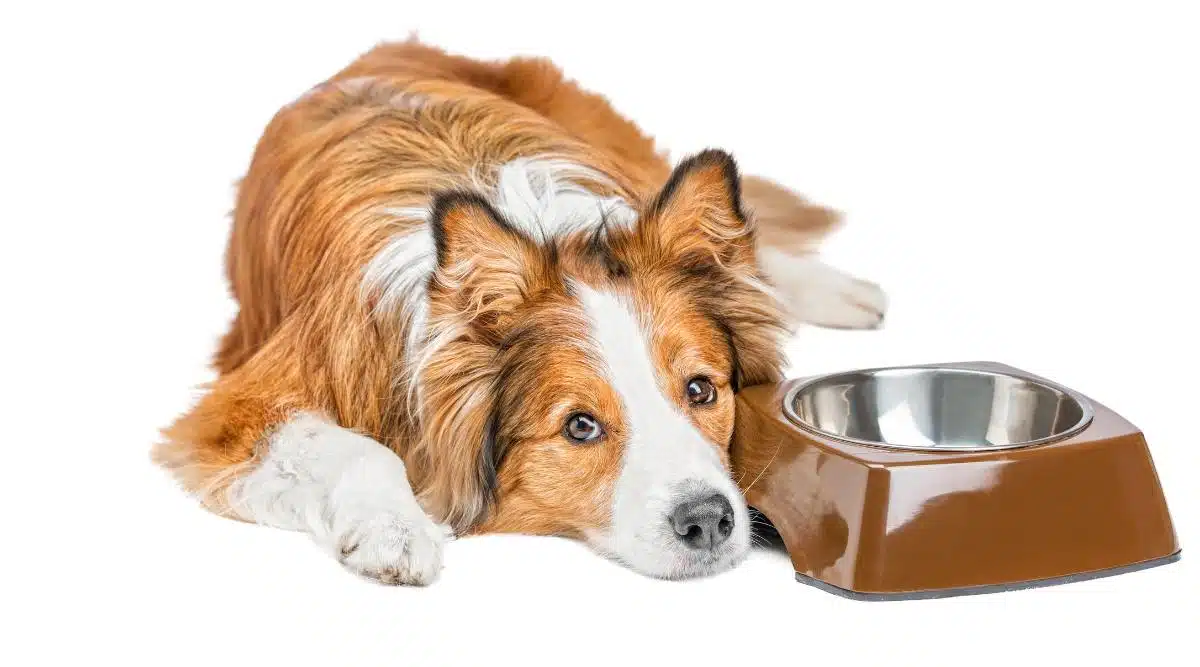 It's a good idea to have your veterinarian rule out such problems as ulcers, intestinal parasites, and stomach cancer, all of which can cause chronic symptoms.
Like humans, dogs can be particularly sensitive or even allergic to certain ingredients in their diet. And unfortunately, our furry friends can develop intolerances to food ingredients at any point in their lifetime. The most common culprits include beef, chicken, dairy products, and wheat.
Many dogs also don't tolerate soy, corn, eggs, and various preservatives well. But every dog is different, so there's a long list of ingredients that could be causing problems. Don't forget to take into account any treats or table scraps your pup may be eating regularly, as these could be the source of tummy woes. Overfeeding can also result in chronic stomach issues.
If you're unsure what's causing your dog's GI problems, you can give your pup an at-home dog allergy test. These kits test for sensitivity or intolerance to many foods (and environmental allergens) that develop over time. You send a saliva or hair sample to the company's lab and get results within a few weeks. You can then share these results with your vet to help further narrow down possible causes.
8 Best Dog Foods For Sensitive Stomachs
Our team has researched hundreds of different dog foods for all kinds of diet types and health concerns. We've chosen our top picks below based on the overall quality of ingredients, special ingredients for tummy troubles, customer feedback, pricing, and other factors.
Expert Tip: Over time, some dogs develop sensitivities to a specific animal protein, with beef and chicken being the most common. So trying out a new dog food containing a novel protein (one that your pup has never eaten before) may do the trick. Some alternative animal proteins you may want to consider include salmon, duck, venison, turkey, or lamb.
Best Dry: Purina Pro Plan Adult Sensitive Skin & Stomach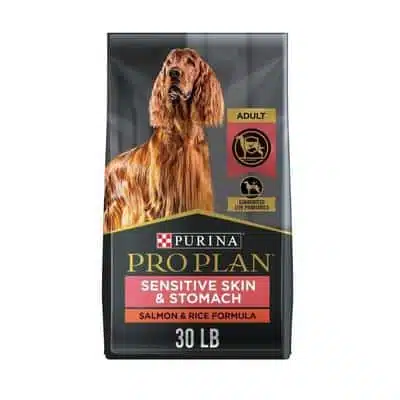 This best-selling easy-to-digest dog food comes highly recommended by many veterinarians (and satisfied pet owners) for pups suffering from food sensitivities and allergies. It contains real animal protein (salmon, turkey, or lamb) as the first ingredient and has no corn, wheat, soy, preservatives, or artificial ingredients.
It's fortified with probiotics for gut health, omega-3 fatty acids for skin and coat health, and plenty of essential vitamins and minerals. The USA-made formulas also contain stomach-friendly grains such as oatmeal, barley, and rice. Pro Plan Sensitive Skin & Stomach also comes in small and large breed formulas, as well as canned wet food if that's what your pup prefers.
Price
Best Fresh: The Farmer's Dog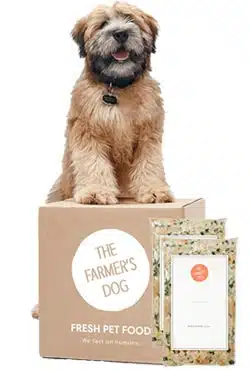 The Farmer's Dog offers fresh, human-grade meals using all-natural limited ingredients. All four recipes are grain-free and formulated with USDA turkey, pork, chicken, or beef as the first ingredient. They contain fresh vegetables, salmon oil, vitamins, and minerals with no soy, corn, or wheat. Their recipes are developed by board-certified American College of Veterinary Nutrition (ACVN) nutritionists and flash-frozen to preserve nutrients and freshness.
The Farmer's Dog personalizes and pre-portions the food to meet your furry friend's specific dietary needs. You fill out a brief survey, which includes your dog's age, breed, current and ideal weight, and health concerns. All USA-made and sourced recipes meet Association of American Feed Control Officials (AAFCO) guidelines for all life stages. The Farmer's Dog requires a subscription, but you can change recipes or cancel at any time.
Price
Our readers have access to 50% off your first box. No code is needed; just use this link, and the discount will be applied! You can also visit our dedicated The Farmer's Dog coupons page.
Full Review Of The Farmer's Dog
Best Wet: Hill's Science Diet Adult Sensitive Stomach & Skin Stew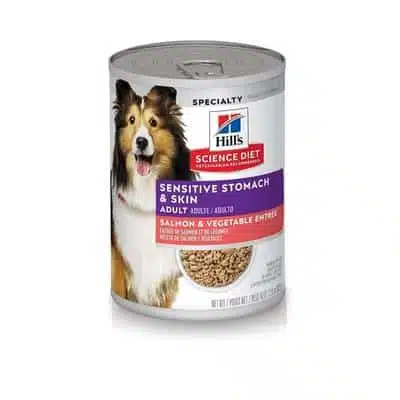 Hill's Science Diet has designed these wet formulas to support your dog's sensitive stomach with easy-to-digest ingredients. They contain chicken broth and real protein as the first two ingredients and are full of nutritional vegetables, vitamins, and minerals with no fillers or preservatives.
These stews are made in the USA and come in three recipes: grain-inclusive turkey and rice, grain-free chicken and vegetables, and grain-free salmon and vegetables. Hill's Science is a #1 vet-recommended brand, and many customers find that this wet food is easy on their dogs' stomachs.
Price
Best For Puppies: Purina Pro Plan Puppy Sensitive Skin & Stomach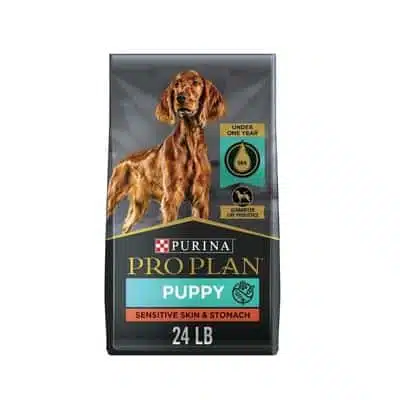 We've also chosen the Purina Pro Plan Sensitive Skin & Stomach dog food line as the best puppy food for sensitive stomachs. It comes in two high-protein formulas for growing puppies, salmon & rice and lamb & oatmeal. These USA-made formulas are wheat, corn, and soy-free with no preservatives or artificial ingredients. They also contain live probiotics and natural prebiotic fiber for intestinal health.
Other special ingredients for puppies include DHA from omega-rich fish oil to support brain and vision development, omega-6 fatty acids for healthy skin and coat, and antioxidants to support your puppy's developing immune system. Everything your little guy needs to thrive.
Price
Best For Seniors: Nulo Freestyle Grain-Free Senior Dog Food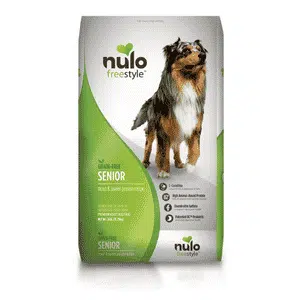 Have a senior sidekick with stomach woes? We've chosen this Nulo formula as the best senior dog food for sensitive stomachs. Made in the USA with all-natural ingredients, this formula combines optimal ingredients for older dogs who need gut and joint support as well as weight control. This recipe includes easy-to-digest trout, lentils, sweet potato, and dried fruits and veggies, with no corn, wheat, or soy.
It's fortified with probiotics for healthy digestion, glucosamine and chondroitin for joint support, and L-carnitine. L-carnitine is important for senior dogs who are less active because it helps the body metabolize fats to keep your pup from gaining weight. The only downside to this food is its hefty price.
Price
Best For Novel Proteins: Canidae Pure Limited Ingredient Dog Food
If you've tried the usual protein suspects (chicken, beef, turkey) without success, you may want to consider one of Canidae's Pure Limited Ingredient line of recipes. You can choose from duck, bison, wild boar, lamb, goat & venison, and more. Each formula is grain-free with no corn, wheat, soy, or fillers and contains only seven to 10 whole-food ingredients.
They also include an excellent blend of probiotics, antioxidants, and omega-3 and 6 fatty acids as well as glucosamine and chondroitin for joint health and taurine for heart health. Canidae Pure also comes in grain-inclusive kibble and wet dog food. It's also more affordable than many other premium dog chow and is made in the USA.
Price
Best Limited Ingredient: Go! Sensitivities Limited Ingredient Diet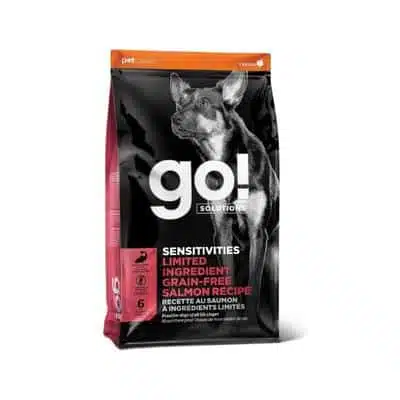 Developed by pet nutritionists specifically for sensitive stomachs, Go! Sensitivities Limited Ingredient dog food may be the solution for your pup's troubles. Each grain-free recipe features only one premium-quality animal ingredient (salmon, duck, venison, lamb, or turkey) with no by-product meals, wheat, corn, or soy.
All formulas, which are made in Canada, also include prebiotic fiber from chickory root and less than 10 whole-food ingredients for healthy digestion. They also contain omega-3 fatty acids for healthy skin and coat. If your pup prefers wet food, you can find similar sensitive-stomach Go! recipes in shredded meat or paté form.
Price
Best Shelf-Stable Fresh: Spot & Tango Cod & Salmon Unkibble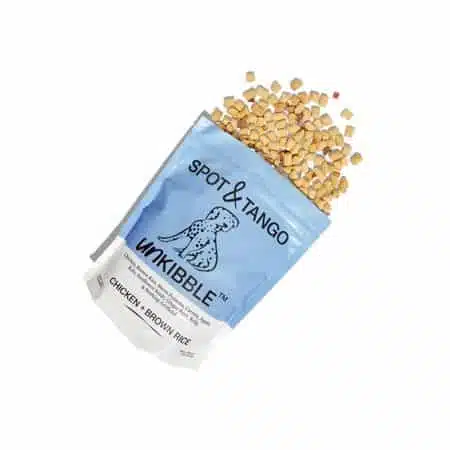 If you want a step up in quality but don't have a fridge and freezer room for fresh meals, Spot & Tango's Unkibble could be just the ticket. This shelf-stable dog food is made from human-grade meats and fresh starches, veggies, and fruits that are dehydrated under low temperatures to preserve nutrients. Ingredients are sourced from local farms and human food suppliers.
For sensitive stomachs, we recommend the grain-free Cod and Salmon recipe, which contains sweet potatoes, pumpkin, carrots, strawberries, and other whole-food ingredients. All recipes (they offer two other Unkibble formulas and fresh meals) were developed by a certified vet nutritionist. And like the Farmer's Dog, Spot & Tango personalizes your pup's food based on his age, weight, health concerns, and more.
Price
Consider A Dog Probiotic
In addition to a diet change, giving your dog a daily probiotic, either short or long-term, can get your furry friend's stomach back in shape. The best dog probiotics can help relieve GI discomfort and reduce the incidences of vomiting, diarrhea, and flatulence. But the benefits of probiotics go beyond GI relief. A daily dose can also help boost your dog's immune system, improve bad breath, ease skin itchiness, and more.
What Is A Food Elimination Diet? (Video)
If you've tried to pinpoint the offending ingredients without success, your vet may suggest putting your pup on a food elimination trial. These special diets are geared toward dogs with ongoing skin and stomach problems and require direction from your vet. But this video gives you a good idea of what they entail.
How To Change Your Dog's Food
Switching to new dog food isn't always simple, particularly if your canine companion already has stomach issues. Our guide on how to change your dog's food safely gives you a handy schedule to make the transition gradually. This helps your pup's GI system adjust to the new food while minimizing an upset stomach.
Tagged With: Comparison, Food Delivery