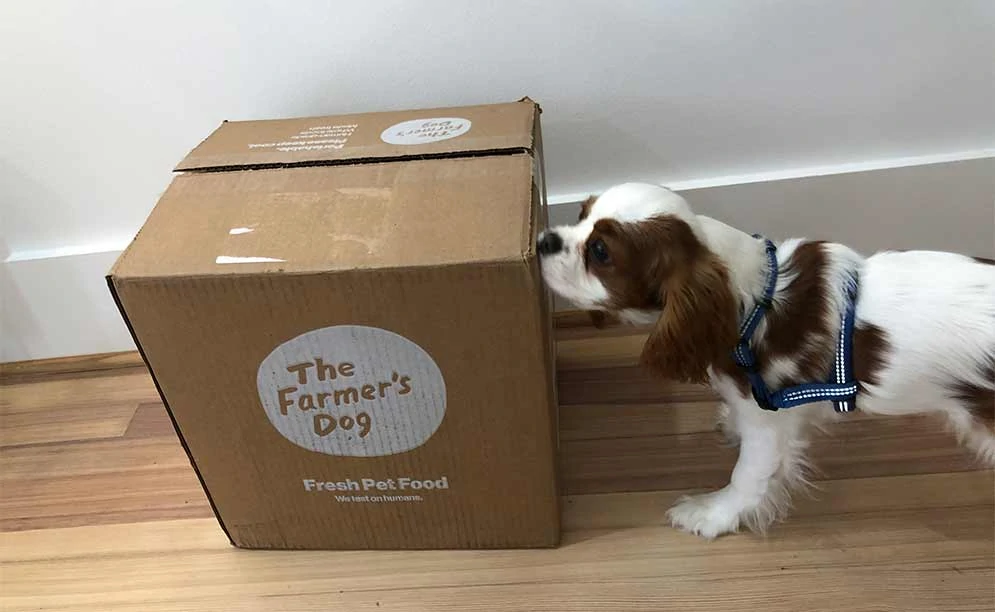 We all want to ensure that we keep our pups as healthy as possible, and feeding them all-natural, fresh dog food can go a long way in doing just that. But fresh is considerably more expensive than canned or kibble. The Farmer's Dog is our favorite fresh dog food delivery service, but is it a good match for your furry friend and your wallet?
How much is Farmer's Dog food? Because this brand personalizes your pup's food, the answer is, that it depends on several factors. The Farmer's Dog ranges anywhere from $15 to $100 or more per week. But to give you a better idea of the cost, we've run quotes for several different breeds and sizes. We also share our personal experience with The Farmer's Dog and why it's our favorite fresh dog food delivery service.
Visit The Farmer's Dog Website
Why Consider Fresh Dog Food?
Feeding your dog high-quality, fresh food is one of the best ways to keep your furry friend as healthy as possible throughout her lifetime. Fresh dog chow contains real, whole-food ingredients, like premium meats, vegetables, and fruits. Unlike heavily processed kibble, fresh dog food is lightly cooked to preserve nutrients and freshness.
Fresh meals are a tasty alternative to kibble and a fantastic choice for picky eaters. But they also provide your pup with the ideal nutrition for whole-body wellness and the energy they need to thrive. Benefits include everything from a stronger immune system and improved digestion to heart, brain, eye, skin, and coat health, and much more.
Why not just prepare homemade dog food? Feeding your pup fresh dog food from brands like The Farmer's Dog is a much healthier choice than most homemade diets. Because these brands' recipes are formulated by animal nutritionists, they contain the ideal ingredients and level of nutrients our pups require.
Making homemade dog food is time-consuming and extremely difficult to ensure your canine companion is getting the appropriate nutrition. Too much or not enough of any nutrient can lead to obesity, malnutrition, serious illnesses, and even life-threatening problems. But with The Farmer's Dog, you can rest assured your dog is getting the best diet possible.
The Farmer's Dog

Human-grade, all-natural meals made with whole-food ingredients

4 healthy grain-free recipes developed by board-certified veterinary nutritionists

All meals cooked at a USDA-inspected facility to ensure quality & safety

Personalized for your dog's age, breed, size, weight goals & more

Meals are pre-portioned in eco-friendly packaging

Free shipping &
get 50% off
your first box through Canine Journal
The Farmer's Dog Food Cost
The Farmer's Dog price starts at around $2 per day. Your exact plan and price options depend on your dog's specific needs and your recipe choices. The Farmer's Dog works closely with vet nutritionists to determine the optimal calorie needs for different breeds, sizes, weights, ages, body conditions, activity levels, and metabolic rates. The dog profile you fill out on their website gives them all the information they need to personalize your pup's food and portions.
How Much Is The Farmer's Dog Per Week & Per Month?
We ran quotes on The Farmer's Dog website for several different dogs to give you a rough idea of their pricing. However, we recommend you get a quote so you'll know exactly what The Farmer's Dog price is for your unique pup. The profile quiz takes less than five minutes to complete, and you're not required to make any payment or other commitment to see your quote.
Each quote below (as of August 2023) is for three-year-old, moderately active dogs at a healthy weight with no health problems. We chose to represent a few of the most popular breeds in the U.S. This chart reflects pricing for their beef recipe, which is their least expensive option. Pork, chicken, and turkey recipes are slightly more expensive.
Full Meal Plan Cost
| Dog Profile | Price Per Week | Price Per Month |
| --- | --- | --- |
| Yorkshire Terrier (6 lbs) | $18.95 | $75.80 |
| French Bulldog (20 lbs) | $31.07 | $124.28 |
| Mixed-Breed (34 lbs) | $40.33 | $161.32 |
| Australian Shepherd (50 lbs) | $50.82 | $203.28 |
| Labrador Retriever (69 lbs) | $56.70 | $226.80 |
| Rottweiler (98 lbs) | $89.50 | $358.00 |
| Great Dane (122 lbs) | $111.05 | $444.20 |
Topper Plan Cost
After your initial two-week trial box, you have other options for topper plans depending on the size of your furry friend. This is a fantastic alternative if you simply can't swing the cost of the full plan, Mixing in fresh food with your dog's existing chow is still an excellent way to give her the health benefits of fresh food. For medium-sized dogs, your options are ½ or ¼ portions, and for large dogs, you have the option of ½, ¼, or ⅛ portions.
| Topper Plan Costs | 25-lb French Bulldog | 55-lb Golden Retriever |
| --- | --- | --- |
| Full plan | $33.10 | $56.70 |
| ½ portion cost/week | $24.36 | $32.76 |
| ¼ portion cost/week | $17.40 | $21.00 |
| ⅛ portion cost/week | N/A | $17.57 |
The Farmer's Dog Coupon
Our readers have access to 50% off your first box. No code needed; just use this link and the discount will be applied! You can also visit our dedicated The Farmer's Dog coupons page.
Is The Farmer's Dog Food Cost Worth It?
Yes, fresh dog food is expensive, but we think it's definately worth the cost. And compared to many fresh-frozen brands, like Nom Nom and A Pup Above, The Farmer's Dog is more affordably priced. If you can fit TFD into your budget, the health benefits for your pup far surpass saving a few bucks. See our full review of The Farmer's Dog to learn more about their recipes and for our first-hand experience with our own pups.
Frequently Asked Questions
Here are just a few questions pup owners often have when considering The Farmer's Dog.
Are There Any Other Fees?
No, what you see is what you get with The Farmer's Dog. There are no additional charges for signing up, shipping, or mixing recipes in your orders. The Farmer's Dog allows you to choose up to three recipes in each shipment.
When Will I Be Billed?
After your initial purchase, The Farmer's Dog establishes automatic billing and shipping. Billing occurs when they process your next automatic delivery, which is a few days before the box ships. In general, delivery options range from every week to every two months. If you have enough freezer space, setting up less frequent deliveries is an excellent way to cut down on packaging waste.
Once I Sign Up, Is My Subscription Flexible?
Yes, flexibility is one of the many benefits of The Farmer's Dog. After your first purchase, all you have to do is go into your account via their website to make any changes you want. You can adjust your recipe choices, the amount of food in each delivery, and the delivery frequency. You can also delay, rush, pause, or cancel any time before they process your next shipment.
How Do I Store The Food?
Because their food is fresh without any preservatives, you'll need to store your food in the refrigerator or freezer once you receive it. (Food is shipped frozen in boxes with dry ice and insulation.) Their food packets can last as long as four months in your freezer. However, once it's thawed and in the fridge, you'll need to use it within four days. Your box will include an easy guide on how to store and feed the food properly.
Alternatives To The Farmer's Dog
While The Farmer's Dog is our favorite fresh dog food brand that personalizes your pup's food, it's by no means your only option for fresh dog food. See how TFD compares to other brands in our reviews of the best fresh dog food brands. But if you're still not sure fresh food fits in with your budget, we have plenty of other recommendations for premium, all-natural dog food. Our reviews of the best dog food delivery services also include shelf-stable dehydrated dog food, premium kibble, and more.
Tagged With: Food Delivery