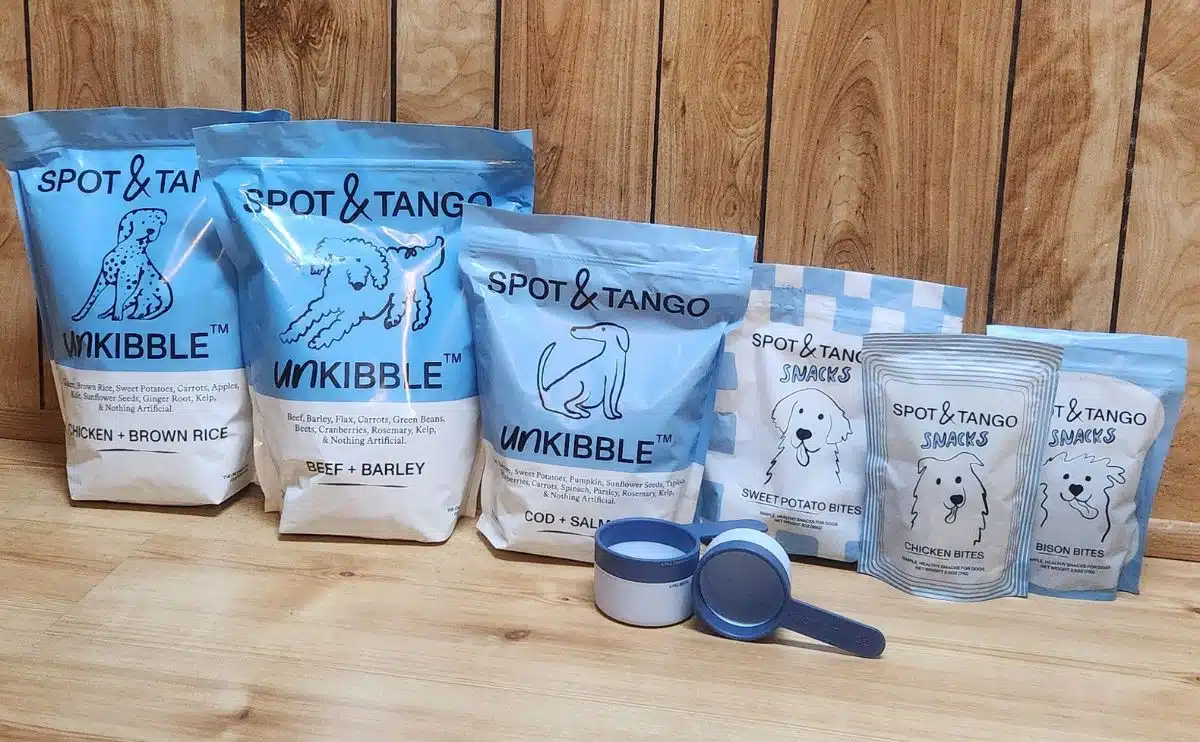 Making sure your dog gets a nutritious diet without a lot of additives and preservatives isn't easy. But you can get all-natural, human-grade dog food delivered right to your door with Spot & Tango. They offer fresh meals and a unique shelf-stable alternative, called UnKibble, that doesn't skimp on quality. We give you the low down on their recipes, pricing, and more. See how our pups rated their food with a first-hand experience.
Spot & Tango Review

Product Name: Spot & Tango
Product Description: Spot & Tango lets you receive all-natural, human-grade dog food delivered right to your door step.
Summary
We give Spot & Tango's UnKibble two enthusiastic paws up. We love that you can get 100% human-grade dog food that you store on your shelf instead of taking up valuable freezer space.
Our team determines the overall rating based on several factors, including meal and treat variety, nutritional value, customization options, pricing, customer service and reputation, and more.
Pros
6 recipes to choose from
Human-grade, whole-food ingredients with no preservatives or fillers
Customized meal plan with a portion-specific scoop
Offers a topper plan (1/2 meals) for fresh food
Free, auto-shipping that you can adjust anytime
Unkibble doesn't take up freezer space since it's shelf-stable
Responsive customer service Made in the USA
Cons
Fresh-frozen food ships every 4 weeks so you may not have room in your freezer for the full meal plan
Fresh meals are expensive compared to competitors
Key Features
Offers 3 fresh recipes (freezer storage) and 3 UnKibble recipes (shelf storage)
Meals are customized based on your dog's breed, gender, age, weight, body shape, activity level, health conditions, and other factors
Unique shelf-stable UnKibble dry dog food is made from human-grade meats and fresh starches, veggies, and fruits that are dehydrated under low temperatures to preserve nutrients
Fresh recipes are flash-frozen to preserve nutritional value
All recipes developed by a certified vet nutritionist and meet all guidelines by the Association of Animal Feed Control Officials
Ingredients are sourced from local farms and human food suppliers
Risk-free 2-week trial – they'll give you a full refund if your dog doesn't like it
Add on treats (3 flavors) to any subscription
Price
Subscriptions start at $9/week but vary based on the nutritional needs of each dog. The following pricing* is based on the profile of a mixed-breed male, 1-year-old, 38 pounds, healthy size, neutered with no health problems or allergies.
Our readers can save 50% off the following pricing for your first 2-week trial with the code CANINEJOURNAL50 this link.
UnKibble Recipes
Beef & Barley: $28.68*/week
Chicken & Brown Rice: $31.14*/week
Cod & Salmon: $41.84*/week
Free shipping
Fresh Recipes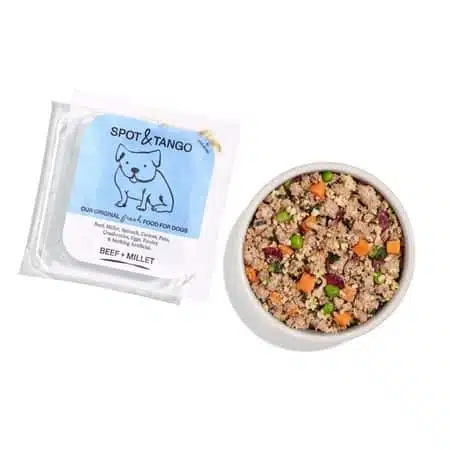 With each Fresh recipe, you have the option of ordering full meals or their Topper plan, which you mix in with your existing dog food.
Turkey & Red Quinoa: $46.14*/week (full meals) or $19.99/week (partial meals)
Beef & Millet: $49.61*/week (full meals) or $21.49/week (partial meals)
Lamb & Brown Rice: $70.45*/week (full meals) or $27.94/week (partial meals)
Free shipping
Note: While you could mix these two types of foods (fresh & UnKibble), we recommend choosing one that best suits your dog (fresh for picky eaters or older dogs with sensitive teeth; UnKibble if your dog prefers crunchy food or you have limited freezer room). This will minimize any concerns about whether your dog is getting a nutritionally balanced meal.
Treats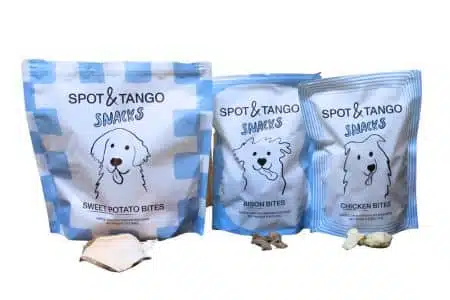 They also offer 3 flavors of treats to add-on to any plan.
Sweet Potato Bites: $12/bag (approx 20 treats)
Chicken Bites: $14/bag (approx 23 treats)
Bison Bites: $16/bag (approx 85 treats)
Coupon
Our readers can save 50% off the following pricing for your first 2-week trial with the code CANINEJOURNAL50 this link. You can also our dedicated Spot & Tango coupon page to check out historical offers.
Our Personal Experience With Spot & Tango Unkibble & Fresh Dog Food
Danielle from Canine Journal had the opportunity to test out Spot & Tango's dog food with their pups, Falkor and Daisy, in exchange for an unbiased review. This is their firsthand experience.
To get started with Spot & Tango, you fill out a brief online questionnaire. These details help Spot & Tango determine the right nutritionally balanced portion size based on your dog's size, age, breed, and activity level.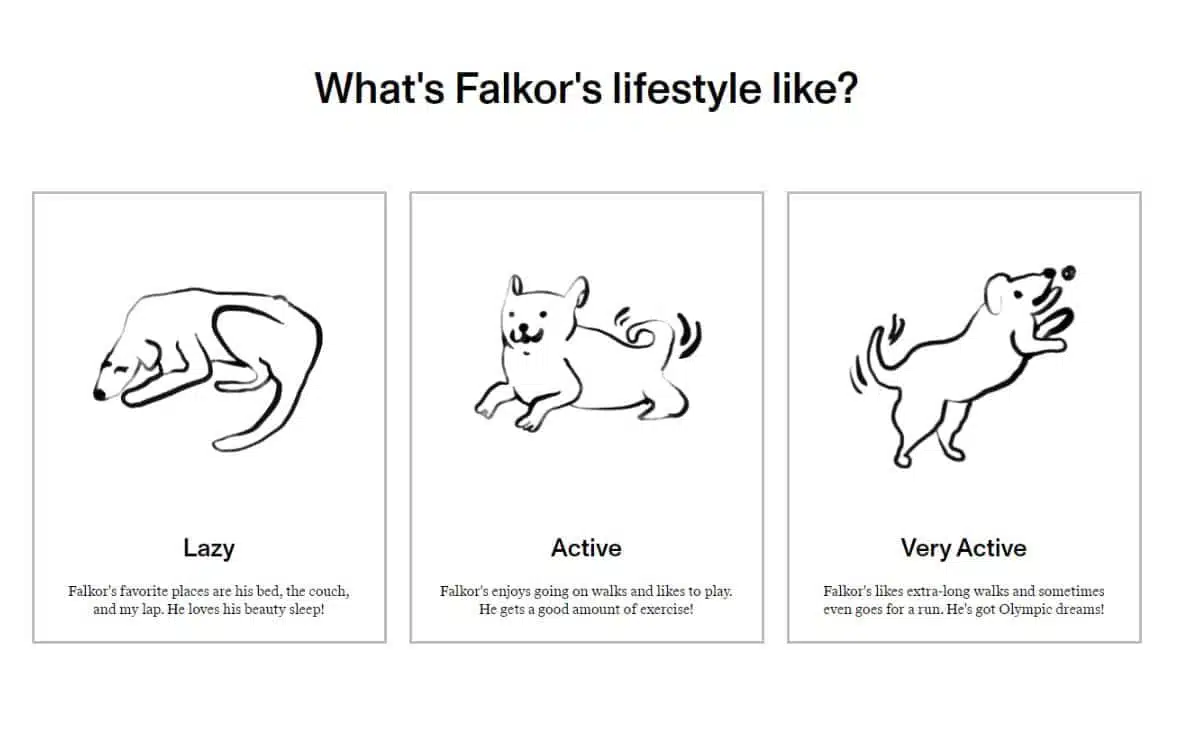 They list an impressive number of health conditions or concerns, more than 20 (you check all that apply), including everything from allergies, diabetes, and arthritis to a variety of common digestive problems.
Once you finish the questionnaire, you have the option of choosing either Fresh meals or their UnKibble — each offers three different recipes. Then, you can order one, two or all three of the recipes, but keep in mind that each recipe is a different price.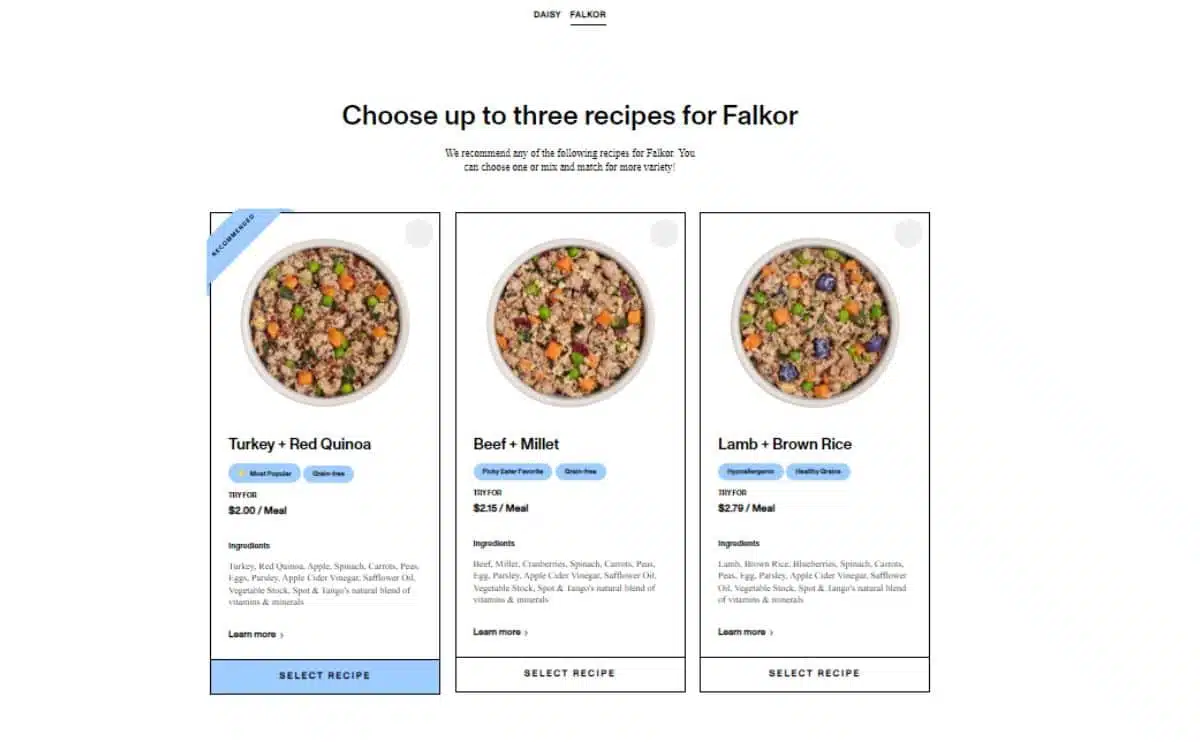 You also have the option to add treats on to any plan and pick from three different flavors.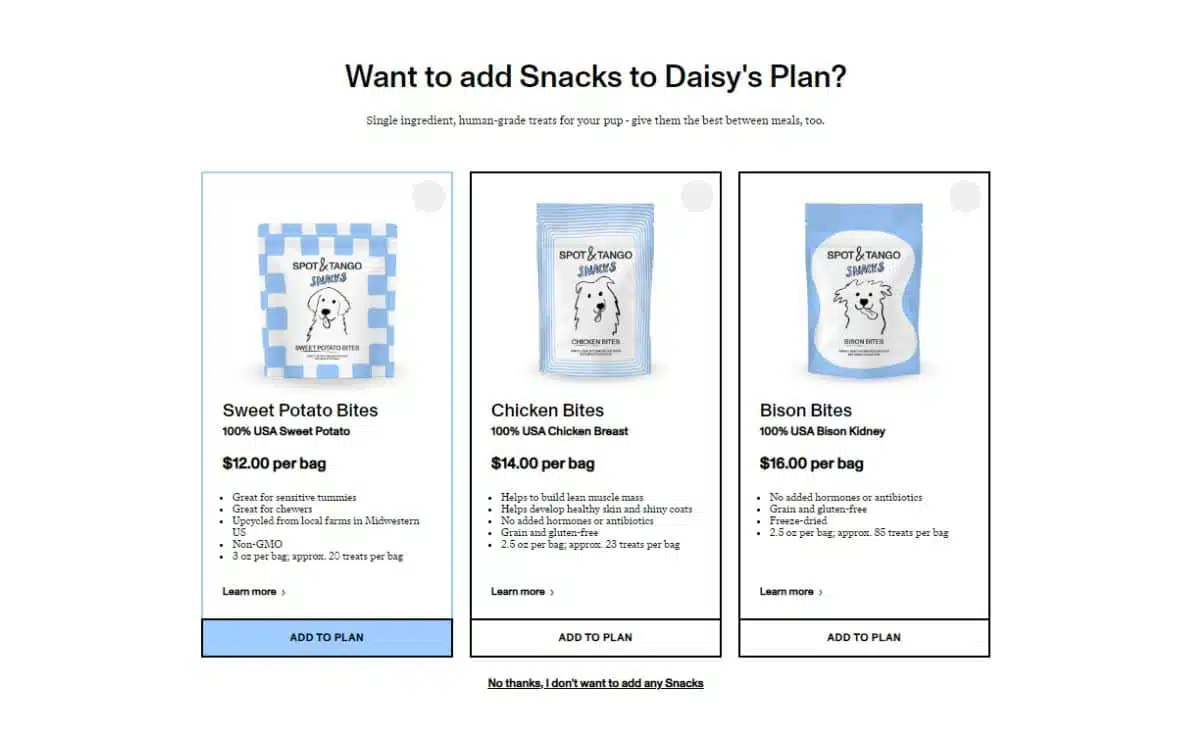 Daniele received a sample pack that contains both Unkibble and fresh meals. Her smaller younger dog Falkor, a Beagle Poodle mix, tried the fresh food, and her older dog, Daisy, a Labrador Pitbull mix, tried the Unkibble. Here's what they thought!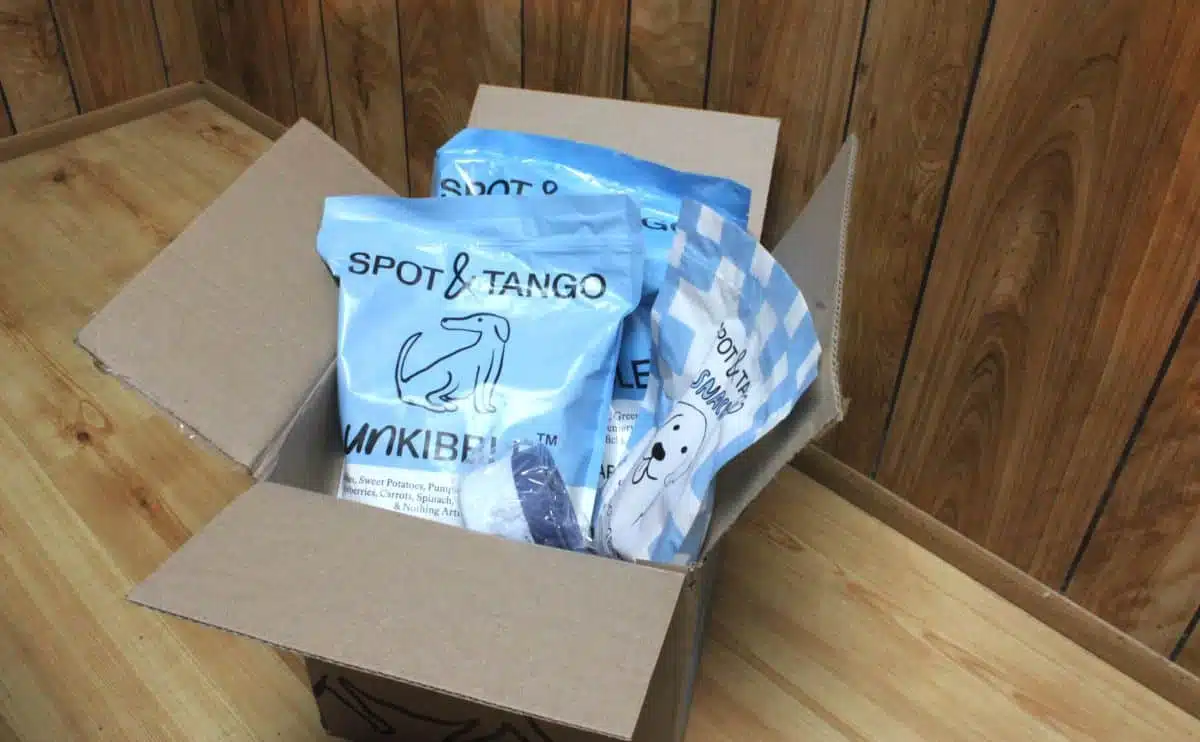 Right off the bat, the Beef + Barley Unkibble was a hit. Daisy has been not wanting to eat a lot lately and has been picky about her kibble. She perked up as soon as she smelled the food and even mixed it in with her regular food, gobbled it all up. She has been excited about mealtimes and very much enjoys the taste and texture. She has had more energy just in the week or so that she has been eating the food.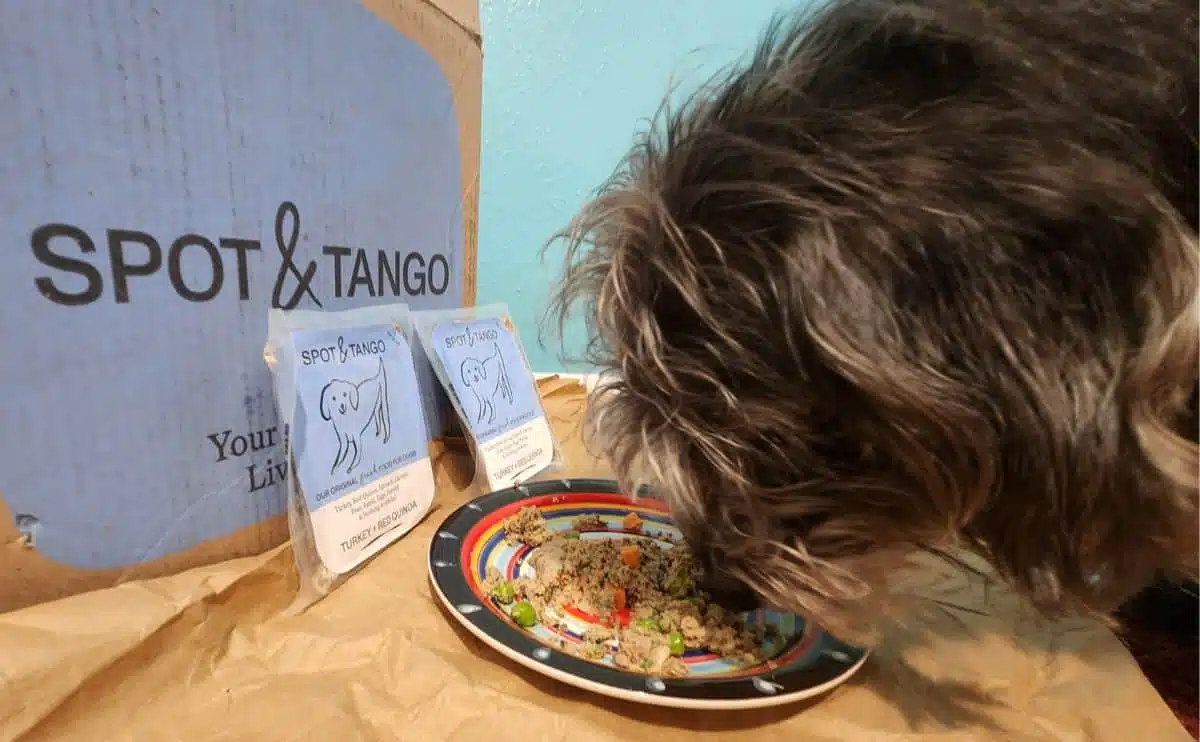 The fresh meals were also a big success. Falkor could not wait to try out the Turkey + Red Quinoa. He took to it right away and looked for more once he was done. He is a good eater but also very fussy with wet food, sometimes, he will refuse it. So, it was great that he liked this so much. He has been perky and looking forward to mealtimes. He eats everything and then wants more. He is even trying to steal his big sister's food. His gas has been much less smelly and frequent, he is a dog that is known to fart a lot, and this has been a welcome change.
"I noticed both dogs have a little less smelly poo as well, so that is always a great development. It also speaks to the quality of the ingredients."

– Danielle DeGroot, Parent To Rescue Dogs
Unboxing Video
Our Final Verdict
Although a bit pricey compared to kibble, it's a much healthier option and our choice for the best natural dog food. Spot and Tango's fresh recipes are also another healthy option for your pup, but these are priced significantly higher than some other companies that deliver fresh dog food to your door. If you're leaning toward fresh meals, be sure to check out your other options in our reviews of the best dog food delivery companies.
Tagged With: Food Delivery