If you have a fussy furball, you're probably wondering, what's the best-tasting dog food for picky eaters? Just like humans, every dog has its own preference for flavors and food textures. So there's no one-size-fits-all when it comes to finicky pooches. Owners whose dogs scarf down their meals within minutes can't relate, but many of us face the daily struggle of having a picky dog.
We've done extensive research into all types of canine chow, so we'll give you our top picks for the best dog food for picky eaters, from fresh and wet options to dry kibble and dehydrated choices. And don't miss our expert tips and tricks to entice your pup to eat every meal, including our tasty, healthy meal-topper recommendations.
At A Glance: A Few Of Our Top Picks
Is It Common For Dogs To Be Picky Eaters?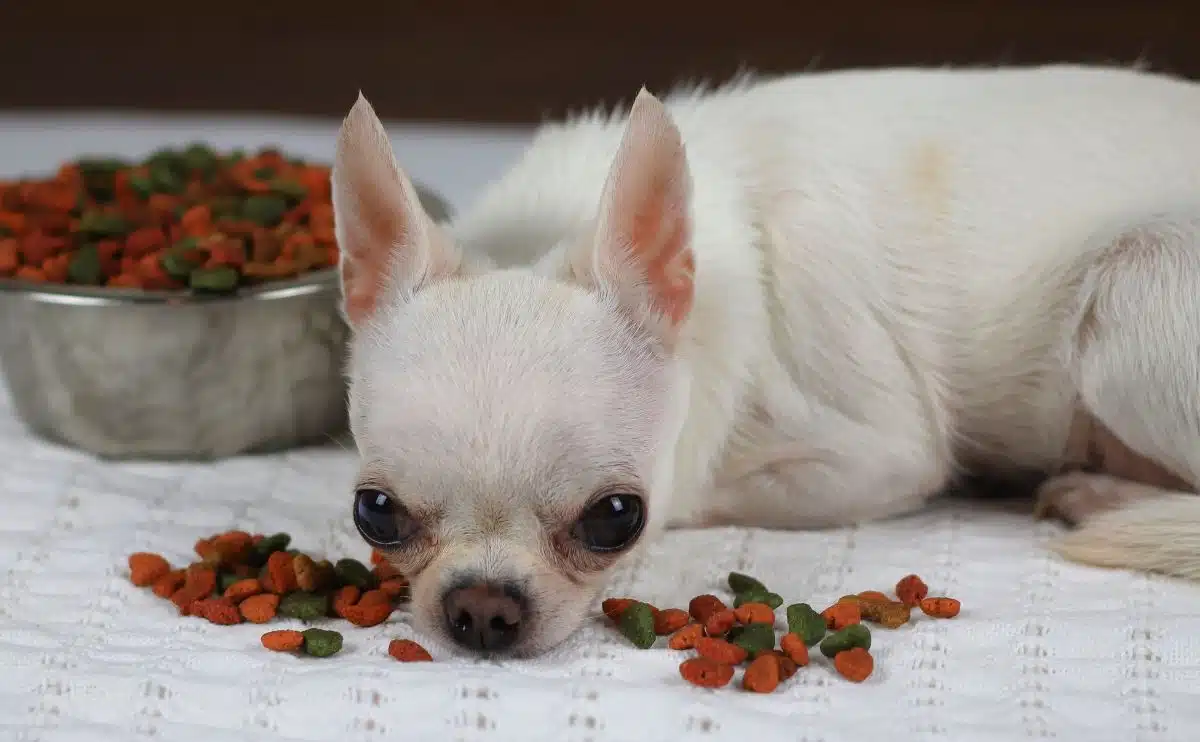 First, what makes a dog a picky eater? In general, dogs who don't finish their meal within about 20 minutes are considered picky. Another sign is a pup who turns his snout up at his dog food but happily gobbles down table scraps. While many canines devour almost any type of dog food, plenty of pooches are picky eaters.
A recent survey (commissioned by premium dog food brand Jinx) polled 2,000 pup parents about their dogs' eating habits. Results found that 54% of owners considered their pups picky eaters. And 49% of respondents said they "always" or "often" struggle to get their dog to eat meals. So, rest assured, you're certainly not alone in the challenge to find dog food your furry friend will eat.
Best Dog Food For Picky Eaters
We've chosen our recommendations based on the nutritional content, quality of ingredients, flavor factor, customer reviews, pricing, and other factors. All of our top picks meet or exceed Association of American Feed Control Officials (AAFCO) nutritional guidelines, are made in the U.S., and contain no by-products, preservatives, or artificial ingredients.
Best Wet/Fresh: The Farmer's Dog Review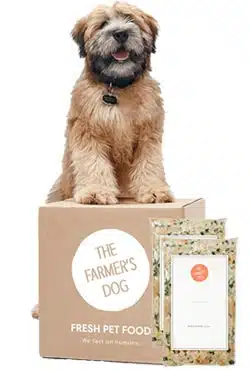 We've chosen The Farmer's Dog as the best wet dog food for picky eaters. Fresh food is one of your best options for a food-fussy pup, whether he's a puppy, adult, or senior. The Farmer's Dog offers freshly-cooked, human-grade meals using whole-food animal protein, vegetables, fruits, and legumes. All meals are fortified with an ideal blend of vitamins and minerals, as well as salmon oil for skin and coat health.
Another major benefit is that The Farmer's Dog pre-portions and personalizes recipes based on your pup's profile, which includes your dog's age, breed, current weight, body shape, and whether he has any health conditions. They offer beef, chicken, pork, and turkey recipes developed by board-certified American College of Veterinary Nutrition (ACVN) nutritionists and flash-frozen to preserve nutrients and freshness.
Although they require a subscription, you can cancel, pause, or change your recipes anytime. The only potential downside is that all of their recipes are grain-free. Fresh personalized dog food isn't cheap, but The Farmer's Dog's pricing is reasonable compared to some other top-rated fresh dog food brands.
Price
The Farmer's Dog bases its pricing on your dog's age, weight, and other factors. Smaller dogs start at $2/day. The following price* is based on a mixed-breed male, one-year-old, 38 pounds, healthy size, neutered, with no health problems or allergies.
Full meals: $51.74*/week
Free shipping
Our readers have access to 50% off your first box. No code is needed; use this link, and the discount will be applied. You can also visit our dedicated The Farmer's Dog coupons page.
Full Review Of The Farmer's Dog | More Fresh Dog Food Reviews
Best Dry: Open Farm RawMix Review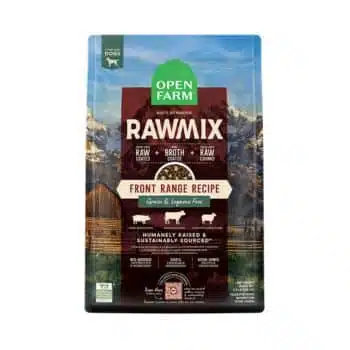 While kibble is often a more convenient and less expensive diet type, it's not a favorite for many finicky pups. But we think Open Farm's RawMix formulas are among the best dry dog food for picky eaters you can find. RawMix features kibble coated in a bone broth and freeze-dried raw blend with added chunks of freeze-dried animal protein for a major flavor blast.
This high-protein, nutrient-dense dog food is available in three protein choices: beef, lamb & pork, chicken & turkey, and ocean whitefish. And each comes in grain-free and grain-inclusive options. All recipes include a wealth of superfood fruits and veggies, many of which are organic. Their whitefish formula is excellent for picky pups with sensitive stomachs or food intolerances.
Although on the pricey side, Open Farm is one of our top-choice pet food brands. In addition to a focus on high-quality ingredients, this company also has an exemplary commitment to the humane treatment of animals and sustainable practices.
Price
You can save 5% off every order if you sign up for auto-shipping with Open Farm.
Starting at: $26.99 (3.5-lb bag)
Best Dehydrated: Spot & Tango Unkibble Review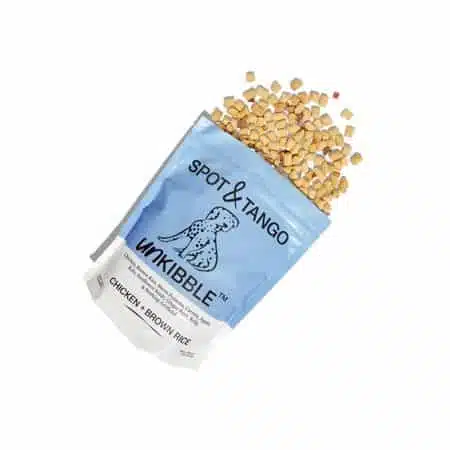 Want to give your pup whole-food, human-grade ingredients but don't have enough freezer room to store fresh meals? Spot & Tango's Unkibble is a tasty, healthy, and shelf-stable option that's less expensive than fresh meals. Unkibble includes real meats, fruits, veggies, and more, which are dehydrated under low temperatures to preserve nutrients and flavor.
Spot & Tango personalizes your pup's meals based on your dog's breed, age, weight, body shape, activity level, and other factors. You even get a personalized scoop for quick and easy feeding. They also offer a money-back guarantee for your first two-week trial shipment. All Unkibble recipes are formulated to meet the AAFCO-established nutritional levels for all life stages (including the growth of large-sized dogs).
Price
The following prices* for their Unkibble recipes are based on a mixed-breed male profile, one-year-old, 38 pounds, healthy size, neutered, no health problems or allergies.
Beef & Barley: $28.68*/week
Chicken & Brown Rice: $31.14*/week
Cod & Salmon: $41.84*/week
Free shipping
Looking for a Spot & Tango promo code? Visit our dedicated Spot & Tango coupon page to check out the latest offer and save.
Best Wet/Dry Mix: Ollie Mixed Bowl Plan Review
Ollie is another top-rated fresh dog food brand that has a unique offering for finicky canines. Their Mixed Bowl plan is a great way to give your pup a mixture of textures and flavors while ensuring that he's getting the proper balance of nutrition he needs. With this plan, you can get meals that include half fresh food and half gently-baked dry food, and they personalize your pup's food based on breed, age, weight, ideal weight, body shape, and activity level. So Ollie's another excellent option for puppies, seniors, and adult dogs.
All recipes are human-grade and feature whole meats, fruits, veggies, legumes, chia seeds, and other superfood ingredients. Fresh options include beef, chicken, lamb, and turkey, while baked food is available in beef or chicken. Both chicken formulas are grain-inclusive, while the others are grain-free. While you must sign up for a subscription, you can cancel anytime. And they offer a 100% money-back guarantee on your starter box.
Price
The following price* is based on a mixed-breed male profile, one-year-old, 38 pounds, healthy size, neutered, no health problems, or allergies.
Mixed Bowl plan: $42.00*/week
Full Fresh plan: $51.00*/week
Half Fresh plan: $35.70*/week
Free shipping
Our readers can get 50% off their first box. Use this link to take advantage of this offer (no discount code needed).
Best Canned: American Journey Stews Poultry & Beef Variety Pack Review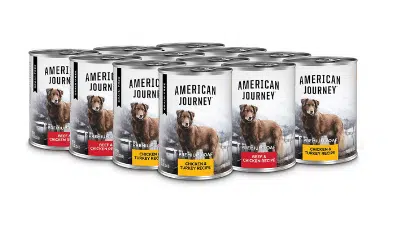 We've chosen American Journey's variety pack of chicken and beef stews as the best canned dog food for picky eaters. Pet parents love this food (a Chewy brand) for its combination of affordability and high-quality ingredients. Each grain-free stew features premium animal protein, organ meat, and veggies, all mixed with a savory broth for an appetizing meal or as a tasty topper for kibble.
This high-protein wet food is fortified with flaxseed and fish oil, both rich in omega fatty acids for your pup's skin, coat, and immune health. If your pup gets bored with the exact same food, this variety pack lets you switch up mealtimes.
Price
Starting at: $30.38 (12.5-oz can, case of 12)
Best For Puppies: Orijen Amazing Grains Puppy Food Review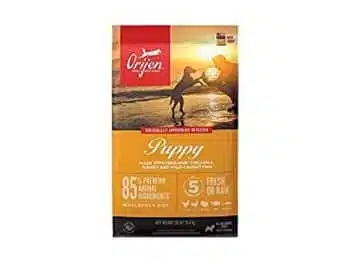 While The Farmer's Dog is an excellent grain-free, wet food for picky puppies, you may prefer a grain-inclusive kibble that's also super healthy for your growing furball. Orijen's Amazing Grains formula fits this bill as one of the best puppy foods for picky eaters. Many owners say their puppies (even choosy connoisseurs) love this flavorful recipe, which features freeze-dried coated kibble packed with premium animal protein and organ meats.
With chicken, turkey, whole mackerel, whole herring, and salmon as the first five ingredients, this high-protein recipe gives your active puppy plenty of energy and supports muscle development. It also includes easy-to-digest healthy grains and plenty of whole fruits and veggies. Added fish oil, chia seeds, prebiotics, and probiotics promote digestive, skin, and coat health and a strong immune system.
Price
Starting at: $28.00 (4-lb bag)
Best For Seniors: Nom Nom Review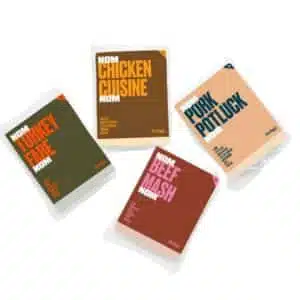 Similar to The Farmer's Dog and Ollie, Nom Nom is another brand that delivers all-natural fresh-frozen meals right to your door. Their beef, chicken, pork, and turkey recipes all have limited ingredients, which makes them a good option for older dogs with sensitive stomachs. Made with whole, premium foods, they're more flavorful than traditional dog chow.
Nom Nom also pre-portions and personalizes their recipes for your pup's age, breed, weight, and more. You're required to sign up for a subscription, but you can cancel anytime. And they offer a 30-day money-back guarantee. You can also choose a half-meal plan if your dog weighs 40 pounds or more.
Price
Plans start at $2.40 per meal. Nom Nom bases its pricing on your dog's age, weight, and target weight. The following prices* are based on a mixed-breed male profile, one-year-old, 38 pounds, healthy size, neutered, no health problems or allergies.
Full meals: $59.67*/week
Free shipping
Our readers have access to save 50% off your first order of Nom Nom; no promo code is needed. Use this link to get started!
Full Review Of Nom Nom | More Senior Dog Foods
How Do I Get My Finicky Dog To Eat His Food?
If you've tried dozens of dog food brands, flavors, textures, etc., and your pup still seems indifferent to your offerings, here are some tips to encourage a healthy eating pattern.
Reduce Or Eliminate Table Scraps & Treats
It's important for your dog to get the right balance of nutrients every day, and giving him table scraps and treats to make up for the dog food he's not eating isn't healthy for your pup. It also encourages him to hold out for the "good stuff" instead of finishing his bowl.
Set A Regular Feeding Routine
This tip goes hand-in-hand with abstaining from treats and table scraps to teach your dog that he doesn't get anything else except for his meal. Dogs thrive off routine, so setting a daily feeding schedule is important for healthy eating habits. To accomplish this, many experts recommend:
Offer your pup's first meal of the day and give him 10-20 minutes to eat
Remove any remaining food from their sight if they don't finish within 20 minutes
At the next mealtime, offer the food again
Add A Food Topper
While slightly heating or moistening dog food with a bit of water may be all it takes, many pup parents find that dog food toppers are an excellent way to get their dogs interested in their meals. Meal enhancers can include healthy homemade toppers like steamed veggies or baked chicken to store-bought toppers like bone broth for dogs and freeze-dried bites.
Best Food Toppers
Here are just a few of our favorite food toppers to entice your furry friend at mealtime: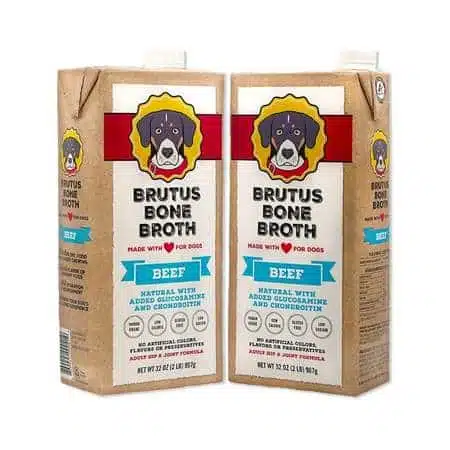 Reasons For Picky Eating
While some dogs simply aren't food-driven, other reasons for picky eating include:
Lack of variety: Imagine if you had to eat the exact same meal day after day. Some dogs feel the same way and get bored without variety. Trying different flavors and textures may help you nail down a good feeding regimen for your pup.
Food sensitivities or allergies: Dogs can develop intolerances to food ingredients at any point during their lives, and these sensitivities can cause gastrointestinal discomfort and/or itchy skin. These reactions could cause your pup to avoid eating because it makes him feel bad.
Dental problems: Gum disease is extremely common in dogs (and not just older pups). It could be that your furry friend is having trouble chewing dry food.
Age: Older dogs can become finicky for several reasons. As pups age, some don't have the same sense of smell or taste as they did when they were younger, making food not very palatable. They're also at a higher risk for dental issues or underlying diseases that may affect their appetite.
Breed: Some dog breeds are known to be picky eaters, including Maltese, Bichon Frese, Boston Terriers, Dachshunds, French Bulldogs, German Shepherds, and more.
When It's Time To Consult Your Veterinarian
Skipping an occasional meal isn't usually a big deal as long as your pup appears healthy and maintains his ideal weight. But a sudden loss of appetite could be a red flag that your pup is ill. The general guideline is to consult your vet if your dog stops eating (or barely eats) over a period of 12 to 24 hours without going back to his normal eating pattern.
However, it's important to contact your vet without waiting for 12 to 24 hours in some cases. These include:
Puppies younger than 6 months old
Dogs with diabetes or kidney disease
Dogs who aren't eating, along with severe vomiting and/or diarrhea, are at risk of dehydration
You should also seek vet attention if your picky dog seems chronically lethargic, loses weight, or you're concerned your pup isn't consuming the number of calories he needs each day.
Even More Dog Food Options For Picky Pups
If you haven't found an ideal match here for your finicky furry friend, you may want to see our reviews of the best raw dog food or the best freeze-dried dog food for some more options. And check out our top picks for the best dog food delivery, which includes reviews of air-dried food and premium all-natural kibble. Whichever chow you choose, be sure to transition your furry friend to his new food slowly to avoid digestive problems, which could exacerbate your pup's picky nature.
Tagged With: Comparison, Food Delivery