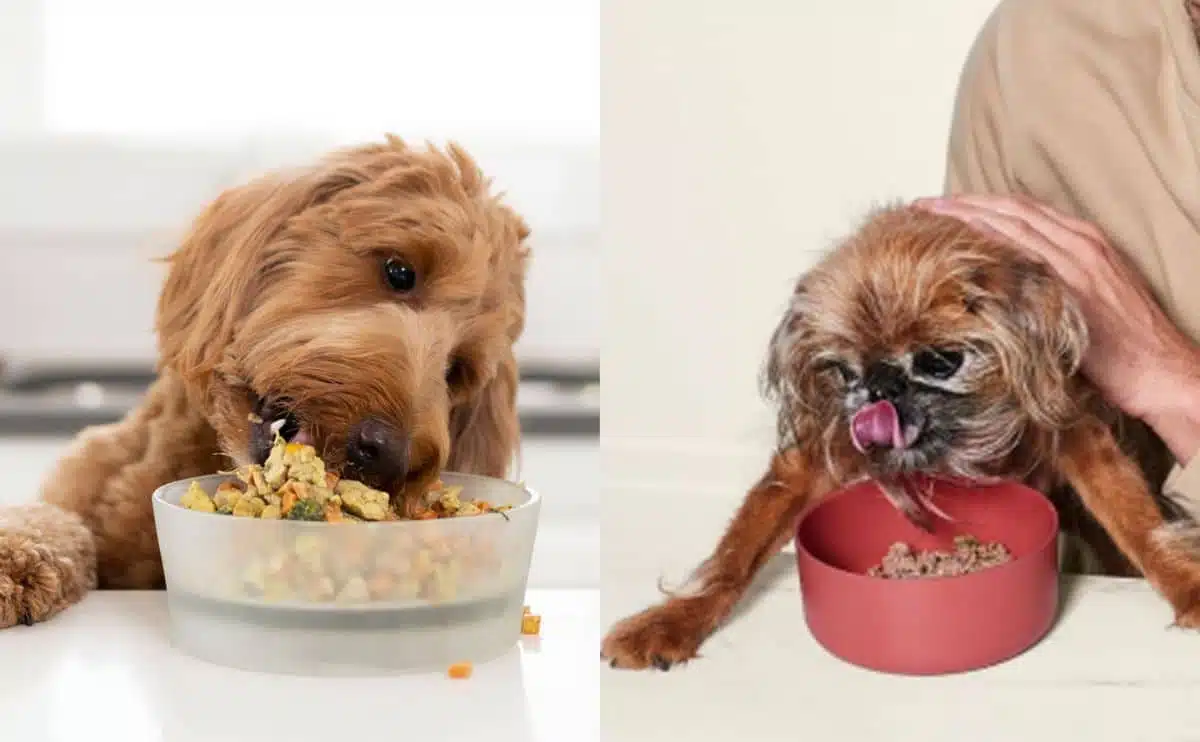 Fresh dog food is a rising star in the pet food industry, and competition is fierce. That's good news for owners looking for a super healthy diet made with whole-food ingredients. But it can be hard to decide which company is your best choice for your furry friend's diet needs and your budget. Our Ollie vs Nom Nom comparison pits two of the leading fresh dog food delivery services head-to-head to help you choose the best fit.
Visit Ollie's Website | Visit Nom Nom's Website
Meal & Treat Variety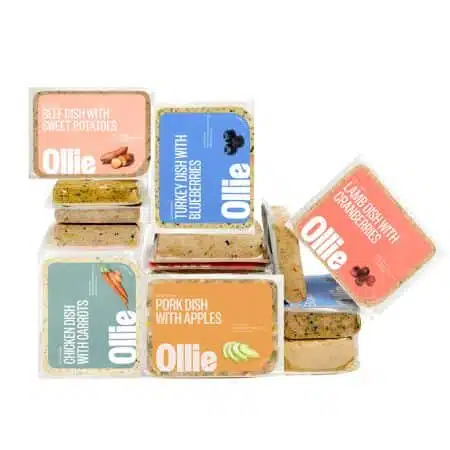 Ollie clearly beats out Nom Nom for your pup's meal and plan options. Ollie has seven different recipes to choose from and three subscription options. With Ollie, you can order fresh-frozen meals (full or half portions) or choose a mix of their fresh and newly introduced dry food, which is gently baked using the same high-quality, human-grade ingredients as in their fresh food.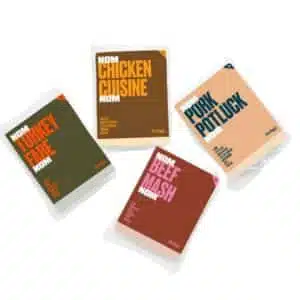 Nom Nom offers four fresh-frozen recipes but no dry food options. Nom Nom also gives you the option of choosing half or full meals, although this is only offered for dogs weighing 40 pounds or more. We like that Ollie has more grain-inclusive formulas for those of you who are wary of grain-free dog food. Here's a quick breakdown of what each brand offers.
| Ollie's Recipes | Nom Nom's Recipes |
| --- | --- |
| Fresh Beef with Sweet Potatoes (grain-free) | Beef Mash (grain-free) |
| Fresh Chicken with Carrots | Chicken Cuisine (grain-free) |
| Fresh Turkey with Blueberries (grain-free) | Turkey Fare |
| Fresh Lamb with Cranberries (grain-free) | Pork Potluck (grain-free) |
| Fresh Pork with Apples | |
| Baked Chicken with Carrots | |
| Baked Beef with Sweet Potatoes (grain-free) | |
When it comes to products beyond dog food, Ollie again has the edge over Nom Nom. Ollie subscribers can add all-natural treats, including Beef and Sweet Potato Jerky, Chicken and Apple Jerky, and dehydrated Sweet Potatoes, to their order. They also carry three supplements: probiotics, hip and joint support, and calming "chill pills." Nom Nom currently offers probiotic supplement add-ons but no treats.
Meal & Treat Variety Winner
Nutritional Value
Both Ollie and Nom Nom use all-natural, USDA human-grade, whole-food ingredients in all of their recipes, which are slow-cooked to preserve nutrients and flavor. All recipes meet Association of American Feed Control Officials (AAFCO) guidelines for a complete and balanced diet for all life stages. Nom Nom's recipes are developed by board-certified veterinary nutritionists, while Ollie's are formulated by specialized veterinarians.
Although this isn't a major deciding factor in our comparison, Nom Nom doesn't prepare meals in kitchens licensed for human food production (currently, one of several guidelines for a pet food brand to be able to call its food human-grade). Ollie uses USDA-certified kitchens and is considered human-grade dog food.
Both Ollie and Nom Nom fortify their animal protein-based recipes with complex carbs, fresh vegetables and fruits, fish oil, and essential vitamins and minerals for a complete and balanced diet. You can also feel confident about giving your pup either brand's meals because they contain no artificial ingredients, fillers, or preservatives (and no wheat, corn, or soy for allergy sufferers).
Nutritional Value Winner: TIE
Meal Customization
Both brands customize your dog's meals and portions based on their websites' online dog profiles. All you have to do is fill out a brief questionnaire, which asks you about your furry friend's breed, gender, age, current weight, and body condition (which indicates if your pup is underweight, ideal, or overweight).
Most personalized fresh dog food services (including Ollie) also ask for your pup's activity level to help determine the number of calories your pup needs each day. But Nom Nom doesn't factor in your dog's activity level. Both companies also give you the option to share some health issues that your furry friend has. Ollie only includes food allergy concerns, while Nom Nom allows you to add food allergies, digestive issues, a dry or flaky coat, and arthritis or joint pain.
We're declaring this category a tie because we think each brand's pros and cons balance each other out regarding their meal customization features.
Meal Customization Winner: TIE
Pricing
Both companies base their pricing on the number of calories your pup requires each day. They determine this from the profile you fill out for your pup, including current weight, body condition, breed, age, and activity level (with Ollie). To give you a general idea of pricing for each brand, here are their starting prices per day.
Ollie
Full fresh plans start at: $3.14/day
Mixed fresh & baked plans start at: $2.72/day
Half-portion fresh plans start at: $1/meal (no weight limit for half plans)
Nom Nom
Full fresh plans start at: $4.80/day
Half-portion fresh plans start at: $4.79/day (but they're only available for dogs 40+ pounds)
For $20, you can get a sample pack to try out their food before subscribing (Ollie doesn't offer a sample pack)
Both companies provide free shipping, and you can cancel, skip, or pause your subscription at any time. While we love that you can order Nom Nom's sample pack without a subscription commitment, we give Ollie our nod in this category due to lower pricing for all meal plans and more flexible delivery frequency options than Nom Nom.
Coupons
Ollie: Our readers can get 50% off their first box. Use this link to take advantage of this offer (no discount code needed).
Nom Nom: Our readers have access to save 50% off your first order of Nom Nom; no promo code is needed. Use this link to get started!
Customer Service & Reputation
Both companies have a sound reputation for producing high-quality fresh food, with no dog food recalls in their history. Although they no longer offer fresh cat food delivery, Nom Nom did voluntarily recall specific lots of cat food in 2021 due to their supplier's recall of chicken that was potentially contaminated with Listeria monocytogenes. Nom Nom acted immediately to inform their customers of the potential contamination.
As part of our product reviews, we always research what customers are saying about their experiences with a brand. One common complaint we see with all fresh-frozen dog food services is that the food arrives partially or thoroughly thawed. Nom Nom gets more complaints about thawed food arriving than Ollie. Another fairly frequent complaint we noticed with Nom Nom is that their packaging is messy, bags get damaged, and leak when defrosting in the fridge, and the portions in packaging is inconsistent.
Regarding customer service, both companies offer support seven days a week via phone, text, email, and chatbot. In terms of customer service quality, we think Ollie comes out on top. We've seen more complaints about unhelpful customer service, billing problems, and difficulty canceling with Nom Nom vs Ollie. But it's important to point out that we've found hundreds of positive customer reviews for both brands.
Customer Service & Reputation Winner
What's Our Verdict?
We think both of these companies offer some of the healthiest dog food you can find. But Ollie gets our nod in this battle of the fresh dog food brands because they're generally less expensive, have a wider variety of meals and treats, and have fewer customer complaints compared to Nom Nom. However, if you're not ready to make a commitment, Nom Nom's sample pack is an excellent way to try out all four of their recipes before signing up.
If you didn't find all the details you were looking for in this comparison, we've dug deeper into these companies with individual reviews of Ollie and Nom Nom, including our personal experiences. And see how Nom Nom and Ollie compare to other top-rated fresh dog food delivery services.
Tagged With: Food Delivery