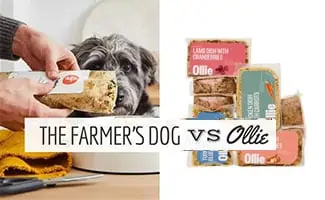 Thinking of changing your dog's food to a fresh delivery service, but aren't sure which brand is the best for your dog? This article compares two of the most popular dog food delivery companies, The Farmer's Dog and Ollie. We look at meal and treat variety, nutritional value, customization, pricing, and customer service and reputation.
If you're looking for the best fresh dog food delivery service, the competition is fierce these days. Both The Farmer's Dog and Ollie are top contenders, and they offer high-quality fresh dog food delivered right to your door. But there are some differences in what they offer and some other features. Which service is best for you and your furry friend? We give you the information you need to know to make the best choice for your specific needs.
Visit The Farmer's Dog Website | Visit Ollie's Website
Meal/Treat Variety
Both The Farmer's Dog and Ollie offer four different recipes. The Farmer's Dog has beef, chicken, turkey, and pork, while Ollie has beef, turkey, chicken, lamb, and pork. All of The Farmer's Dog recipes are grain-free. On the other hand, Ollie has two grain-inclusive recipes. Their chicken recipe includes rice and their pork recipe includes oats.
Ollie also has the leg up in this category because they offer full and topper plans, while The Farmer's Dog only offers a full plan. This is helpful for people who only want to feed their dog partial fresh food combined with their dog's normal dog food.

Ollie also carries four all-natural, healthy dog treats: beef strips, chicken strips, turkey strips, and sweet potato slices. The Farmer's Dog currently doesn't sell any dog treats.
Meal/Treat Variety Winner: Ollie
Nutritional Value
Both Ollie and The Farmer's Dog use all-natural, responsibly sourced, whole-food ingredients in their recipes developed by veterinary nutritionists. All recipes meet Association of American Feed Control Officials (AAFCO) guidelines for a complete and balanced diet for all life stages. Both companies also cook their meals in USDA-certified kitchens using a low-heat process to preserve nutrients.

The Farmer's Dog and Ollie also add essential vitamins and minerals to their whole-food ingredients but leave out artificial ingredients, fillers, or preservatives. This category is a tie because the nutritional value of each company's meals is excellent.
Nutritional Value Winner: Tie (The Farmer's Dog & Ollie)
Customization
The Farmer's Dog and Ollie both have online profiles that you fill out for your dog. Both sites' profiles include your pup's breed, gender, age, activity level, current weight, body shape, and ideal weight. These are the basics for most customized fresh dog food delivery services.

These two companies differ in the ability to customize based on your dog's specific health concerns. The Farmer's Dog's profile includes 15+ different health issues (allergies, gluten or grain insensitivity, ear infections, digestive issues, etc.), with the option of adding any other health issues not listed. On the flip side, Ollie's profile questionnaire only lets you inform them if your dog has allergies, and it's not specific.
Customization Winner: The Farmer's Dog
Pricing
Both companies base their pricing on the recipes you choose and how much food your dog needs. They determine this by the profile you fill out for your pup, including weight, ideal weight, body shape, breed, age, activity level, gender, and health issues.
The pricing below is based on their websites as of the time of publishing. Keep in mind that the price for your specific dog depends on portion size well as the recipe(s) you choose (e.g., lamb is more expensive than chicken).
| | The Farmer's Dog | Ollie |
| --- | --- | --- |
| Starting Price Per Day | $2 | Less than $4 |

Both companies offer free shipping, and you can cancel, skip, or pause your subscription at any time. The Farmer's Dog has a slight edge due to lower pricing and gives you more flexible delivery frequency options than Ollie.
Pricing Winner: The Farmer's Dog
Customer Service & Reputation
Customer support is available by phone and email seven days a week for both companies. Ollie and The Farmer's Dog both get overall excellent reviews for their customer service, from courteous, helpful staff to any problems being addressed in a satisfying manner.

Most of the negative reviews about both companies involve delivery issues (e.g., food being delivered late or warm), and both appear to resolve problems quickly. This category is too close to call, so we're declaring a tie.
Customer Service & Reputation Winner: Tie (The Farmer's Dog & Ollie)
What's Our Verdict?
Both of these companies are excellent healthy options for your pup. The Farmer's Dog gets the slight edge in this tight race, mainly because their pricing is generally lower and their customizability for any health concerns is the best we've seen compared to similar services. We also like that The Farmer's Dog is more eco-friendly. All of their packaging is either biodegradable or recyclable. Most of Ollie's is but not all.

On the other hand, Ollie may be your best option if you want grain-inclusive fresh food. And if you're into all-natural treats, it's convenient to add Ollie's treats to your auto-shipping order.
Overall Winner: The Farmer's Dog
If you didn't find exactly what you were looking for in this comparison, we've dug deeper into these companies with individual reviews of The Farmer's Dog and Ollie, including our personal experiences. And see how The Farmer's Dog and Ollie compare to other top-rated fresh dog food delivery services.
Tagged With: Food Delivery