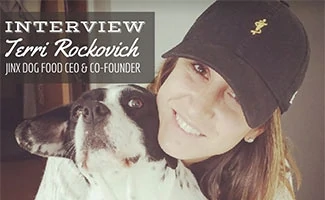 Terri Rockovich has a history of building brands and a passion for pups. She and her two co-founders started Jinx after working together in the tech and startup space.
The company officially launched in early 2020, amidst the COVID-19 outbreak. But it turned out to be good timing for this e-commerce business, providing dog food delivery via a subscription service when dog adoptions were peaking due to the pandemic.
In our latest interview, Terri shares her new company's story and how the food has helped her rescue dog Blitz (he also helps test new products!). Read on to learn more about how Jinx is paving the way for the future of clean kibble.
Visit Jinx's Website | Read Review
Did a special pet inspire you to start this business?
I've been an animal lover my entire life, with lots of different types of pets growing up. I've always had special relationships with my pets, but my rescue pup Blitz is my spirit animal. I adopted him when I first moved across the country, from Pittsburgh to San Francisco, and he quickly became so much more than just a dog. He is my confidant, my running partner, my cuddle buddy, and so much more.
When he started having health issues after a traumatic back injury, his nutrition was absolutely critical to his recovery. We started on this journey that was confusing and complicated, which is when it became clear to me that pet owners are not set up to make informed decisions due to the abundance of options that exist. Despite all of the choices, the category is hungry for dry dog food made with clean ingredients and tailored to 21st-century dogs and their pet parents.
Where did the name Jinx come from?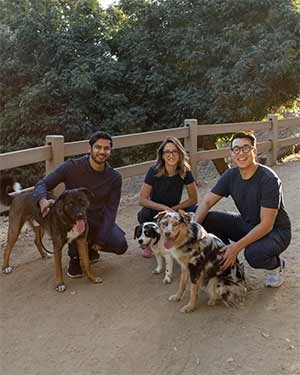 My co-founder's first dog was named Jinx. He had never had a dog in his life, and this was the first time he had the opportunity to connect with a furry friend and treat him more like a child than an animal. This is just another example of how special the human to animal connection can be when we treat pets like members of our family.
What's the biggest challenge you've faced in starting a dog food business?
The biggest challenge with launching a new brand in the pet food space is being forced to do everything digitally. While we embrace the positioning of a digitally native brand, we realize that so much of building a community includes some IRL (in real life) moments — and we are limited from hosting experiential marketing and partner activations (due to COVID-19). However, we are saving up all of our good ideas for a time when it's safe to socialize our furry friends together.
We love that Jinx is filling a void for D2D (Direct To Dog) healthy kibble. What else sets you apart from competitions?
Our nutritionist-designed recipes are made for 21st-century dogs and their pet parents, with meat- and plant-based proteins, functional superfoods, and patented probiotics that all work together to promote a clean and balanced diet. From the digital ordering experience and flexible subscription through the perks of joining the community and feeding your dog a food that's not only nutritious but something they can get excited about eating.
How has your past experience helped in your CEO role?
I've had the absolute fortune of working with some amazing early-stage companies like Casper, Outdoor Voices, ModCloth, Ro, Luminary, Oura, and Shhhowercap. Being in the trenches and then being required to rise into a leadership role really allows you to build muscles that flex in so many directions.
At this stage of business, I'm required to wear a lot of hats and use my intuition to make game-changing decisions. After collecting so many data points across so many business types, it becomes more natural to have instincts around what to do and what not to do.
What are your day-to-day responsibilities?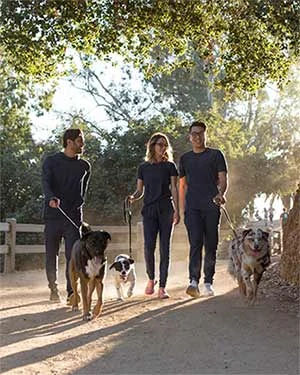 Every day is different, with some routine meetings that are sequenced throughout the week to ensure that we are reviewing business performance and shifting priorities to accommodate our ever-changing world and the way it impacts business operations.
No job is too small, and I revel in moments when I get to participate in think tanking, brainstorming, workshopping, or interviewing potential new team members. I flex across all areas of the business, while my co-founders are more focused on their respective practice areas: commercial strategy and brand partnerships; finance and operations.
Can you share a success stories of a pup who switched to Jinx?
My dog Blitz is actually the filter for so many decisions that we make when testing the acceptability of new products after the development of new recipes. He has a picky palette and will turn his nose up at perfectly fine options. So, if he gets excited about eating kibble or treats, then we know we have a winner.
Even better, as he approached his tenth birthday, his energy levels were low and his weight was becoming a real health issue. He has never willingly eaten dry food, but upon switching to the Jinx Salmon, Brown Rice & Sweet Potato diet, he's benefited from the daily consumption of functional foods — from his shiny coat (and less shedding overall) to his sustained energy levels.
Where do you go to get the latest pet info?
We have a lot of really great resources for industry-relevant information, including Canine Journal (thanks!), CPGD, PFI, and APPA.
What's the best advice you've ever received for business (and life)?
When we were starting Jinx, someone advised me to only commit to launching it if I could see myself doing it for a minimum of ten years. At the time, among all of the solicited and unsolicited advice, it made me pause. Ten years is a long time. The last time I thought about a ten year commitment was when I adopted my dog, Blitz. Commitment, in whatever form, is nothing to be considered lightly.
You have to really love something to imagine yourself being excited about it every day for ten years — excited enough to stay engaged through the highs and the lows. It was a necessary prompt to stop, think about it, and assure myself that I would be able to commit to something that could change my life. In that moment, the fear went away and the decision was so clear. When something is right, you feel it.
Who are your mentors and what did they teach you?
I have a handful of mentors that I know, and some that I do not know. My parents have paved the way for how I think about how I want to live my life, personally and professionally. They raised me to treat people the way that I want to be treated, that actions speak louder than words, and to stay loyal to the people that deserve it. I've carried those lessons with me, and continue to face situations where I lead with compassion and good intentions. When life starts to feel overwhelming, I often revert back to these basics and foundational learnings in order to ground myself and reset.
What's next for Jinx? Any ideas "cooking"?
We've got a very eventful product roadmap, and we will be launching a handful of new recipes in 2020 and beyond. We're trying to create options for the majority of the dog population, so you'll see kibble and treats with more protein options and varying formats, all designed to accommodate modern dogs and their pet parents.
Thanks Terri for sharing your journey with us!
Tagged With: