Pit Bulls aren't an officially recognized breed but rather a term we use in the U.S. for several breeds or mixed-breed dogs with similar physical traits, such as a muscular, stocky body, broad head, and short hair. The breeds most commonly called Pit Bulls are the American Pit Bull Terrier, American Bully, American Staffordshire Terrier, and Staffordshire Bull Terrier.
Despite the bad rap Pit Bulls get in the media, they're extremely popular family pets due to their loyal and highly affectionate personalities. If you're a proud pittie parent, you know your pup is a muscular powerhouse who burns a lot of energy. And this requires a diet higher in calories, protein, carbohydrates, and fats than many other dogs need.
We'll explain the nutritional needs of Pit Bulls for each life stage and give you our top picks to help you find the ideal diet for your furry friend. We also highlight food that's ideal for some common health concerns with pitties, such as skin allergies and joint problems.
Note: All of the dog foods we've included in our reviews are made in North America and contain no preservatives or artificial ingredients.
At A Glance: Best Dog Food For Pit Bulls
Best Overall (For All Life Stages): The Farmer's Dog
We've chosen The Farmer's Dog as our best overall food for Pit Bulls for several reasons. First, The Farmer's Dog offers fresh, human-grade meals that contain whole-food protein, vegetables, and fruits fortified with vitamins and minerals appropriate for every life stage. All meals contain no grains, soy, corn, preservatives, or artificial ingredients.
Second, they personalize your dog's food for his life stage and specific dietary needs. How does this work? You create a profile of your pup by filling out a brief survey, which includes your dog's age, breed, current and target weight, and whether he has any health conditions (e.g., allergies, digestive issues, joint problems, etc.).
The ultimate benefit of The Farmer's Dog is that they take the guesswork off your plate to make sure your puppy, adult, or senior dog is getting the ideal portions and nutrition your pittie needs.
Another big plus is that The Farmer's Dog offers beef, chicken, pork, and turkey recipes developed by board-certified American College of Veterinary Nutrition (ACVN) nutritionists, and all of their meals meet AAFCO guidelines for a balanced diet for all life stages.
Our readers have access to 50% off your first box. No code is needed; just use this link, and the discount will be applied! You can also visit our dedicated The Farmer's Dog coupons page.
Full Review Of The Farmer's Dog
Best Puppy Food For Pit Bulls
Pit Bull puppies require puppy-specific food that has a different balance of vitamins and minerals essential for puppy growth compared to adult dog food. They also need 22-32% protein, 35-45% carbohydrates, 2.4-5.6% fiber, and 14-17% fat content to help them grow.
Orijen Puppy Large Grain-Free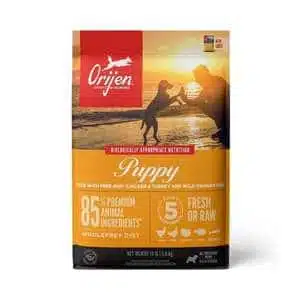 Orijen's philosophy is that our pets should eat ingredients that reflect the diet nature and evolution intended them to eat. Their dog food contains 85% premium animal ingredients, including highly nutritious meat, organs, and bones. This grain-free large-breed puppy formula is packed with protein, fat, and calories to fuel active and growing Pit Bull puppies.
Healthy legumes, whole vegetables and fruits, and essential vitamins and minerals round out an all-natural, nutritious blend that's ideal for your puppy's development. This formula is also fortified with glucosamine for joint health, omega fatty acids for skin and coat health, and probiotics for easy digestion and gut health. And pet parents say their puppies love the taste.
Blue Buffalo Wilderness Rocky Mountain Recipe Grain-Free Puppy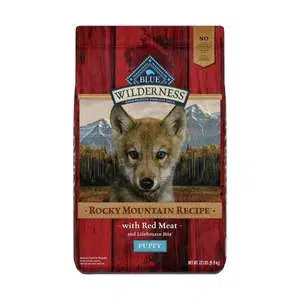 This high-protein recipe features deboned beef as the first ingredient and also contains lamb and venison to fuel your energetic, growing pittie puppy and help build lean muscle mass. Instead of grains, this formula contains complex carbohydrates (sweet potatoes, potatoes, and peas) that all Pit Bulls need for fuel.
If your pup has shown signs of food sensitivity, this recipe could be a great alternative. It's free of any chicken products, corn, soy, wheat, preservatives, and artificial ingredients. It features Blue Buffalo's LifeSource Bits, which contain vitamins, minerals, and antioxidants optimized for growing puppies. DHA and omega-3 and 6 fatty acids help support cognitive development, immune health, and skin and coat health.
Wellness CORE High Protein Puppy (Grain-Inclusive)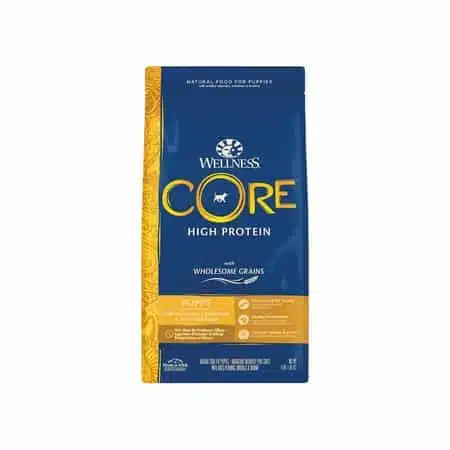 Wellness CORE is an excellent line of dog food that contains carefully crafted ingredients for whole-body health. This high-protein puppy formula packs a powerful punch of 36% protein, 17% fat, 457 kcal/cup, nutrient-dense superfoods, and other natural ingredients to support lean body mass and muscle tone.
It's fortified with omega fatty acids, antioxidants, glucosamine, probiotics, and taurine to support your puppy's developing immune system, heart, brain, joints, gut, skin, and coat. And if you're wary of grain-free puppy food, this puppy food contains low-allergen, wholesome grains such as barley, oatmeal, and quinoa.
Best Adult Food For Pit Bulls
Between 12 and 18 months, you'll need to transition your Pit Bull to adult food. Adult pitties still need higher levels of protein, fats, carbs, and calories than some other dogs. Just make sure you're not overfeeding your furry friend. Pit Bulls have a tendency to gobble up their food quickly. If this sounds like your pup, you may want to get a slow-feed dog bowl.
Taste Of The Wild High Prairie Grain-Free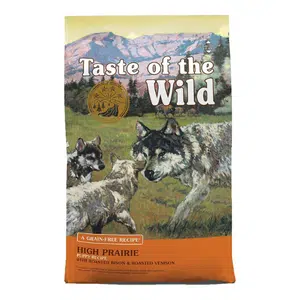 Taste of the Wild High Prairie is a popular choice for many pitties, including those who have sensitive stomachs and itchy skin. With loads of healthy fat and protein from novel sources like water buffalo, bison, and venison, this food provides your active pup plenty of fuel while keeping tummy troubles at bay.
It also includes an excellent blend of probiotics and prebiotics in chicory root for optimal digestion. Omega fatty acids boost skin and coat health, and real fruits and vegetables provide natural antioxidant support. Grain-free with no corn, wheat, or soy, this recipe features sweet potatoes and peas for easily digestible energy.
Blue Buffalo Wilderness Plus Wholesome Grains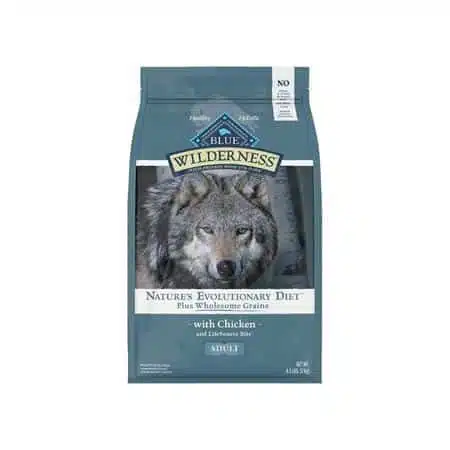 If you prefer a grain-inclusive diet, this Blue Buffalo formula is an ideal choice for adult Pit Bulls. Featuring an optimal blend of high protein (chicken or salmon options), fat, and easy-to-digest complex carbohydrates, such as oats, barley, and sweet potatoes, this recipe provides your pittie plenty of energy and lean muscle development.
Real fruits and vegetables, plus Blue Buffalo's antioxidant-rich LifeSource bits, support your pup's immune system health. And a blend of other vitamins and minerals, glucosamine, probiotics, and omega fatty acids keep your pittie's whole body as healthy as possible.
Crave High Protein Grain-Free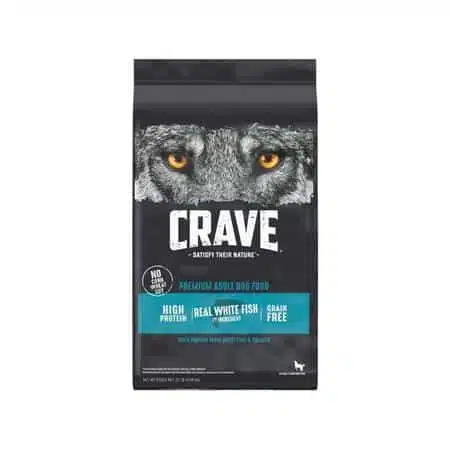 Crave is a lesser-known pet food company that develops high-quality food based on evolutionary nutrition. This grain-free dog food features 34% protein, 17% fat, and plenty of carbohydrates your pup needs to maintain a lean, healthy body and the energy to run and play. We recommend the whitefish and salmon recipe, particularly if your dog has sensitive skin.
The limited ingredients, including protein sources, lentils, peas, and omega fatty acids, are also ideal for skin issues. It also contains no chicken by-product meal, soy, corn, or wheat and no artificial flavors, colors, or preservatives.
Best Dog Food For Senior Pit Bulls
Pit Bulls are considered seniors around eight or nine years old. At this time, you may want to switch your pittie to a dog food made specifically for the nutritional needs of older dogs. Most senior bullies don't require as many calories and fat because they've slowed down their activity. But research has shown that older dogs don't metabolize proteins as efficiently as younger dogs, so you'll still want to ensure your senior bully's diet is high in protein.
Older dogs are also prone to more sensitive stomachs and arthritis, so if your pup has these issues, look for food fortified to address these problems. Weight control is also important as dogs age because they're more susceptible to weight gain as they become increasingly less active.
Nulo Freestyle Grain-Free Senior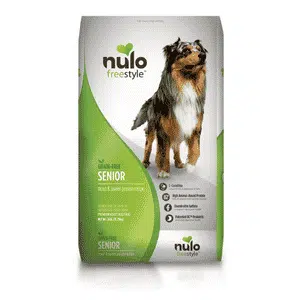 Nulo Freestyle's Senior formula contains fewer calories and fat than adult food, but it's still high in animal protein to support pitties' muscular bodies. This grain-free recipe features deboned trout as the first ingredient and is chock full of easy-to-digest legumes, fruits, and vegetables.
It's fortified with glucosamine and chondroitin to support aging hips and joints and includes L-carnitine, which helps the metabolism of fats in older, less active dogs. Pure probiotic strains aid in digestion and keep the gut healthy. And trout is an excellent natural source of omega fatty acids for skin and coat health.
Diamond Naturals Senior (Grain-Inclusive)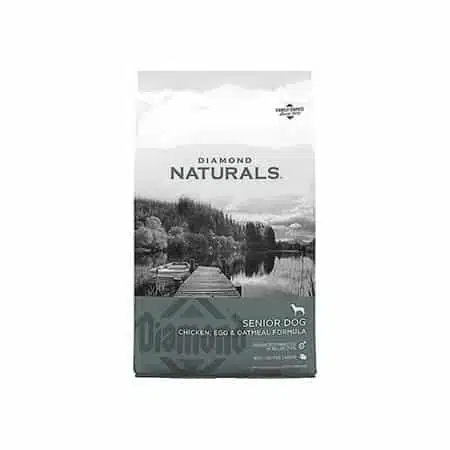 Not into grain-free dog food? We've chosen Diamond Naturals Senior formula as the best grain-inclusive senior chow for Pit Bulls. It contains easy-to-digest grains such as barley, oatmeal, quinoa, and rice with no corn, wheat, or soy. Real, cage-free chicken is the first ingredient, and it's packed with antioxidant-rich real fruits and vegetables.
This recipe is fortified with glucosamine and chondroitin, omega fatty acids, prebiotics, probiotics, and L-carnitine, ideal ingredients for bullies in their golden years. Diamond Naturals is among the most affordable dog foods for the level of quality you get. While it contains a bit less protein (25%) than our other top picks, that level should be adequate for most older pitties.
Go! Solutions Carnivore Grain-Free Senior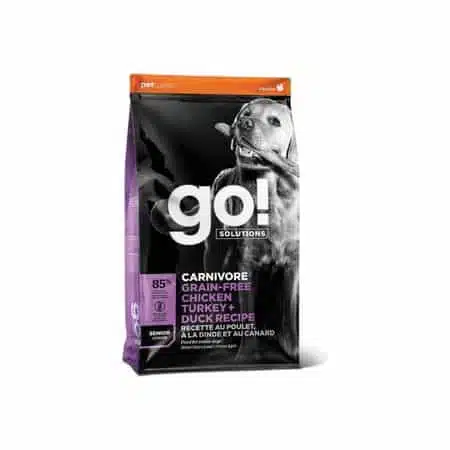 With 32% protein from such sources as chicken, turkey, duck, salmon, and trout, this grain-free formula is ideal for older Pit Bulls who are still fairly active. Another benefit is the addition of green-lipped mussels, plus glucosamine and chondroitin, to help maintain your pup's joints and mobility.
This recipe is also packed with such superfoods as pumpkin, carrots, broccoli, bananas, blueberries, and cranberries — excellent natural sources of vitamins, minerals, and antioxidants. Prebiotics, probiotics and L-carnitine benefit your dog's digestion and metabolism. And taurine supports your pitty's heart and eye health.
Best Dog Food For Pit Bulls With Skin Allergies
Skin allergies are a fairly common problem for Pit Bulls. If your pup suffers from chronic itchy skin, certain ingredients in his dog food or environmental allergens, such as dust mites or pollen, could be to blame. A limited-ingredient diet containing a novel protein (one he's never eaten before) could help ease his skin troubles. You may also want to consider a dog allergy supplement, with your vet's okay.
If you suspect your bully has a food intolerance or is allergic to environmental factors, you may want to consider an at-home dog allergy test to uncover the source of his skin issues. You send a saliva or hair sample to the company's lab and get results within a few weeks. You can then share these results with your vet to help further narrow down possible causes.
Canidae Pure Limited Ingredient (Grain-Free)
If you've been feeding your dog chicken or beef, those are the two most common ingredients dogs are allergic to (along with dairy products, wheat, corn, and soy), Canidae's Pure Limited Ingredient adult recipes may help your pup. You can choose from duck, bison, wild boar, lamb, goat & venison, and more. Each formula is grain-free with no corn, wheat, soy, or fillers and contains only seven to 10 whole-food ingredients. And they have enough calories, protein, and fat to fuel active pitties.
An excellent blend of probiotics, antioxidants, and omega-3 and 6 fatty acids can go a long way in helping your dog's itchy, dry skin. It also includes glucosamine and chondroitin for joint health and taurine for heart health. Canidae Pure comes in grain-inclusive kibble and wet dog food.
Nulo Freestyle Limited+ (Grain-Free)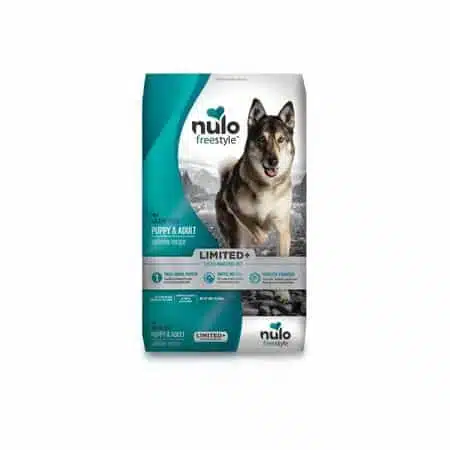 Nulo offers another excellent limited-ingredient formula, and this one is suitable for both puppies and adult dogs. We recommend the salmon recipe, which is the only animal protein source to help with intolerances and allergies. It also has higher calories and protein, fat, and fiber levels than many other limited-ingredient dog chow, making it a good choice for Pit Bulls.
This grain-free recipe includes such healthy carbohydrate and fiber sources as chickpeas, sweet potatoes, and miscanthus grass. Salmon is an excellent source of omega-3 and 6 fatty acids, and it's fortified with prebiotics and probiotics, which can also help ease allergy symptoms.
Best Affordable Dog Food For Pit Bulls
If you're on a tight budget, here's our top pick for the best high-quality dog food at the most affordable price.
Purina Pro Plan Performance 30/20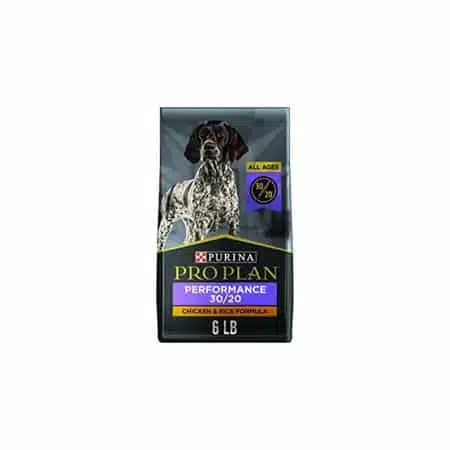 Purina's Pro Plan line of dog food comes highly recommended by veterinarians. And we think it's the most affordable you can find for a high-quality, high-protein dog food. With real chicken as the #1 ingredient, this food is formulated with 30% protein, 20% fat, and 489 kcal/cup to fuel active dogs and help maintain lean muscle. Fortified with glucosamine, probiotics, omega fatty acids, EPA, DHA, and amino acids, Performance 30/20 supports your pup's whole body health.
Take note, however, that this formula contains grains and corn in case your dog has sensitivities. If your dog doesn't tolerate chicken well, it also comes in beef & bison, salmon & cod, turkey, duck & quail recipes. Purina also offers this line in a Puppy formula and an Adult 7+ formula, which contains less fat to help with weight control once older dogs become less active.
Should I Consider A Hip & Joint Supplement?
Pit Bulls are prone to joint problems, particularly hip dysplasia and arthritis. So you may want to consider adding a daily joint supplement to your pittie's diet. The best joint supplements for dogs help maintain joints in healthy dogs, and for dogs with joint problems, they help improve joint health and relieve inflammation, stiffness, and pain. As with all supplements, you should get your vet's okay first.
Tagged With: Comparison, Food Delivery