To sustain this free service, we receive affiliate commissions via some of our links. This doesn't affect rankings. Our review process.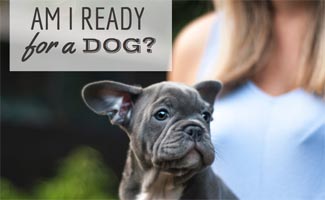 If you didn't grow up with a dog, you might not know much about them — how much care they truly need. We encourage you to do your research, which it looks like you are since you came across this article. It's important to educate yourself on pet ownership so you can make your life and your dog's life better. So, are you ready for a dog? Find out what to consider before you jump in.
Can I Afford A Dog?
There are many costs associated with getting a dog. Some of these costs are for one-time purchases (or less frequent) while some are for monthly (or more regular) items. Below is a list of items you'll need to be prepared to buy if you are considering getting a dog. We also included the price (at time of writing) for our #1 pick, if we've reviewed the product. Keep in mind that all of these items are not required, but are commonly purchased by pet parents.
If you do the math, all of the items listed above with prices next to them totals about $600. That's a scary number but remember, very few are monthly fees, and not all of these are "mandatory" purchases. We suggest that you save up some money so you are prepared for these type of costs as well as a little extra for any emergencies (which can cost $90-$120 for the emergency visit alone), although we hope you won't have any. Better safe than sorry! Visit our cost of owning a dog article for a detailed look at what you can expect to spend.
Do I Have Time For A Dog?
There are two elements to consider when we discuss the time you have for a dog.
Day-to-Day Requirements
The first consideration is the needs a pup will have day-to-day. Dogs need walks, training, play time, exercise and human interaction. The amounts of time these activities take may vary depending on the energy level of the dog. It's not fair to keep your dog in a crate or small cage all day every day. We understand that you may need to crate your dog while you're at work, but at the end of the day, they need to be able to stretch their legs and experience new environments. If you find yourself away from home the majority of your days, we recommend you wait until your schedule is less busy. Yes, you could hire a dog walker/sitter, but you're missing out on the experience of being a pet parent and that could get expensive fast.
Lifetime Requirements
The second time factor of time to consider is if you have years to commit to an animal. When getting a dog, you're faced with the commitment to be there for him for the rest of his life. This isn't a new workout program or diet, where you try it out for a week or two but then give up. Getting a dog is a serious, long-term obligation. This dog will be your companion for the next 10+ years, depending on its breed, health and age.
Is Everyone On Board?
The last thing to consider, and quite possibly the most important element to consider, is if everyone in your household is on board with getting a dog. Perhaps your child came up to you and said, "I want a puppy." It's important not to act on your child's wants immediately. Talk it over with other members of the family. The last thing you want is someone in your family not being supportive of adding a new member to your family. Roommates also get a say in adding a new tenant to the home. No matter your living situation, be sure to discuss the topics we've laid out above with your household to make sure everyone is on the same page.
Am I Ready For A Puppy Infographic
Here's a handy checklist we put together to reference before getting a dog. If you check all these boxes then congrats you are ready for a dog!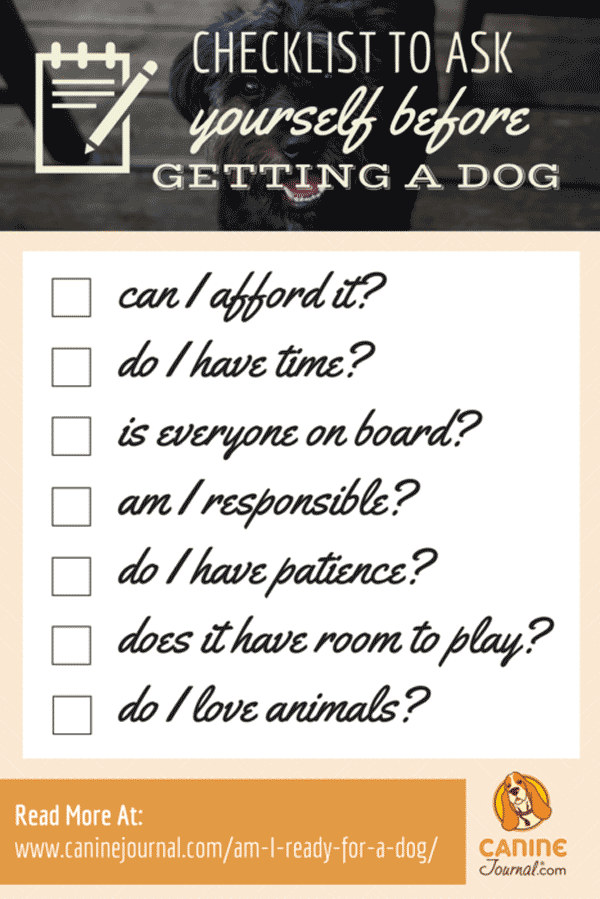 Source: CanineJournal.com
To share this infographic on your site, simply copy and paste the code below:
It's Time To Get A Dog
If you need that extra push to take the plunge, this video displays how a person who wants a dog might act. (Okay, you don't have to be this expressive, but deep down inside, you may relate to this video.)
What made you want to get a dog?
Disclaimer: This website contains reviews, opinions and information regarding products and services manufactured or provided by third parties. We are not responsible in any way for such products and services, and nothing contained here should be construed as a guarantee of the functionality, utility, safety or reliability of any product or services reviewed or discussed. Please follow the directions provided by the manufacturer or service provider when using any product or service reviewed or discussed on this website.