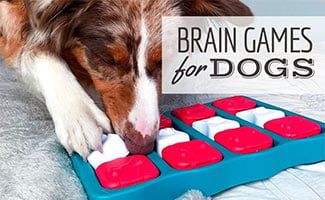 Many dogs were bred for specific jobs, like retrieving, tracking, herding, and guarding. These various instincts have become innate, but today many dogs don't satisfy these instincts in their daily lives, becoming bored. And bored dogs can exhibit bad or even destructive behavior.
Does this sound like your furry friend? If so, we'll give you some ideas to keep your pup mentally stimulated and happy.
Why Do Dogs Need Brain Training?
Brain games are a great way to keep your dog well-trained and mentally stimulated. But, before we give you specific game ideas, we want to point out that training your dog is an essential part of setting him up for mental and behavioral success.
Training your dog's brain to behave appropriately in all kinds of situations can help keep them mentally alert. How? Because you're teaching him skills that your dog can remember and use all the time. It's also a great way to bond with your pup.
Brain Training For Dogs Course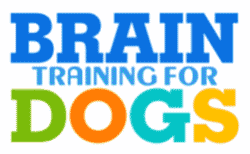 Brain Training For Dogs is an excellent online course that teaches you how to brain train your dog from puppyhood into adulthood. Adrienne Farricelli, a professional CPDT-KA certified dog trainer, developed this force-free training program that uses positive reinforcement. Many of the topics covered involve correcting bad behavior (excessive barking, jumping, leash pulling, biting, etc.), no matter how ingrained it may be in your dog.
The course teaches you specially designed techniques and games that engage your dog on a higher mental level than methods many other trainers use. Farricelli believes that mental stimulation is vital to correcting bad behavior — and boosting what she calls your dog's "natural intelligence."
Full Brain Training For Dogs Review
8 Best Brain Games For Dogs
All dogs need regular physical exercise and interactive play, like fetch, tug-of-war, etc. However, many dogs need more. Here are some of the best mental stimulation games for dogs that we've found. Some are easy, DIY games, and others are affordable toys.
1. Puzzles
There are many dog puzzle games that you can find online or at your pet store. They come in various degrees of difficulty, but most involve your dog figuring out how to get to a hidden treat. Nina Ottoson by Outward Hound's Dog Brick Puzzle is a popular intermediate-level option.
If you want something more advanced, Trixie Pet Products has a fun and challenging flip board puzzle that will offer plenty of mental stimulation and keep your pup occupied while working on getting to his treats.
See how our very own Barley loves his puzzle (and treats).
2. Treat-Dispensing Toys
Another fun brain game is a treat-dispensing toy, like OurPets IQ Treat Ball, that can keep your dog mentally stimulated for an extended period of time. The OurPets interactive treat-dispensing toy is available in 3 and 4-inch sizes, and you can adjust the level of difficulty as your dog learns how to get treats faster. See more interactive dog toys.
This toy keeps our puppy occupied for hours. And, when Barley stops playing with it, he falls asleep!! It is also impossible for him to chew, which means this toy will thankfully last much longer than most in our home.

– Michelle S., Canine Journal
Read more about this and other toys we love
3. Stuffed Kong
A stuffed Kong is an excellent way to keep your dog mentally stimulated and occupied for a long time. You can load it with treats or peanut butter — and for an even greater challenge, freeze the peanut butter-stuffed Kong overnight. Your dog will enjoy working for his treat.
You can even turn this into a game by playing treasure hunt. Show your dog the stuffed Kong and then tell him to sit and stay while you hide it. Then release him to go sniff out the treasured prize.
See our reviews of popular Kong toys
4. The Cup Game
This is the dog version of the old hustling cup game. It can help your dog develop problem-solving skills and is a great interactive game for you and your pup to do together.
Get three plastic cups and some yummy smelling treats
Line up the cups on the floor
Have your dog watch you as you place a treat under one of the cups
Shuffle the cups around
Give your dog the treat when he picks the right cup
5. Hide-And-Seek
Yes, it's a game you usually play with kids, but your dog can enjoy a good old game of hide-and-seek too. And it's yet another game that lets you interact with your dog. If your dog hasn't mastered the stay command, you can ask a family member or friend to help by having them distract your dog when you go and hide. Be sure to praise your pup when he finds you, so he knows he's mastered the end result.
For a different version of hide-and-seek, you may also want to try out this Outward Hound Hide-A-Squirrel dog toy. You hide the plush squirrels in the trunk, and your dog is challenged to nuzzle them out. The squirrels have hidden squeakers for added fun.
6. The Name Game
Your dog has likely caught on to everyday terms, like "walk," toy," and "treat." But it's mentally stimulating for him to learn different names for each toy (or person in your home). He'll have fun learning the terms for each object or person, and then seeking them out when you ask him to.
7. Put Your Toys Away
Like the Name Game, this is another fun training game. You can teach your dog to pick up his toys and place them in a container. Tell your dog "get your toy" or "retrieve" and then show him where to take them. Once he's at the toy box, you say, "drop it." It may take some time for him to learn what you're expecting, but training dogs with new skills boosts their confidence and keeps them mentally stimulated.
8. Obstacle Course
Training your dog to go through an obstacle course is a great mental workout. This can be a DIY dog brain game where you arrange some chairs, tables, blankets, toys, etc., and create your own obstacle course. Or if you want to go all out, you can purchase some agility equipment for your yard.
Outward Hound has an affordable ZipZoom Beginner Dog Agility Training Obstacle Course that includes an adjustable jump, weaving poles, and a tunnel. For a greater challenge, you may want to check out this PawHut Agility Training kit. It comes with an adjustable high jump, tunnel, weave poles, square pause box, and an adjustable jumping ring.
More Homemade Dog Brain Games
Watch this brief video for a few additional DIY dog brain games you can create with everyday household items.
Don't Forget To Stock Up On Dog Treats
You want to make sure you have plenty of dog treats when you're training your dog or using some of these brain game ideas. Dogs are motivated by these tasty rewards, but not all treats are the healthiest options. See the best treats to reward your dog for some of our top recommendations.
Tagged With: