To sustain this free service, we receive affiliate commissions via some of our links. This doesn't affect rankings. Our review process.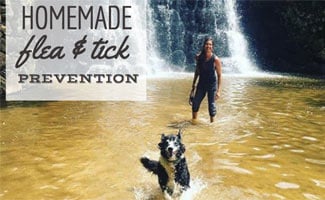 A little over 11 years ago, I scrolled through the local animal shelter website. At that time I was running a dog rescue out of my house, was the mom to a 5-year-old Siberian Husky named Akoya and didn't need another dog of my own. But, when I saw her sweet fluffy face I just had to get her out of there. So, I drove to the shelter, filled out the application and paid the fee. She was the fluffiest out of all eight mixed-breed puppies from a litter birthed by a pure chocolate lab mom. I would have taken them all if I could have. I had to wait until the next day before I could take her home. That night, I woke in the middle of the night with the name Izzee on my mind. Hence, my new puppy became known as Izzee.
Izzee quickly became my loyal and trusted sidekick and adventure dog. A few years later she even became a licensed therapy dog. Today, Izzee and I go everywhere together, and she is known all around town. Izzee's unconditional love is astounding. In return, I want to give her the best life possible including top notch food and chemical-free products. There have been so many ill-fated side effects from the chemical-based flea and tick prevention medicines. There was no way I wanted to take that risk with Izzee. This led me to research and create a homemade tick repellent and homemade flea spray for dogs that anyone could make at home.
DIY Natural Flea and Tick Treatment for Dogs
Here's how to make the best homemade flea killer for dogs:
Pour a quart of boiling water over a large thinly sliced lemon and let steep overnight
Drain the lemon water and pour into a large glass spray bottle
Add 10 drops each of Lemongrass oil and Citronella oil
Add 1 cup of vinegar (white distilled or apple cider vinegar)
Add a few drops of either Clove oil or Cedarwood oil
Keep refrigerated and shake well before applying to your dog's coat
For an added natural tick treatment for dogs, I use Geranium Rose oil (different than plain Geranium oil), by placing several drops on the inside of Izzee's collar and on the base of her tail. I also use it on my wrists and ankles when I am in the woods.
How to Use Natural Flea Treatment For Dogs
After spraying the mixture on Izzee including her belly, I spray some on my hands to wipe on her face so that none of it goes in her eyes. Then, I run my fingers through her fur to ensure full coverage. Also, Izzee LOVES the water so I often reapply after her fur dries from her most recent water adventures.
How often you apply the natural flea and tick prevention is dependent on your dog and your lifestyle. The more frequently your dog gets in the water, and the more time the two of you spend in the woods, the more often I recommend applying the natural flea and tick treatment. If those two things are at a minimum, then once a week is enough.
Video: Checking Your Dog for Fleas
This two-minute video from Banfield Pet Hospital shows how to properly check to see if your dog has fleas or not. Learn more about getting rid of fleas in your home and on your pet. You may also want to check out some non-homemade prevention products you can buy.
Flea Prevention Infographic
Check out this infographic we created that summarizes how to prevent fleas and ticks, how to remove ticks and our DIY natural flea and tick treament.

To share this infographic on your site, simply copy and paste the code below:
My hope is that someday we can eliminate the chemical-based products that are used so frequently on our pets as well as on us. Just like our bodies were not made to process and get rid of such toxins, our dogs were not either. The better we care for our dogs through high-quality food, exercise, love and fewer chemicals; the healthier they will be, the longer they will live and lower the vet bill will be.
What are you using for flea and tick prevention for your dog?
This guest post was written by Deanna Dzybon. Want to follow Deanna's dog Izzee's adventures? Check her out on Instagram: @Izzee Talk.
We are a participant in the Amazon Services LLC Associates Program, an affiliate advertising program designed to provide a means for us to earn fees by linking to Amazon.com and affiliated sites.
Disclaimer: The information provided through this website should not be used for diagnosing or treating a health problem or a disease. It is not a substitute for professional care. If you have or suspect you may have a health problem, you should consult your health care provider.
Disclaimer: This website contains reviews, opinions and information regarding products and services manufactured or provided by third parties. We are not responsible in any way for such products and services, and nothing contained here should be construed as a guarantee of the functionality, utility, safety or reliability of any product or services reviewed or discussed. Please follow the directions provided by the manufacturer or service provider when using any product or service reviewed or discussed on this website.