As dog owners, we want what's best for their pet's health, and for many people that means feeding them an all-natural dog food. The health benefits for dogs eating food without overly-processed ingredients, artificial fillers, and more are the same as for humans. Natural dog food is simply better for your pup. We give you our top picks for the type of dog food you and your pup prefer, as well as other premium natural brands to consider.
At A Glance: Best All-Natural Dog Food
What Are The Benefits Of Natural Dog Food?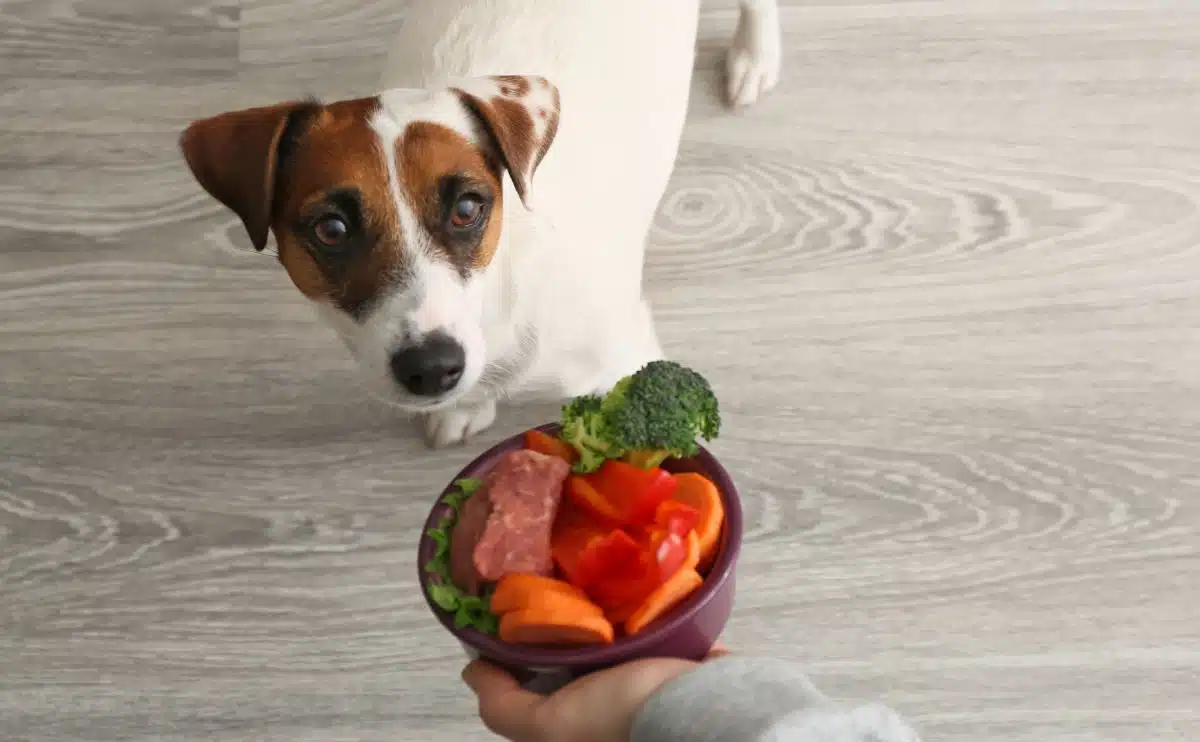 There are many benefits of premium, all-natural dog food, including:
No chemicals, preservatives, additives, or artificial ingredients
High-quality meat proteins as the primary ingredient (except vegetarian formulas)
Nutrients from whole food sources, including meats, vegetables, and fruits
Boosts your dog's immune system
Helps to eliminate dog allergies
Promotes better digestion
Many brands are environmentally friendly
Some contain ingredients to boost joint, digestive, skin, and coat health
Our Experience With Natural Dog Food
"Several members of the Canine Journal team use all natural dog food brands for their pups. We believe in serving our dogs only the best and having quality dog food is important to a happy, healthy life. Whether it's gobbling up Farmer's Dog, or sprinkling Spot & Tango unkibble as a topper, we can trust these natural brands knowing that our dogs are getting fed a high-quality meal."

– Canine Journal
Best All-Natural Dog Food
We've chosen top picks for a variety of diet types and needs to help you find the best fit for your pup. All of the dog food we review in this article meets the nutrition standards of the Association of American Feed Control Officials (AAFCO) for a complete and balanced diet.
Best Dry: Taste Of The Wild Roasted Bison & Venison Review
Taste of the Wild's roasted bison and roasted venison recipe is packed with 32% lean meat and real fruits and vegetables, like blueberries, peas, and sweet potatoes as primary ingredients. It's also fortified with probiotics, omega fatty acids, and antioxidants. The well-balanced ingredients promote strong bones, joints, and muscles, as well as support for immune, digestive, skin, and coat health.
The novel protein sources are also excellent alternatives for dogs with food allergies. This dog food is available grain-free or with ancient grains. All ingredients are sustainably sourced, and it's made in the U.S. by a family-owned business.
Price
Best Wet: Rachael Ray Nutrish Premium Natural Wet Dog Food Review
Rachael Ray's Nutrish popular line of all-natural dog food offers six different wet food recipes made with real chicken, beef, lamb, or duck. Each recipe includes real meat and meat broth as the first ingredients with other limited ingredients such as egg whites, vegetables, fish oil, and added vitamins and minerals.
All of the recipes contain no poultry by-products, corn, soy, wheat, gluten, or filler ingredients. They make great complete meals or as a topper for your dog's kibble. Rachael Ray's Nutrish is one of the most popular choices among discerning pet parents looking for natural wet dog food.
Price
Variety Pack (12 8-oz tubs): $29.16
Best Fresh: The Farmer's Dog Review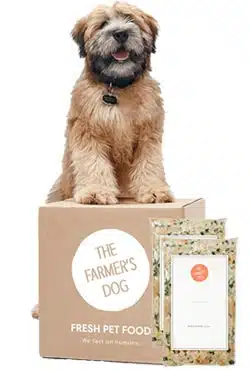 The Farmer's Dog is well-known for producing fresh, high-quality, human-grade dog food made with all-natural ingredients. They have four vet-formulated recipe options (chicken, turkey, beef, and pork) which include fruits, vegetables, lentils, fish oil, and a blend of vitamins and minerals.
They personalize your dog's ingredients and portion sizes based on your pup's profile, including age, breed, weight, body shape, activity level, numerous health concerns, and more. Meals are made in the U.S. and are flash-frozen to preserve nutrients and arrive in thin pre-portioned packages that fit well in the freezer. An added plus – their packaging is eco-friendly.
Price
The Farmer's Dog bases its pricing on your dog's age, weight, and other factors. Small dogs start at $2 per day. The following price* is based on a mixed-breed male, one-year-old, 38 pounds, healthy size, neutered, no health problems, or allergies.
Starting at $54.17*/week
Free shipping (you can customize shipping frequency)
Coupon
Our readers have access to 50% off your first box. No code is needed; use this link, and the discount will be applied. You can also visit our dedicated The Farmer's Dog coupons page.
Full Review Of The Farmer's Dog | More Fresh Dog Food Reviews
Best Dehydrated: Spot & Tango Unkibble Review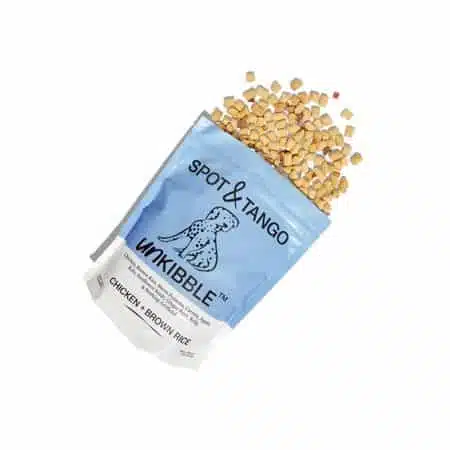 Spot & Tango offers a high-quality dehydrated dog food called Unkibble made from all-natural, whole-food ingredients, including real meats, vegetables, fruits, and more. They customize the portion sizes and ingredients based on a profile you fill out on their website, including your dog's breed, gender, age, weight, body shape, activity level, health conditions, and other factors.
It comes in three recipes: beef & barley, chicken & brown rice, and cod & salmon. Shelf-stable Unkibble is a fantastic option if you want human-grade dog food but don't have room in your fridge or freezer to store fresh meals. Spot & Tango also offers all-natural fresh meals.
Price
The following price is based on a mixed-breed male profile, one-year-old, 38 pounds, healthy size, neutered, no health problems, or allergies.
Unkibble recipes: starting at $25.68/week
Free shipping
Coupon
Looking for a Spot & Tango promo code? Visit our dedicated Spot & Tango coupon page to check out the latest offer and save.
Best Freeze-Dried: Nulo Freestyle Freeze-Dried Raw Dog Food Review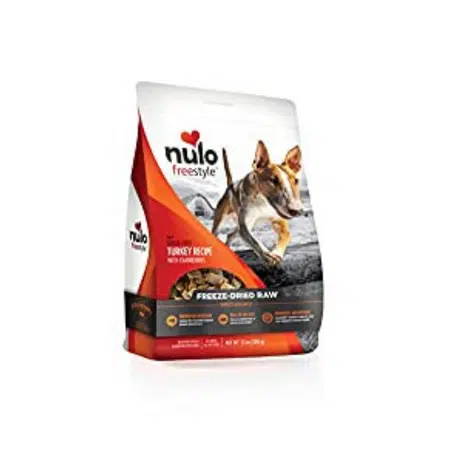 Nulo, a premium manufacturer of many types of all-natural dog food, wins our pick for the best freeze-dried dog food. Their formulas contain at least 80% meat, organs, and bone, along with real fruits and veggies. Recipes include beef, duck, lamb, salmon, and turkey, and all are free of grains, such as wheat, rice, corn, barley, and oats.
All recipes also include probiotics for better digestion and overall gut health. Nulo is also an excellent option for other natural dog food, including dry and wet food, food toppers, low-carb kibble, puppy and senior food, jerky treats, and more.
Price
More Freeze-Dried Dog Food Reviews
Best Raw: BARF World Review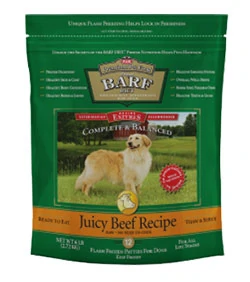 If you're into a raw diet for your pup, BARF World is a leader in the raw dog food industry for their high-quality raw blends of turkey, chicken, beef, salmon, and lamb. They offer frozen patties, nuggets, and chubs (tubes of raw blend), as well as freeze-dried nuggets.
Their grain-free blends include muscle meat, bone, fat, organ meats, vegetables, and fruits. BARF World (BARF stands for Biologically Appropriate Raw Food or Bones And Raw Food) has a 60-day money-back guarantee if you and your pup aren't satisfied with their diet.
Price
Frozen Nuggets: starts at $168.97 for 8 – 3 lb bags
Frozen Chubs: starts at $107.97 for 6 – 2 lb chubs
Frozen Patties: starts at $109.97 for 1 – 12 lb bag
Coupon
Use this link to get the best deal we can offer from BARF World.
Best Ethically & Sustainably Sourced: Open Farm Review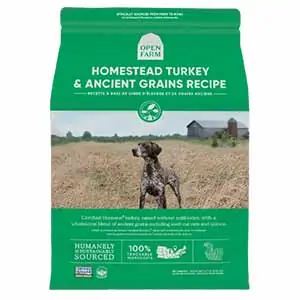 Looking for all-natural dog food that's ethically and sustainably sourced? Open Farm is one of your best choices, and they carry a huge variety of dog food products — kibble (grain-free and grain-inclusive), fresh meals, freeze-dried raw dog food, wet food, treats, and more.
Open Farm sources all meats from Certified Humane farms. Certified Humane restricts the use of hormones and steroids and sets high slaughter, cruelty-free standards. The seafood adheres to both Ocean Wise and Seafood Watch standards. All vegetables and fruits hail from carefully selected local and regional partner farms.
Price
Open Farm carries many dog and cat food types in varying sizes so prices vary. Their website offers free shipping over $50.
Coupon
Get free shipping on Open Farm orders larger than $50 via this link.
What Are Some Other Premium Natural Brands?
Although these brands didn't make it into our top picks, they're certainly worth considering. These are our other top picks for the best all-natural commercial dog food brands. Pet parents are in luck because you have more options than ever as the market for natural dog food continues to grow. Many online and physical pet stores continue to add these premium brands for health-conscious pet owners.
Diamond Naturals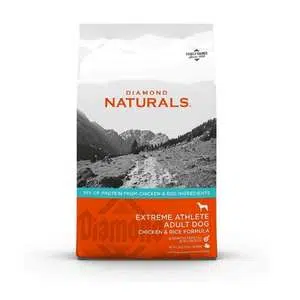 Diamond Naturals is a family-owned company that manufactures only all-natural dog food and treats (and cat food). Their wide variety of blends are carefully formulated using whole foods and holistic ingredients. They offer specific formulas for breed sizes and ages, reduced-calorie kibble, a skin and coat health formula, and more. Their recipes include real meats, superfoods for antioxidants, omega fatty acids, probiotics, and essential vitamins and minerals for overall health.
I and love and you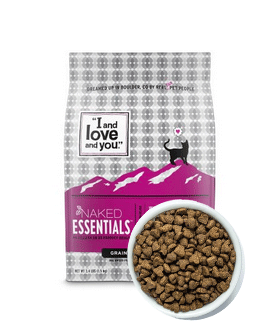 I and love and you's protein-rich, all-natural kibble, wet dog food, and treat options are designed to alleviate digestive and food sensitivity issues. They offer affordable grain-free, grain-inclusive, limited ingredient kibble, and much more. All recipes are formulated by Ph.D. pet nutritionists and approved by a holistic veterinarian.
Merrick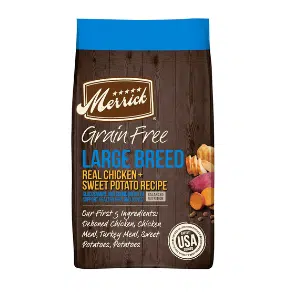 Merrick has been a trusted natural pet food brand for decades. The Texas-based company uses only real whole foods fortified with minerals and vitamins in all their products. They offer grain and grain-free formulas, with several options – dry and wet dog and cat food, raw-infused dog kibble, treats, and dental treats.
Orijen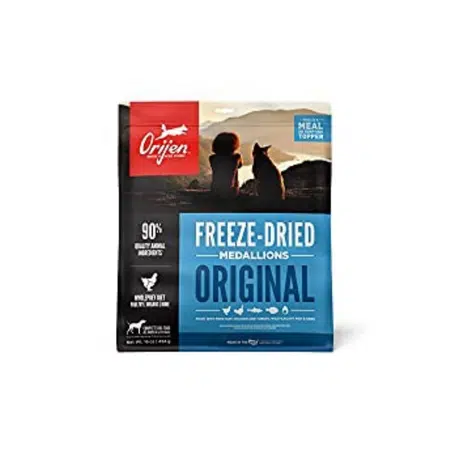 Orijen's philosophy of modern-day dog food is inspired by dogs' ancestral diets. Their dog (and cat) food ingredients contain 85% animal-based real foods (meat, organs, and bones), with carefully selected veggies and fruits to add nutritional value. They're also ethically and environmentally friendly, using free-run chicken and turkey, wild-caught fish, and cage-free eggs in their recipes.
Wellness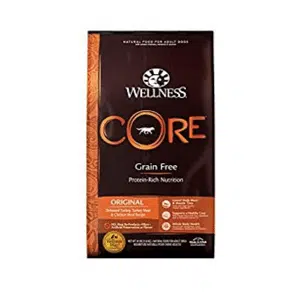 Wellness is another all-natural dog food brand you may want to consider. They stand out for their huge variety of natural dog food products (both dry and wet) with recipes carefully formulated for almost any need – breed size, age, limited ingredients, health issues, etc. Their line of Wellness CORE food is among the best you can find among commercially sold dog food for the quality of real meats, veggies, fruits, and other super healthy ingredients.
Checking Ingredients Of All-Natural Dog Foods
All-natural dog foods will always be marketed as such simply because it's a selling point for the companies that make them. Even if dog food is labeled as "all-natural," it's still important to carefully check the ingredients of each food to look for potential allergens.
High-quality dog foods of all types will always list real protein sources in the top three ingredients. Real protein sources are not vague references such as "chicken meal" or "chicken by-products," they should be listed as "chicken."
5 Commercial Dog Food Ingredients To Avoid (Video)
This three-minute video explains the potential health hazards of five common commercial dog food ingredients — even more reasons to go all-natural with your pup's diet.
Personalized Dog Food For Your Pup's Health Issues
Choosing the best natural dog food isn't easy with all the choices you have these days – and that's a huge nod to the dog food industry moving in the right direction. However, with so many healthier options available now, you may want to delve deeper into your choices if your dog has allergies or other health issues. If that's your situation, you may want to check out our article on the best dog food delivery companies. Many of our top picks personalize your dog's food for health issues.
Tagged With: Comparison, Food Delivery