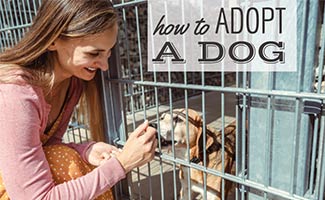 You're considering adopting a dog! And you are taking the time to research how to care for it before you've even adopted – way to go! We couldn't be more pleased with your decision. There are many dogs in shelters just waiting for great homes like yours to call their own.
Dog adoption is a fun experience, but you also have many things to consider, like the age of dog you're going to adopt. We'll tell you what to expect for each age group to help you make your dog adoption experience a successful one full of love and joy!
Adopting A Dog During The Pandemic Statistics
During the COVID-19 outbreak, shelters across the United States have seen increases interest for pet adoptions. Here are some stats from August 2020.1
According to a survey of 1,008 adults conducted by TD Ameritrade in April and May, 1 in 3 have considered getting a pet.
The ASPCA saw a 70% increase in adoptions in April of 2020 over the same period in 2019.
A survey of 3,000 pet parents conducted by Mira-Pet found that Americans are bonding with their cats and dogs at rates never seen before.
73% reported that having a pet helped them stay sane during lockdown.
A little over a quarter of dog owners said they feared their dogs would suffer separation anxiety when the work from home period ends.
38% said they'd take a pay cut in order to continue working from home solely so they could stay with their pets.
Adopting A Puppy
Choosing between a puppy or an older dog is the first decision you have during the adoption process. If you're an experienced pet parent, you may feel more prepared for adopting a puppy than a first-time pet parent would. Let's go over the pros and (so-called) cons of puppy adoption, so you know what to expect.
Advantages

Disadvantages

Training may be something you're looking forward to, and you can train them to behave the way you wish (as long as they are not too stubborn)
You get to see the dog grow up in your family
They're so cute!
You will get to spend their full lifetime together

Need a lot of care and attention
Will need training
Lots of exercise and play is needed
May get into things and/or chew and destroy things
Could have accidents in the house until they are housebroken (potty-trained)
We know the cons look overwhelming, but for those of you who truly want to adopt a puppy, you'll look forward to most of these things. We suggest talking to a few people who have recently raised a puppy to give you a realistic picture of what to expect. If cleaning up messes and having your toes nibbled on for a few months is something you can't handle, then you should look at adopting an older dog.
Adopting An Adolescent Dog
Adolescent age is anywhere from 6 months up to 36 months, depending on the pup. This is the time where your dog will be all legs and have a smaller frame. This is a clumsy time for the dog as it is growing in to its body and still learning many new things.
Advantages

Disadvantages

A better idea of what to expect while raising
See more of their personality and temperament than you can in a puppy
May be housetrained (but maybe not. Be sure to ask!)

Still need training, exercise and ongoing socializing
Less mature mentally and emotionally
Adopting An Older Dog
Adopting older dogs is great for first-time pet parents. Most adult dogs don't require as much training and energy as younger dogs, but they still need your attention, as all dogs do. The dog is already mature, so you can see their physical traits and get an idea of what their personality is.
Advantages

Disadvantages

Do not need to train, socialize or exercise as much
Typically shelters have their medical history
Most will be housebroken so fewer accidents in the house

May have a "ruff" background
Potential behavioral issues
Are you worried that older dogs may have had a bad previous home, and therefore they may have behavioral issues? Don't be! You can be the change that the dog needs in its life.
Many amazing dogs grow up in shelters or are placed in shelters for various reasons. They need a second chance just like any other dog would, and, in our experience, the hard life they experienced before you makes them that much more appreciative of their forever home and family.
Where To Adopt A Dog
The process of adopting a dog is rather easy, and there are tons of places you can adopt dogs. Choosing to adopt a dog near you can be a lifesaver for some pups. We suggest checking out the local shelters near you first. #AdoptLocal
Many shelters allow you to spend time with the dogs and even take them on walks. This is a great way to see how the two of you mesh with one another. Or, if you have a family, you can see how your kids and the dog play with one another. Further, if you already have a pet at home and are considering adding another one to the family, most rescue organizations will allow and even encourage a meet and greet before you finalize the adoption paperwork.
Many online sites have dogs available for adoption. Here are just a few to consider:
How To Adopt A Dog
The steps to adopting a dog are few and easy, but they are extremely critical.
Spend time with the dog. Go for a walk, play, pet them and introduce them to your family. See how the dynamic is between the pup and everyone involved in the decision.
Hangout with a couple of other dogs and see how the dynamic is with them to be sure.
Come back another day and see how the relationship is again.
Feel like you found the dog of your dreams? You're ready to adopt!
Speak with the shelter or current owner/foster parent and express your interest and see what the next steps are to get your adoption rolling.
Manage your expectations for bringing your new furry friend home. Most rescue organizations will not let you take the dog the same day as they will likely need a trip to the vet for booster shots and spay/neuter surgery. Here are some tips for bonding with your new dog when you get home.
Prepare your house for a new pet. There's a lot to think about but this new dog guide should help you ensure a smooth transition.
After the adoption is complete, consider getting pet insurance. Should anything happen to your dog, you want to be prepared.
Here is a comparison of some of the best pet insurance providers, and please note that the younger the dog, the cheaper your annual premium. Plus a few companies offer a discount for rescue dogs!
Pros And Cons Of Owning A Dog
Overall, we feel that the benefits of owning a dog greatly outweigh the few minor inconveniences that come with the territory. However, we realize that dog ownership isn't for everyone and we want you to know what you're getting into.
Bringing a dog (or any pet) into a household that isn't truly prepared isn't good for the people or the animals. That's why we've analyzed the pros and cons, so you know what to expect in owning a dog, whether you adopt them or not. In fact, some of these so-called "cons" may be pros for you!
Pros

Cons

Empathetic, they know how you are feeling and can tell when you need a slobbery kiss
Loyal
They always look like they are smiling
Always happy to see you
You're never alone
You build a great relationship with them and become best friends
Caring for another being (great step for those considering having kids)
Experience health benefits for humans associated with pet ownership

Poop and dog hair cleanup
Require you to be responsible and attentive to another living being
Maintenance (baths, brushing, meds, nails clipped, dental cleanings, etc.)
Take up room (dog bed, dog house, toys, food, water, yard, etc.)
Must make time to walk or exercise them
Your sleep schedules may conflict with one another
Additional costs for taking care of another loved one
Boarding costs when you travel
My Thoughts On Dog Adoption
I've always thought to myself, the first dog I'll own will be purchased. Whether it be from a family friend or a breeder, I thought that's what I'd do. Then after that, I'd adopt from a shelter. To be honest, after writing this article, I couldn't imagine doing that. Watching this video brought me to tears. There are so many dogs who need our help, and I want to be able to do that with my life, including the first dog I am a parent to. There is nothing wrong with purchasing a dog, but I've realized that, for me, rescuing is definitely the way to go. I can't wait to adopt my first dog and gain a new best friend.
Why You Should Adopt A Dog
Each year, about 3.9 million dogs are put into shelters, and 1.2 million dogs are euthanized. These dogs need your help. You could be the deciding factor between life and death. That's why adopting a dog is such a great thing to do. Not only will you gain the most loyal best friend, but you'll also save a life. You could also consider becoming a foster dog parent.
What do you love most about your adopted dog?
Source: [1] Adweek