How do we keep this site running? This post may contain affiliate links — the cost is the same to you, but we get a referral fee. Compensation does not affect rankings. Thanks!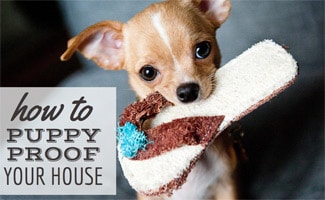 Congratulations on your new puppy! We are so excited for your growing family! And since you're going to be a great pet parent, you're looking into puppy proofing your home. You're probably already aware that your hands are going to be fully with a rambunctious puppy who will get in everything imaginable. That's why a puppy proof house is so important. We'll give you step by step instructions on how you can puppy proof elements of your house so your furry children are safe.
Plants Can Be Dangerous
Like a baby, puppies explore the world by putting everything in their mouths. There are many plants that can be harmful to dogs resulting in vomiting, diarrhea or even organ failure. Research all of the plants you have in your home currently and make sure they are not harmful to dogs.
Keep Medications in a Safe Place
Put all of your medicines and your pet's medicines kept up in a safe place. Many of us are guilty of laying our pills on the counter and then coming back to take them later in the day. It's important to stop this habit because your dog could get to them before you. If your pup is a determined chewer, he may be able to chew through the plastic of a pill container so be sure to keep the containers in a safe place too. Consider keeping your pills in a high cabinet or drawer in your bathroom or kitchen. Be sure to keep the drawer or cabinet closed too.
Dog Proof Trash Can
Dogs get into trash cans easily. Something about the smell of garbage just gets dogs excited. Bathroom trash can be dangerous with razors and kitchen trash can be life threatening with toxic foods to dogs. Keep your trash in a higher place your dog cannot reach and in a container that covers the top so it is not open.
Cleaning Supplies Are Toxic
Cleaning supplies include chemicals which are toxic to all animals and people. So keeping them in an enclosed area, away from your pets is important. A high shelf in a closet is always a good idea. Don't forget to keep that closet closed.
Cords and Puppies Don't Go Together
Electrical cords are like the treat of all treats to a puppy. They love to chew on ear buds and cords to anything and everything. Unfortunately, there's going to be cords in your home. But be sure to keep your ear buds in a safe place and watch your pup to make sure he's not chewing on electrical cords. You can also get spiral cable wrap, cord concealers or PVC pipe to keep your dog from getting to your cords.
Dog Proof Couch
When you get a dog you have to decide if he will be allowed on the furniture. Each pet parent is different with this so there are no judgments here. Would you like to snuggle up on the couch with your dog? Or do you want a longer lifespan out of your couch and it not be covered in dog hair? You decide… do you want pet-friendly furniture or pet proof furniture. You can also get dog proof couch covers, like this one from Amazon, to have pet-friendly couches. That way you dog can lay on the couch all he wants and you don't have to worry about him hurting the couch.
Small Objects: Coins, Jewelry, Hair Accessories, Paper Clips, Etc.
Now is the time where you need to be cleaner than ever. No more leaving your earrings on the end table or your bobby pins on the kitchen sink. Puppies can get into anything so make sure you're putting things away where they belong. Pick up after yourself and stay vigilant! Taking your dog to the vet and seeing an x-ray of his abdomen full of bobby pins, q-tips and other unappetizing objects is not ideal. So keep those objects out of reach from your dog.
Cat Litter Box
It's gross but many dogs like to explore the kitty litter box. Not only is this disgusting but it's also dangerous. Cat litter can cause health problems if ingested and if the cat has any health issues they could be passed on to your dog. Place the cat litter box in an area your dog cannot access. Perhaps get a baby gate and place it behind the gate. You can raise the gate up a little to allow your cat to go under it (unless the dog is smaller too) or you can simply have your cat jump over the gate.
Dog Proof Rugs
You can dog proof rugs by purchasing ones with small patterns and dark colors. That way less hair is shown on large chunks of solid, light colors. You can also purchase rugs meant for outdoors to use indoors since many times they are more durable and easier to clean.
Backyard Safety
You can puppy proof backyard by getting a dog proof fence. What is a dog proof fence? Basically a fence that cannot be jumped over or dug beneath by your dog. This will vary by each dog. For example, I know someone who had a standard 8 foot tall kennel for their dog when they were away from the home and the dog was able to jump it. Scared them all immensely, but fortunately he is okay. 🙂
Don't Forget the Holidays!
Holidays are another time where you need to be vigilant about your dogs safety. Decorations are strung throughout the house and the kitchen is constantly busy with baking and cooking. Check out this article for holiday specific dangers around the house.
Tips from Faris from Super Awesome Dogs
Dog trainer, Faris Jaclyn, has some other tips for puppy proofing your house.
Consider Adoption
The ASPCA estimates approximately 3.9 million dogs are put in shelters every year. Before you get a puppy, consider adopting from your local shelter. Help a dog in need and give him a second chance at a family he deserves.
What area of your home do you most need to puppy proof?
The information contained in this article and website is not intended nor implied to be a substitute for professional safety advice; it is provided for educational purposes only.
We are a participant in the Amazon Services LLC Associates Program, an affiliate advertising program designed to provide a means for us to earn fees by linking to Amazon.com and affiliated sites.