To sustain this free service, we receive affiliate commissions via some of our links. This doesn't affect rankings. Our review process.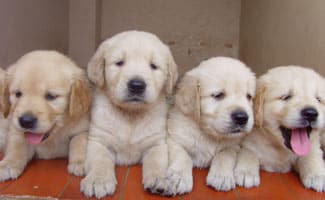 There are many things to think about when you look at bringing a new puppy into your family. From how to pick out the right puppy to what you will need to prepare for your puppy's arrival, there is so much to plan for! The planning doesn't stop after your newest family member comes home either. The life of a new puppy owner is almost as hectic as the life of a new parent. Fortunately for a puppy owner, the baby phase is much shorter and much less expensive than having a human child.
Is Everyone On Board With Adopting A New Dog?
The first thing to take into consideration is whether everyone in your household is on board. From roommates to family members, it is important to make sure that every single member of the household is happy about the addition. Adding a new puppy to a family that is not completely welcoming can be difficult for family members and the puppy. Puppies are extremely sensitive to changes in behavior and mood, so living with an individual who resents it can cause undue stress. Sadly, bringing a new puppy home to a household where not everyone is accepting may even open the puppy up to abuse. Some roommates have been known to feed dogs beer when the owner isn't home simply because they felt no sincere attachment to the dog and wanted to "see what would happen."
The Owners' (and Families') Responsibilities
Once everyone is on board, it is essential that the family know what duties are expected of them once the dog comes home. Taking care of a new dog (especially a puppy) is hard work and involves a variety of chores. Someone must be willing to feed the new puppy, walk it, pick up after it when it goes to the bathroom, train it in basic obedience, reinforce housebreaking (learn more about housebreaking a puppy), and someone must even be willing to play with the puppy.
Some of these tasks can become extremely repetitive (particularly taking your dog out to reinforce potty training), so it can help to put chores on a rotating schedule so that no one family member comes to resent the new puppy due to the repetitive tasks.
There are also the more fun aspects of pet ownership including whose room will the puppy sleep in, who gets to wash the dog, who shops for (or pick out) toys, etc. If there are younger children in the household, it is important to highlight the fun as well as the tedious chores to keep everyone excited. Sharing the responsibilities will help you bond with your new dog and your family members.
Ways To Bond With Your New Pet
Getting Your House Ready For Your Puppy
Most puppies will chew anything and everything they can get their teeth on. So it is important to emphasize picking up toys and clothes that should not become puppy food. It is important not only for the safety of your possessions but also for the safety of the puppy – intestinal obstructions from ingested toys and clothing cost thousands to remove and put your pet's safety at risk.
Just as with children, it is important to puppy proof your home. Be sure to cover electrical sockets that your puppy can reach, tie up and cover wires that can be chewed and remove small items that present choke hazards.
Tips For Kids
Puppy proofing also includes teaching children in the house acceptable and unacceptable behaviors when it comes to their new family member. Toddlers especially have a difficult time understanding the importance of gentle play. Not only can rough play scare an eight-week-old puppy, but it may also physically harm the dog.
Young children should also be warned about the sharpness of puppy teeth and reminded to keep their hands safely out of reach. A helpful trick to teach young children is to have them offer an acceptable chew toy in place of the hand. Lastly, it is important to teach a child that they should never wake a sleeping dog. Like people, puppies are unaware of their surroundings when they are sleeping and being shocked awake by a young toddler could lead to a bite incidence.
How To Introduce Children To Dogs
Bringing A Puppy Home: Must Have Items
Now it's time to go shopping for those must-have items for your new family member. Most people tend to over shop for their new puppy, and there are only a few items that absolutely have to be on your list.
List Of Must-Have Items For A New Puppy
Stainless steel or another good dog bowl
A crate that is just big enough for your puppy to stand in; dividers can be purchased for larger crates to make them smaller and prevent the need for buying more than one (crates give your puppy somewhere safe to sleep and assist with housebreaking and training) – learn more about crate training
A comfortable dog bed
Carpet cleaner (there will be accidents)
Bedding for the crate (a large blanket or a fleece crate liner)
An entertaining teething toy (the Puppy Kong is the most recommended toy)
A comforting item (a soft toy that mimics a heartbeat or a t-shirt from the puppy's mother or its siblings. Be sure it doesn't get ripped or ingested)
A bag of puppy food
Pet insurance helps you prepare for major medical bills
Finding The Right Dog Food For Your New Puppy
Choosing a dog food for your new puppy can be incredibly confusing. With so many dog food brands it can be difficult to pick one that is right for your dog and one that works with your budget. Most breed specific rescues, breeders and shelters will feed a particular brand of puppy food. If you intend to change diets, it is important that you gradually transition them into the new food.
Check With The Previous Owner Or Adoption Organization
When you talk to the current owner about your puppy, make sure to ask why they are feeding a certain food. Often shelters feed puppies a certain brand because it receives a reduced price. Sometimes breeders claim great results with a certain brand, so they use it across the board. It is also possible that your puppy has food allergies or other dietary considerations. Whatever the reason your puppy is feeding on a certain food brand it is important for you to know before you switch to a new food.
Finding Good Quality Puppy Food
Need a little help in picking the best puppy food for your new dog? Look at the ingredients list — you can determine a quality dog food from the first three ingredients. A dry dog kibble that lists grains as the first ingredients should be passed over for better quality food that lists meat as the first ingredient.
It is also crucial that you feed your puppy a puppy formulated food as the needs of a young dog are much different from the requirements of an adult dog.
Finding A Veterinarian For Your Puppy
It may seem silly to find a vet before you have even brought your puppy home, but it is important to find one that you are comfortable with before you need veterinary care. One great way to find a local vet is to ask for a recommendation from friends, breeders, shelter managers or rescue group owners. Don't be afraid to visit offices and interview vets to find one that you like. It is essential that you are comfortable with your vet since it is possible that you will be visiting them more than once a year – because some dogs are just born making trouble!
Schedule Your Puppy Shots And Vaccinations In Advance
You can also find out from your shelter, breeder, or rescue group when your puppy is due for its next round of puppy shots and set up an appointment with your new vet to get these shots done on time. It is crucial for your puppy's health that it stays current on vaccinations so if your puppy does not come with all of its puppy shots it is your job to find out when they are due and make sure they get done.
Review This Vaccination Cheatsheet
Video: Tips For Bringing Your Puppy Home
This video has many more tips and tricks for you to consider before, during and after bringing a new canine addition into your home.
What are you most excited about with your new puppy?
Disclaimer: Information regarding insurance company offerings, pricing and other contract details are subject to change by the insurance company at any time and are not under the control of this website. Information published on this website is intended for reference use only. Please review your policy carefully before signing up for a new pet health insurance contract or any other contract as your unique circumstances will differ from those of others who may be used for example purposes in this article.
Disclaimer: This website contains reviews, opinions and information regarding products and services manufactured or provided by third parties. We are not responsible in any way for such products and services, and nothing contained here should be construed as a guarantee of the functionality, utility, safety or reliability of any product or services reviewed or discussed. Please follow the directions provided by the manufacturer or service provider when using any product or service reviewed or discussed on this website.