Is your dog chewing up shoes and destroying your furniture? You might want to consider a crate. While crate training is key for puppies, it may also be a good choice when your pup isn't so little anymore. It creates an indoor escape for dogs and becomes their home within your home.
At A Glance: Best Dog Crate For…
Best Dog Crates By Category
Not all dog crates are created equal, and you'll want to make sure you choose the kind that's best for your life and your dog's needs. Our experts have chosen the best dog crates for several different categories to help you find the ideal crate for your specific needs.
Best Dog Crate Overall: Diggs Revol
View on Amazon | Visit Website
The Diggs Revol is our choice for the best overall dog crate for its combination of high-quality materials and easy portability. Made with durable, high-grade aluminum, steel mesh wire, and reinforced plastic, it's much more sturdy than standard wire kennels or portable soft-sided crates.
This crate features three ergonomic handles and two wheels for easy transport. It also has solid escape-proof doors, an adjustable puppy divider, and a rounded frame to prevent pinched paws. You can collapse it in seconds and easily carry it in one hand.
Price
Best Large Dog Crate: MidWest Life Stages
The MidWest Life Stages Double-Door Folding Metal Dog Crate is a versatile metal crate that's made of heavy-gauge steel and a tight wire mesh. It comes in a variety of sizes, but it's a great option for larger dogs who need a well-ventilated space.
This popular crate offers front and side access, two heavy-duty bolt latches on each door, and an adjustable divider. You can break it down and set it up in minutes with no tools required. It also comes with a one-year warranty. Some buyers have experienced issues with the latch.
Personal Experience
We have used MidWest Dog Crates for years. They always hold up wonderfully and provide a cozy den for our dogs to rest while we are away. And other team members use them for their pups and have been pleased with their performance.

– Michelle S., Canine Journal
Price
Best Small Dog Crate: MidWest iCrate Starter Kit
This MidWest double-door wire crate is a good option for small to medium-sized dogs. It's made of high-quality steel, but it's not quite as heavy-duty as our pick for the best large dog crate (also by MidWest).
It's also loaded with accessories, including a dog bed, two bowls that attach to the inside of the front door, and a cover that may make smaller or more timid dogs feel more secure. It also has a divider panel, four roller feet (to protect floors), a carrying handle, and a leak-proof removable dog tray, and comes with a one-year warranty.
Price
Best Dog Crate For Puppies: Petmate Two Door
The Petmate Two-Door, Top-Load crate provides easy access for your puppy, while steel and plastic combine to provide safety and strength. It's great for puppies who like a snug, cozy sleeping space. The top-loading feature is helpful for puppies who are reluctant to walk into an open kennel.
This crate is also great for air travel for small dogs and is easy to store when it's not in use (the top half comes off, so you can easily stack the two halves). It comes in four colors:
Hot pink/black
Pearl white/coffee ground
Pearl ash blue/coffee ground
Pearl tan/coffee ground
Price
Best Dog Travel Crate: Petmate Ultra Vari Kennel
We've chosen this Petmate crate as the best dog kennel for travel. It's a great solution for air travel or even for escape artists. It's made with heavy-duty recycled plastic and has a strong but easy-to-open front latch and tie-down strap holes for your pup's safety. It meets most airline cargo specifications.
It also features wire vents to keep your pup well-ventilated and a raised interior to keep pups safe and comfortable. You can also use this for car travel. Another safe option if you travel with your dog in the car often is a dog car harness.
Price
Best Soft And Collapsible Dog Crate: Petnation Port-A-Crate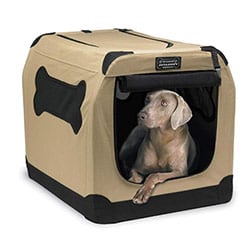 The Petnation Port-A-Crate is lightweight, portable, and made of tightly woven mesh fabric surrounded by an extra-strong steel frame. This crate sets up and folds down in seconds.
There are several pluses of soft-sided crates: they're lightweight, great for travel, and store easily. However, this is really only an option for small to medium-sized dogs. They're also more difficult to clean and can be easy for curious pups to escape from or destructive animals to chew through.
Price
Best Heavy-Duty Dog Crate: ProSelect Empire Cage
The ProSelect Empire Cage is specifically designed to house destructive or aggressive dogs. This crate features strong steel tubing, sturdy dual door latches, and heavy-duty welding at the cage's key stress points. It also has wheels, which are handy for travel.
These tough crates are made to house the most clever and destructive dogs. They're a bit expensive, yet they more than pay for themselves if you have to replace a less sturdy crate several times due to your pup's antics.
Price
Best Fashionable Dog Crate: Casual Home Wooden Pet Crate
Fashion crates are fashion-forward. Their wood or rattan finish certainly looks the best of all these options around the house, and some can even double as a side table, proving that these crates aren't just a pretty face — they're functional too.
The downside to these crates is that they're not an option for destructive dogs due to their wood-based construction. They could also be easily damaged if they have a wood floor and there is an unexpected accident.
The Casual Home Wooden Pet Crate is a durable, hardwood-constructed crate that's well-ventilated and has a waterproof tray that makes it easy to clean in the event of an accident.
Price
Dog Crate Accessories
Now that you've decided on a crate, you may also want to consider what to put in a dog crate. These add-ons make the crate experience more comfortable for your dog and less disruptive to your house decor.
A crate bed or liner will make your pet more comfortable on what can otherwise be a pretty hard surface.
There are a couple of different attachable cup options (stainless steel or plastic) to keep your pet hydrated while you're away.
If a clunky crate doesn't quite match your home decor, you can also toss a crate cover over the top to disguise it and make it more of a fashion statement (make sure you order the correct size).
Frequently Asked Questions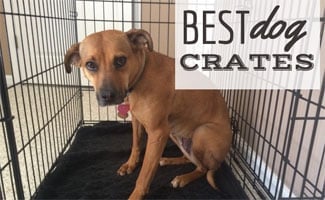 Here are some of the questions our readers ask most often about dog crates.
How Big Should A Dog Crate Be?
Your dog's crate should be just large enough for your pup to stand up and turn around in it. If your puppy or young dog is still growing, choose a size that will accommodate him when he's fully grown. However, you'll want to block off the extra crate space so your dog can't go potty at one end and move to the other end. Some crates come with a divider to help you block off the space.
How Do I Measure My Dog For A Crate?
If you're wondering how to measure a dog for a crate, follow these guidelines:
Length: To determine the crate length, measure the length of your dog from the tip of the nose to the end of the tail while sitting and add two to four inches.
Height: To get the right crate height, measure your dog's height from the top of the head to the ground while sitting. If your dog's ears are erect, measure from the top of his ears. Then add an inch or two.
Where Should I Place My Dog Crate In My House?
If you're wondering where to put a dog crate in your house, it really depends on each family and home. Dogs are social beings and want to be where the action is. So you'll want to place the crate in an area of your home where you and your family spend a lot of time, such as the family room. This helps make the crate a positive and safe environment for your pup.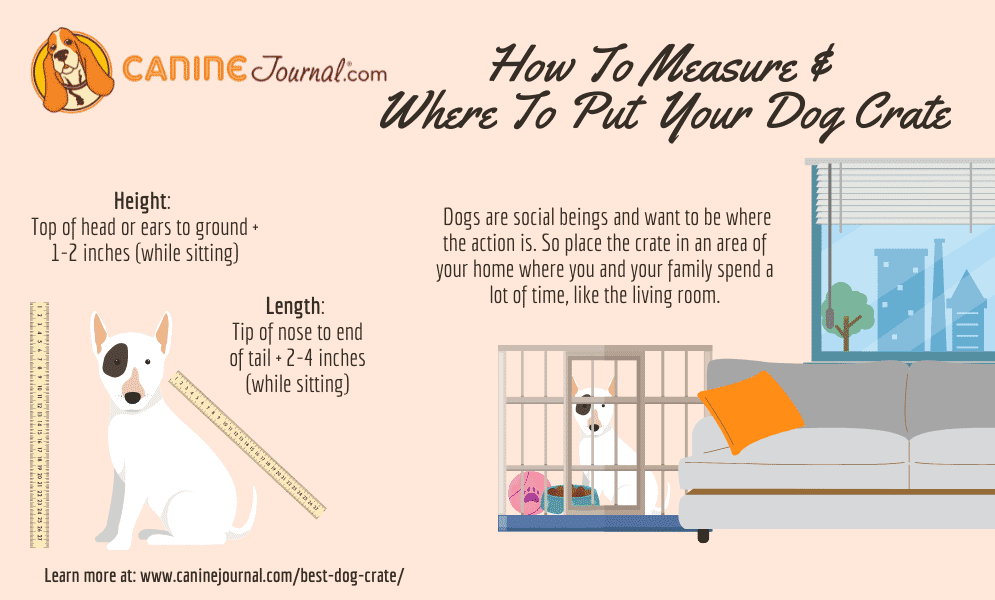 Is It Cruel To Crate A Dog At Night?
Crating your dog isn't cruel unless you do it for prolonged periods of time. At night, the general rule is that adult dogs should be in their crate for no longer than eight hours. This is assuming you've already properly crate trained your dog, and he feels safe and secure in his crate during the night.
Is It Cruel To Crate A Dog While You're At Work?
In general, this is not ideal, but it depends on how many hours you'll be away from home. Dogs need to have some activity during the day, so it's not a good idea to crate your dog for longer than two to four hours during the day. If you work long hours, you should consider asking a friend or family member to take your dog out. Or hire a dog walker.
How To House Train Your Dog
No matter what type of dog you have or crate you get, remember that having a happy place for your best friend is a must. Even if you don't use your crate all the time, it's nice to have the option for when you have guests or children around or those times when you are traveling with your pup.
Crate Training Tips
You've probably heard that dogs are den animals and that they look to their crate for comfort in times of stress. A crate, approached correctly, provides this den-like structure within your own home, giving your pup a safe place to sleep, retreat, and maybe even eat.
For more on the process of crate training, see our articles crate training your puppy and four crate-training tips. Have you crate-trained, but your dog is still crying in the crate? We also have tips on how to stop your dog from whining in his crate.
Tagged With: Comparison, Containment, Crate Training