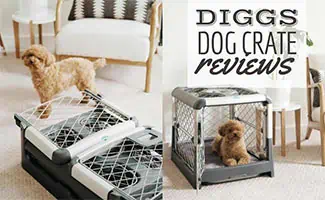 Are you looking for a crate that's safe and secure but also stylish and easy to use? The Diggs Revol dog crate might be the right choice for you. We review this crate to give you the information you need to see if it might work for your pup.
Choosing a dog crate for your pup is a big decision. It's not just a place for your dog to sleep; you want it to be a place he'll feel safe and cozy. And if the crate is going to be in your home, you might want to consider its look as well. The Diggs Revol dog crate might be the one that can meet your needs.
View on Amazon | Visit Website
Key Features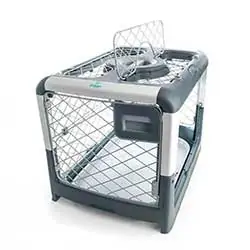 Made with high-grade aluminum, steel mesh wire, and reinforced plastic
More sturdy than wire kennels or soft-sided crates
Easy to transport with 3 ergonomic handles and 2 wheels
Escape-proof doors
Adjustable puppy divider
Rounded frame to prevent pinched paws
Price
How Do I Use My Diggs Collapsible Dog Crate?
This two-and-a-half-minute video from Diggs shows you the ease of collapsing and raising your Revol dog crate.
Crates, Gates, And Playpens, To Keep Your Pup Safe
View on Amazon | Visit Website
The Diggs Revol collapsible dog crate is an excellent choice if you're looking for a comfortable, safe, and secure crate for your furry friend. However, this crate might not be the only tool for the job. Do your research and see what dog crates are available and what might work best for you. You may also want to consider dog gates or playpens as another means to protect your pup.
Tagged With: Containment, Review