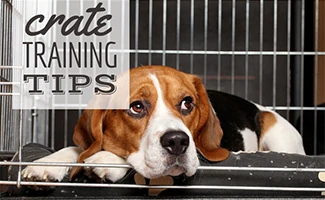 Love 'em or hate 'em, dog crates provide a special doggie den in your home while saving your best sofa from a hairy existence. The ability to spend a bit of time in a crate or behind a gate should be a skill every dog should have, just like "Sit" or "Stay", so they can hang out stress-free at the groomer's, veterinarian's office, or while traveling. Even a pillow-hogging pup can learn to love their new digs with a little persuasion. Crate training dogs does not have to be as hard as it seems.
Need A New Crate?
The old rusting metal variety you banished to the garage has gone way upscale with sleek wood and wicker models designed to fit into our living areas, right where your dog wants to be.
4 Easy Tips For Crate Training Dogs
Try these tips to get your dog to hop into their crate without a fuss.
1. Put Treats In Crate
Hold your dog gently, and face them toward the open dog crate or pen door.
Toss several tasty treats inside, the meatier, the better.
Keep your dog restrained for a second, then say, "get the treat!" as you let go.
Allow them to come out again right away without closing the door.
2. Leave The Room
Leave the room several times and when the dog is diving in willingly, close the pen door.
Stay in the room and ignore your dog.
Walk by twice and drop a couple of treats in.
If the dog remains quiet, let them out right away.
3. Serve All Meals In Crate
Feed all meals, give all treats, and provide chew bones and water in the crate.
Toss goodies in when the dog isn't looking and let him or her find them on his own. This helps your dog see their private place as a treasure trove of wonders.
4. You Are The Alpha Dog
Your dog reads you like a book, so if you make a sad face when they whine a bit, they will work that like a terrier until you let them out.
Teach your dog that they can come out of their dog crate only when quiet.
Be consistent, calm, and cool and your dog will take your cue when it comes to crate training.
If you've practiced these tips but are still struggling, we recommend finding a professional trainer. Hiring a pro can be more affordable than you might think and, if you choose an online dog training course, you can do it in the comfort of your own home.
Video: Richell's Freestanding Pet Gates
Tried these steps and your dog still hates the crate? Try an eco-friendly pet gate instead. The Japanese-designed Take Freestanding Pet Gate (View on Amazon) in natural, sustainable bamboo will ease your guilt and give your dog lots of space and security. Now you can sit on your sofa while wearing a little black dress and leave the lint brush in the car.
Check out this video to learn more about why I think this is a great solution:
Check out more tips on how to get your pup to stop whining and dealing with separation anxiety.
Tagged With: Crate Training