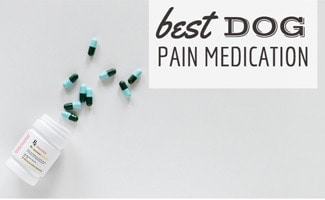 Our family dog, Tiny, is a fanatic runner when he's off-leash. He loves to bolt at full speed, but his aging body isn't keeping up with his youthful energy (sound familiar?!). Often the next day, he's sluggish and is so sore he won't even jump up on the couch with me.
We all hate to see our dogs in pain and want to give them relief. Fortunately, there are some very effective pain medications for dogs available. Before you pop them a pill, however, it's crucial to know what's safe and what's not — and what pain med side effects to watch for.
Are Human Pain Meds For Dogs Safe?
No. Human pain meds are not safe for dogs. You might be tempted to save yourself time and money by just giving your pup one of your over-the-counter pain meds. Think again.
Can Dogs Have Ibuprofen Or Aspirin?
Absolutely not, say experts. Human medications and over-the-counter (OTC) pain meds for dogs can be extremely dangerous and even fatal. Learn more about OTC meds for dogs.
Many common OTC pain relievers fall into the category of nonsteroidal anti-inflammatories (NSAIDs). These include ibuprofen, aspirin, baby aspirin, and naproxen, among others.
NSAIDs work by inhibiting the production of fatty acid compounds in your body called prostaglandins, which are responsible for fever, inflammation, and pain.
Prostaglandins, however, serve beneficial roles in the human and canine body, including sustaining sufficient blood flow to the kidneys, maintaining normal blood clotting, and producing a layer of mucus that protects the gastrointestinal tract's inner lining from stomach acid.
When these healthy functions become reduced, dogs are particularly susceptible to health problems. They can develop:
Intestinal problems
Loss of appetite
Bleeding disorders
Kidney or liver dysfunction or even failure
Not knowing the appropriate dose of these medication types for dogs (and cats) is a disaster waiting to happen. You may unknowingly give your otherwise healthy dog a dose that's too high, and some dogs are especially sensitive to human NSAIDs.
Can Dogs Take Tylenol?
Tylenol for dogs is another huge NO — unless it's prescribed by your veterinarian. Tylenol is acetaminophen, not an NSAID, but tests have shown that it's equally as harmful to dogs when given in human doses.
When dogs ingest even a slight overdose of acetaminophen, it can destroy their liver cells and damage their kidneys and other tissue all over their body. Cats are severely sensitive to acetaminophen — so much so that just one tablet can be fatal.
What Can I Give My Dog For Pain Relief?
Now that you know human-grade OTCs are out of the question, what can you give a dog for pain? There are specific canine pain medications available on the market that are safer than those designed for people, but we strongly advise that you get a recommendation from your veterinarian.
Your vet can assess your dog's health history, weight, and other factors to determine which medications and dosages are most beneficial. Veterinarians will also tell you how to monitor their treatment to make it as safe as possible.
What Are The Best Pain Meds For Dogs?
Some vets will recommend canine-formulated aspirin that you can find over the counter, but make sure you get a correct dosage and treatment plan, i.e., how many times per day for how many days.
Otherwise, most veterinarians will prescribe pain relievers. NSAIDs specifically made for dogs are quite common and include:
Rimadyl (generic name novox carprofen)
Deramaxx (generic name deracoxib)
Previcox (generic name firocoxib)
Metacam (generic name feloxicam)
Other common prescription pain relievers for dogs:
Amantadine to treat arthritis, disk disease, and cancer in dogs
Gabapentin to relieve nerve pain
Tramadol for chronic pain
If you choose to give your dog pain medication, be sure to ask the vet about its safety over the long term. Many vets recommend monitoring of the liver and kidney function every six months if your dog is taking pain meds, especially NSAIDs, regularly.
Natural Pain Relief For Dogs
Some of the most effective natural pain remedies for dogs include:
Natural Pain Relief For Dogs Infographic
Here's a summary of the natural remedies above in visual form to reference.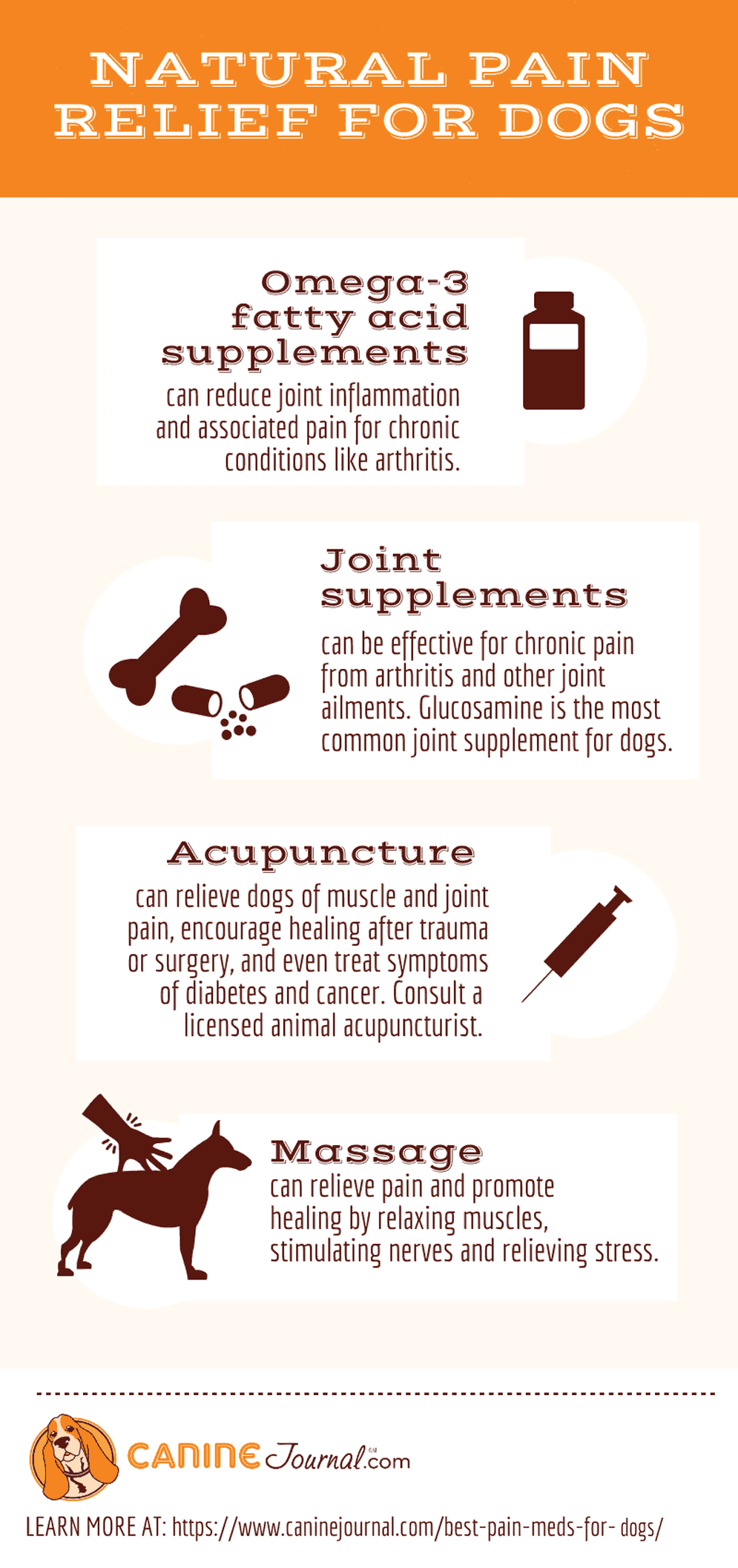 A Healthier Diet Can Go A Long Way
A good diet and weight loss can reduce and even eliminate the need for pain meds for dogs suffering from such chronic conditions as arthritis. Reducing your dog's body fat and boosting lean body mass decreases inflammation and stress on their joints.
Be sure to read our reviews of the best dog food delivery services, where you can find some all-natural, healthy dog food options. We also have our article on the best dog foods for most diet types, ages, health issues, and more.
Tagged With: Comparison, Medication, Reviewed By Dr. Racine, DVM