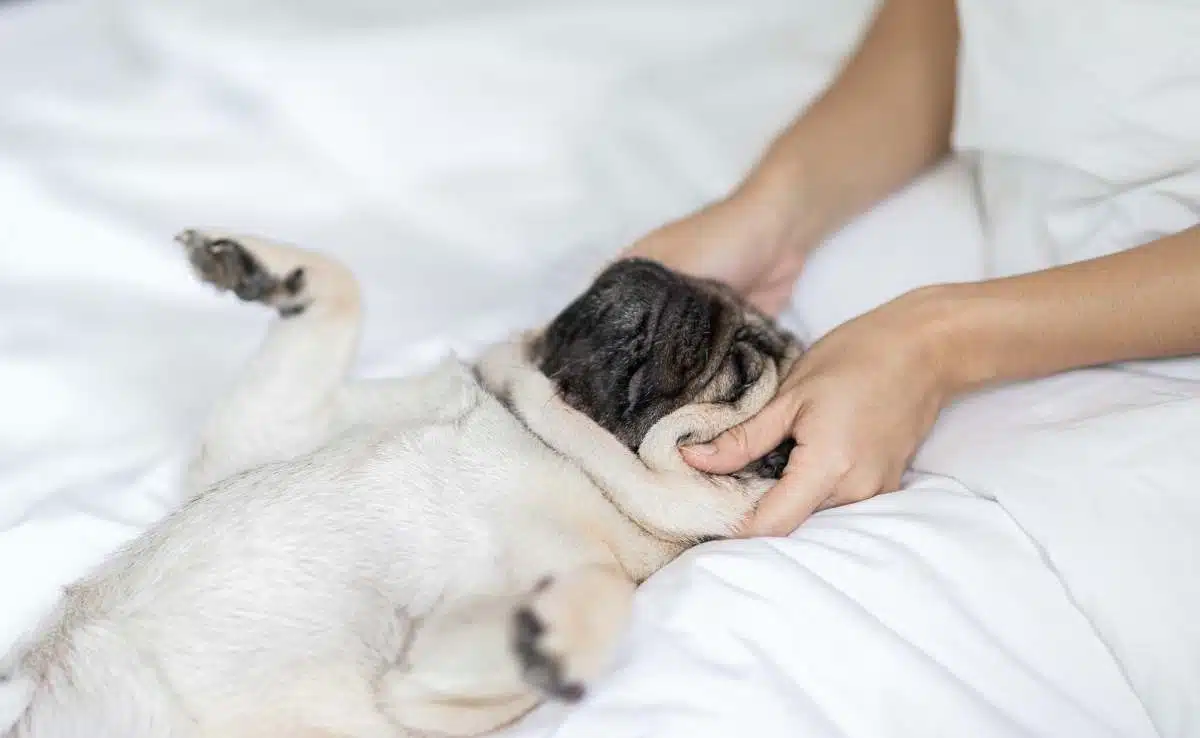 You don't need a dog massage certification to give your dog a massage. You can give your pup a daily massage from the comfort of your home. Do dogs like massages? The answer is yes – if your dog loves a good belly rub or petting, chances are high that they will love a good massage. Find out why dog massages are beneficial and how you can give your dog the best massage of her life.
What Is Canine Massage Therapy?
Canine massage therapy is a form of alternative therapy that promotes a dog's health. It is proven that the touch given to a dog through massage can improve not only a dog's physical but also his emotional well-being. Massages are great for dogs who suffer from nervousness, anxiousness, and hyperactivity. Dog massage benefits include:
Relaxation
Increased oxygenation of the blood
Pain relief
Improved flexibility
Improved immune system
Reduced age-related issues
Reduced arthritis and hip dysplasia discomfort
Muscle tension, soreness, weakness, and spasm relief
Implementing canine massage therapy along with professional veterinary care can reduce recovery time from injuries.
How To Massage A Dog
Dog massage techniques vary depending on what you want your dog to get out of the massage. Find out how to massage your dog below.
Daily Massage
A daily massage is used as a bonding experience for you and your dog as well as to stay connected with your dog's health. Use a flat palm and slowly touch your dog moving around her body. Pay attention to how different areas feel. Notice her hair, skin, muscle, fat, and bone. This will help you gain an understanding of what your dog's body is like when she's healthy, so in the future, you can notice sooner when something may be out of the ordinary.
You may notice her temperature being different, or that she is more sensitive to the touch. Perhaps she's swollen somewhere or there is some other out-of-the-ordinary characteristic that tells you something is wrong with her. Knowing your dog's baseline can help you notice health conditions so that you can provide her with the care she needs sooner than later. These massages should take about ten minutes and are a great way to end a "ruff" day.
Dog Massage For Anxiety Or Nervousness
Whether it's thunder rumbling or fireworks popping, this massage is a good way to calm your anxious dog. Softly rest your palm on top of your dog's head or neck and make long strokes along the spine and down the tail. Repeat this several times slowly. You can increase the pressure gradually if you think your dog likes it. Make sure you don't press down on the lower part of the back as this could create problems with your dog's spine and hips.
When you want to finish the massage, rest one hand at the base of your dog's head and the other hand over the highest point of your dog's hips. These two points are associated with the part of the spinal cord that is in charge of rest and relaxation. You can do this massage any time your dog is anxious, nervous, hyperactive, restless, or fearful.
Could a Thunder Jacket Reduce Your Dog's Anxiety?
Reasons To Seek A Professional Dog Massage Therapist
You may want to seek out a professional for help. A professional dog massage therapist can teach you the techniques to help your dog or can do the massage for you if you'd prefer someone else do the work. A massage therapist can give your dog the best massage to help with his ailments.
We recommend going to a professional first and speaking to them about your dog's needs beforehand. Then the two of you can have a game plan for how often your dog needs a massage and how often you want the massage therapist to check in on your dog's health.
What To Look For In A Dog Massage Therapist?
Choose a dog massage therapist similar to how you chose your dog's vet. Below are some things you'll want to consider.
Ask friends, family, and your vet for suggestions.
Are they close to your home?
How much will a visit cost?
What hours are they open?
When calling the office pay attention to how friendly the staff is.
A busy massage therapist typically means better, so don't be put off by a massage therapist that is a little difficult to get an appointment with at first.
Does Pet Insurance Cover Massages?
Some pet insurance products will cover alternative therapies like acupuncture and therapeutic massages, but most do not. Keep in mind, that an office visit for a massage will have to be deemed necessary to treat a medical condition that is also covered by the pet insurance plan.
Our comprehensive article can help you learn everything you need to know about pet insurance, including pros and cons, and even a financial analysis to help you determine if it makes sense.
Why Does Your Dog Love Having Her Ears Massaged?
Why do dogs love having their ears massaged? A dog's ears have nerve centers, which makes them extremely sensitive to touch. Massaging a dog's ears can be extremely relaxing for her. While you're massaging your dog make sure to check out her ears and see if they need to be cleaned. If you need more information, check out our article on tips on how to clean a dog's ears.
Tagged With: Anxiety