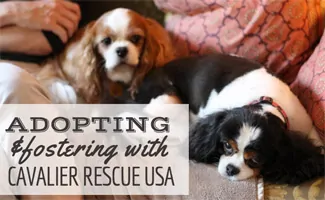 My family had a Cavalier King Charles Spaniel for the better part of my adult life, and during that time, I fell in love with the breed. Over the years, I considered getting a Cav myself but knew if I did that I wanted to adopt a rescue (for many reasons – which you can read about here).
So I researched and found Cavalier Rescue USA, a national, foster home-based, nonprofit dedicated to finding loving families for Cavaliers who are in need of new homes.
I adopted our Cav Lexie through Cavalier Rescue USA and wanted to share more about the great work their organization is doing in hopes it could help others who are considering adopting (or fostering) this lovable breed. So we interviewed Michelle Ouellette, VA/MD/DE Rescue Coordinator and Social Media Manager for Cavalier Rescue USA to learn more.
Tell us about Cavalier Rescue USA
Each and every Cavalier entrusted to us has such a unique story. We take in all Cavaliers who need help, regardless of age or medical condition. Our team of dedicated volunteers comes together to learn and share as much as we can about each pup, to get them back on their paws and help them find their forever home.
What do you look for in a forever family?
We are always happy to consider loving, responsible individuals and families as potential adopters for our rescued Cavaliers. We seek to make the best match possible between a rescue dog and families looking to adopt. This varies based on the individual dog and his or her needs.
In general, we look for families who have the time and love to give a dog, a good history of having taken great care of a pet with solid practices in feeding, training, exercise, ability, and willingness to care for the dog's medical needs should health issues arise. We also look for a stable lifestyle. People open to older dogs have a greater chance of rescuing from us because most dogs we take in are adults and younger dogs get far more applications.
Tell us about your adoption process
Our adoption process is a thorough one, but pretty simple for applicants. To start the process, a person would complete our online application. Interest in a specific Cavalier can be noted within the application, or the person can continue checking the website and email/call when a good match for them becomes available.
If it looks like a family might make a great home for a Cavalier in our care and is within reasonable driving distance of where the dog is being fostered, then the process usually proceeds with one to two informal telephone interviews, a vet reference check, a visit with the foster family, a home visit where the adoption normally occurs, and post-adoption follow-up.
What does it mean to foster and why should someone consider it?
The foster family's role is to bring the Cavalier into their home and hearts, get any needed medical care completed at rescue's expense, assess the dog to determine the best type of new family for the Cavalier and work with their State Coordinator to place the Cavalier into a loving and appropriate new family.
Fostering isn't always easy, but it is almost always tremendously rewarding. It is an opportunity to help save a life and a great bonding experience for families.
We have a large and very supportive and stable nationwide team of volunteers. Fostering, as well as helping in other ways, is a great way to team with others who know and love the breed.
Any tips for those considering fostering?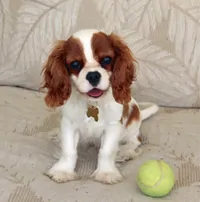 You don't have to be a dog expert to foster, but you do have to have time and love to give and to be able to balance your heart and head. Parting with the foster dog can be difficult, but is usually a necessary part of volunteering (as a foster home).
One of the most gratifying parts about fostering is keeping in touch with the people who adopt our dogs. Knowing the dogs we have fostered are loved and happy is so rewarding. People interested in fostering or helping our group in other ways, such as transportation, helping with the website and several other areas can apply here.
Are there any challenges the organization faces?
At times we have the good "problem" of more families interested in adopting than Cavaliers available to adopt. People can also be reluctant to adopt older or special needs dogs and bonded pairs, though those who do are very happy with their decision.
Any adoption stories that stand out?
Puppy Noah (photo above) was given to us because he had 2 major problems with his heart. Without surgery, he would have died. Because of the kindness of donors and caring intervention of our team of volunteers and veterinary specialists, Noah had open chest surgery and went on to a happy, healthy life!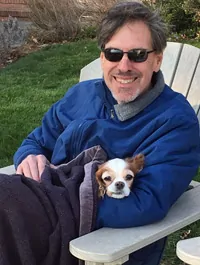 Lottie (photo to the right) was found in a parking lot by a caring lady who decided to keep her. A few years later the lady passed and Lottie, now a senior gal, was given to us by a family member. While in our care, Lottie was put on a medication regiment for her heart and joints and had a needed dental cleaning. Lottie has since retired to a beautiful farm that hosts weddings, family reunions and other parties. No longer very mobile, Lottie is adored and does her socializing perched on her little bed!
How can someone help or donate?
With skyrocketing veterinary costs and several hundred Cavaliers taken into our group each year, we need your help more than ever. We are an all-volunteer nonprofit group, and all donations go towards our program.
A $60 donation pays for a rescued Cavalier's veterinary exam.
A $150 donation pays for the vet exam, or heartworm check and vaccinations.
A $500 donation pays for the exam, microchip and spay/neuter of a dog in our care.
An $800 donation pays for the typical rescue dog's care (some combination of an exam, vaccines, heart x-ray, medications, dental cleaning, and spay/neuter).
A $2,000 donation contributes substantially towards a surgical procedure (the most common being patella surgery in our rescued Cavaliers).
We are grateful for any and all donations, large or small, all helps!
Learn more about pet insurance and how it can help offset the costs of treatment for your dog.
Anything else you'd like to add?
For more information about Cavalier Rescue USA and how you can help, visit their website. You can also find information on this site about how to follow them on Facebook and Instagram.
Thanks to Michelle for sharing these tips. Read more on how to become a foster parent and learn more about the Cavalier King Charles Spaniels dog breed.
Tagged With: Fostering