Stop coming home to a mess on your floor. Find out how to properly use a dog training pee pad, so your dog does their business where you want them to.
Best Pee Pads For Dogs
| Best Basic | Best Non-Slip | Best Scented | Best Eco-Friendly |
| --- | --- | --- | --- |
| | | | |
| All-Absorb | Bulldogology | AKC Training | PETMAKER |
| | View on Amazon | | |
| | | | |
Why Does Your Dog Need A Pee Pad?
These pee pads work great for many situations:
Assisting sick or aging dogs
Using while traveling (e.g., protecting car seats)
Offering an option for dogs who don't have timely access to the outdoors
Lining crates and carriers
Drying wet paws after a walk in the rain or going out to potty on damp ground
Best Dog Pee Pads For Dogs
While writing our puppy pee pads reviews, we compiled a list of what we consider to be good features for the best puppy pads.
Leak-proof – you don't want urine seeping onto your floors
Tear-resistant – some dogs may be destructive, and you don't want them destroying their pee pads
Wetness indicator – to help you know when a pee pad has been used
Quick-drying surface – to prevent wet, urine-soaked paw prints around your home
Odor neutralizer – to keep your home from smelling like pet feces
Large capacity (can hold 3 cups of urine) – to ensure it can handle frequent urinators
Built-in attractant – to help attract the dog to the area and encourage them to go potty
These items are listed in our pros and cons below for each of the dog potty pads reviews.
Best Basic: All-Absorb Training Pads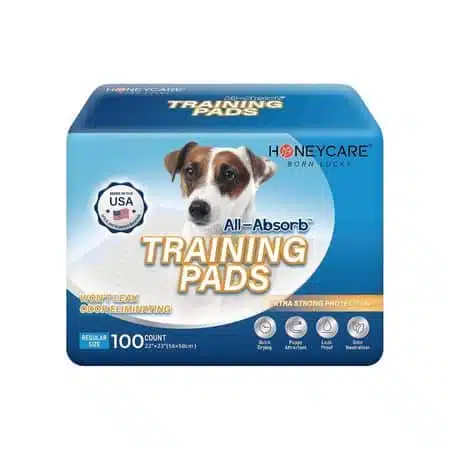 If you're looking for a no-frills, good-value pee pad, these All-Absorb pads from Honey Care get the job done. These dog training pads have many great features, including a quick-drying surface, which prevents your dog from tracking urine throughout the house. It also has a super-absorbent core, which turns urine into a gel and can hold up to three cups of urine. Each All-Absorb dog training pad has five layers of material.
Non-woven cloth to allow urine to flow through quickly
Paper tissue with dog attractant and baking soda
Super-absorbent polymer and fluff pulp to absorb the urine and turn it into a gel
Paper tissue
Waterproof Polyethylene (PE) film prevents leaking
| | |
| --- | --- |
| Pros | Cons |
| Leak-proof | Some complaints that the pads leak |
| Quick-drying surface and 5 layers | |
| Odor neutralizer | |
| Can hold 3 cups of urine | |
| Built-in attractant | |
| Made in the U.S. | |
Price & Tech Specs
Best Non-Slip: Bulldogology Premium Pee Pads With Adhesive Sticky Tape
What we love about Bulldogology's premium puppy pee pads is their adhesive tape on the back to keep it from moving around when your dog walks on it. It's optional depending on where you use it (might not need on carpet versus slippery hardwood floors). The quilted material is also a more premium feature that makes these pads stand apart from the pack (and worth the extra price tag if you've got a leaky little guy). They also come in a charcoal option and extra-large (24×25″) size for bigger dogs (although they are sized slightly bigger than the other picks).
Adhesive sticky tape
Quilted layer
"Bullsorbent" polymer tech
More than 5g super absorbent polymer (SAP)
2 layers of quilted fluff pulp
Waterproof film
| | |
| --- | --- |
| Pros | Cons |
| Sticky tape to prevent sliding around (optional) | More expensive than others |
| Quick-drying surface and 6 layers | |
| Odor minimizing | |
| 110% money-back guarantee (money-back, plus 10%) | |
Price & Tech Specs
100 Count: $45.99
Item dimensions: 24 x 24 inches
Best Scented: AKC Training Pads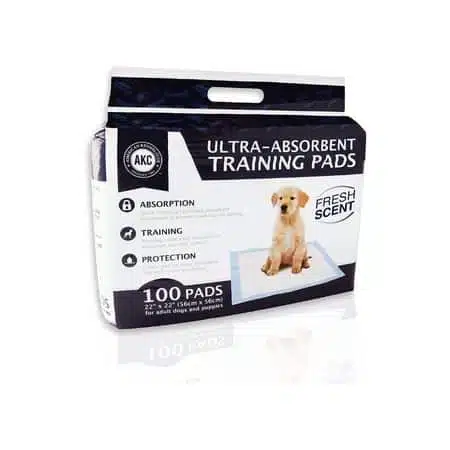 Coming in at the top pick for best-scented dog pee pads are the AKC training pads. These pads are unique because they are available in different scents and print designs (fresh scent, lavender scent, lemon scent, and a newspaper print design). AKC dog training pads have a six-layer composition, but unlike our top two picks, AKC doesn't tell us what those six layers are. We know that it has a quick-drying gel to help absorb urine and prevent tracking and leaking.
| Pros | Cons |
| --- | --- |
| Leak-proof | Unsure how many cups of urine they can hold |
| Quick-drying surface and 6 layers | Complaints of them not being absorbent |
| Odor eliminating | Complaints that the scent of the pads combined with the urine is unpleasant |
| Built-in attractant | |
| Available in different scents and prints | |
Price & Tech Specs
Best Eco-Friendly Pee Pads
Are you looking for an alternative to disposable pads or litter boxes? These potties are stylish and better for the environment than wasteful paper pads. They may also save you money in the long run since they are reusable. These are our top picks for the eco-friendly category.
Top Pick: PETMAKER Puppy Potty Trainer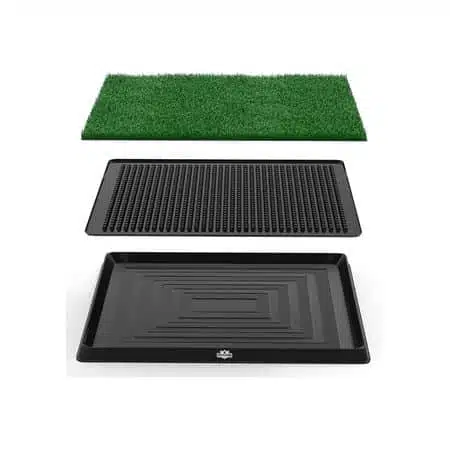 Another indoor restroom option is the PETMAKER AstroTurf pad. This three-layer system consists of an odor-resistant, antimicrobial mat that looks like natural grass, a detachable plastic insert for drainage, and a bottom base tray to collect urine.
Once the tray is full, discard it and rinse it with soap and water. If you don't mind getting a little dirty for the sake of Mother Nature, this might be an ideal solution for you.
Since no dog has peed on this grass the first time they use it, you may need to spray a product like Potty Here to encourage them to use this spot (this product could work on top of any of the "pads" we reviewed here).
| Pros | Cons |
| --- | --- |
| Satisfaction guarantee | Cleaning can get messy |
| Most eco-friendly option (clean & re-use) | Grass can be replaced but expensive |
| Non-toxic synthetic material | |
| Can be used indoors or outdoors | |
| Size optimized to fit inside standard crates | |
| Comes in two sizes | |
Price & Tech Specs
Item dimensions: 25 x 20 inches
Fresh Patch Disposable Dog Potty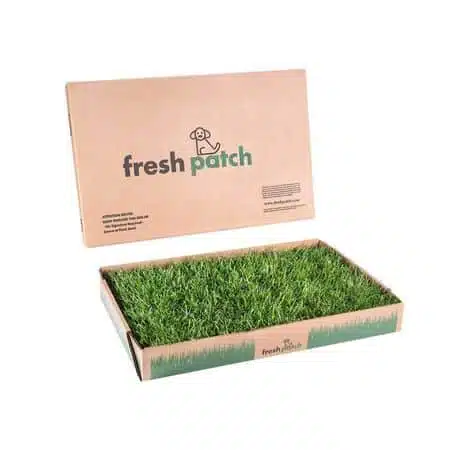 Bring the outdoors in with a Fresh Patch. As seen on the ABC TV Show Shark Tank, the Fresh Patch claims to be the first in the business to ship real-life patches of grass to your doorstep. The hydroponically-grown grass naturally absorbs pee and odors while training dogs to keep their business strictly to the green stuff.
To set it up, remove the top, and Fresh Patch is ready to go in its shipping box. It's also dirt-free, so your pup won't drag mud around your home.
| Pros | Cons |
| --- | --- |
| Excellent customer service | Only available in one size |
| Can combine multiple patches for larger dogs | Bulkier compared to other pads |
| For indoor or outdoor use | Not intended for indefinite use and more expensive to replace |
| Naturally attracts dogs to potty place | Some reports of dogs eating grass or cardboard |
| Easy to set up and breakdown when done | Ships from California and transit can take 2-5 days (depending on U.S. destination) |
Price & Tech Specs
Item dimensions: 16 x 24 inches
JdPet Washable Dog Pee Pad
The JdPet washable pad looks and acts like a regular pee pad (versus grass). However, it is washable, so you can re-use it repeatedly. It has four layers of potty protection:
Quilted polyester top for comfort
Absorbent dense inner layer with odor control
Breathable waterproof inner layer
A slip-free bottom grip to prevent the pad from sliding on the floor.
Hiyapup's pads come in a two-pack, so you'll never be without a clean backup pad to use.
| Pros | Cons |
| --- | --- |
| Blue color may blend in with floors | More significant in size than others and not ideal for smaller spaces (but you could fold it) |
| Comes in a variety of size options | Might require more training to get pups to use |
| Protects floors and is stain-resistant | |
| Economical and easy to clean | |
Price & Tech Specs
Item dimensions: Multiple options
What About Amazon Basics, Arm & Hammer, And Gardner?
Below you'll find an alphabetical listing of other pee pads we've reviewed.
Runner-Up: AmazonBasics Pet Training Pads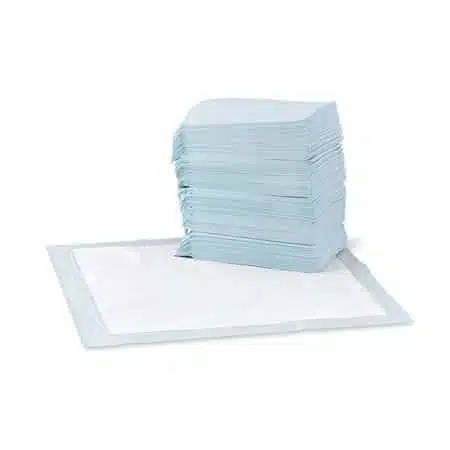 Our number two pick for best puppy training pads is this option from AmazonBasics. These wee wee pads are quite similar to our number one pick above. They have a super-absorbent core that turns liquid into gel, a leak-proof plastic liner, and a quick-drying surface.
The AmazonBasics dog training pads are made of five layers.
Anti-streaming layer quick dries the quilted surface and locks in wetness, reduces odor, and prevents tracking
Surge layer helps absorb the liquid
Sponge-like core absorbs and turns liquid into gel to help minimize odor
Locking layer holds liquid in
Protective plastic lining keeps floors safe from damage
| | |
| --- | --- |
| Pros | Cons |
| Leak-proof | Unsure how many cups of urine they can hold |
| Quick-drying surface and 5 layers | Some complaints of dog tracking urine throughout the house |
| Odor minimizing | |
| Built-in attractant | |
Price & Tech Specs
Arm & Hammer Pet Training And Puppy Pads
Each Arm & Hammer training pad has Arm & Hammer baking soda to help eliminate odor. The top sheet is tear-resistant and can withstand digging, scratching, and chewing. These training pads use Thinsorb technology, which soaks the liquid quickly and locks in odors. This prevents your dog from tracking urine off the pad. These Arm & Hammer dog pads are made with three layers.
Tear-resistant top keeps your dog from destroying the pad
Thinsorb core draws in urine and locks in wetness and odor
Leak-resistant liner keeps moisture in and protects your floor
| Pros | Cons |
| --- | --- |
| Leak-resistant | Unsure how many cups of urine they can hold |
| Tear-resistant | We read reviews comparing them against our #1 pick, and they said these pads were worse |
| Eliminates odor | Complaints of them leaking |
| Built-in attractant | |
| Made in the U.S. | |
Price & Tech Specs
Gardner Pet Super-Absorbent Dog Pee Pads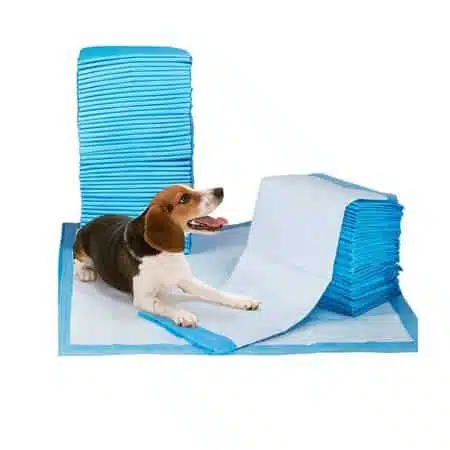 The Gardner Pet Super-Absorbent dog pee pads have some really cool features that others do not. This includes a special tear-resistant material and a wetness indicator to let you know when your dog has "used the facilities." These training pads convert liquid into gel, so your dog doesn't walk away with wet paws. They are fast-drying and are available in standard, odor-control, and super-absorbent versions. Overall, these have good reviews. However, other pee pads are more popular.
| Pros | Cons |
| --- | --- |
| Leak-resistant | Customers complain that they cannot actually hold 3 cups of urine |
| Tear-resistant | Customers with larger dogs say these aren't ideal |
| Wetness indicator | |
| Quick-drying surface | |
| Odor eliminating | |
| Can hold 3 cups of urine | |
| Money-back satisfaction guarantee | |
Price & Tech Specs
100 count: $37.99
Item dimensions: 24 x 24 inches
How To Properly Use A Dog Pee Pad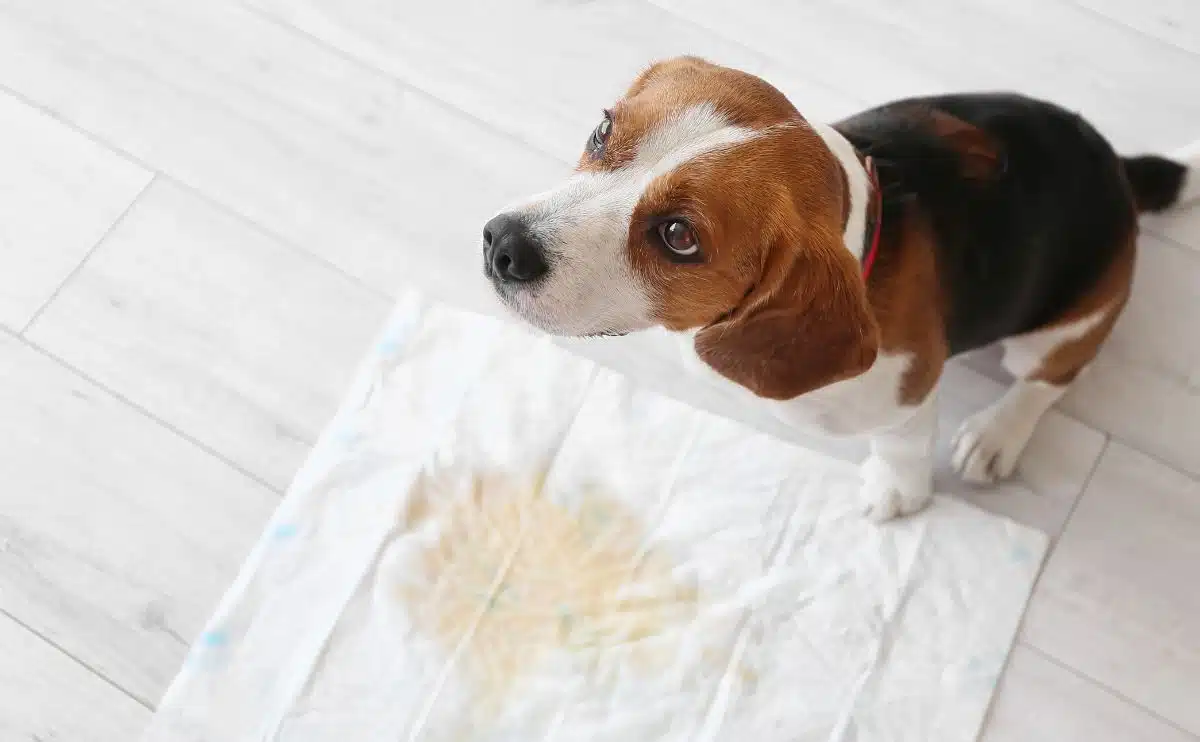 Below are some tips on how to use a puppy pee pad for potty training purposes.
Place your dog on the pee pad several times throughout the day.
If your pet begins to go potty, say, "go potty" (or some other cue) to help them relate the command with the action.
If your pet goes potty somewhere besides the pad, bring them back to the pee pad immediately. (Check out these pet-friendly cleaners or odor removers to clean up the mess. Find the exact spot with a UV flashlight.)
When your dog uses the pee pad, reward them by giving them lots of attention or offering a treat. This will help them know they're doing something right.
Once a pee pad is soiled, you should dispose of and replace it.
After your dog consistently relieves themself on the pee pad, begin moving it closer to the door. This helps them associate going to the door when they need to go potty.
Repeat step 6 until you can move the pee pad outside. Once the dog goes potty outside consistently, you have successfully potty trained them.
Potty Pad Training Tips & Video
What To Put Under Pee Pads?
We recommend having them on a hard surface like hardwood that is easy to clean if the pee pads leak. You could also put the pee pad on a small, inexpensive rug that you can wash if need be (which might help the pads from sliding around too).
How Often Do You Change Pee Pads?
It depends on the size of your dog and how frequently they pee. At a minimum, we recommend changing the pee pads once per day.
How To Keep Puppy Pads In Place
An effective way to keep the pads in place is to put them on the carpet or a rug. Although you might want to double up in case there is leakage. You can also try putting it on top of a pee pad holder to prevent it from sliding around.
How To Stop Puppy From Chewing Pee Pad
Puppies are prone to chew almost everything (including their pee pad). To prevent chewing, ensure the pee pad is secured to the floor using a duct, masking tape, or even a puppy pad holder. If they still try and chew it, try to divert their attention to chewing on something more desirable like a toy or treat.
Still need help on how to pee pad train a puppy? Here are a few tips and tricks in a short video from our friends at Rover (our best pick for dog sitting website).
Pee Pad Infographic

Learn More About Accessories For Your Dog's Potty Needs
We also encourage you to read our dog toilet 101 article, which includes a dog grass pad for going potty, a puppy pad holder that automatically changes itself, and other potty tips for pups. Finally, here are a few more tips for housetraining your dog.
Tagged With: Comparison, Housetraining, Poop