Can dogs use litter boxes? Yes, many dogs can be trained to use a litter box. Litter boxes are ideal for puppy potty training and smaller dogs because of their size and the amount of urine they produce. But if you have an indoor potty need for a larger dog, you still have some options.
For adult potty-trained canines, indoor dog bathrooms aren't meant to replace doing their business outdoors fully. However, some situations call for the occasional indoor alternative. See our reviews of the best dog litter boxes and other solutions, how to train your pup to use them, and when it makes sense to let your dog eliminate inside.
At A Glance: A Few Of Our Top Picks
Best Dog Litter Boxes & Indoor Potty Options
We based our recommendations and reviews on each product's quality, performance, ease of use, pricing, customer feedback, and other factors. You may also want to check out our reviews of the best dog toilets for some additional options, as well as our picks for the best potty pads and doggy diapers.
Best Puppy Litter Box: PuppyGoHere Review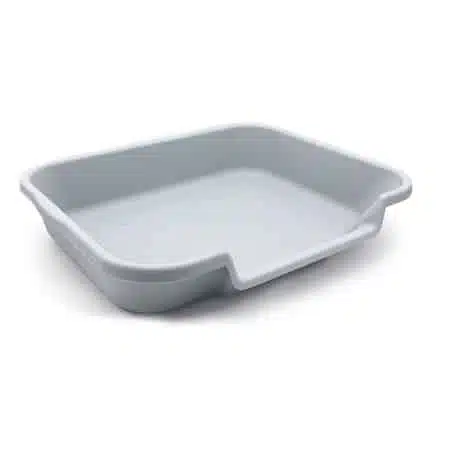 This traditional litter box (made for dogs rather than cats) is a popular choice for owners of puppies and small dogs. It's a bit more affordable compared to many other indoor dog potty options on the market. And it has an open top and low entrance design to make it easy and comfortable for your pup to circle around and then take care of her business.
You can use it with litter, potty pads, newspaper, etc., and it comes in six colors and three sizes. Many dog owners say it's durable, doesn't leak, is easy to clean, and works well for their little buddies. Here are the sizes and recommendations from the manufacturer (all have a 3″ high entrance area). However, based on the reviews we've seen, the XL size likely won't work for dogs over 25-30 pounds.
Small: 20″ x 15″ x 5″ – Ideal for puppies/dogs up to 6 lbs
Large: 24″ x 20″ x 5″ – Ideal for dogs up to 20 lb dogs
X-Large: 28″ x 22″ x 9″ – Ideal for dogs up to 35 lbs
| Pros | Cons |
| --- | --- |
| Works well for liquid and solid waste | Not a good option for most medium-sized dogs and large pups |
| Can use with litter and potty pads | Can be messy if used with litter – dogs tend to dig around in it before eliminating |
| Users say it doesn't leak | |
| Easy to clean | |
Price
Best Large Litter Box For Dogs: Shirley K's Indoor Dog Potty Tray Review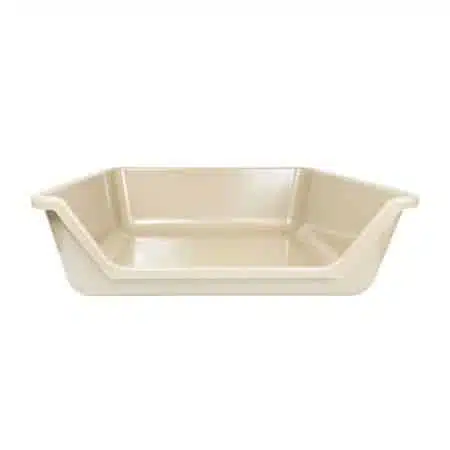 This traditional litter box is the largest one we could find on the market, and, fortunately, it gets overall fantastic customer reviews. The design is similar to the PuppyGoHere litter box, with a low front entrance and fairly tall raised sides to help contain urine spray and litter.
This box comes in one size, measuring 30″ x 30″ x 9″ (with a 3.5″ high front opening), and is recommended for dogs up to 70 pounds. Not only can you use it with litter and potty pads, but it's also large enough to fit an artificial grass pad.
| Pros | Cons |
| --- | --- |
| Works well for liquid and solid waste | Not for dogs over 70 pounds |
| Can use with litter, potty pads, fake grass, etc. | Can be messy if used with litter |
| Users say the sides are tall enough to keep urine spray contained | |
| Smooth, non-porous surface is easy to clean | |
Price
Best Artificial Grass Litter Box: LOOBANI Dog Grass Pad With Tray Review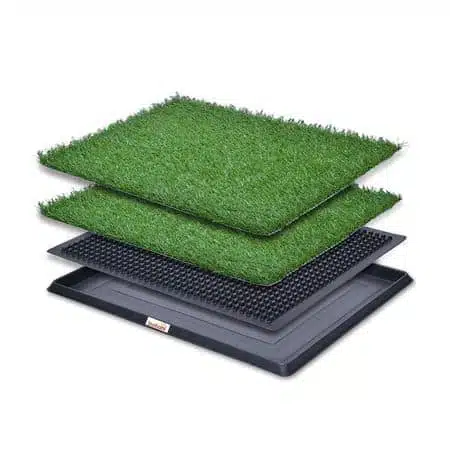 Our choice for the best artificial-grass indoor potty system, this LOOBANI product has a triple-layer design with an artificial grass mat, a drainage grate, and a leak-proof collection base. It's lightweight and easy to clean with a hose and comes in four sizes (ranging from 16″ x 20″ to 23.6″ x 35.5″) to accommodate larger dogs.
This system comes with two grass mats, so you can spray off and dry one while the other is available for use. You can use it indoors, on an apartment balcony, or on a patio. It's also easily portable in case you need to take it on the go.
| Pros | Cons |
| --- | --- |
| Reusable system saves money over time and is more eco-friendly than potty pads | Cleanup can be a bit cumbersome if you don't have a hose |
| Faux grass may help your dog associate the indoor pee area with outside potty time | Some complaints that the faux grass sheds and frays |
| Low grass pile height makes collecting solid waste easier than some other grass pads | |
| Good for most dog sizes | |
| Comes with 2 grass pads and replacement pads available for purchase | |
Price
Best Self-Cleaning Dog Litter Box: BrilliantPad Smart Review
This smart self-cleaning dog "litter box" saves you from the cleanup hassle and odor of your pup going #1 and #2 in your house because it automatically wraps and seals the waste. You can set the device to clean once your dog steps off the machine or create custom cleaning schedules. It also has a built-in camera with live view so you can see when your dog goes and then you can remotely advance the pad with the smartphone app.
One roll is equivalent to 21 traditional potty pads, so you can go days or even weeks without changing the roll. The pads are extremely durable and absorbent and made of decompostable material. Once the roll is all used, you just dispose of the entire thing and replace it.
| Pros | Cons |
| --- | --- |
| Excellent for odor prevention | Only for dogs under 25 pounds |
| Auto-cleans after each use | Must be near a power source |
| Biodegradable rolls are 80% thinner and use 33% less plastic than traditional pee pads | Rolls are expensive to replace |
| Convenient for tech-savvy pet parents | |
| Includes app and training support to help dogs transition to using BrilliantPad | |
Price
Best Pee-Pad Holder "Litter Box": Skywin Pad Holder Tray Review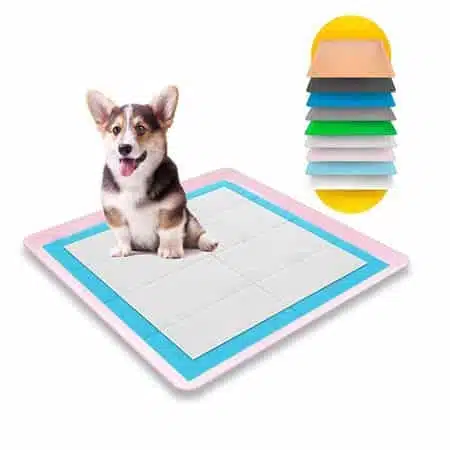 For many large-breed dogs, traditional litter boxes (even the largest sizes available) are simply too small given the raised sides for them to use comfortably. The large size of artificial grass boxes may suffice, but some pup parents find that this Skywin Pad Holder Tray is the most effective and affordable (and least messy) option for their super-sized pooches.
This tray works with potty pads measuring 24″ x 24″ and smaller. It has slightly elevated edges to help prevent urine from flowing onto the floor (for those pups who like to pee on the edges of potty pads). It's also made of anti-slip silicone so your dog won't scoot it around the floor.
| Pros | Cons |
| --- | --- |
| Budget-friendly | Some dogs try to chew it |
| An excellent solution for some large dogs | A few complaints that the edges aren't raised enough so urine leaked over the sides |
| Simple to clean | |
| Many fantastic user reviews | |
| Flexible, lightweight silicone is easy to roll up, making it very portable | |
Price
Best Grated Litter Box For Small Dogs: PS Korea Indoor Dog Potty Tray Review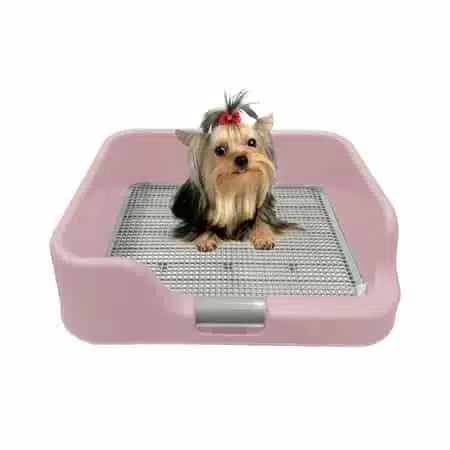 Some pup parents find grated litter boxes work best for their dogs. They involve a plastic grated top where urine flows through to a collection tray underneath. These are often excellent solutions for dogs who tear up potty pads — you simply place the potty pad in the tray. Or if you prefer, you can add litter to the tray.
This product measures 22.6″ W x 17.77″ L x 6″ H so it's suited for puppies or smaller dogs. And it comes in four attractive colors: gray, pink, blue, and wine. The grate is easy to attach and remove.
| Pros | Cons |
| --- | --- |
| Excellent solution for dogs who dig in litter or rip up potty pads | Only for small puppies and dogs |
| Works with potty pads, litter, newspaper, etc. (but the pan is fairly shallow) | Cleaning up solid waste can be a bit messy if it gets into the grates |
| Has non-skid feet | |
| Overall good customer reviews | |
Price
Best Dog Litter Box For Male Dogs: Doggy Bathroom Dog Litter Box Review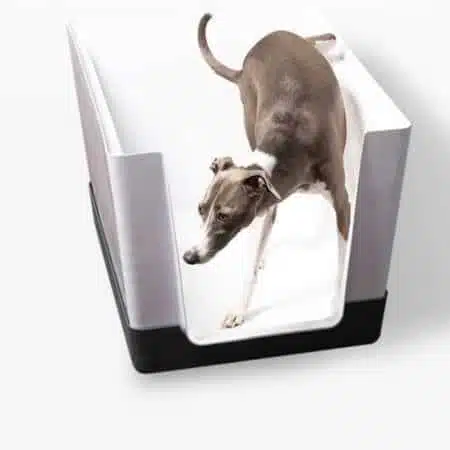 Have a male dog who sprays too high to use a traditional litter box or potty pad? This innovative dog litter box may be just the ticket. It has clips on the sides to attach pee pads for no more mess and easy cleanup. This doggy bathroom also gives your pup some privacy while he takes care of business. The box is primarily white, with four base colors to choose from. And it measures 28″ L x 20″ W x 16″ H with a low entrance.
| Pros | Cons |
| --- | --- |
| Fantastic option for male dogs | Expensive |
| Side clip attachments for pee pads | Not enough room for larger dogs |
| Comes with 50 adhesive 24″ potty pads | Some complaints about a hefty restocking fee with returns |
| Easy to clean | |
| Modern design | |
Price
Reasons To Use A Litter Box For Dogs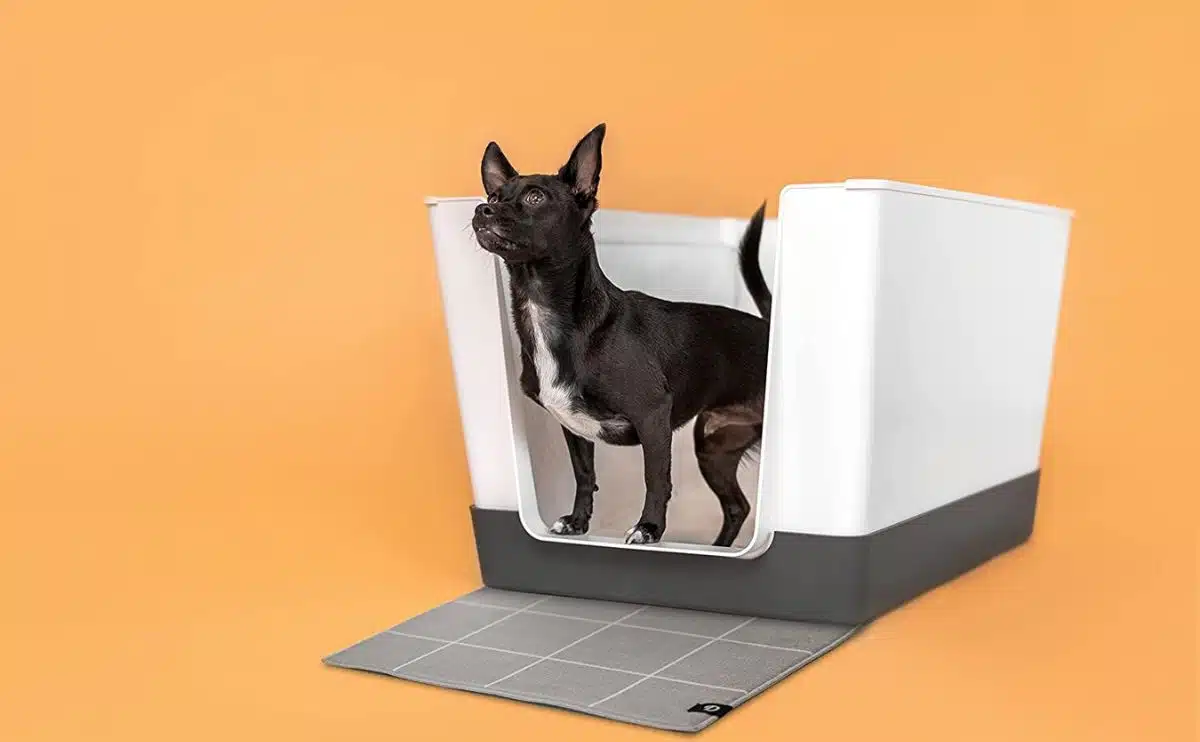 Although it's ideal to take your pup outside to do her business, certain situations make this extremely difficult. Some reasons pup owners turn to an indoor dog bathroom or an apartment dog potty include:
Housetraining a puppy
Incontinence due to old age or health problems
Post-injury or surgery
Bad weather
Owner mobility issues
Working away from home for long hours
Limited access to outdoor potty areas, e.g., highrise apartment building
Frequently Asked Questions
Here are some questions pup owners ask most often about dog litter boxes and indoor potties.
Can Dogs Use Cat Litter?
The most popular type of litter for dogs is paper pellets made from recycled paper. But regular cat litter is perfectly safe to use for most dogs — unless your pup has a penchant for eating the litter. Then you'll want to find a cat litter that uses non-toxic materials, such as Feline Pine pellet litter or Naturally Fresh walnut-based kitty litter.
How Often Should I Clean My Dog's Litter Box?
You'll want to remove any litter that's soiled with urine or poop as soon as you can to keep it sanitary for your pup and everyone else in your household. The same poop bags you use outside will work well to clean out your litter box. And if your dog is a poop eater, remove it immediately. Depending on whether any urine has seeped down to the box itself, you may need to wipe it down or rinse it out with hot water.
Where Should I Put The Litter Box?
Your indoor dog pee area should be in a place that's easy for your pup to access and easy for you to clean. If your furry friend is used to going outside, then putting your indoor potty near the door may help encourage her to use it.
If there's a risk of spillage outside of the box, a tiled floor is ideal to avoid hardwood or carpet damage. Many people find a bathroom is the best location, but it can also depend on how much space you need for your pee area.
How Do I Litter Box Train My Dog? (With Video)
This brief video gives you some tips on how to train an older puppy or dog to use her pee and poop area in the house. And here's some more advice on litter training your pup.
When starting, placing the box near the door leading outside may help with the transition (but keep it far enough away from her food and water).
Place your dog in the litter box and say a command like "pee in the box." Praise your pup for being in the box.
When your dog leaves the box, put her back in and repeat your command and praise. You'll need to repeat this process numerous times until your dog understands to go into the box when you use your command.
Soak some paper towels in her urine and bring in some poop from outside and place them in the box. This helps your pup understand that it's okay to eliminate there.
Watch your dog for cues that she needs to urinate. When you think it's time, send her to the box using your command. When your pup pees or poops in her indoor pee area, give her lots of praise and a treat.
When your furry friend has an accident, be sure not to use a harsh voice or any kind of punishment.
If you catch your pup in the middle of peeing or pooping outside of the box, clap loudly to try to stop it. Then pick up your dog and place her in the box to finish going potty.
Be patient. Learning how to use an indoor potty can take some dogs quite a long time.
Getting Dog Pee Out Of Carpet & Eliminating Pet Odors
While you're training your pup to use her indoor potty, you'll likely encounter some accidents along the way. See our step-by-step guide on how to get dog pee and poop out of carpeting, which includes our recommendations for the best stain and odor removers. You may also want to check out our reviews of the best pet odor neutralizers that you can use on your pet and throughout your home.
Tagged With: Comparison, Housetraining