To sustain this free service, we receive affiliate commissions via some of our links. This doesn't affect rankings. Our review process.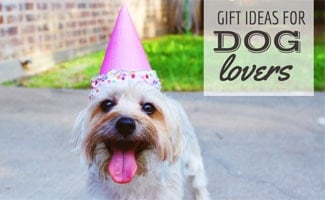 Are you shopping for a holiday or birthday gift for someone who is a huge dog fan? Or perhaps you're looking to get your pet sitter or vet a little something for the holidays, but don't know where to start.
These gifts for dog lovers are sure to please both dogs and their parents alike.
Best Gifts For Dog Lovers
Coming up with gift ideas for dog owners can be a challenge, especially if you don't own a pet. But these ideas are great for any occasion, including dog Christmas gifts! Read on to see our top 12 dog gift recommendations for the dog lovers on your list.
Dog DNA Test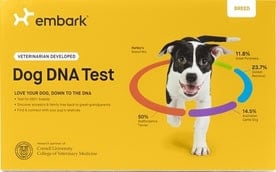 View Embark Dog DNA Test on Amazon
What could be better than finding out the breeds that make up your dog? A Dog DNA test can help with this and can also help detect potential risks for diseases that are passed down through the puppy's parents. Once the recipient receives the DNA kit, they'll simply swab the inside of the dog's mouth then mail it back in a prepaid envelope. Then, in less than a month, they'll get a detailed report back including a copy that can be shared with the vet.
While there are many DNA kits on the market, our pick for best Dog DNA Kit is Embark.
Price: $169.00
Coupon:
Embark is having a Fall Sale:
Get $30 off Breed + Health Kits with CODE: FALL30 through October 31, 2020
(Excludes Breeder and Breed ID kits). Use
this link
to take advantage of this offer. Have multiple pets? Bundle and save when you buy additional Embark Kits:
Save 10% when you buy 2 Breed + Health kits with Coupon Code: MULTIPACK2
Save 15% when you buy 3 Breed + Health kits with Coupon Code: MULTIPACK3
Save 20% when you buy 4+ Breed + Health kits with Coupon Code: MULTIPACK4
Use
this link
to take advantage of these offers and get the best possible pricing from Embark.
Pet Vacuum
View Bissell Pet Hair Vacuum on Amazon
Pet hair? Don't care!? But guests just might. Well, you know what doesn't suck is a vacuum that is specialized to suck up pet hair and debris. This is just the thing your pet loving friend needs in their life (but probably would never buy for themselves). We reviewed several vacuums for pet hair, but the Bissell PowerEdge 81L2A is a great pick for the price. It has a swivel head, easy to empty dirt cup, 20-foot cord and comes with a 1-year warranty. While not the most glamorous gift, your friends will thank you for helping them later. And, next time you visit, you might be thankful too!
Price: Check Amazon for availability
Pet Cam
View Pawbo on Amazon
Pet Cams are the purrr-fect gift for someone who loves their pet because it allows them to take their pup with them wherever they go! Just plug in the camera and connect it to WiFi. Depending on the camera, the app may allow them to have two-way communications with their dog (which is especially ideal for dogs with separation anxiety who can be troublemakers while away). There are a number of live video cameras that range in price and features, but our favorite for dogs is the Pawbo because it has a built-in laser dot chasing game, treat dispenser and multiple sound effects (cat, birds, etc.). It's on the pricey side, so be sure to check out our full PetCams review to learn more about the other camera options, too.
Price: $149.99
Dog Fitness Tracker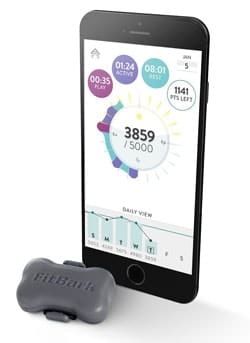 View FitBark on Amazon
Fitness trackers are all the rage these days, but did you know they make them for dogs too? You can even sync them up with human activity trackers to have everyone's data all in one place. The small tracker clips onto the collar (or comes as part of a collar). Then it syncs with your smartphone's app to transmit data including the dog's activity level and sleep patterns. Other tracked health information may include heart rate and more.
Not only is it fun to compete and make sure they reach their activity levels, but it can also help dog owners detect potential illnesses when there is a change in behavior. Our top pick is the FitBark which comes in a cute little bone shape in a variety of colors. This is a great idea for the active dog lover in your life.
Price: $69.95
Automatic Dog Feeder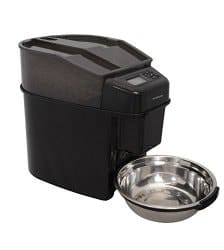 View PetSafe Feeder on Amazon
An automatic food feeder might sound like a modern luxury, but it's actually a great solution for busy pup parents (or those who don't like to get out of bed to feed their pet, ha). The PetSafe Healthy Pet Simply Feed Automatic Feeder allows you to schedule up to 12 meals in advance which could reduce the burden on a dog sitter (or the need/cost altogether if the pet has a doggy door to relieve itself).
Another benefit is the slow release feature which helps dogs who tend to gobble down their food too fast (an unhealthy and potentially dangerous habit). This item comes in at a higher price but comes with a stainless steel bowl (and it's dishwasher safe too!). And if you're feeling extra generous, you can even throw in a dog food auto-ship service!
Price: $77.43
How Does The PetSafe Feeder Work?
Check out the PetSafe Healthy Pet Simply Feeder in action in the short video below.
Pooper Scooper
View Jaw Scoop on Amazon
Sh*t happens, and when it does your dog-loving friend will be thankful they won't have to bend over backward to pick it up thanks to Nature's Miracle Jaw Scoop, our #1 pick in our Best Pooper Scooper. It's lightweight, picks up from all surfaces and has non-stick plastic, so your friend won't be stuck in a stinky situation. It's an affordable and memorable gift idea!

Price: $18.82
Donate To An Animal Shelter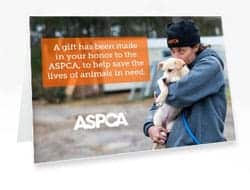 Donate to the ASPCA
Making a donation on behalf of your friend in her dog's honor is an excellent alternative to standard gift-giving. Consider local shelters or the ASPCA (read our interview with ASPCA's CEO to learn about some of the great work they're doing to help shelter animals all over the country). Most animal rescue organizations have online donation forms that allow you to pick the amount. As an added bonus, the ASPCA even lets you pick out a card design to be emailed or mailed to the recipient!
Price: Varies (you select the amount you wish to donate)
Dog Adult Coloring Book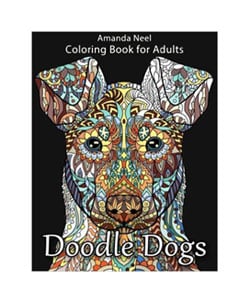 View Doodle Dogs on Amazon
Coloring books are a fun way to de-stress after a long day. Your friend can doodle away while curled up with a cup of tea with their pet (or wine — we're not judging). And they can even frame their artwork or put it on the fridge! The Doodle Dogs adult coloring book features 68 pages of hand-drawn designs for all difficulty levels (perfect for kiddos too!). And with a low price tag, you can brighten your friend's day without spending a lot of green. This option may even leave room in the budget to throw in some markers to go with it!
Dog Gift Basket
Visit Gift Baskets on Amazon
They make gift baskets and boxes for just about every interest, and dog loving is no exception. Amazon.com offers a number of different doggie care packages to provide the ultimate gift for a dog fanatic. A basket might come with an assortment of treats, toys, cleaning and care products and some may even include a custom item to create a memorial item from Fido's paw print! Most come packed up nicely in a pup-tastic basket or cute dog-themed box. There's no doubt you'll stay out of the doghouse with this set of unique gifts for dogs!
Price: $34.99 ($34.99 / Count)
Dog Canvas Print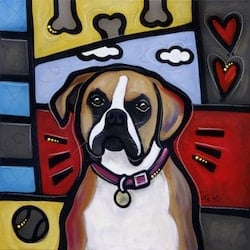 Visit Canvas On Demand Website
Did your dog-loving friend recently buy a new house? Dog-inspired art is a thoughtful idea to spruce up their doghouse. The designs come in all sizes and designs, including modern prints (like the one pictured, pun intended) to more traditional Art Deco pieces. Canvas on Demand sells high-quality prints, and you can browse by breed or search the database of collections from hundreds of artists. Don't know what your friend's taste is? You can give a gift card and let them decide.
Price: Varies by design and size
Dog Mobile Phone Case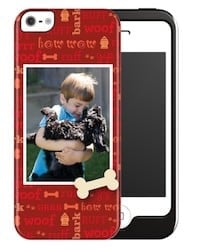 Visit Shutterfly Website
Have a friend who loves to talk while walking their pup? A personalized phone case puts their pup where all eyes can see when they are out and about. Using Shutterfly, just upload a photo (tip: you might find a good one on social media) and then select a design and phone type to get it underway. The phone cases are made with scratch-resistant plastic in case your friend drops it at the dog park. And don't worry they have cut out holes for the camera so they can continue to snap away (while the dog smiles back at itself on the back of the phone).
Price: $44.99
Pet Sitting Service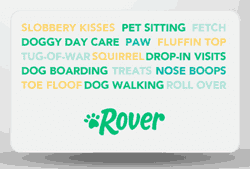 Visit Rover.com Website
Last (but certainly not least) is one of our favorite ideas: giving your pet loving friend pup sitting services via Rover.com. Depending on the amount you select your friend can redeem for a variety of services including dog walking, grooming and overnight stays. Users can search for qualified dog sitters who can watch after their pup at a moment's notice. They even have the option to have sitters drop off, pick up or stay in their home. This is a gift that both your friend and her dog will no doubt appreciate!
Price:$25, $50 or $100 increments
Which Christmas gift for dog lovers will you choose?
We are a participant in the Amazon Services LLC Associates Program, an affiliate advertising program designed to provide a means for us to earn fees by linking to Amazon.com and affiliated sites.
Disclaimer: This website contains reviews, opinions and information regarding products and services manufactured or provided by third parties. We are not responsible in any way for such products and services, and nothing contained here should be construed as a guarantee of the functionality, utility, safety or reliability of any product or services reviewed or discussed. Please follow the directions provided by the manufacturer or service provider when using any product or service reviewed or discussed on this website.