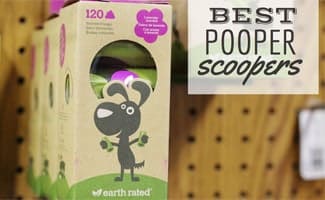 Poop piling up in your yard? No one wants to get stuck with that "doody" of picking up the mess. Don't worry, you don't have to bend over backward (literally) to scoop the poop. There are other tools you can use besides your hands to clean up this mess. Keep reading our review of the best pooper scooper to get the scoop.
Article Overview
Best Dog Poop Scooper: Nature's Miracle Jaw Scoop Review
View on Amazon
Nature's Miracle Jaw Scoop is our #1 pick in our Best Pooper Scooper Reviews. You can pick up your dog's waste and put it in a bag or container to keep your yard poop-free.
This scoop doesn't require you to bend over and pick up the poop, so if you have a bad back (or just don't want to bend over) this is a great scoop for you. Nature's Miracle comes in two sizes and the Jumbo size is our top pick for large dogs and the Medium size is best for smaller pups.
Pros

Cons

Pick up multiple piles before having to empty the scoop
Lightweight
Claims to pick up from all surfaces
Plastic is non-stick

Some buyers have had pieces of their scoop break
Probably not the easiest to use if you have arthritis in your hands
Pricing
Best Pooper Scooper For Grass: Dogit Jawz Waste Scoop Review
View on Amazon
The grass style of this Dogit Jawz Waste Scoop makes it easy to scoop your dog's poop up from the grass. Without bending down you can collect poop from the grass whether it's in your backyard, at a park, or when you're traveling. The scoop has sharp, jagged teeth which makes it easy to scoop poop.
Pros

Cons

Sturdy
Comfortable grip
Lightweight
Can be used on gravel too

Can be difficult to use for those with hand arthritis
A little too short for taller people so they have to bend some
Pricing
Best Dog Poop Bags: Earth Rated Poop Bags Dog Waste Bags, Refill Rolls Review
View on Amazon
These Earth Rated Poop Bags are our pick for Best Dog Poop Bags. We've all taken our dogs on a walk and then had to carry it and smell the unpleasantness inside the bag until we've reached a trash can.
Earth Rated bags are available in a lavender scent to help cover the smell which is greatly appreciated by many dog parents.
These are not branded as biodegradable dog poop bags but many customers think that they are. So, we don't see this as a con because we couldn't find any poop bags that meet the U.S.A.'s biodegradable regulations.
Pros

Cons

Lavender scented and non-scented
Dispensers make it easy to take with you on walks
Thick bags that are leak proof
Parts made from recycled content
Pricing
Looking for an easy way to carry your bags on walks, we recommend this clip-on carrying pouch that can hold both poop bags and dog treats. There's also a little extra space to hold a key or other small items you may need on your outing.
Dog Poop Compost: Doggie Dooley Septic Tank Style System Review
View on Amazon
We've chosen the Doggie Dooley Septic Tank as the best dog waste composter. When you're clearing your yard with one of the pooper scoopers above you can drop the waste directly into this dog poop composter.
It is environmentally safe and is meant to be placed in the ground to help dispose of your pet's waste. It works like a mini septic tank and is meant for 2 large dogs or 4 small dogs. (So if you have 4 large dogs you'll want to buy 2 of these.)
Pros

Cons

Made in the U.S.A.
Foot operated lid opener
Controls odor
Great customer reviews online

Doesn't work well in hard clay or heavy sand
Pricing
Don't Forget To Scoop The Poop!
Whether you buy a scooper or not, please remember to pick up your dog's poop! (As you don't want to end up like this poor guy).
Other Stinky Situations With Doggy Doo Doo
If you notice while scooping any discoloration in your dog's poop, you should read our article on what does dog poop color mean. And if your dog is eating its poop, well then that's another story and you need to check out our article on why do dogs eat poop.
Lastly, if you don't feel like picking up your dog's poop, consider a pooper scooper service!
What are your number one products for taking care of your dog's number twos?