Do you have dog poop piling up in your yard? No one wants to get stuck with that "doody" of picking up the mess. You don't have to worry and bend over backward (literally) to scoop the poop. There are other tools like a dog poop scooper you can use besides your hands to clean up this mess. Keep reading our reviews of the best pooper scoopers to get the scoop.
At A Glance: Our Top Dog Poop Scooper & Poop Bag Picks
Best Dog Pooper Scooper: Nature's Miracle Jaw Scoop Review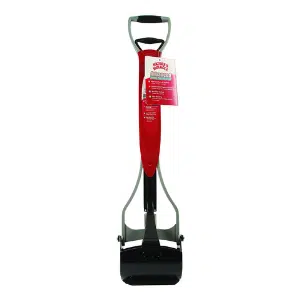 Nature's Miracle Jaw Scoop is our top pick in our Best Dog Pooper Scooper Reviews. You can pick up your dog's waste and put it in a bag or container to keep your yard poop-free.
This dog poop scooper doesn't require you to bend over and pick up the poop, so if you have a bad back (or don't want to bend over), this is a perfect scoop for you. Nature's Miracle comes in two sizes: the Jumbo size is our top pick for large dogs, and the medium size is best for smaller pups.
| Pros | Cons |
| --- | --- |
| Pick up multiple piles before having to empty the scoop | Some buyers have had pieces of their scoop break |
| Lightweight | Probably not the easiest to use if you have arthritis in your hands |
| Claims to pick up from all surfaces | |
| Plastic is non-stick | |
Pricing
Our Personal Experience With Nature's Miracle Pooper Scooper
We purchased Nature's Miracle Jaw Scoop when we adopted our dog in 2017. It worked well for us for about three years, but I would recommend keeping it in a shed or garage when it's not in use. The snow, rain, and cold were hard on it, and the pooper scooper ended up breaking, so we had to purchase a new one. It's easy to use, and we can clean up our backyard fairly quickly.

– Kimberly Alt, Canine Journal
Best Pooper Scooper For Grass: Dogit Jawz Waste Scoop Review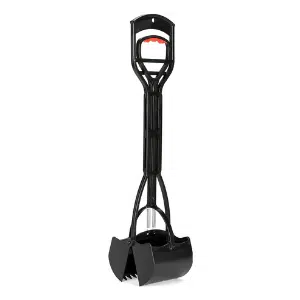 The grass style of this Dogit Jawz Waste Scoop makes it easy to scoop your dog's poop up from the grass, even longer patches. Without bending down, you can collect poop from the grass, whether it's in your backyard, at a park, or when you're traveling. The scoop has sharp, jagged teeth, making it easy to scoop up poop.
| Pros | Cons |
| --- | --- |
| Sturdy | Can be difficult to use for those with hand arthritis |
| Comfortable grip | A little too short for taller people, so they have to bend some |
| Lightweight | |
| Can be used on gravel too | |
Pricing
Our Personal Experience With Dogit Jawzin View On Amazon, just so there is osmething. Waste Scoop
"I purchased the Dogit Jawz a couple of years ago. It has several features I like. It is very good for larger dogs. The large capacity scoop and teeth are very useful for grabbing the poo from the grass, especially where it is longer or has some weeds growing in. The handle is easy to maneuver and fits in my hand well. I also like that I do not have to bend over a great deal to reach the ground, due to an old back injury this can be painful, so a long handle and bigger scoop are ideal for my needs. The scoop unfortunately broke when it was used on frozen ground, so if used in wintry weather aim for warmer hours of the day, or right after your pup takes a potty break. The pooper scooper lasted us about 2 years, with three dogs, two of them Labrado Pitbull mixes over 75 pounds, so it can stand up to heavy duty use."

– Danielle DeGroot, Canine Journal
Best Dog Poop Bags: Earth Rated Poop Bags, Dog Waste Bags, Refill Rolls Review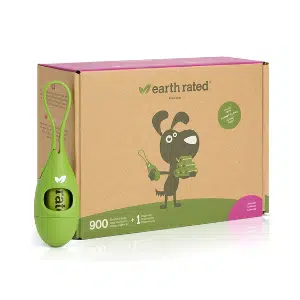 These Earth Rated Poop Bags are our pick for Best Dog Poop Bags. We've all taken our dogs on a walk and then had to carry it and smell the unpleasantness inside the bag until we reached a trash can.
Earth Rated bags are available in a lavender scent to help cover the smell, which many dog parents greatly appreciate.
Note: These are not branded as biodegradable dog poop bags, but many customers think that they are. So, we don't see this as a con because we couldn't find any poop bags that meet the U.S.A.'s biodegradable regulations.
| Pros | Cons |
| --- | --- |
| Lavender scented and non-scented | None found |
| Dispensers make it easy to take with you on walks | |
| Thick bags that are leakproof | |
| Parts made from recycled content | |
Pricing
Poop Bag Holders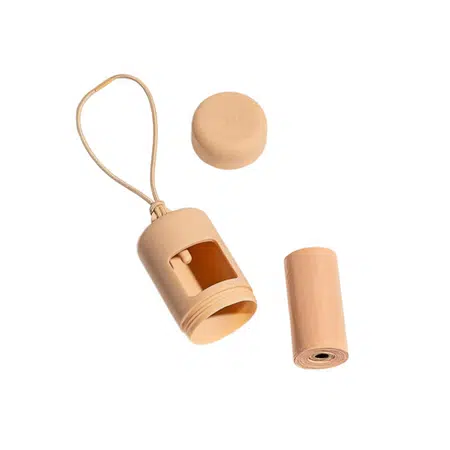 And don't forget a holder to carry your poop bags in! The Wild One poop bag dispenser is made of silicone and has a modern design. It comes in various colors and has a loop to attach to your leash. It comes in a variety of colors, including limited edition designs. And it comes with a roll of bags.
Pricing
$8 for Holder and 1 roll of bags
Our First-Hand Experience With Wild One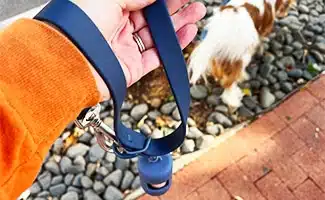 We got the chance to try it out and had a great experience. Having tried several different types of poop bag carriers over the years (plastic, fabric, etc.), this one is unique because the semi-grip material keeps the roll of bags from slipping out on walks. If you've experienced a trail of plastic falling out of the canister, then you know what I am talking about. With this dispenser, it's easy to tear a single bag off, and they are also sturdy and eco-friendly.

– Sadie Cornelius, Canine Journal
Pooper Scooper With Bag
Looking for an easy way to carry your bags on walks? We recommend this clip-on carrying pouch that can hold both poop bags and dog treats. There's also a little extra space to hold a key or other small items you may need on your outing. If you are looking for a different style of dog poop scooper, there are rake pooper scoopers that come with a rake and swivel bin and require no picking up of poop with hands or scoops.
Dog Poop Compost: Doggie Dooley Septic Tank Style System Review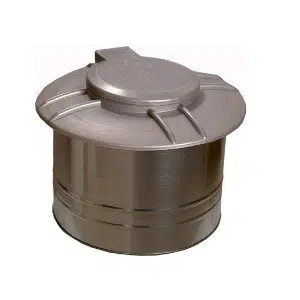 We've chosen the Doggie Dooley Septic Tank as the best dog waste composter. When you're clearing your yard with one of the pooper scoopers above, you can drop the waste directly into this dog poop composter.
It is environmentally safe and is meant to be placed in the ground to help dispose of your pet's waste. It works like a mini septic tank and is meant for two large dogs or four small dogs. (So, if you have four large dogs, you'll want to buy two of these.)
| Pros | Cons |
| --- | --- |
| Made in the U.S.A. | Doesn't work well in hard clay or heavy sand |
| Foot-operated lid opener | |
| Controls odor | |
| Positive customer reviews online | |
Pricing
Don't Forget To Scoop The Poop! (Video)
Whether you buy a scooper or not, please remember to pick up your dog's poop! (As you don't want to end up like this poor guy).
Other Stinky Situations With Doggy Doo Doo
We hope our dog scoop reviews have helped you find the best pooper scooper for your yard. If you notice any discoloration in your dog's poop while scooping, you should read our article on what does dog poop color mean. And, if your dog is eating its poop, then that's another story, and you need to check out our article on why do dogs eat poop. Lastly, if you don't feel like picking up your dog's poop, consider a pooper scooper service.
Tagged With: Comparison, Outdoors, Poop