To sustain this free service, we receive affiliate commissions via some of our links. This doesn't affect rankings. Our review process.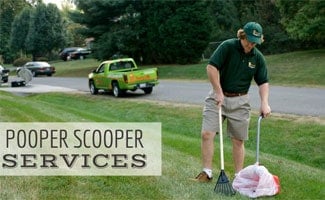 My dog has stepped in her poop that I forgot to pick up more times than I care to share. She's running around in the yard and the next thing you know, I'm giving her an unscheduled bath. It'd be convenient to have a dog poop service clean up my yard for me. It's a stinky job, but someone's got to do it!
Article Overview
What Is A Pooper Scooper Service?
A pooper scooper service is a pet waste management service. Professionals will come to your business or residence and pick up after your dog(s) to keep your lawn fresh and tidy.
How Often Do You Get This Service?
You can decide how often you want service when you sign up. Most companies offer weekly, monthly, bi-monthly or one-time service.
You'll want to consider how many dogs you have and how big of a mess they leave. If there are kids around or high foot traffic, you may want more frequent service to prevent any poop covered shoes.
Benefits Of A Pooper Scooper Service
Below are some pros to having someone else scoop up your dog's poop.
You don't have to pick up poop yourself, which can be messy and smelly.
If you have a physical limitation, you don't have to worry about cleaning up after your dog and potentially hurting yourself.
Minimizes the poop your dog eats since it's getting picked up regularly
Reduces dog waste pollution in our waterways. By having it picked up, you're helping the environment.
It stops the spread of diseases passed through dog feces.
National Companies To Choose From (And Their Cost)

Below are some dog poop removal companies that are available nationwide. You can also check for local companies in your area to consider for service.
You'll need to visit each company's website to get a quote for your address.
Poop 911 (weekly service starting at $9.95)
Watch this news story from KDKA Pittsburgh about how Poop911 works.

Dog Poop DNA Testing
PooPrints is a dog poop DNA testing service. It is for landlords to use to identify which pet owners aren't picking up after their dogs.
Landlords have each dog living on the property complete a cheek swab test to determine its DNA profile. When the landlord finds a pile of dog poop on the property, they send a sample to the lab for analysis. PooPrints tests the sample compares it to their database, and emails the landlord with the identity of the offending dog and owner.

Dog Poop Stats
Choosing not to pick up your dog's poop can be dangerous to everyone.
41% of dog owners don't pick up their dog's poop in public places1
On average, dogs defecate about 0.32 pounds per day1 (varies by breed, size, diet, etc.)
Dog poop has 23,000,000 fecal coliform bacteria per gram1
Poop from pets can contribute to an excess of nutrients and closure of shellfish beds1
The EPA (Environmental Protection Agency) classified dog poop as a dangerous pollutant in the same category as toxic chemicals2
Roundworm eggs can linger even after dog feces has weathered away2
Roundworm causes upset stomach, sore throat, asthma and blindness2
Dog feces is a leading cause of E. Coli contamination2
1 gram of dog feces contains more than 20 million E. Coli bacteria2
The average dog defecates 152 pounds of waste per year2
Plastic bags can take up to 1,000 years to decompose in landfills2
It is estimated that 12,000 dogs leave more than 5,000 pounds of poop per day in Washington D.C.2
How To Start Your Own Pooper Scooper Service
Fortunately, dog poop cleanup services have relatively low overhead costs to get started, so starting one is less intensive than many other types of businesses.
First, you'll want to check with your local government to see if there's any insurance, licenses, permits or other paperwork you need to complete to begin your business.
Why It's Important To Get Insurance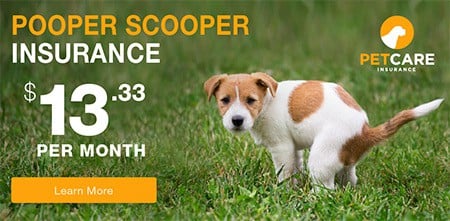 If you are in the dog waste removal business, we suggest that you get pooper scooper insurance. Being fully educated and insured against possible risks is the best way to start building a successful and trusted business while also protecting your interests.
For professional pooper scooper insurance, we recommend Pet Care Insurance via Veracity Insurance Solutions and Lloyds of London. It can protect you if a dog gets loose and injured when you enter your client's yard, you knock over and break the furniture when leaving your client's home, or you damage a client's prize rose bushes while scooping poop.
How To Setup Your Business
You may choose to form your dog poop pick up service as a sole proprietorship or a limited liability company. You should speak with a tax accountant about any potential tax advantages for choosing one over the other.
Purchase any necessary clean-up equipment such as pooper scoopers, rakes, shovels, trash bags, etc. You'll also need a form of transportation to get to your customers' locations.
After you have all of this, you're ready to start scooping. Word of mouth is a great way to obtain more customers. You may also want to consider advertising at veterinarian offices, pet stores, dog parks, boarding locations and other dog-related places around town.
How much are you willing to pay for a pet waste removal service?
Sources: [1] FiveThirtyEight, [2] The Dog Dunit
Disclaimer: Information regarding insurance company offerings, pricing and other contract details are subject to change by the insurance company at any time and are not under the control of this website. Information published on this website is intended for reference use only. Please review your policy carefully before signing up for a new pet health insurance contract or any other contract as your unique circumstances will differ from those of others who may be used for example purposes in this article.
Disclaimer: Information published in this article is intended for reference use only. This article is not intended to offer any legal opinion or advice, or apply any legal principle of any kind. Please consult a licensed attorney in your state of residence for any opinion or advice on any legal matter or issue.
Disclaimer: This website contains reviews, opinions and information regarding products and services manufactured or provided by third parties. We are not responsible in any way for such products and services, and nothing contained here should be construed as a guarantee of the functionality, utility, safety or reliability of any product or services reviewed or discussed. Please follow the directions provided by the manufacturer or service provider when using any product or service reviewed or discussed on this website.