Housetraining is part of being a responsible pet parent. Whether it's puppy training or caring for an elderly dog with incontinence issues, this task can come with obstacles and headaches for some dog owners. Overcoming accidents in the home can be difficult for both you and your dog. Thankfully, developments in the dog toilet industry offer pet owners many solutions. Can you train a dog to use a litter box? You can and more with these dog toilet training tips.
Best Dog Toilets & Dog Bathrooms
| Potty Pads | Indoor Grass | Self-Cleaning | Diapers |
| --- | --- | --- | --- |
| | | | |
| All-Absorb | Synturfmats | BrilliantPad | Simple Solution |
| | | | |
| | | | |
6 Types Of Dog Toilets
The term "indoor dog toilet" can refer to various products. Here are the six major types of toilets to consider. Click on the links to jump to specific products our experts have reviewed below.
Potty Pads – Potty pads are probably the most common type of indoor potty training solution for dogs. These thick-lined, disposable pads are typically used when housetraining dogs.
Indoor Grass – This pet potty concept provides an indoor section of faux grass where dogs can do their business without going outside. It's the most natural concept, given that most dogs associate grass with potty time.
Self-Cleaning Station – This higher-tech toilet combines convenience with cleanliness. Basically, a pee pad that rolls to a fresh potty place after use. Look at this gadget if you want an easier cleanup and a less smelly one.
Dog Litter Box – A recent trend is using a litter box for dogs (similar to cats). Some dog breeds are incredibly adaptive to litter box training.
Grated Pet Toilet – This type provides a place to pee in a tray fitted with a grate. It can be a good alternative if you're not crazy about your dog tracking litter around the house or indoor grass.
Diapering – Usually a good solution for owners of elderly or special-needs dogs. However, this is less of a "toilet" and more of a means of containment.
Now that you know the various ways to get your dog to pee inside, here are some of the best indoor dog potties and pros and cons for each.
Potty Pads: All-Absorb Training Pads Review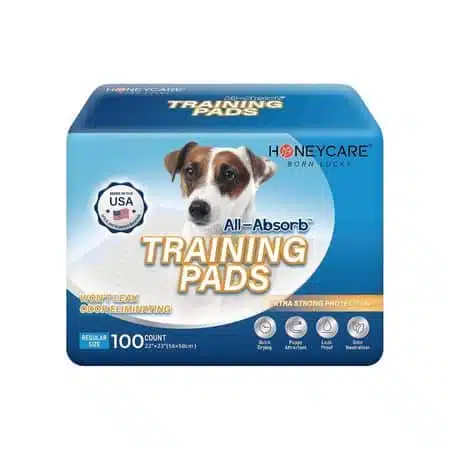 Potty pads are popular when first housebreaking dogs. Potty pads are thick sheets of diaper-like material that you place on the floor. Ideally, you put a clean pad close to the door to encourage the dog to go to the door when they need to go to the toilet.
Potty pads are affordable but one of the messiest indoor dog toilets because they can leak on the floor and are difficult to pick up without spilling the contents. If your dog does miss, you'll need to sanitize the area with pet-friendly, odor-reducing cleaners.
One of the benefits of potty pads is that they're easy to pack for potties on the go. We like these All-Absorb training pads because they're super absorbent, have an odor-neutralizer, and are quick drying. They're also an excellent value. We also review several other dog pee pads for you to consider.
| Pros | Cons |
| --- | --- |
| Can use them for urination and defecation at home or on the go | Urine can leak |
| Affordable option | Not environmentally friendly |
| Super absorbent with an odor-neutralizer | Disposal of the potty pad can add odor to your trash |
Pricing
Indoor Grass: Synturfmats Pet Potty Review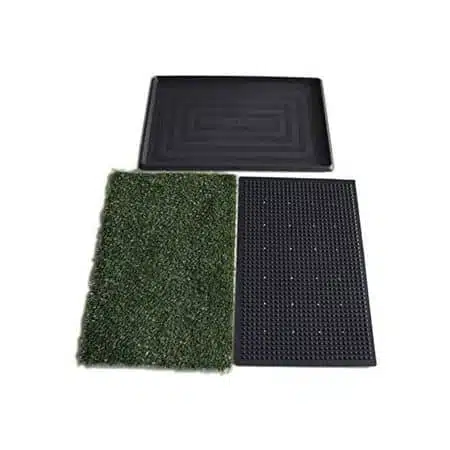 The design of Synturfmats Pet Potty and similar indoor toilets is to simulate a patch of grass. This faux grass fits over a plastic tray that traps the urine, which you can easily remove and wash.
One of the most significant benefits that pet owners find with the Synturfmats Pet Potty system is that it doesn't allow urine to soak through to the flooring. It provides a more natural "potty" environment for their dogs. These factors make it a popular indoor dog bathroom choice.
Many dog owners choose the Synturfmats Pet Potty system because it offers a more hygienic method for toilet training than other indoor toilet methods. The grass top quickly drains to create a dry surface that prevents your dog's paws from becoming urine-soaked.
| Pros | Cons |
| --- | --- |
| Prevents odor and staining of carpeting and flooring by containing urine in a plastic tray | Spilling can occur when you're emptying and cleaning if it gets too full |
| Easy to clean | Grass-like material may encourage digging |
| Can hold up to 1 gallon of liquid | No way to eliminate the odor entirely |
| Faux grass appearance helps dogs associate the grass-like material with outside potty time | If used for defecation, it can be challenging to clean, and your dog may step in it |
Pricing
Self-Cleaning Station: BrilliantPad Review
The brilliant thing about the BrilliantPad is that it cleans itself. It plugs into an outlet and automatically advances the roll one to three times per day. One roll is similar to 21 traditional potty pads, so you can go for days or potentially weeks without changing the roll.
The roll soaks up urine and waits for poop to dry out. Then the machine wraps and seals the waste to keep your home from getting smelly. Once the roll is all used, you can dispose of the entire thing. The rods and end-caps biodegrade in most landfills. And it has an app that gives you remote access and alerts when your dog has a potty break.
| Pros | Cons |
| --- | --- |
| Prevents your home from smelling | Only for dogs under 25 pounds |
| Biodegradable rolls are 80% thinner and use 33% less plastic than traditional pee pads | Must be near a power source |
| Convenient for tech-savvy pet parents | Rolls are expensive to replace |
| Auto-cleans after each use | |
| Includes app and training support to help dogs transition to using BrilliantPad | |
Pricing
See how the BrilliantPad works in this video below.
Dog Litter Box Training: PuppyGoHere Indoor Training System Review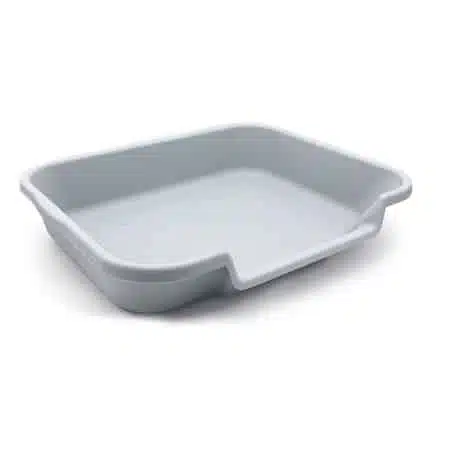 Can you litter train a dog? It's certainly possible. Litter box training is a method of indoor toilet training for certain breeds of dogs. Like cats, you can train dogs to use the litter box with a little positive reinforcement.
Litter box training isn't a good idea for all breeds of dogs. Larger dogs will have a more difficult time because litter box sizes generally are built with cats in mind. Litter box training is also not right for dogs that love to dig or are destructive, resulting in a messy experience.
For smaller, tame dogs, litter boxes are affordable and widely available. While most litter boxes on the market today aim toward cat owners, a select few companies specialize in dog litter boxes. Our top pick is the PuppyGoHere, which comes in three sizes and various colors. If your home has cats, this might be a one-stop spot for all your furry friends.
| Pros | Cons |
| --- | --- |
| Allows for liquid and solid waste | Dogs with coprophagia have easy access to their waste, so they can consume it |
| Supplies are easy to get and affordable | Not all dogs take to this type of training |
| Eliminates the potential for spilling liquid waste since the litter absorbs it | Can be messy and odorous |
| Comes in multiple colors to pick what best suits your home | Must clean out and replace the litter |
Pricing
Grated Pet Toilet: Klean Paws Review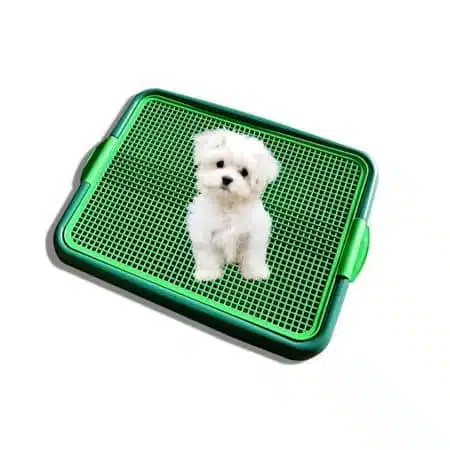 Grated pet toilets are indoor dog toilets with a tray underneath the potty area to catch urine with a grate on top of the tray to allow the urine to drain from the top surface so the dog isn't standing in it. Often these toilets are combined with potty pads inside the tray to help absorb urine. This toilet type is ideal for pups who tend to chew their pee pads.
It has rubber grips to keep it in place on slippery floors, and the layers snap together. While this is similar to the indoor grass concept, the material doesn't provide the familiarity offered by a grass-like surface.
| Pros | Cons |
| --- | --- |
| Grates allow urine to drain from the toilet surface, so dogs don't stand in their waste | Doesn't allow for feces to fall through the grate |
| Easy to clean and sanitize | Can be expensive to maintain |
| | Can spill easily |
| | Grates are uncomfortable for dog's paws and may deter them from using the toilet |
Pricing
Dog Diapers: Simple Solution Washable Cover-Ups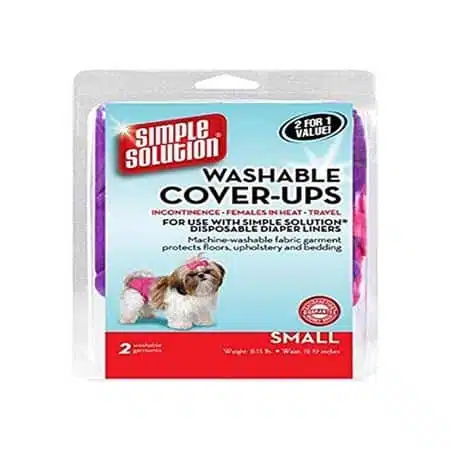 While cover-ups are not necessarily indoor toilets, many dog owners use them when their dog is experiencing incontinence problems. More often than not, when dog owners turn to this solution, it's because their dog can no longer control their bathroom bodily functions.
These cover-ups aren't recommended for dogs that don't have difficulties controlling bathroom functions leading to additional complications. As with human children that wear diapers, dogs can experience rashes and irritation from waste material being held close to the skin for an extended period. Cover-ups are also very restricting of a dog's movement.
Only use this solution if your dog has a medical condition. Learn more in our reviews of the best dog diapers.
Pricing
6 Reasons You May Consider An Indoor Dog Toilet
People may mistakenly believe that owners use indoor toilets because they're too lazy to take their dogs outside or too cheap to pay someone to let their dogs out. However, that's usually not the case.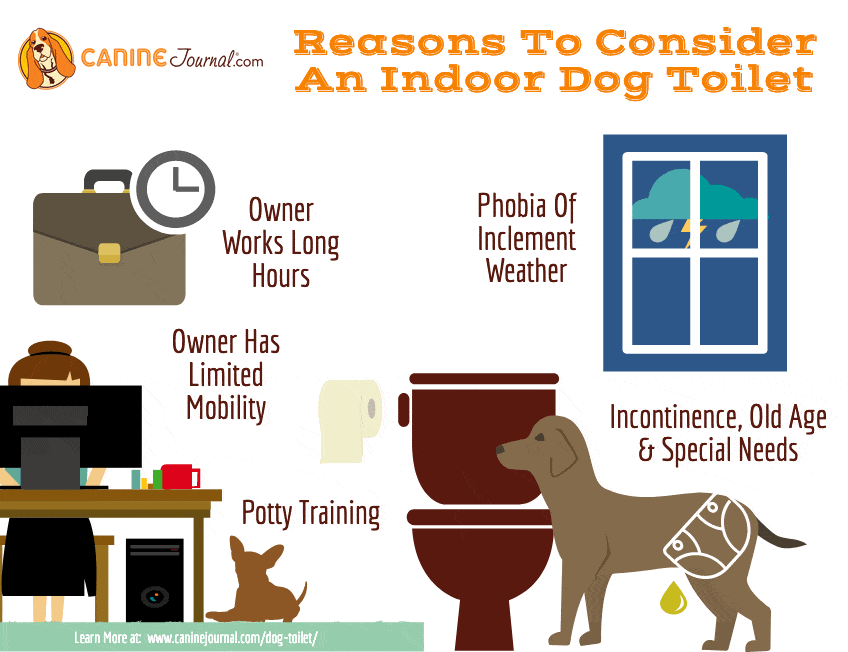 1. Older Age & Inability To "Hold It"
As our canine friends get older, they can lose the ability to control their bathroom functions for as long as they once could. Commonly referred to as urinary incontinence, the inability to hold urine or feces can also result from surgery or injury.
This loss of control can be embarrassing and shameful for the dog as they go from being a well-trained dog to having accidents as they did as a puppy. Providing an indoor toilet allows elderly or special-needs dogs a bathroom when they feel they need it.
2. Phobia Of Inclement Weather
Many dogs have fears so powerful that they may inhibit them from going outside to use the bathroom. Two of the biggest factors for this type of behavior are fear of thunderstorms and disliking rain.
Some dogs refuse to go outside even if they're desperate to use the bathroom when the weather is unfavorable. Providing an indoor potty can help these dogs relieve themselves and reduce the likelihood of health consequences caused by waiting too long to use the bathroom.
If your dog is scared of storms, you might try a Thundershirt and CBD oil in conjunction with an indoor potty to help with their anxiety.
3. Parents Working Long Hours
Dog owners who work outside of the home could unexpectedly be gone for an extended time. When pulling late nights or working overtime, pet parents may call a neighbor to help or have a dog walker on call.
When these aren't feasible, an indoor dog toilet provides peace of mind. Dogs will no longer need to hold it for inordinate amounts of time and accidents due to over-waiting.
4. Housebreaking And Potty Training
Puppies aren't the only ones who need housebreaking. Adult dogs (especially rescue pups) may require lessons as well. When parents can't be home constantly to help reinforce potty training and housebreaking, indoor toilets provide dogs with somewhere to relieve themselves.
If placed strategically, these indoor toilets can train dogs where they need to go to signal that they need to go out. We have some other tips for how you can successfully house-train your dog.
5. Limited Mobility Of Dog Owners
Not every dog owner can go up and down stairs or take their dog out to the bathroom multiple times throughout the day. Indoor dog toilets give dog owners with limited mobility issues the peace of mind that their dogs can go to the toilet whenever needed.
6. Dogs With Special Needs
Like dog owners who may have mobility problems, some dogs also have such issues that can affect their ability to go outside to use the bathroom. As dogs age, they can develop arthritis and other joint discomforts, limiting their ability to walk.
Particularly in cases where these dogs live in apartments that require climbing multiple sets of stairs, these health conditions can cause a significant degree of pain. An indoor toilet can reduce the number of times a special-needs dog has to climb up and down stairs aggravating their condition.
Potty Training App: Puddle & Pile
No matter why you use an indoor toilet or which containment type you pick, you might also benefit from using a tool to help you track their tinkles. A member of Canine Journal tried Puddle & Pile and recommends it. It's $3.99, but for about the same price as a dog bone, you can save yourself lots of cleanups from accidents.
Put in your dog's age and name, and use the app to note when your pup eats, drinks, and has a puddle (pee) or pile (poop). It predicts bowel movements and sends reminders and tips, so you don't forget. And you can even see the stats and history for the times of day your pup is most likely to use the bathroom and have mealtime.
Frequently Asked Questions
Here are some "burning' questions you might be wondering when it comes to doggies and their doody.
Why Do Dogs Drink Toilet Water?
The running toilet water reminds dogs of a freshwater source like a creek. And the porcelain bowl keeps water cold in addition to being freshly flushed. It's best to put the seat down after use so as not to tempt your dog. Especially if you use a toilet bowl cleaner with harsh chemicals in it.
Why Do Dogs Eat Toilet Paper
Dogs might try and play with the paper dangling from the wall because it's a fun game, they have anxiety, or are doing it for attention. But if they eat toilet paper, it could be a medical condition called "pica" that is frequently caused by a lack of nutrients.
When dogs don't get enough zinc, they can develop this eating disorder that causes them to crave non-food substances to make up for their deficiency. Talk to your vet about your dog's diet or see a behaviorist to help them stop if the problem persists.
Why Does My Dog Follow Me To The Toilet?
Dogs are natural pack animals and enjoy being with their owners, even if it's when we'd prefer some privacy in the bathroom. Your dog may also be curious about why you're sitting alone in the bathroom.
Watch this hilarious video of a dog peeing in a toilet.
The Importance Of Proper Sanitation
It's imperative to clean your pet toilet frequently — at a minimum, once a day. Empty any waste contents into a toilet, sink, or garbage bag and rinse off the toilet itself with warm water and a pet-safe detergent or soap to eliminate odor and germs. We recommend you use pet-friendly cleaners to avoid exposing your pet to any harmful chemicals. If you can't commit to a regular cleaning schedule, you shouldn't consider having an indoor toilet for your pet.
Improper cleaning of indoor dog toilets can result in a buildup of fumes, which are not only toxic but can result in a wide range of problems both in the home and in terms of overall health.
Guests will no longer want to frequent your home, and soon enough, you'll begin to experience the adverse health effects of overexposure to animal waste. Once the authorities reveal that you live in unsanitary conditions, they might remove your pets (and possibly children) from your home and prosecute you for putting lives at risk.
Tagged With: Comparison, Housetraining