To sustain this free service, we receive affiliate commissions via some of our links. This doesn't affect rankings. Our review process.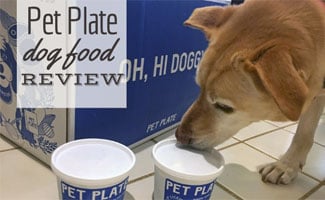 PetPlate's founder didn't let a pass on Shark Tank hold him back from making sure dogs across the country get nutritional, human-grade dog food. His enterprise now feeds thousands of happy hounds every day.
Could PetPlate be just what the vet ordered for your pup? Our site's founders subscribe to this all-natural dog food delivery service for their pups. But what's our verdict on PetPlate?
Article Overview
PetPlate
Pros
Pet Plate comes in 4 recipes: beef, turkey, chicken or lamb
Human-grade, USDA-certified, all-natural, fresh ingredients with no preservatives or fillers
Auto-shipping that you can pause, skip or cancel anytime
100% money-back guarantee
Responsive customer service
Free shipping
Made in the USA
Two pet food subscription plans or custom
Cons
Dog profile doesn't take health issues into account
Key Features
Fresh meals made with all-natural, human-grade ingredients and designed by a vet nutritionist
Custom orders for each pup, including age, weight, ideal weight, breed, and activity level.
All meals are pre-portioned
Comes in 4 flavors: beef, turkey, chicken or lamb
Two subscription plans available plus custom options
Free delivery to all 48 contiguous U.S. states
Referral Rewards program for a $50 credit to your PetPlate account
All packaging is recyclable
Featured in HuffPost, Fortune, Good Housekeeping, and more
Pricing
The following price* is based on the profile of a neutered mixed-breed male, 7 years old, 24 pounds, healthy size.
Full plan: $34.58*/week ($103.74 total) for 21 days of meals shipped every 3 weeks
Topper plan: $20.16*/week ($80.64 total) for 6 12-oz containers shipped every 4 weeks
Coupon
Get
35% off your first box of PetPlate
! Just use
this link
to get started!
Our Personal Experience With PetPlate
Note: In October 2020, PetPlate changed its name and logo from Pet Plate to PetPlate. The screenshots below reflect the old branding and packaging, but the process is still the same.
To get started with PetPlate, simply answer a few questions about your pup (if you have more than one, you will add them at the end of the process). These details will help PetPlate determine the right nutritionally balanced portion size based on your dog's size, age, breed, and activity level.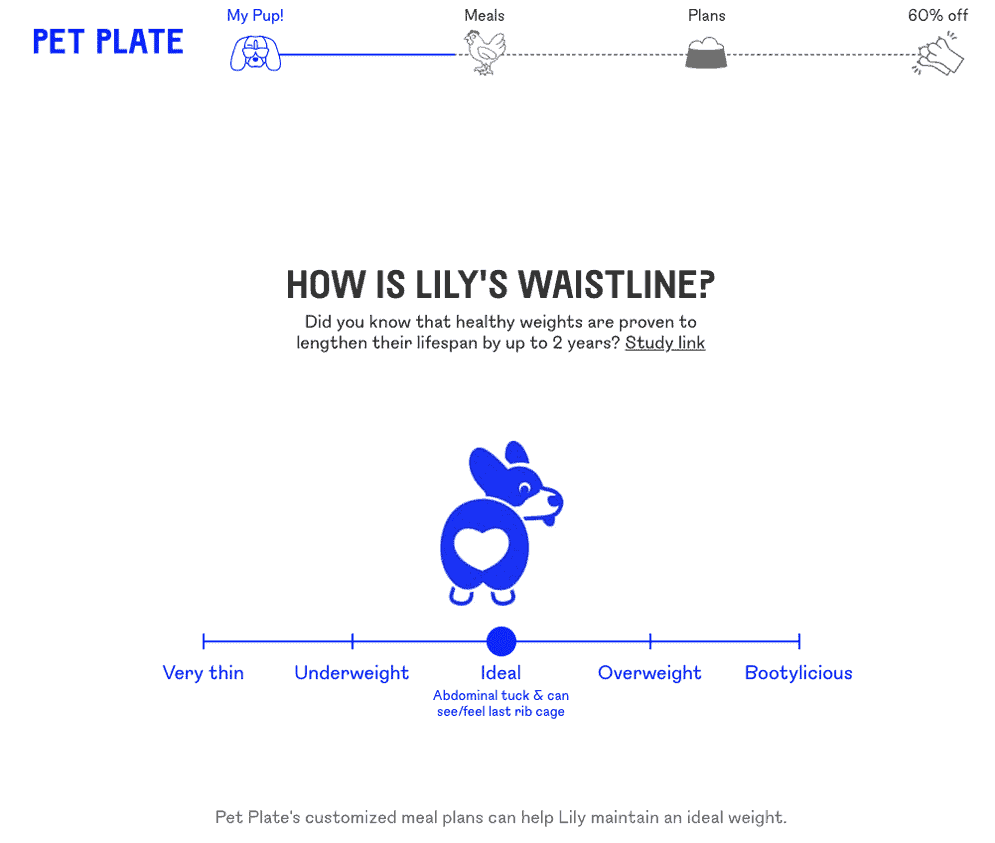 Then select any mix of the four different recipes: beef, turkey, chicken, or lamb (this flavor is a little more expensive than the others). On this screen, you can also read the detailed ingredients and key benefits of each formula.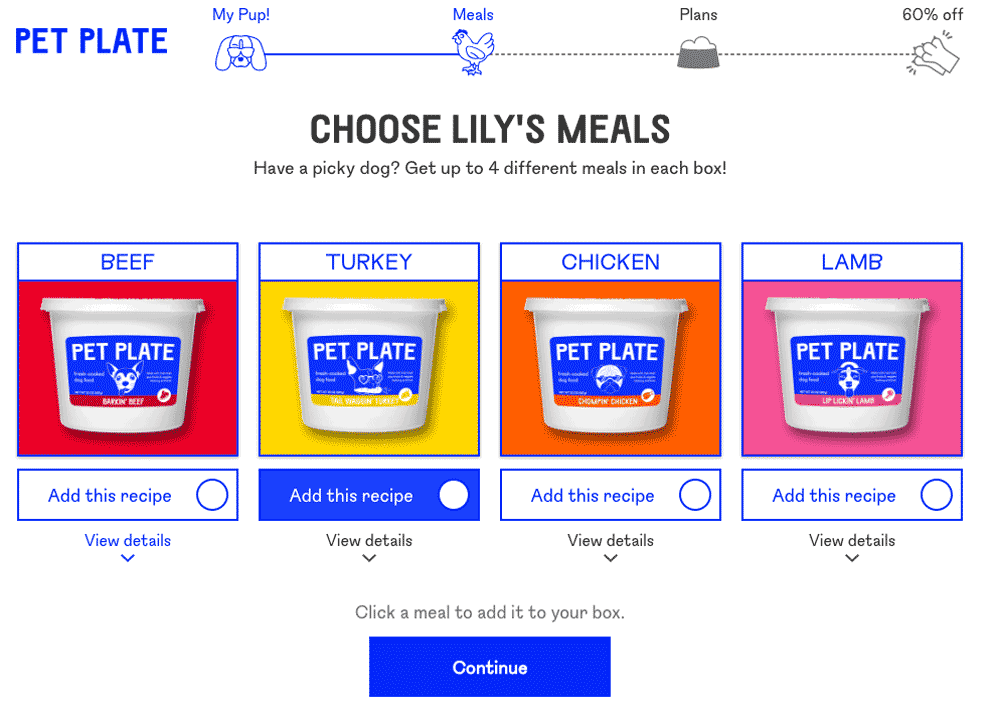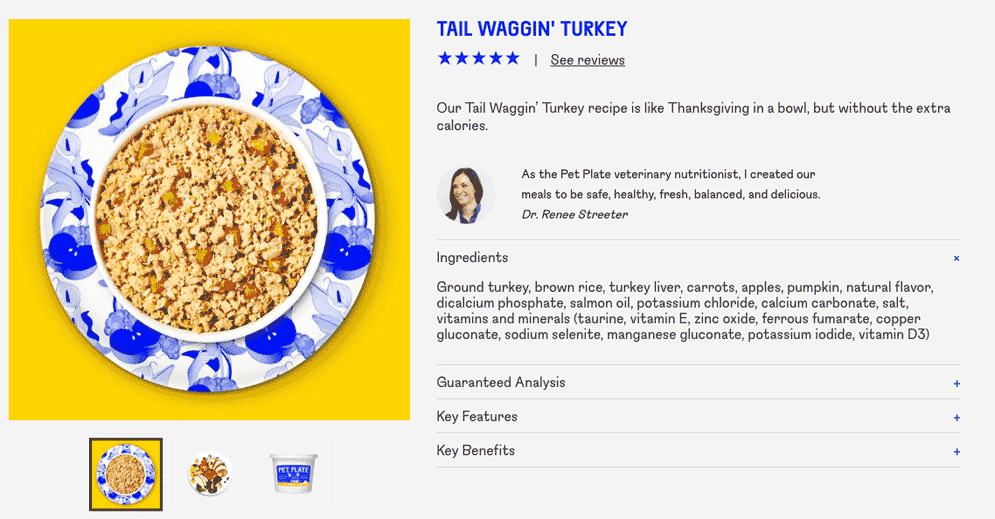 Finally, enter your email address, and they will give you a customized meal plan. At this point, you can select from two options: a full meal of PetPlate or a topper on their current food.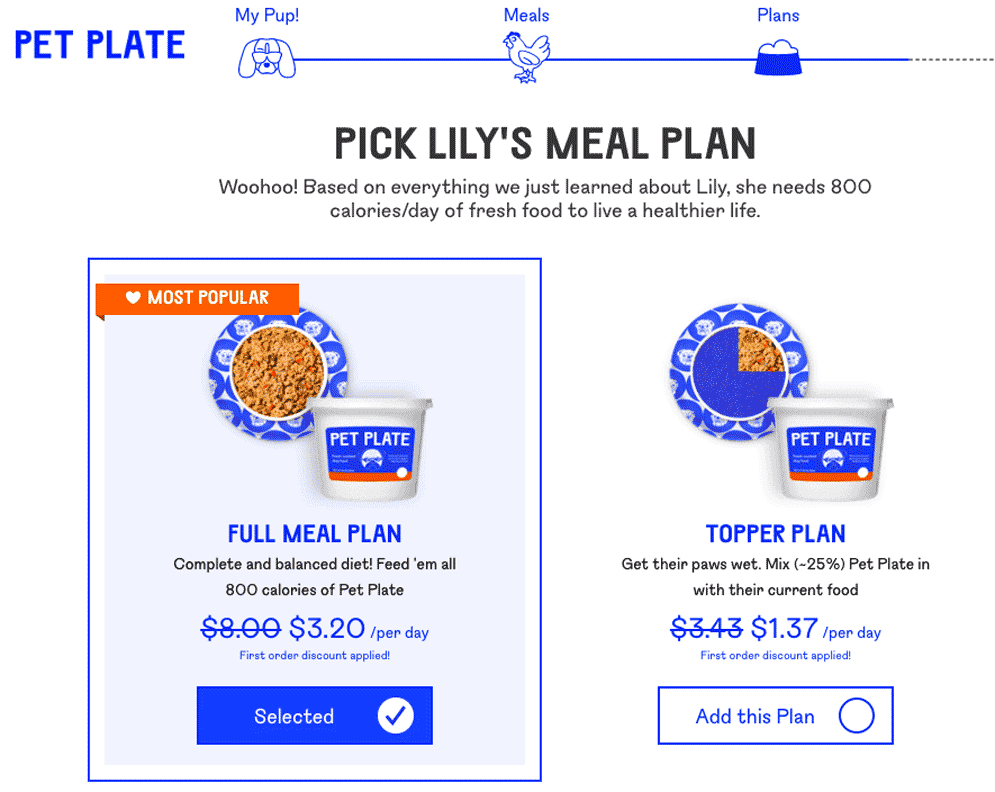 Michelle's First-Hand Review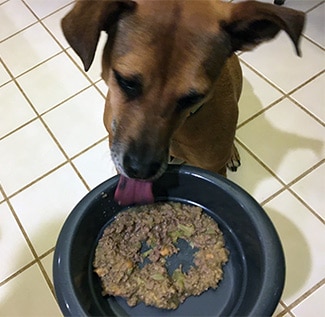 We switched from feeding our dogs 100% dry kibble to mixing the kibble 50/50 with PetPlate after seeing it on Shark Tank. The company makes meals with natural ingredients, including meat (turkey, beef, chicken, or lamb) cooked with fresh veggies (carrots, peas, potatoes, sweet potatoes, cauliflower, pumpkin, etc.). They prepare the food fresh, then freeze it and ship it to our doorstep.
At first, we tried it out to see how our dogs would react to such a treat. But, as it turned out, our dog Lily, who used to be a very finicky eater, immediately gobbled her PetPlate food up and ate the mixed-in kibble as well! She went from a dog who only ate 1 of 2 meals every day to a member of the clean plate club every time! This was enough to convince us to add PetPlate to our regular feeding routine. We continue to feed 50/50 kibble because it makes this a more economical choice and keeps our dogs' teeth cleaner, thanks to the abrasion of the harder food.
We have also found PetPlate to be easier on senior stomachs and experience less gas. PetPlate is a win for all in our household!
PetPlate Unboxing
See what's inside a PetPlate box and witness for yourself how much our very own Barley and Lily love it as they gobble it up!
Read Our Interview With The PetPlate Founder
How Does PetPlate Compare?
PetPlate isn't cheap, but if you're committed to the healthiest lifestyle for your pets, you can't go wrong with this high-quality dog food. PetPlate makes ordering and delivery a breeze, and their customer support is top-notch.
To see how other services compare to PetPlate, read our article comparing the best dog food delivery services. Our reviews include additional options for "human-grade" meals, as well as all-natural kibble, auto-ship dog food, and more.
Why are you considering all-natural dog food?
Disclaimer: The information provided through this website should not be used for diagnosing or treating a health problem or a disease. It is not a substitute for professional care. If you have or suspect you may have a health problem, you should consult your health care provider.
Disclaimer: This website contains reviews, opinions and information regarding products and services manufactured or provided by third parties. We are not responsible in any way for such products and services, and nothing contained here should be construed as a guarantee of the functionality, utility, safety or reliability of any product or services reviewed or discussed. Please follow the directions provided by the manufacturer or service provider when using any product or service reviewed or discussed on this website.