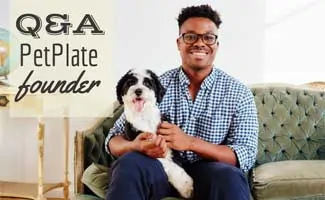 Renaldo Webb used to work as a consultant in the pet food industry. He saw firsthand how kibble was made and it shocked him. This is why he created PetPlate natural dog food (read our full review).
After consulting with a vet nutritionist and developing a number of healthy alternative recipes using fresh ingredients, PetPlate was born. Renaldo pitched his ideas to the Sharks on ABC's hit reality TV show, Shark Tank, and has been successfully helping deliver meals to happy pups ever since. Learn more about how he "cooked" up the idea and what he's learned along the way in our latest Top Dog interview with the PetPlate founder.
Why did you create PetPlate?
I created PetPlate because I wanted a healthier alternative to kibble to feed my dog, Winston. I worked as a consultant in pet food factories and decided I didn't want to feed Winston kibble after seeing the ingredients going into most pet food on the market.
Tell us the story of how you met your dog, Winston?
My girlfriend and I wanted to go play with puppies one day and ended up falling in love with a small fur ball.
How did Dr. Streeter get involved with helping you develop the recipes?
I reached out to a few veterinary nutritionists when I wanted the first meals for Winston, and Dr. Streeter was the easiest to work with. I was also impressed by her credentials and thought she would formulate the best meals.
What's the most popular PetPlate flavor?
Currently, the most popular flavor is our Farmhouse Beef Dish.
How should a pup parent go about selecting the right flavor for their pet?
I would focus on reading the entire label, and make sure all of the ingredients are healthy for your dog and that there are no potential allergy issues. There are many more ingredients that are included in the meals besides the main meat. I would also avoid ingredients such as preservatives, artificial colors, artificial flavors, and rendered meals.
What's been the most successful moment for PetPlate (and most challenging)?
The most successful moment for PetPlate was watching our first national orders get shipped from our warehouse. It was such a rewarding feeling to see PetPlate evolve from a local NYC company to a national brand. However, becoming a national brand was also the most challenging. The business grew quickly in complexity, and we had many more customers counting on us. That was a big adjustment for our tea.
Any advice for others looking to start their own business?
Work hard on your product, get constant feedback from your customers, and improve. Customers have tons of options, and it is important to make sure they pick your brand because they feel it is best for their pet.
Any insider tips you can share about being on Shark Tank?
Winston gets all the credit for his acting skills! He is also usually well behaved when he can smell PetPlate, and we were cooking some for the Sharks. As for tips for the show, it's important to be prepared! The time in front of the sharks goes fast.
What was your biggest lesson learned from the show?
I think the biggest lesson was how important it is to communicate your business metrics to investors clearly. While I thought my Shark Tank appearance went well, I could have better highlighted the strengths of the business to secure a deal.
Watch a clip of Renaldo sharing more about his company and the experience on national TV.
What's next for PetPlate?
In addition to cat meals, we're launching new dog meals and treats this year. In May we'll have two new flavors: chicken and lamb. We'll also be launching delicious human grade treats during the summer as well.
Many thanks to Renaldo for sharing his story with us!
Sounds like a lot to look forward to and we are excited to spread the word about PetPlate's delicious products. You can read more about PetPlate including how they rank vs. competitors and how to get your paws on it in our food delivery service review.
Tagged With: