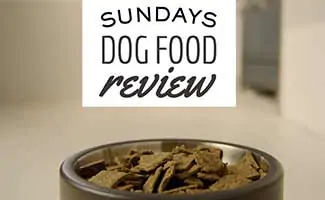 Are you looking for healthy, shelf-stable dog food as a better alternative to overly-processed commercial kibble? Sundays For Dogs could be just the ticket. This air-dried, human-grade dog food is packed full of nutrients and delivered right to your door. But is Sundays worth it? Find out in our in-depth review.
Visit Sundays For Dogs' Website
Article Overview
Sundays For Dogs
Pros
Human-grade, whole-food ingredients with no preservatives or fillers
Free of gluten, wheat, legumes, soy, corn, potatoes, and dairy
Ingredients come from local farms and human grocers in the Midwest
Free auto-shipping that you can pause or cancel anytime
Doesn't take up fridge or freezer space since it's shelf-stable
Full refund on first-time orders within 14 days and 50% refund for subscription reorders
Made in the USA
Cons
Only one recipe available (beef), but they say they're introducing organic chicken soon
A few complaints about unresponsive customer support
Key Features
All-natural food is slowly air-dried to preserve nutrients
Recipe developed by world-leading veterinary nutritionists and food scientists
100% human-grade ingredients and made in a USDA-monitored kitchen — all ingredients and processing methods meet the FDA safety standard for human consumption
Meets Association of American Feed Control Officials (AAFCO) guidelines for all life stages
Customer support available via live chat, phone, text, and email on weekdays from 9am-5pm EST
Ingredients
USDA beef, beef heart, beef liver, beef bone, quinoa, pumpkin, wild salmon oil, sunflower oil, zucchini, kale, flaxseed, sea salt, parsley, kelp, chicory root, turmeric, mixed tocopherols, ginger, selenium yeast, blueberries, carrots, apples, tomatoes, shiitake mushrooms, broccoli, oranges, cranberries, spinach, beets, tart cherries, and strawberries.
Price
The following price is based on a mixed-breed male profile, one-year-old, 38 pounds, healthy size, neutered, with no health problems.
Free shipping (ships every 2 to 3 weeks)
You can try it out with a one-time purchase or save 20% and sign up for auto-shipping
Coupon
Looking for a Sundays For Dogs promo code? Get 30% off your first order, just
click here
to get started.
What Do People Think Of Sundays For Dogs' Food?
Positive Reviews
My dog is on his first box. It comes with instructions on how much to add in with your dog's current food to gradually transition to 100% Sundays in ten days. We're on day four. He's supposed to get a 50/50 mixture, but he has already gone to 100% Sundays by picking it out of his regular kibbles and refusing to eat them. He loves it! – Shirley R., Facebook 6/7/2021
My dog would literally take a bite of his kibble and spit it out. Finally with Sundays he is so excited to eat his food every mealtime and cleans his plate! We can even use his food for training which is a huge game changer! The Sundays team has been so responsive about shipping my food early for travel. My dog's allergies are even better (he had a lot of eye gunk before) after switching to this food. I am so happy I found Sundays! Thank you for taking the stress out of mealtime!! – Linda H., Facebook 5/3/2021
Negative Reviews
I ordered Sundays about a month ago. It was supposed to deliver next week and never showed. I emailed and got 0 response. Please send me my dog food! Thanks. – Morgan L., Facebook 6/14/2021
Do not order from this company. The product is OK, not great, but not bad. Bit their customer service fails on many levels. I have contacted them 4 times now to discontinue any further shipments and yet they continue to charge my credit card, for three months after I first canceled my subscription. Do not get involved with them, you will not be able to stop them from charging your card. I have emailed them three times. Called once. And disconnected my subscription via the website twice. Nothing stops them from charging for a product only one of my two dogs would eat. – Jeanne G., Facebook 5/31/2021
Our Final Verdict
Visit Sundays For Dogs' Website
We think Sundays' dog food is definitely worth your consideration. While it's pricier than traditional kibble, it's competitively priced for an all-natural, human-grade, and (big selling point here) shelf-stable alternative. Unfortunately, they only offer a beef recipe, so it may not be a good option for some dogs. You may want to check out our review of Spot & Tango's Unkibble, a very similar dog food with a broader selection.
If you're still exploring other types of healthy dog food, be sure to read our reviews of the best dog food delivery services, which include personalized fresh meals and kibble, all-natural kibble, and more. We also have our article on the best dog foods for most diet types, ages, health issues, and more.
Why are you considering switching your dog's food?