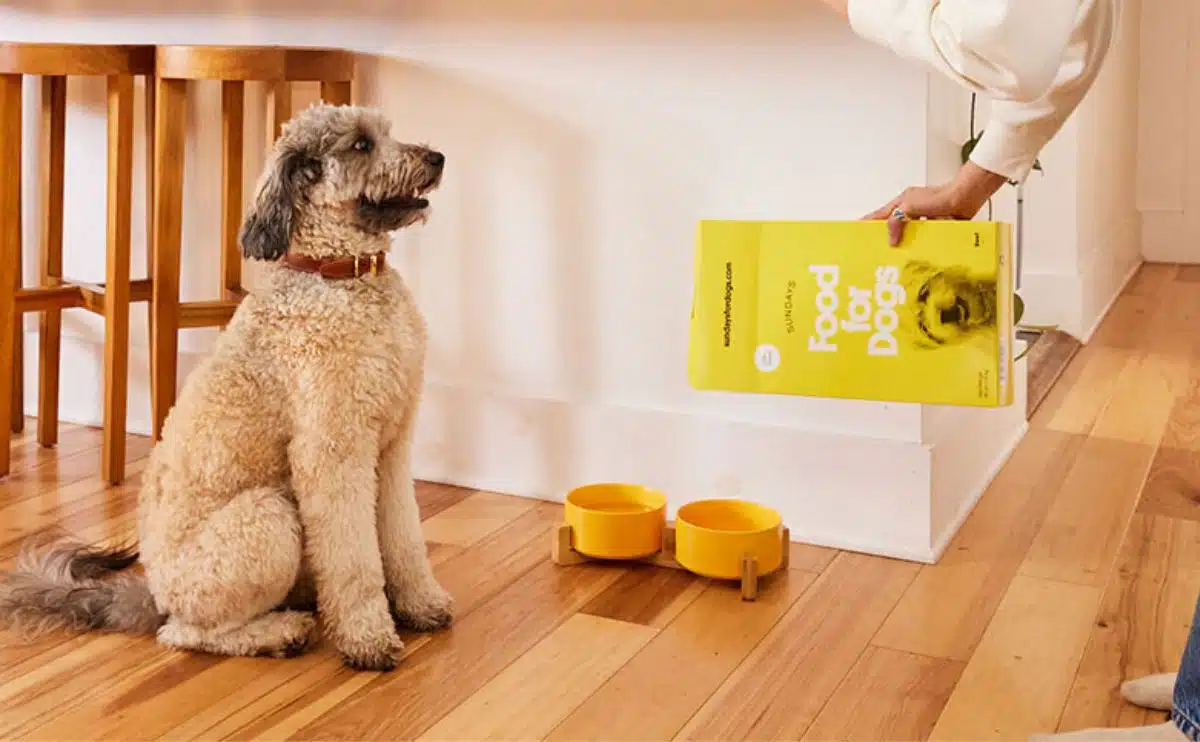 Are you looking for healthy, shelf-stable dog food as a better alternative to overly-processed commercial kibble? Sundays For Dogs could be just the ticket. This air-dried, human-grade dog food is packed full of natural nutrients and delivered right to your door. But is Sundays worth it? Find out in our in-depth review.
Visit Sundays For Dogs' Website
Sundays Dog Food Review

Product Name: Sundays Dog Food
Product Description: Sundays dog food offers a fresh, all-natural meal that's shelf-stable.
Summary
Sundays' air-dried dog food gives your pup the benefits of fresh dog food in a more affordable shelf-stable formula. We think it's a fantastic choice if you don't have freezer room or the budget for fresh meals.  
Our team determines the overall rating based on several factors, including meal and treat variety, nutritional value, customization options, pricing, customer service and reputation, and more.
Pros
Human-grade, whole-food ingredients with no preservatives or fillers
Free of gluten, wheat, legumes, soy, corn, potatoes, and dairy
No prep or clean up required, just pour and serve
Free auto-shipping that you can pause, adjust, or cancel anytime
Doesn't take up fridge or freezer space since it's shelf-stable
Try a free 2.5-oz sample of each recipe (just pay for shipping)
Full refund on first-time orders within 14 days and 50% refund for subscription reorders
Cons
Only two recipes available (beef & chicken)
Key Features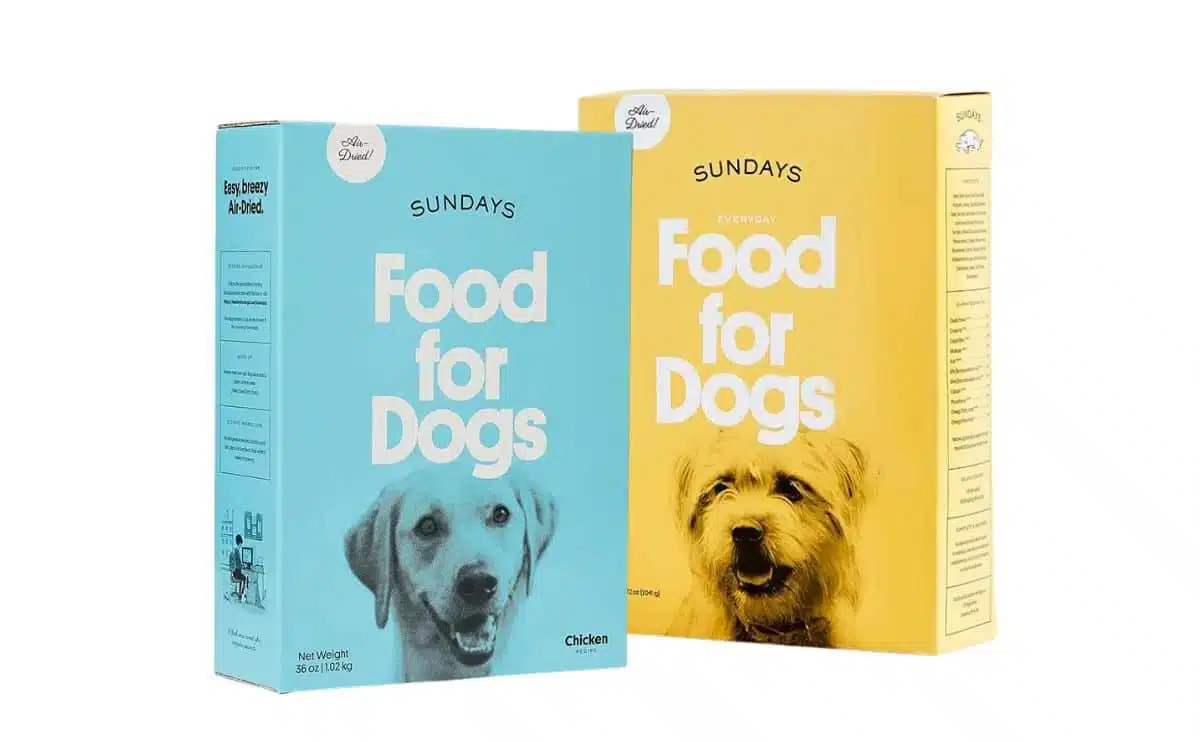 All-natural food is slowly air-dried to preserve nutrients
Recipe developed by world-leading veterinary nutritionists and food scientists
100% human-grade ingredients and made in a USDA-audited kitchen — all ingredients and processing methods meet the FDA safety standard for human consumption
Meets Association of American Feed Control Officials (AAFCO) guidelines: Chicken recipe for Adult Maintenance & Beef recipe for All Life Stages, including large breed puppies and adults
Refer a friend and get $50 off
Customer support available via live chat, phone, text, and email on weekdays from 9am-5pm EST
Ingredients
Wondering what's in Sundays' air-dried recipes and the nutritional value?
Recipe
Ingredients
Crude Protein
Crude Fat
Crude Fiber
Moisture
Calories*
Beef
(All Life Stages)
USDA beef, beef heart, beef liver, beef bone, quinoa, pumpkin, wild salmon oil, sunflower oil, zucchini, kale, flaxseed, sea salt, parsley, kelp, chicory root, turmeric, mixed tocopherols, ginger, selenium yeast, blueberries, carrots, apples, tomatoes, shiitake mushrooms, broccoli, oranges, cranberries, spinach, beets, tart cherries, strawberries.

30% min

20% min
3% max
15% max
550 kcal/cup*
Chicken
(Adult)
Chicken, chicken liver, egg, millet, oat, pumpkin, kale, ground bone, fish oil, sea salt, flaxseed, parsley, turmeric, chicory root, kelp, mixed tocopherols, ginger, blueberries, carrots, apples, tomatoes, shiitake mushrooms, broccoli, oranges, cranberries, spinach, beets, tart cherries, strawberries.
38% min
15% min
2% max
15% max
520 kcal/cup*
*Note: Sundays food is roughly twice as dense as kibble, so you feed about 1/2 of what you're used to giving your dog on a kibble diet. (You get custom feeding instructions with your order.)
Price
The following price is based on a mixed-breed male profile, one-year-old, 38 pounds, healthy size, neutered, with no health problems.
$33/week (for chicken recipe)
Free shipping (shipping frequency varies)
You don't need to subscribe to feed your dog Sundays, but you will save 20% on all subscription orders. You can buy full-size boxes of Sundays without a subscription starting at $59.
Coupon
Looking for a Sundays For Dogs promo code? Get 35% off your first order; just click here to get started.
Our Personal Experience With Sundays
We got the opportunity to test out Sundays in exchange for an unbiased review.
The Ordering Process
Once you click on their website's "Customize My Plan" button, it takes you to a brief survey so they can determine your pup's daily caloric needs. This questionnaire asks you about your dog's gender, weight, age range, activity level, body condition, breed, and whether your dog has a sensitive tummy and is a picky eater.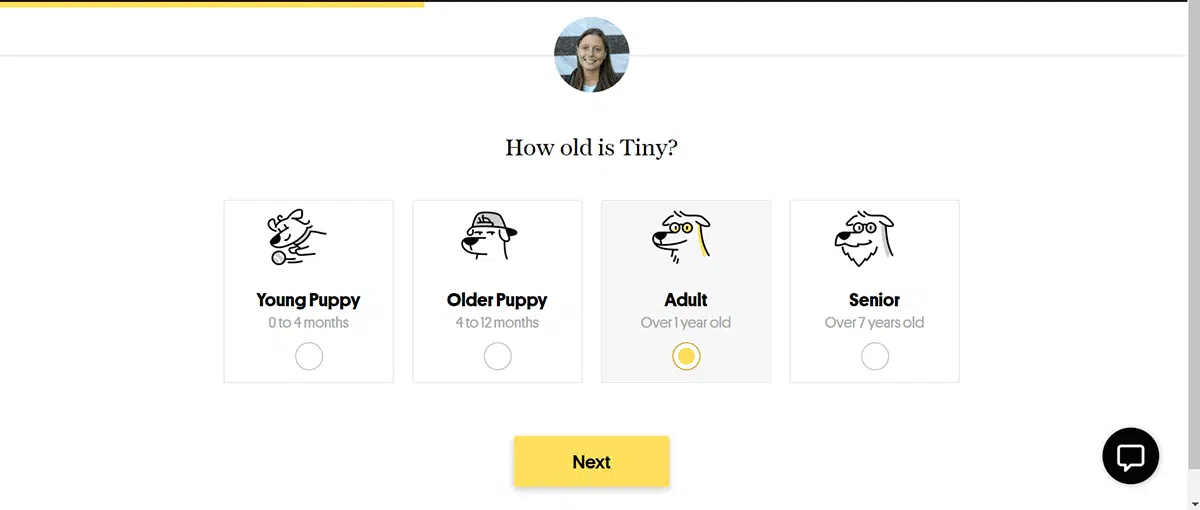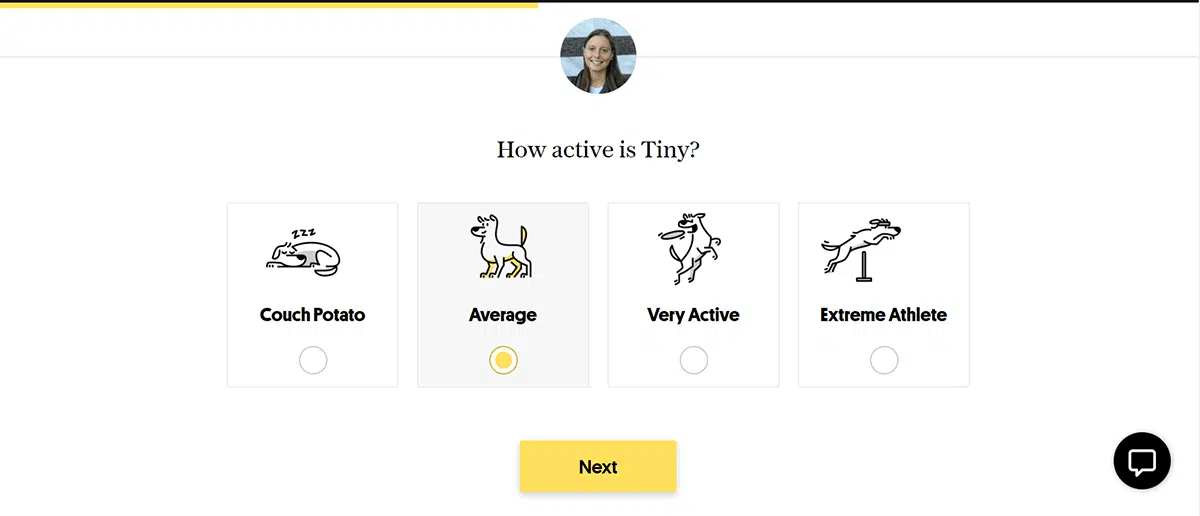 Then, you submit your name and email address to get your ordering options. On their customization results page, you can choose between their chicken or beef recipes and see the price of each. In my case, their beef recipe was roughly $5 more expensive per week than chicken. And my results showed that the beef recipe ships every 2-3 weeks, whereas the chicken formula ships every 5-6 weeks. However, after your first order, you can adjust your delivery schedule from your account page.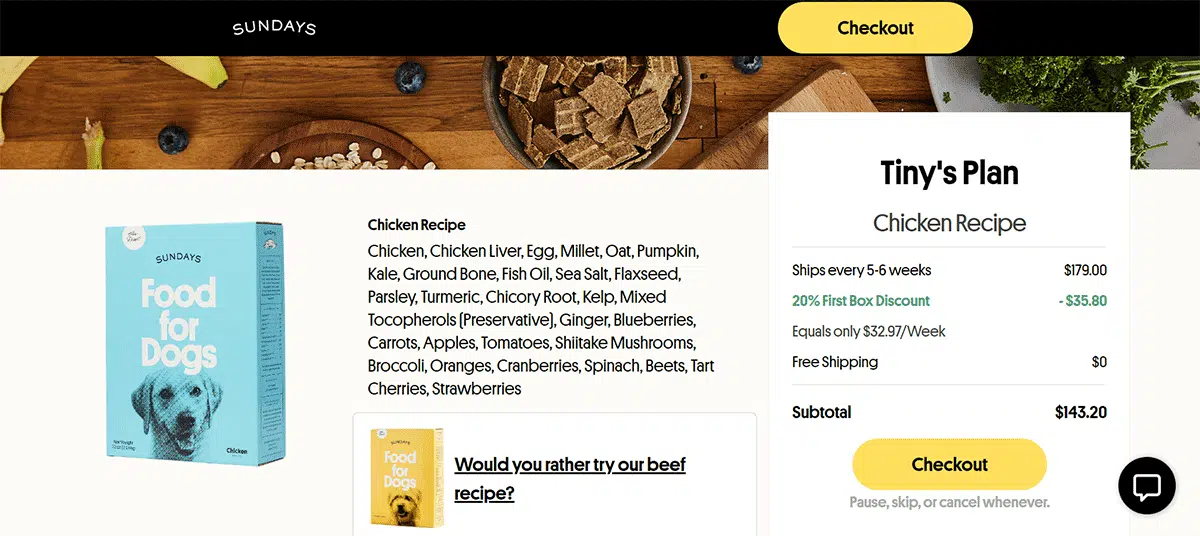 Sundays' Dog Food Arrives
Unlike some fresh dog food that comes tailored in pre-portioned packages, Sundays' customization only determines how much of their boxed food to ship to you based on your pup's portion needs. But your delivery comes with custom feeding instructions based on your dog's age, breed, weight, and activity level. You can also log into your account to see your pup's feeding guidelines. The food comes in a tightly sealed bag that's easy to reseal to keep it fresh.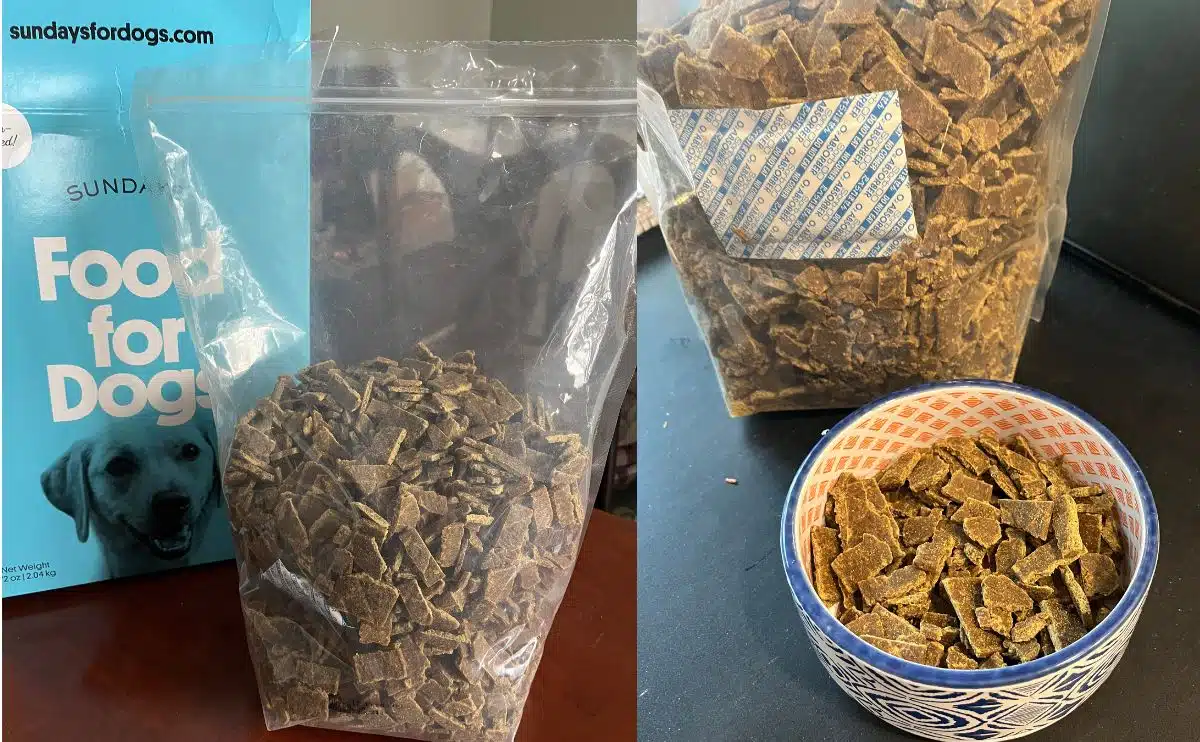 My picky eater, Tiny, absolutely loves Sundays' chicken formula. He gobbles up his bowl within minutes compared to his usual reaction to dry food (he often leaves his bowl largely uneaten for hours). We transitioned gradually from his old food to Sundays with absolutely no digestive issues! After weeks on his new diet, he still loves every mealtime.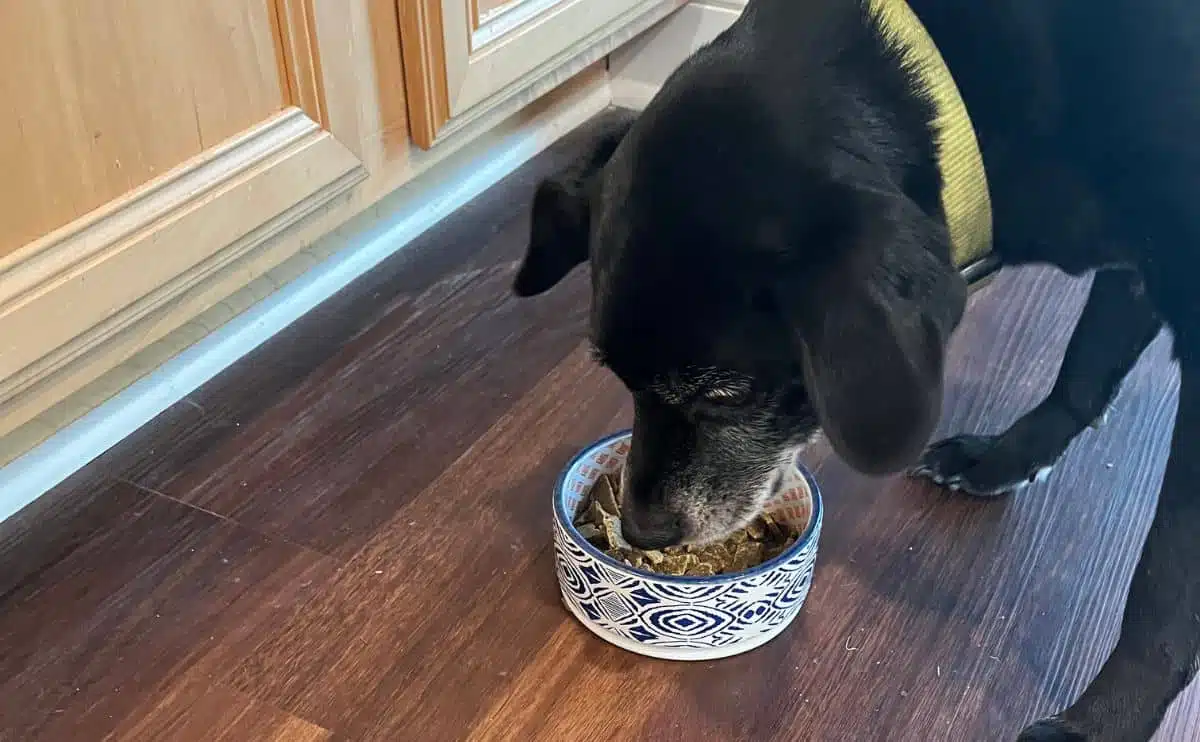 Our Final Verdict
Visit Sundays For Dogs' Website
We think Sundays' dog food is definitely worth your consideration. While it's pricier than traditional kibble, it's competitively priced for an all-natural, human-grade, and (big selling point here) shelf-stable alternative. If you're still exploring other types of healthy dog food, be sure to read our reviews of the best dog food delivery services, which include personalized fresh meals and kibble, all-natural kibble, and more. We also have our article on the best dog foods for most diet types, ages, health issues, and more.
Tagged With: Food Delivery