Are you looking for healthy, shelf-stable dog food as a better alternative to overly-processed commercial kibble? Sundays For Dogs could be just the ticket. This air-dried, human-grade dog food is packed full of natural nutrients and delivered right to your door. But is Sundays worth it? Find out in our in-depth review.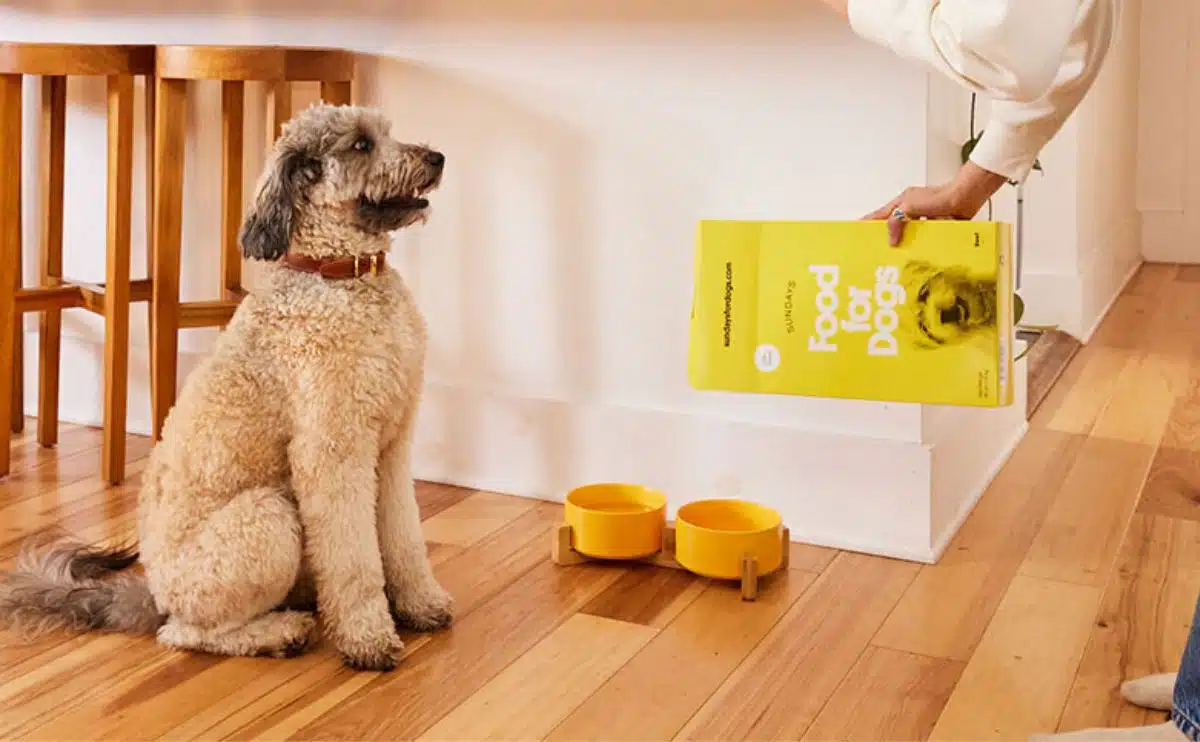 Visit Sundays For Dogs' Website
Sundays Dog Food Review

Product Name: Sundays Dog Food
Product Description: Sundays dog food offers a fresh, all-natural meal that's shelf-stable.
Summary
We give Spot & Tango's UnKibble two enthusiastic paws up. We love that you can get 100% human-grade dog food that you store on your shelf instead of taking up valuable freezer space.
Our team determines the overall rating based on several factors, including meal and treat variety, nutritional value, customization options, pricing, customer service and reputation, and more.
Pros
Human-grade, whole-food ingredients with no preservatives or fillers
Free of gluten, wheat, legumes, soy, corn, potatoes, and dairy
No prep or clean up required, just pour and serve
Free auto-shipping that you can pause, adjust, or cancel anytime
Doesn't take up fridge or freezer space since it's shelf-stable
Try a free 2.5-oz sample of each recipe (just pay for shipping)
Full refund on first-time orders within 14 days and 50% refund for subscription reorders
Cons
Only two recipes available (beef & chicken)
Key Features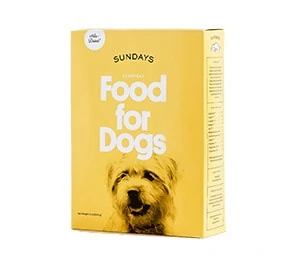 All-natural food is slowly air-dried to preserve nutrients
Recipe developed by world-leading veterinary nutritionists and food scientists
100% human-grade ingredients and made in a USDA-monitored kitchen — all ingredients and processing methods meet the FDA safety standard for human consumption
Meets Association of American Feed Control Officials (AAFCO) guidelines for All Life Stages (beef) & Adult Maintenance (chicken)
Refer a friend and get $50 off
Customer support available via live chat, phone, text, and email on weekdays from 9am-5pm EST
Ingredients (Beef Recipe)
USDA beef, beef heart, beef liver, beef bone, quinoa, pumpkin, wild salmon oil, sunflower oil, zucchini, kale, flaxseed, sea salt, parsley, kelp, chicory root, turmeric, mixed tocopherols, ginger, selenium yeast, blueberries, carrots, apples, tomatoes, shiitake mushrooms, broccoli, oranges, cranberries, spinach, beets, tart cherries, and strawberries.
Ingredients (Chicken Recipe)
Chicken, Chicken Liver, Egg, Millet, Oat, Pumpkin, Kale, Ground Bone, Fish Oil, Sea Salt, Flaxseed, Parsley, Turmeric, Chicory Root, Kelp, Mixed Tocopherols, Ginger, Blueberries, Carrots, Apples, Tomatoes, Shiitake Mushrooms, Broccoli, Oranges, Cranberries, Spinach, Beets, Tart Cherries, Strawberries.
Price
The following price is based on a mixed-breed male profile, one-year-old, 38 pounds, healthy size, neutered, with no health problems.
$33/week (for chicken recipe)
Free shipping (ships every 2-3 weeks based on this dog's profile)
You don't need to subscribe to feed your dog Sundays, but you will save 20% on all subscription orders. You can buy full-size boxes of Sundays without a subscription starting at $59.
Coupon
Looking for a Sundays For Dogs promo code? Get 35% off your first order; just click here to get started.
Our Final Verdict
Visit Sundays For Dogs' Website
We think Sundays' dog food is definitely worth your consideration. While it's pricier than traditional kibble, it's competitively priced for an all-natural, human-grade, and (big selling point here) shelf-stable alternative. If you're still exploring other types of healthy dog food, be sure to read our reviews of the best dog food delivery services, which include personalized fresh meals and kibble, all-natural kibble, and more. We also have our article on the best dog foods for most diet types, ages, health issues, and more.
Tagged With: Food Delivery