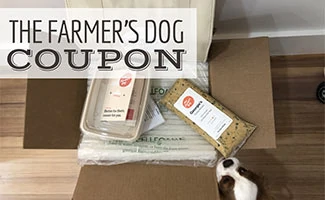 If you found this page, you're probably sniffing around to find out about The Farmer's Dog fresh food for your furry family member. And if you're like us, you're looking to score the best possible deal. Well, you're in luck because we have The Farmer's Dog coupon details to help you save money.
Are there any The Farmer's Dog seasonal discounts? Is there a Black Friday deal that might be better? Does a Farmer's Dog free trial exist? We're your source for the latest The Farmer's Dog promotions, so keep this article handy.
Visit The Farmer's Dog Website
Bookmark This Page To Find The Farmer's Dog Discount Codes When They're Released
We update this page regularly with the latest The Farmer's Dog promo codes, including discount amounts, details, eligible products, expiration date, and more. So check back often to see the latest offers.
Discount For Our Readers
Our readers have access to 50% off your first box. No code needed; just use this link and the discount will be applied!
Previous Promotion Codes From The Farmer's Dog
The Farmer's Dog coupon above applies year-round. But are you wondering how this discount compares to previous sales? We will be sure to post historical sales here, if and when we uncover them.
Why Is The Farmer's Dog A Good Choice?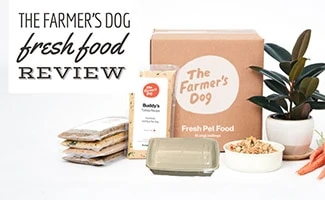 With many dog food delivery companies on the market, what stands out about The Farmer's Dog? We think they excel because each recipe is packed with high-quality, fresh ingredients and developed by board-certified American College of Veterinary Nutrition experts. Plus, they are committed to sustainable business practices, including delivering eco-friendly packaging.
The Farmer's Dog's founders, two dog dads, discovered that many dog foods sold today are highly processed and low-quality. So, they set out to incorporate human-grade ingredients into recipes formulated specifically for dogs, creating a healthier option for pet parents.
The company pre-portions its recipes for your dog's weight, breed, activity level, health concerns and allergies to deliver personalized meals directly to your door. They source ingredients from small American farms, so you can trust it's real food. Plus, you can take comfort in knowing that a certified nutritionist created a balanced and nutritious meal for your pup (without having to do all the cooking and research yourself).
Read Our Full Review Of The Farmer's Dog
Our Experts Compare The Farmer's Dog To The Competition
Visit The Farmer's Dog Website
Our team has over 300 years of combined experience reviewing products and services for canines, with dog food being one of our fastest-growing categories. We continuously review, test, and add new brands to our ongoing list of dog food delivery options.
So who did our experts pick as the overall winner? We encourage you to visit our best fresh dog food article to see our top picks in this category. If you are interested in learning about other dog food types and our category winners based on various nutritional needs, your dog's size, diet, etc., check out our best dog food reviews.
Tagged With: Discounts, Food Delivery