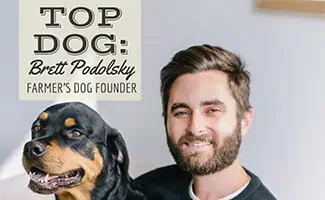 The Farmer's Dog is one of the many fresh dog food products to hit the market. Their dedication and passion for feeding dogs healthy meals come from the founder himself. Brett Podolsky found himself searching for a solution to help his sick pup and tried just about everything. It wasn't until he started cooking homemade food for Jada that she began to turn around. Brett knew he was on to something and wanted to share his success story with other dogs, and thus The Farmer's Dog was born.
I am a customer and a big fan of their product for my dog Lexie. Not only does she gobble it up, but she has also shown improvements in her coat and weight as a result.
We got the chance to ask Brett some questions and learn more about him and the company. We hope you enjoy learning more in our latest Top Dog interview.
Visit The Farmer's Dog Website | Read Our Full Review
How did you name The Farmer's Dog (TFD)?
We were inspired by a couple of different things — the first being the simple, pure relationship between human, dog, and Earth. It's not a fussy one, and it requires work, but it's one of the most special that we have. The other thing that inspired us was the fact that the longest-living dogs throughout history have been farm dogs!
How did you and your co-founder meet and start the business?
Jonathan and I met while we were both traveling in Israel and hit it off immediately. We ended up living together in New York while I was grappling with Jada's health issues and cooking for her in the apartment. Jonathan's a dog owner too, so obviously he was pretty interested in what I was learning about the pet food industry. Our friendship blossomed pretty easily into a business partnership from there.
How has your role changed over the years?
The Farmer's Dog was founded in 2014. It was truly a bootstrapped effort — Jonathan and I each put in a bit of our money and did everything from cooking and packing to delivery and customer service ourselves. We were cooking the food by day and then delivering by night, but we were getting such incredible feedback, which really motivated us.
Doing everything ourselves, we were limited to the New York area. But in 2016, we raised our first round of funding, which allowed us to start thinking about operations that could get fresh food to dogs nationwide. Fast forward to today — we just opened our second office, we have customers in all 48 contiguous United States, and we've served over 10 million meals.
We've been lucky enough to find a team of people who are much better at doing all of the things we were doing ourselves in the early days — and, of course, love dogs as much as we do. We're now more focused on setting the team up for success and ensuring the values and culture we founded the company on are maintained, and even strengthened, as we continue to grow.
Do you have any TFD health success stories you can share (in addition to your dog, Jada)?
So many — we actually have a team Slack channel where our amazing Customer Experience team can share these stories around the office in real-time. Nothing inspires us more.
A recent one that really moved us was Tikaani's — his owners had been in the pet industry for decades, but his health condition had become so dire that they were seriously considering euthanizing him. After his first Farmer's Dog meal though, Tikaani began showing signs of recovery until he was eventually his full, vibrant, healthy self. People sometimes think we make up these "miracle" turn-arounds, but you can hear it straight from Tikaani's mom and dad! Food can truly be the best medicine.
It's important to note, though, that this isn't just meant to be a "sick dog" thing — every dog can benefit from fresh food. As with humans, eating clean, whole foods that aren't highly processed is an investment in future health. In fact, some of our favorite customer stories are about dogs who appeared perfectly healthy and would eat anything, but still ended up experiencing benefits, from clearer skin and shinier coats to better breath and more balanced energy levels.
Why do you add the customer's name to packaging?
The names on the packs have actually been there from the beginning. They played an important functional role in our early days — helping distinguish between multiple dogs in a household — and we've stuck with it even while growing. It's a special moment for customers to see their dog's name there, and to know this food was made fresh, especially for them. Even if we at some point move away from names on individual packs, we'll always find ways of personalizing the experience and making it seamless & functional.
Do you really send flowers when a customer's pet passes away?
Yes, we try not to make a big public fuss about it or come off as though we're doing it to get attention. They really appreciate it. These people have trusted us to feed their pets and educate them around fresh food, and that means a lot to us and their dogs. We started this company because of our love of dogs, so obviously we're heartbroken to hear when one passes. It's a small gesture, but it feels like the least we can do during what's usually a devastating time for the owners.
What's next for the pet food industry and the direct-to-consumer dog service business?
We're still just scratching the surface. We aim to reset the entire standard of what people think of as dog food. For decades, dog food has just been kibble, and such a sizable behavior change takes time — but it is possible. Just look at how the conversation around what constitutes genuinely healthy human food has changed over the last decade or so. Even if people aren't universally eating healthy diets of sustainably sourced food, they're more aware of what their dietary choices mean.
Long term, we want to simplify and improve every aspect of pet care, but we're pretty focused on diet and nutrition right now because it feels like the most fundamental building block to everything else.
What else is coming soon for TFD?
We love all pets and definitely want to help simplify pet care across the board, but we're currently focusing on creating an unmatched fresh food delivery experience for our canine customers. We do have an eye on other categories though, so stay tuned!
Who is your biggest mentor, and what did you learn from them?
Building The Farmer's Dog with Jonathan has been the best mentorship/learning experience I've ever had. Working with him has changed how I approach things in every way, and I'm constantly learning from him. From organization, work ethic, the necessity of patience, accountability… the list is endless.
I also learn so much from working with every person on our team, observing how they work, how they interpret things, how they communicate. It feels like I've gotten the equivalent of a thousand MBA educations over the past five years. You can't pay for this kind of experience. I'm so, so lucky.
When not hanging out with your pups, wife, or working, what hobbies do you enjoy?
I love to read — or, well, listen. Books on tape really changed my life! They're so accessible now that if I'm not working, or with my wife or the dogs, I'm usually buried in a book. If not, I'm listening to music or at a concert. I love reggae and doo-wop. We have a company playlist of songs Jonathan and I would listen to back when we were cooking the food ourselves that's still sometimes played around the office.
In general though, I just try to spend most of my downtime investing in myself and exposing myself to other points of view. It's just the best way to grow.
Love it! Thanks, Brett, for taking the time to share your story with our readers! Learn more about dog food delivery companies and read our in-depth review of The Farmer's Dog.
Tagged With: