To keep the lights on, we receive affiliate commissions via some of our links. Our review process.
Is your pup packing on the pounds? Overweight dogs can suffer from many of the same health problems that heavy humans do. If you're concerned about your dog's extra pounds, it's time to make some changes to his diet and lifestyle. But, where do you start?
Getting your dog in shape takes some planning, but we're here to help. We have some quick tips and our picks for the best dog food for weight loss.
At A Glance: Best Dog Food For Weight Loss For…
| Fresh Food | Dry Food | Grain-Free | Wet Food |
| --- | --- | --- | --- |
| | | | |
| | | | |
| | | | |
How Do I Know If My Dog Is Overweight?
Before considering the best weight management dog food, you should determine if your dog needs to go on a diet. Every breed and dog size has a narrow ideal weight range, and your veterinarian can help you determine if your dog is at a healthy weight. But there are a few quick signs that you can look for at home.
Can you easily feel your dog's ribs without having to press down? If not, he very likely needs to lose weight.
Look at your dog from above; if your dog looks oval-shaped, your dog is likely overweight. If your pup has an hourglass shape, he's probably at a healthy weight.
Have a dog with a defined waist and a straight body down the sides (i.e., no love handles)? Then his current weight is probably okay.
Best Dog Food For Weight Loss
Always consult your veterinarian before putting your dog on a weight loss diet. Your dog's weight gain could be due to an underlying condition, so it's important to rule out any potential problems. Your vet can also help you make sure any diet food you're considering will give your pup all the nutrients he needs. With that said, here are our top picks for weight loss dog food options.
Personalized Fresh Food: The Farmer's Dog
The Farmer's Dog offers fresh, human-grade meals using all-natural ingredients. All recipes are pre-portioned and personalized to your dog's specific dietary needs. You fill out a brief survey, which includes your dog's age, breed, current weight, and whether he's at a healthy size. You can have them customize the food for a weight loss goal.
They offer turkey, pork, or beef recipes, developed by board-certified American College of Veterinary Nutrition (ACVN) nutritionists and flash frozen. And you can have all of your dog's meals regularly shipped right to your door.
Price: Varies based on each dog's target ideal weight, age, and other factors (e.g., $52.65/week for mixed-breed male, one-year-old, 38 pounds, healthy size, neutered, no health problems, or allergies) or topper plan for purebred 15 pounds for as little as $1/day
Our First-Hand Experience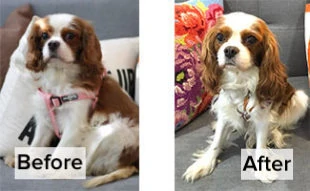 We switched our dog, Lexie, from kibble to The Farmer's Dog shortly after rescuing her. Because King Charles Cavalier Spaniels are prone to heart conditions (which are onset by obesity), we wanted to make sure she maintained a healthy weight.
She not only shed a few extra pounds, but we also noticed an improvement in her coat's shine and her energy level. She's been a fan ever since and gobbles it down!
Over time, I started mixing it with a little rice (or kibble) to stretch the packs out and add grains to her diet, and she didn't gain back the weight (which is shocking because Lexie is not very active). The before and after photos were taken one year apart after switching from kibble to The Farmer's Dog. – Sadie C., Canine Journal
Full Review Of The Farmer's Dog
Dry Food: Hill's Science Diet Perfect Weight
Hill's Science Diet Perfect Weight dry dog food is recommended by many veterinarians for a healthy weight loss diet. In clinical studies, more than 70% of dogs lost weight within ten weeks on this diet. The first ingredient is lean protein, and it also includes other natural ingredients (plus vitamins, minerals, and amino acids) with no artificial colors, flavors, or preservatives.
This food is a bit on the pricey side compared to many other commercial diet dog foods, but many customers say their dogs love the taste and lose weight.
Protein: 28.7%
Fat: 11.2%
Crude Fiber: 10.4%
Carbohydrate/NFE: 43.2%
First eight ingredients: chicken, cracked pearled barley, brown rice, pea fiber, corn gluten meal, chicken meal, dried tomato pomace, oat fiber
Price: $70.99 ($2.49 / lb) (28.5 lb bag)
Grain-Free: Wellness Core Grain-Free, Reduced-Fat Dry Dog Food
This grain-free weight control dog food is an excellent option for dogs who are grain and gluten intolerant (although it's rare for dogs to be intolerant to either). It has a high protein content to help your dog feel full for longer. And it also contains some super healthy ingredients for overall dog health: omega fatty acids, antioxidants, glucosamine, probiotics, and taurine for a healthy heart. It's free of artificial preservatives, colors, and flavors.
The major downside to this product is its price. It's expensive for dry dog food. Some owners said their dogs didn't care for the taste, but many others expressed that their dogs wolfed it down.
Protein: 33%
Fat: 10%
Crude Fiber: 8.5%
First eight ingredients: deboned turkey, turkey meal, chicken meal, lentils, peas, dried ground potatoes, pea fiber, ground flaxseed
Price: $74.99 ($2.88 / lb) (26 lb bag)
Wet Food: Purina Pro Plan Focus Adult Weight Management
If you and your dog prefer canned food, this Purina Pro Plan weight management wet food is effective for many pet parents' dogs as their primary food or as a topper for dry diet dog food. It's low in fat and calories and contains 23 essential vitamins and minerals and no preservatives. You can also Purina's Pro Plan in dry formulas.
Protein: 9%
Fat: 4.5%
Crude Fiber: 1.5%
Moisture: 82%
First eight ingredients: water, turkey, liver, wheat gluten, rice, chicken, meat by-products, potassium chloride
Price: Check Amazon for availability (12 13-oz cans)
What Are Other Best Diet Dog Food Options?
There are a lot of delicious dry dog foods for weight management on the market. Although these didn't make our top picks, you may want to consider these popular and healthy options as well.
Blue Buffalo Life Protection Healthy Weight Formula
This low-calorie dog food is a great budget-friendly option. It contains LifeSource Bits, small kibbles full of antioxidants, vitamins, and minerals to support immune system health and a healthy oxidative balance. It has no corn, soy, wheat, or artificial flavors, or preservatives.
Protein: 20%
Fat: 9%
Crude Fiber: 10%
First eight ingredients: deboned chicken, chicken meal, brown rice, barley, pea fiber, pea starch, oatmeal, peas
Price: Check Amazon for availability (30 lb bag)
Canidae Pure Healthy Weight
This grain-free weight management dog food is chock full of healthy lean proteins, vegetables, vitamins, minerals, and probiotics to support your dog's overall well-being. It also contains antioxidants and omega 6 and 3 fatty acids to support a healthy immune system, skin, and coat.
Protein: 28%
Fat: 9%
Crude Fiber: 5%
Moisture: 10%
First eight ingredients: chicken, chicken meal, turkey meal, sweet potatoes, peas, garbanzo beans, potatoes, sun-cured alfalfa
Price: $42.99 ($1.79 / lb) (24 lb bag)
Natural Balance Fat Dogs
Natural Balance's Fat Dogs dry dog food (you have to love the name!) is another popular healthy choice for many dog owners. This low-calorie formula is high in lean proteins and fiber to satisfy your dog's hunger pangs. They also conduct nine safety tests on each batch of food to make sure there are no contaminants.
Protein: 26%
Fat: 7.5%
Crude Fiber: 10.5%
Moisture: 10%
First eight ingredients: chicken meal, salmon meal, garbanzo beans, peas, barley, oat groats, dried beet pulp, pea fiber
Price: $62.98 ($2.25 / lb) (28 lb bag)
Why Should My Dog Lose Weight?
Extra weight can reduce your dog's quality of life, cause significant health problems, and shorten his life. For dogs, this can happen with as little as a few extra pounds. Some of the common health conditions that develop from excess weight include:
Diabetes mellitus
Heart disease
High blood pressure
Arthritis
Increased risk of joint injuries
Increased cancer risk – especially intra-abdominal cancers, mammary tumors, and bladder cancer
Liver problems
Difficulty breathing
Fatigue and lethargy
How Can I Help My Dog Lose Weight?
Check out this Rachel Ray video for some quick tips on ways you and your family can help your dog lose weight. One of these tips includes getting a fitness tracker to make sure your dog is getting enough exercise. See our reviews of the best dog activity monitors to learn more. And be sure to read more tips on how to help your dog lose weight.
How Do I Change My Dog's Food Safely?
If you're switching your dog to a weight loss diet, you'll need to know how to transition him from his current food. Dogs' tummies are extremely sensitive to sudden food changes and can develop digestive issues. So be sure to read our article on how to change your dog's food safely before starting a new food.
Tagged With: Comparison, Obesity, Reviewed By Dr. Racine, DVM