If you've been looking for new dog food, you may have come across the popular brand Nutro. They have received great ratings for their extensive food line. There's sure to be something for almost any dog among their many products.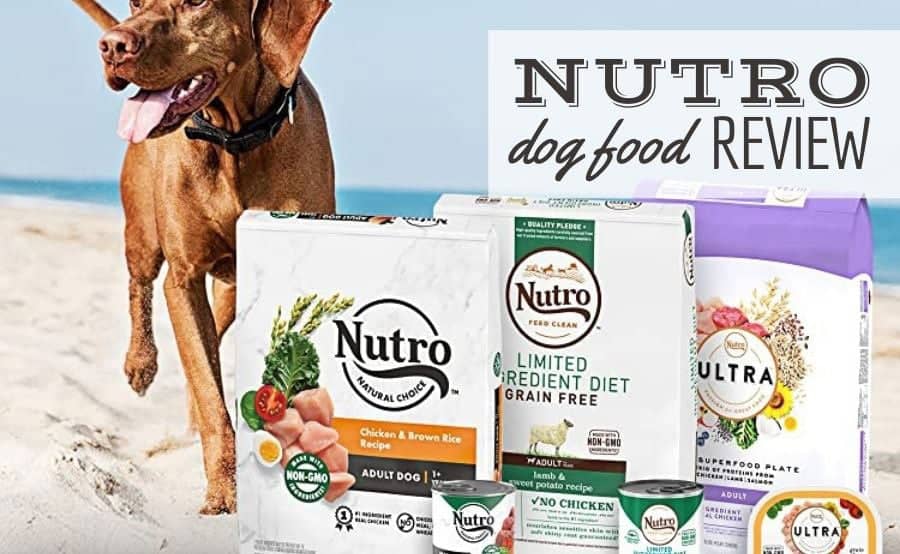 We look at the different dog food recipes they have available for purchase. Learn which dogs are best suited to Nutro and which ones may be better off eating other food. We also discuss where to buy Nutro, plus the average price for their products. This way, you can make an informed choice in your potential purchase of their products.
Nutro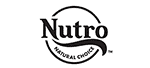 Product Name: Nutro Dog Food Review
Product Description: Nutro is an ethical, eco-friendly dog food company.
Summary
Our team rates dog food based on several factors, including variety, nutritional value, pricing, customer support, and more.
Nutro is an excellent choice for dogs seeking a well-rounded, all-natural, and nutritious diet. However, if a dog requires a high protein and calorie intake, as with working dogs, they may need to explore other brands. Additionally, dogs with chicken sensitivities should consider other options. Nevertheless, Nutro is an exceptional choice for those seeking a GMO-free alternative to other dog food brands.
Pros
Wide variety of all-natural food products for dogs and cats
Ethically and sustainably sourced ingredients
Produce is fresh, locally sourced, and non-GMO
Free from artificial preservatives and flavors
Company is entirely transparent about all ingredients on their website
Cons
On the pricey side
Not as many small breed options
Limited line for puppies and seniors
Key Features
Nutro is a brand that uses all-natural, non-GMO ingredients to manufacture healthy food for dogs.
They use random sampling to ensure that no GMOs have been sourced from any of their partners.
Has a variety of products available for dogs, including food for every life stage, flavored dog treats, and even trays for proper food portioning.
One of the highest-quality brands in the Mars Petcare portfolio, especially since they don't include artificial preservatives or artificial colors in their formulation. Instead, they focus on natural ingredients that are responsibly sourced from places they trust all over the world.
Been making pet food for over 90 years.
Healthy Weight formulas are exceptionally well-crafted and a great choice for owners with overweight dogs.
Puppies benefit significantly from the high amounts of protein needed for growth in puppy formulas.
Adult dogs who have sensitivities to many ingredients commonly found in other dog food brands also do well with Nutro's Limited Ingredient line.
The wet foods are helpful for dogs who struggle chewing their kibble and picky eaters.
Throughout the many years that Nutro has served its customers, they have built a loyal fan base who swear by their products. They continue to provide pets with food that's not only delicious but also provides complete nutrition. This makes them well-respected among their peers and beloved by pets and their owners worldwide.
Nutro Dog Food Ingredients
Nutro prides itself on its special dog food formulas. They only use natural, non-GMO ingredients and don't use artificial colors or flavors. Nutro also avoids using wheat and soy products to reduce the gluten included in the formulations. They also use interesting side ingredients to supplement their nutrient-packed main ingredients.
Nutro is full of awesome ingredients that truly set their formulas apart from the competition. Great ingredients like these help provide your dog with a diet that's well-rounded and complete.
Deboned Real Meat
Nutro dog foods most commonly list chicken as the first ingredient. Deboned chicken is a common ingredient in many dog foods and is highly valued for protein and fat. Nutro isn't known to include animal by-products in their formulation, meaning no organs such as livers or spleens are included, just pure chicken meat.
Some of the other formulations include lamb meat and salmon. Lamb meat is higher in protein than chicken and lowers in moisture. Salmon is oily meat rich in Omega-3 fatty acids, which also comes with a delicious taste that entices even the pickiest of dogs. Salmon is also considered a low-mercury fish, so dogs can eat away happily without their owners worrying about mercury content.
Beef is occasionally included in the ingredients for Nutro dog food products. It's one of the most protein-dense meats and helps build strong muscles.
Real Meat Meal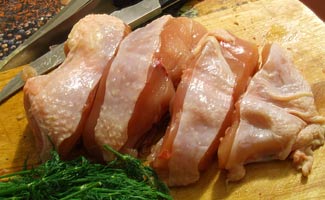 Raw chicken is known for its high moisture level, which may water down the nutritional benefits of a certain formulation. To remedy this, some of the chicken in Nutro dog foods is ground up. This way, the protein is concentrated and retains less moisture. Lamb meal is also included in some of the formulas, which heightens the protein and calorie density of the foods where it's present.
Chicken Fat
Also derived from chicken meats, chicken fat is a highly soluble fat and is rich in Omega-6 fatty acids. Fats are necessary for a balanced diet for dogs. It helps develop healthy cells and a shiny coat. Dogs also really like the taste of fat, so this gives Nutro dog foods some well-received palatability.
Flaxseed
Flaxseed is another nutrient-rich ingredient that frequently appears in human-grade food. This ingredient is rich in Omega-3 fatty acids, which also contribute to healthy skin and coat. Whole flaxseeds are also a great source of fiber, which aids in digestion. Flaxseed also contains lignans, compounds that aid in cardiovascular health and prevent cancer. The cardiovascular health properties of flaxseed include lowered blood pressure and improved kidney function.
Sweet Potatoes
Sweet potatoes are another common ingredient for dog food, including Nutro's. They're also a common treat for many dogs, given their nutritional benefits.
First of all, it offers a sweet flavor that dogs love. They also offer lots of dietary fiber and vitamins, including vitamin B2. Since they are rich in complex carbohydrates, they provide an excellent source of energy.
They are also a substitute for grains; many dogs cannot tolerate grains in their diet, so sweet potatoes come to the rescue to give them the carbohydrates they need to stay healthy. It should also be stated that sweet potatoes may cause yeast infections in your dog, so always ask a veterinarian when in doubt about their sensitivities.
Chickpeas
Chickpeas are among the safe beans for dogs and have become increasingly popular in dog food formulas. They are a rich source of protein, as well as potassium and magnesium.
They also aid in digestion with a heaping dose of fiber. Chickpeas are also filled with polyunsaturated and monounsaturated fats, which are good fats essential for good nutrition.
Product Lines
Nutro has a large variety of products available in their lineup. While we cannot list them all here, for the purpose of this general review, we look at their most popular products.
Nutro produces various products for different life stages and breed sizes in three lines:
You'll find that the formulas within these lines have different flavors for better freedom of choice, plus grain-free recipes for dogs who may have grain sensitivities. Having so much to choose from may be confusing to their new consumers, so we help clarify.
NATURAL CHOICE™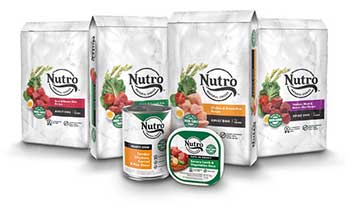 NUTRO™ NATURAL CHOICE™ line is a weight-management line of dry and wet food. The healthy weight recipe is carefully formulated to include healthy nutrients, including antioxidants and omega fatty acids. This particular formula includes non-GMO corn, wheat, or soy. It also includes no artificial flavors or colors. Options include:
Toy Breed (Adult Only)
Small Breed (Adult & Senior)
Large Breed (Puppy, Adult & Senior)
Healthy Weight (Large Breed & Regular)
Wet Dog Food (Puppy & Adult)
NUTRO ULTRA™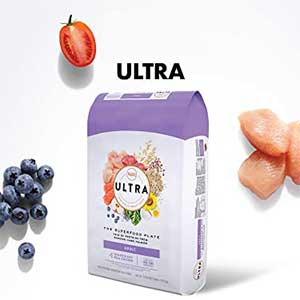 NUTRO ULTRA™ line is very similar to the NATURAL CHOICE™ line, with a few ingredients changed. Each recipe is crafted with a signature blend of three high-quality proteins from chicken, lamb, and salmon. They have 15 superfoods like brown rice, flaxseed, sunflower oil, vine-grown tomatoes, sun-ripened blueberries, and more. All ingredients are non-GMO.
NUTRO ULTRA™ formulas come in both wet and dry, widening the options available for dogs to consume. Options include:
Toy Breed (Adult Only)
Small Breed (Adult Only)
Large Breed (Puppy & Adult)
Healthy Weight (Small Breed & Regular)
Wet Dog Food (12 Flavors and Multipack)
Senior
Limited Ingredient Diet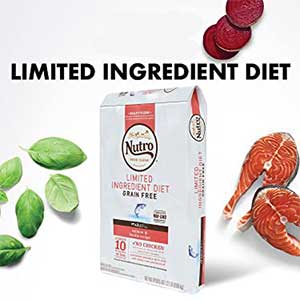 The Limited Ingredient Diet line, as its name suggests, aims to keep its main ingredients to a minimum. There are only 10 key ingredients in this formula, making it a great choice for a simple diet. True to its name, the Limited Ingredient line also does away with the added blueberries, carrots, and spinach. Your dog may need a limited ingredient diet if they're older and cannot process food, as well as they used to, or if they're prone to allergies from the food they normally eat.
It comes in both wet and dry forms but is more limited than the other two lines. All the dry kibble products are grain-free.
Types
Nutro has various dry kibble formulas in multiple flavors that your pet is sure to love. We've compiled our thoughts on what they have to offer for each life stage, as well as how effective their weight management formula is.
Puppy Formulas
Puppyhood is the most important developmental stage of your dog's life. It's only right that puppies eat high-quality food, and Nutro has options for every pet parent who wants to give their dog the best they can get.
Nutro's puppy kibbles all feature Omega fatty acids. These are great for coat and skin health and provide your pup with compounds like DHA, ARA, and EPA. These compounds are found in mother's milk and contribute to your puppy's retinal and cognitive development. Appropriate amounts of calcium also help your pup build strong bones and teeth.
Nutro's puppy formulas aren't as extensive as their adult ones. The puppy formulas also only feature the NATURAL CHOICE™ and NUTRO ULTRA™. They also have products specifically made for large breed puppies, though there isn't a similar option for smaller breeds. While there isn't a lot as variety goes, Nutro's offerings for the puppy life stage are enough for most little dogs to grow and thrive.
Adult Formulas
Nutro has around 30 different formulas for their adult range. These formulas include recipes from the NATURAL CHOICE™, NUTRO ULTRA™, and Limited Ingredient Diet lines. The Nutro adult also features a good variety of flavors, which is great for dogs who may be picky about their dinner. Having this amount of choice in the product allows consumers to tailor their dog's diet to their needs, which is indispensable in providing complete nutrition.
It's good to know that Nutro includes options for large breeds, just like in their puppy range. However, they've also included some products that cater to smaller breeds, as well as one meant for toy breeds. This gives pet parents the option of trying out their products when they need something specifically made for their dog's breed size.
Certain special formulations of adult dog foods may have lamb as the main ingredient, which may change the product's overall flavor and protein profile. However, almost all their formulations still heavily feature deboned chicken and chicken meals. Overall, Nutro's adult formulas are delicious and provide your dog with wholesome nutrition that keeps them well from the inside out.
Senior Formulas
Since older dogs can run low on some nutrients and lose the ability to process certain foods, Nutro has created a recipe specifically for them. Fortunately, Nutro does its best to formulate nutritious, easily digestible foods for senior dogs without sacrificing taste.
There are only a few products within their senior range, and the recipes featured are only from the NUTRO ULTRA™ and NATURAL CHOICE™ lines. We certainly would have liked to see a Limited Ingredient product for senior dogs, as many of them have difficulties digesting a complex diet.
Still, the senior formulas retain a high level of Omega fatty acids and vitamins. The vitamins, minerals, and antioxidants in these recipes are essential to your older dog's overall health. This is especially true for the boost they provide to the immune system.
The delicious taste of the kibble ensures even the pickiest of senior dogs find Nutro senior dog food enjoyable. Furthermore, the senior formulas also include glucosamine and chondroitin, compounds that keep aging joints healthy.
Weight Management Formulas
For dogs who have gotten a bit too chunky, weight management formulas are essential. Obesity can lead to a host of diseases that can seriously harm your dog and reduce its quality of life.
Obese dogs require formulas with fewer fats and sugars to minimize the creation of visceral fat. However, reducting fats and oils means that most weight management formulas lack the flavor that entices pets to eat. Nutro's Healthy Weight formulas do not share this problem, as pet parents report their dogs enjoy the taste of the weight management formulas.
Nutro offers five Healthy Weight products. These are all dry food, with three products in the NATURAL CHOICE™ line and two in the NUTRO ULTRA™ line. They all feature lower amounts of calories, with the protein and fiber your dog needs to stay satisfied throughout the day.
Fiber also helps your dog's digestion, which makes nutrient absorption more efficient. Nutro's Healthy Weight products help your dog lose weight while still supplying them with complete nutrition.
Wet Formulas
Sometimes your dog just wants something to make their food more palatable. Wet food is the perfect solution to this. Nutro has a few different recipes of wet food that are sure to delight your dog's taste buds. These are best mixed in with your dog's regular dry kibble. Wet food also ups the nutritional content of your dog's dinner.
They offer fillets in various flavors like gravy, pate with toppers, hearty stews, premium loaves, and cuts in gravy. Their wet food comes in all life stages, including puppy, adult, and senior.
You can find these products offered through their NUTRO ULTRA™ and NATURAL CHOICE™ lines only. They come in both grain-free and grain options. These are sure to make any dog's dinner much yummier, as well as provide your pet with more nutrients than they would have gotten with dry food alone.
Frequently Asked Questions
Here are some of the most common questions we get from our readers about Nutro.
How Much Does Nutro Cost?
Nutro's products are affordable despite their premium ingredients. Their dry kibble bags come in several sizes, and rough prices are listed too:
The price gets cheaper with the larger sizes, so if you're looking for more savings, it's best to buy in bulk. Considering that many pet owners are used to paying $30 for 12 pounds of similar-quality dog food, Nutro certainly offers far more bang for your buck. Bear in mind that the prices may vary depending on the source you buy from.
Has There Been Any Nutro Food Recall?
There have been some instances of recalled Nutro products. There were also some market withdrawals, which are technically not recalled, but still, merit a mention.
While there are a few instances of recalls in Nutro's history, their haste in rectifying the situation has kept them in the good graces of many of their customers. Having a brand be accountable for mistakes made during production is a great indicator of integrity — which is important to all consumers.
Where Can I Buy Nutro Pet Food?
Nutro products are found in most major pet product retailers and pet specialty stores. They are available worldwide, though shipping costs and taxes may inflate the price in other countries.
Nutro is also open to distributors who wish to sell Nutro products in other countries and have a list of contact information for several countries available on their website. If not in the US, your country may already have Nutro distributors, so be sure to check before opting for more costly international orders.
Who Owns Nutro Dog Food?
John Saleem first started the Nutro Natural Choice Company in 1926 as Nutro Products, a dog food company purchased from a British businessman. They continued as a family-owned business in California and expanded beyond the state in 1976. Their ownership changed in the 70s and changed again when they were bought in 2017.
At present, the Nutro brand is owned by Mars Incorporated, an American multinational manufacturer of candy and pet food. They are headquartered in Virginia and are also the home of Whiskas, Pedigree, and other pet food brands.
Does Nutro Have Any Controversial Ingredients?
While Nutro's products are full of great ingredients, they also have their fair share of ingredients that aren't so great. Pet parents should equip themselves with this knowledge to better assess if Nutro is right for their dog.
Nutro dog foods include ingredients not present in other formulations, such as dried beet pulp, dried blueberries, and dried spinach. Dogs with sensitive stomachs may not find high levels of fiber acceptable. Dogs who are allergic to chicken may also have to stick with another brand since Nutro highly features chicken in their products.
What's Our Final Verdict?
Nutro produces nutrient-rich products for dogs from every walk of life. They choose to create healthy dog food without any GMOs, artificial colors, or artificial flavors. Their main protein source is chicken, followed by lamb and beef.
They also use chickpeas, chicken fat, and canola oil to infuse their dog food with flavor. They also have some odd food choices within their ingredient list, which may merit investigation, especially for dogs with sensitive stomachs.
Overall, Nutro is a great brand for most dogs who need complete, natural, wholesome nutrition. Dogs that require large amounts of protein and calories, such as work dogs, may need to choose another brand. Dogs that cannot process chicken also need to look elsewhere. Overall, Nutro is a wonderful brand for those who want a GMO-free alternative to other dog food brands.
Tagged With: