Dogs love playing fetch, but sometimes, it can get a bit boring to throw a ball over and over again. The good news is that a dog ball launcher can help you enhance the game of fetch for your pup and save your arm. Whether you're looking for something to help you throw farther or a device that can automatically throw for you, there's something for everyone.
Why Should I Get A Dog Ball Launcher?
There are a lot of benefits to getting a dog ball launcher. These launchers, whether manual or automatic, can help you step up your fetch game. They can also boost your dog's mental and physical stimulation, promote an active lifestyle, aid in training, and help you and your dog have tons of fun.
What Should I Consider To Find The Best Dog Ball Thrower?
Here are some things to think about when looking for a ball thrower that will meet your needs.
Dog size – The size of your dog determines what size ball you need and how far the device will need to launch the ball.
Indoor or outdoor use – Indoor use will require a shorter throwing distance, and for some outdoor spaces, you may need battery power versus plug-in.
Throwing distance – Do you want the ball to go far or just a few feet?
Automatic or manual – You may want help throwing the ball farther or a machine that will do all the work for you.
Ball size – Some ball launchers use a standard tennis ball size, while others use a smaller size.
Price – Prices vary; you'll need to consider what you're willing to spend.
Best Dog Ball Launcher
We've picked the best dog ball launchers in several categories based on factors like price, throwing distance, customer reviews, durability, and more to help you decide what would work best for you.
Best Overall Dog Ball Launcher: iFetch Interactive Ball Launcher Review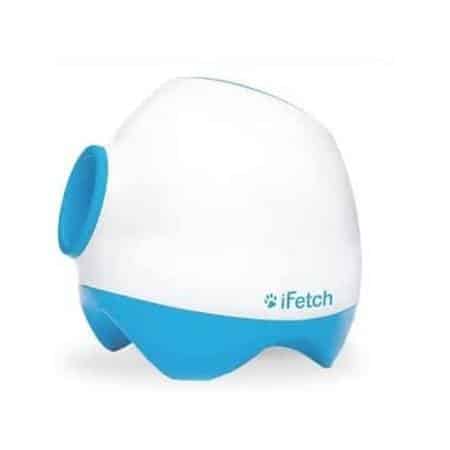 The iFetch Interactive Ball Launcher gets our vote for the best overall dog ball launcher. This automatic dog ball thrower comes in two sizes for small and large dogs and is excellent for indoor and outdoor use. With a built-in rechargeable battery, you won't have to worry about battery replacement, and with three throwing distances, this auto ball thrower for dogs will keep your pup from getting bored.
There isn't a sensor to protect pets that are too close, so you'll need to keep an eye on your pup. Also, some customers said that wet balls could get stuck. While you can use tennis balls with the larger model, the smaller automatic ball launcher for dogs requires the iFetch balls.
| Pros | Cons |
| --- | --- |
| Indoor and outdoor use | Small size requires special balls (but it comes with 3 mini-sized balls) |
| 2 sizes for large and small dogs | Some users said that wet balls get stuck |
| 3 throwing distances | No motion sensor to protect pets when they're too close |
| Built-in rechargeable battery | |
| 6-month manufacturer's warranty | |
Price
Best Automatic Dog Tennis Ball Launcher: PetSafe Automatic Tennis Ball Launcher Review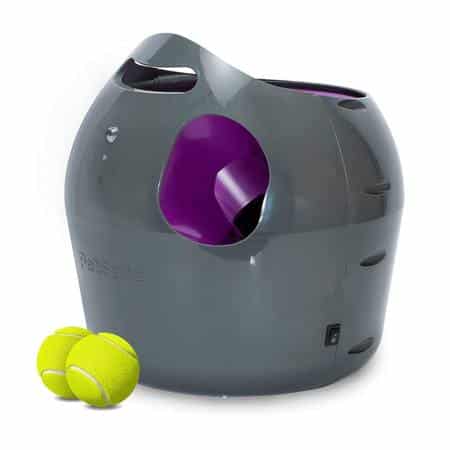 Want to be able to launch tennis balls for your pup? We chose the PetSafe Automatic Tennis Ball Launcher as the best automatic tennis ball launcher for dogs. You can use this launcher inside and out. Power comes from a power cord or with six D batteries. Any tennis ball will do, and you can adjust the distance settings between eight and 30 feet and at six different angles.
Some customers complain that this product is very loud and the throwing distance is never more than 15 feet.
| Pros | Cons |
| --- | --- |
| Indoor and outdoor use | Needs a power cord or 6 D batteries |
| Motion sensor to protect pets within 7 feet | Some users report that the device is very loud |
| Can use any tennis ball; nothing special required | Some customers complain that the throwing distance is 15 feet or less |
| 9 distance settings and 6 angle settings | |
| 1-year manufacturer's warranty | |
Price
Best Dog Ball Thrower: Chuckit! Sport Ball Launcher Review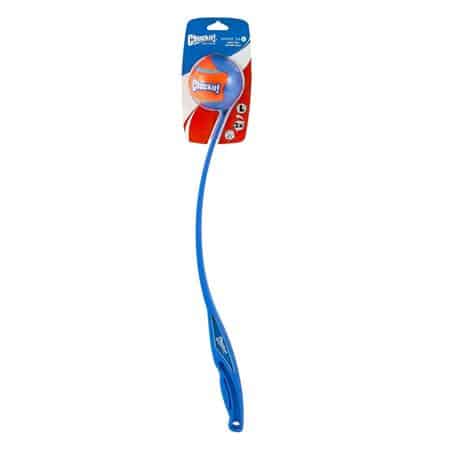 We've chosen the best dog ball thrower: the Chuckit! Sport Ball Launcher. This dog toy ball thrower helps you increase your throwing distance to over 100 feet. You need lots of space for this thrower, so outdoors might be best. While tennis balls can work, they do recommend the Chuckit! balls for the best results. This durable plastic product is not automatic, and there isn't a warranty.
| Pros | Cons |
| --- | --- |
| For outdoor use | Special balls recommended |
| Increases throwing distance to over 100 feet | Not automatic |
| Designed for hands-free ball pick up | No warranty |
Price
Best Ball Shooter For Dogs: Nerf Dog Tennis Ball Blaster Review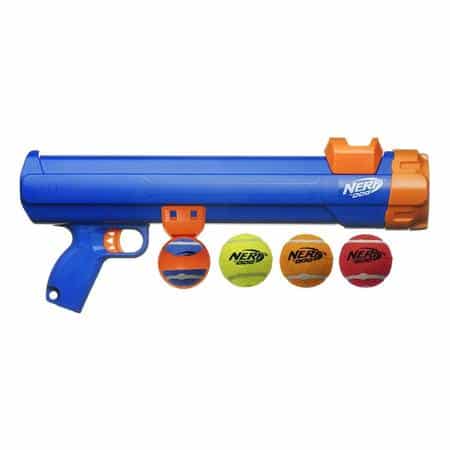 Our pick for the best ball shooter for dogs is the Nerf dog tennis ball blaster. This simple, durable Nerf gun is from the Nerf line made for dogs and can launch tennis balls over 50 feet. You can use standard tennis balls, so you won't need to buy expensive replacement balls. It's easy to use and offers hands-free ball pickup.
This nerf gun ball launcher for dogs is not automatic, so you have to be a part of the game, and there is no warranty.
| Pros | Cons |
| --- | --- |
| For outdoor use | Not automatic |
| Can use any tennis ball, nothing special required | No warranty |
| Shoots balls up to 50 feet | |
| Designed for hands-free ball pick up | |
Price
Frequently Asked Questions
Here's a list of some frequently asked questions we think our readers might ask when it comes to dog ball launchers.
Is There An Automatic Fetch Machine?
Yes, automatic fetch machines just need to have the ball placed back into the machine, and lots of dogs can figure out how to drop them back in once they fetch it.
Is There A Self-Throwing Ball For Dogs?
The Cheerble Wicked Ball is the closest thing to a self-throwing ball we can find. This interactive ball helps entertain your pup by rolling itself around in 3 different modes: gentle, normal, and active.
What's The Best Automatic Ball Thrower For Large Dogs?
We recommend the large version of our overall pick, the iFetch. This auto ball launcher for large dogs uses standard-size tennis balls to meet the needs of larger dogs.
What's The Best Small Dog Ball Launcher?
We think the best small dog ball launcher is the small version of our overall pick, the iFetch.
Dogs React To Dog Ball Throwing Machine
In this three-minute video from Dogs React, you can watch these pups' reactions to seeing a ball launcher for the first time.
Many More Ways To Play With Your Pup
Having a ball launcher is an excellent way for you to play with your pup and increase his activity. If you're looking for additional ways to entertain your furry friend, check out our picks for the best dogs toys. If your dog needs some mental stimulation, we have ideas for brain games to help give your dog some mental exercise.
Tagged With: Comparison, Outdoors