To sustain this free service, we receive affiliate commissions via some of our links. This doesn't affect rankings. Our review process.
The holidays are the best time to spoil your pooch with presents. We've rounded up and reviewed the best new pet products for all the special dogs in your life.
Canine Journal's Guide To The Best Dog Gifts
These gifts are new, hand-picked and tested by our team. We feel tail-waggingly confident that they'll bring holiday joy to homes (and dog houses) across the country. Ready for some drool-worthy holiday gift ideas? We've broken them out into categories to make it easy to shop for every pup on your list.
Note: Several of these companies provided free samples for our team in exchange for an unbiased review.
Tech Gifts | Gift Boxes | Food Gifts | Clothing Gifts | Stocking Stuffers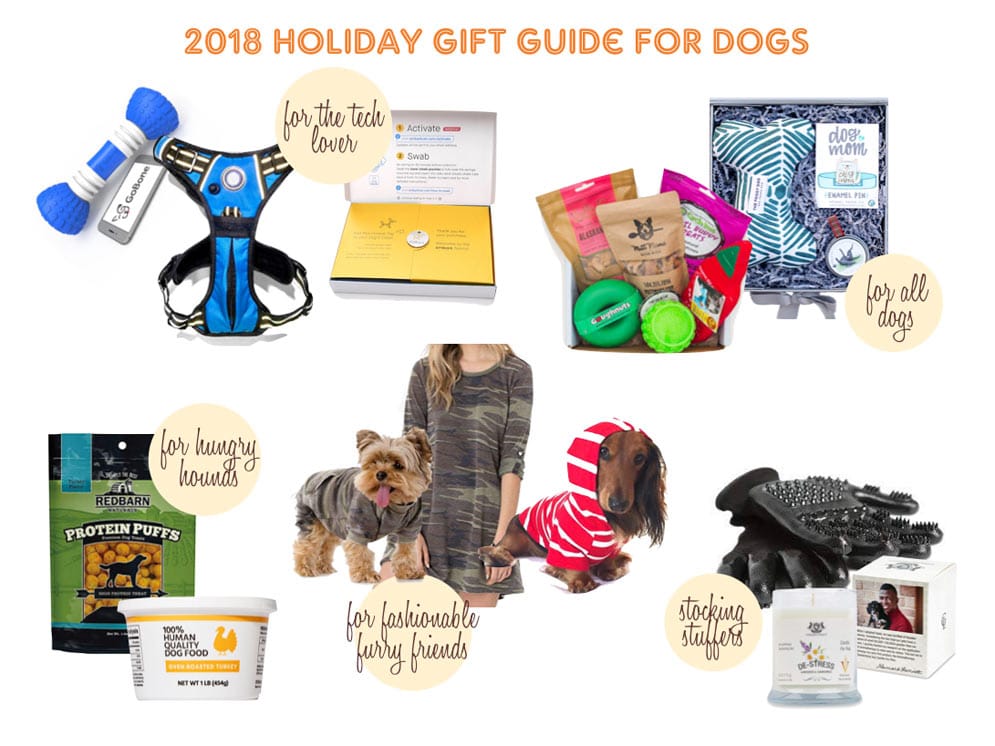 For The Tech Loving Dog
These gadgets are unique and perfect for those who appreciate technology.
Embark Dog DNA Kit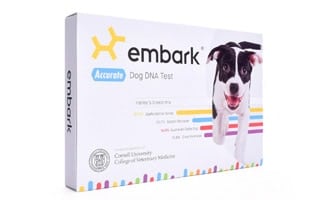 Wondering what breed (or breeds) make up your pup? Or perhaps you're concerned about certain hereditary diseases your dog might develop? Dog DNA tests are a fun and informative way to get to know your dog on a whole new level.
Although not a new product, Canine Journal team members have used Embark and other dog DNA tests to better understand their rescue pups and are big fans. We think it's the wave of the future and encourage you to give the gift of knowledge and health to your favorite furry friend this season. Embark is our #1 pick for best dog DNA kit (and they are having a big holiday sale through the end of the year!).
Pricing:
$159.00
Where to Buy: Amazon or Embark's Website
Coupon
Embark is celebrating Memorial Day and offering Canine Journal readers $30 off Embark DNA Kit with Code: MEMORIAL30 through 5/27/2019 when purchased directly from Embark's website. Just use this link to get started.
GoBone Interactive Smart Toy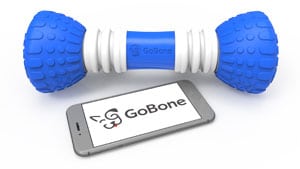 GoBone is the world's first "Smart Bone." It keeps your dog active for up to eight hours. Santiago Gutierrez created the GoBone to keep his pup Rufus playing while he was busy at work. Using your smartphone you can control and record video of your dog playing with the GoBone.
We love that it's made in the U.S. (in Santiago's home state of Texas), using FDA food-grade and eco-friendly materials. While it comes with a hefty price tag, it pays for itself in no time in the cost a pup parent pays for daycare or replacing destroyed items in the home from a bored dog. Best of all, you don't have to worry about them breaking the outside because it's completely replaceable.
Pricing: 
$199.00
Where to Buy: Amazon
This is definitely one of those toys you should see in action. Check out this video from Fox 4 News in Dallas where the founder demonstrates the GoBone with his dog on live TV.
Headlight Harness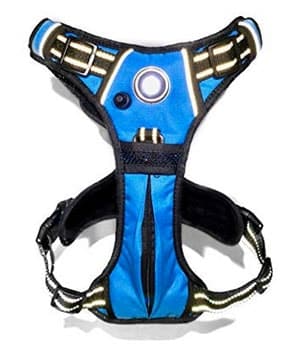 As the winter months approach and the days grow shorter, more pet parents will take their dogs on a dark evening stroll. Walking at night can be peaceful, but there are many dangers, as well. It's hard for drivers, cyclists, joggers, and other pedestrians to see dogs at night. A body light is crucial to ensure your pet is visible.
The headlight harness is a patent-pending dog harness that has an integrated, focused LED light built into the chest. It shines up to 100 feet (providing lighting both for the user and those in their immediate surroundings). The harness is also highly reflective, water resistant, lightweight and comes in sizes XS to XL.
Pricing: 
Out of stock
Where to Buy: Amazon
For Dogs Of All Shapes, Sizes And Breeds
These are great all-around gifts that are already pre-packaged (no wrapping required).
Dog Subscription Box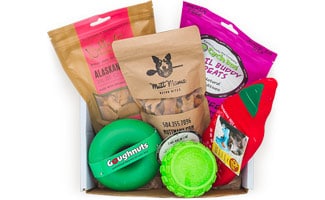 Get a box full of goodies sent to your favorite dog's door each month. Monthly subscription boxes include toys, treats and other dog related products (usually a seasonal theme).
Learn more about your options in our Dog Subscription Box review.
Pumeli Dog Gift Box
Pumeli, a build your own gift basket service, just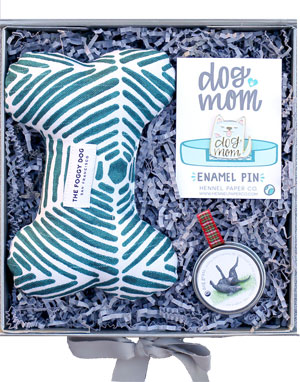 launched a curated collection of pet products. Their online gift box builder lets you mix and match one-of-a-kind products so that each gift is tailored to both pet and pet parent.  From candles and toys to apparel and more, each box is unique and packaged gift-ready (no wrapping needed)!

Pricing: Starts at $10
Where to Buy: Pumeli's Website
For Hungry Hounds
Have a pup that gobbles up everything in sight? These items make mouthwatering gifts.
Pet Plate Human Quality Dog Food Delivery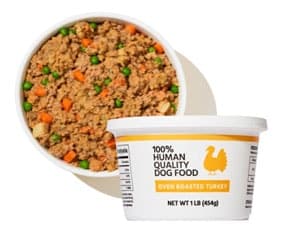 Have your pet's favorite meal delivered right to your doorstep and never worry about running out of dog food again.
There are a number of products on the market that prepare and ship high-quality food on a regular basis. Our favorite subscription is Pet Plate. Its fresh meals are made from natural ingredients including meat (turkey, chicken, lamb or beef) cooked with loads of fresh veggies (e.g. carrots, peas, potatoes, sweet potatoes, cauliflower).
Our very own Chief Dog Officer Lily is a Pet Plate regular and she whole-heartedly approves! Learn more about Pet Plate and get to know its founder. 
Pricing: Starts at $21.48/week ($85.90 total) for 28 meals shipped every 4 weeks (based on portion for an adult dog weighing 21-30 pounds).
Where to Buy: Pet Plate's Website
Redbarn Protein Puffs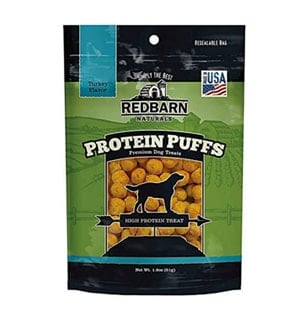 Redbarn Pet Product's Puffs are an innovative treat released in 2018. Each Puff is packed with protein and fuels your pet with essential amino acids. These light and crispy treats have no artificial preservatives, flavors or colors. Dogs love it because it's the perfect treat, training aid or food topper.
Puffs are available in a variety of flavors, including Turkey (which is especially appropriate for the holiday season).
Redbarn sent us a couple flavors to try (cheese and peanut butter) and our test pup Lexie gobbled them both up! They're so tiny, you can hardly confirm the dog is eating until you hear the crunch. You could give more than one Puff at a time and not feel guilty (and surely your pup wouldn't mind either).
Pricing: 
$9.98
Where to Buy: Amazon
For Fashionable Furry Friends
Get ready to cozy up with your pup in these fashionable finds for Christmas time.
ZOO Supply Designer Dog Clothes (From Z Supply)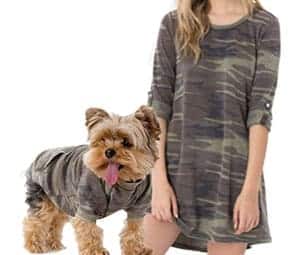 ZOO Supply, created by the designers of the celebrity-loved Z SUPPLY, recently launched matching fashion apparel for dogs. Their pet sweatshirts and jerseys are made from the same plush fabrics and prints as the Z SUPPLY collection for humans. Dogs living in colder climates will especially love the cozy breathable layers and owners will love that its machine washable.
Zoo Supply sent us a couple samples for our pup to try out. They're both super cute and comfortable. The high-quality cotton is extremely soft. Unlike other sweaters we've tried, these are loose fitting, allowing our dog to not feel too constricted. The only improvement we'd make is a slot for the harness in the back.
Pricing: 
$15.00
Where to Buy: Amazon
Django Brand Red & White Stripe Hoodie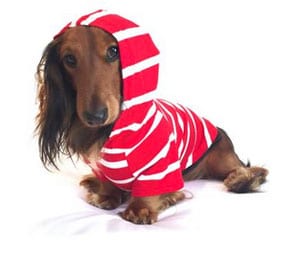 Top Dog Django, an avid traveler and adventure seeker (pictured), has his own line of fashion products. The handcrafted puffer jackets come in handy for cooler winter weather and DJANGO's Classic Dog Hoodie is something to bark about (not to mention very festive for the holidays).
These adorable pullover shirts are a blend of high quality fabrics that are soft, stretchy, modern and lightweight. Each stylish item is easy to clean and has an opening for your dog's harness and leash.
DJANGO brand also sells rain jackets, carriers and more. All items are made from high quality, functional, and weather-resistant materials and are fully guaranteed up to 30 days.
Pricing: $29 for a Hoodie (available in XS, S, M, L)
Where to Buy: DJANGO website
Best Stocking Stuffers
Looking for something inexpensive that's good for humans and dogs alike? These gifts are small enough to stuff in Fido's stocking.
HandsOn All-in-One Grooming & Bathing Gloves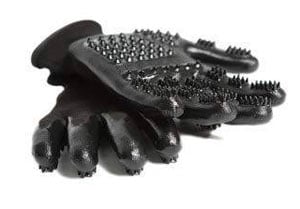 HandsOn Gloves allow pet owners and their animals to bond during bathing and grooming with a more gentle massage. The scrubbing nodules on the fingers and palms give a deep clean and dog hair does not stick to them (unlike traditional grooming brushes). HandsOn Gloves' patented and trademarked design work while wet or dry, keeping your pup happy.
HandsOn sent us some gloves to try and, we must say, they are life changing! We love how the gentle rubber bumps relaxed our pup while scrubbing her during a normally stressful bath time. It also got off tons of hair, reducing shedding (during bathing but also on dry fur too). We've tried several other brushes (including rubber ones that conform to their coat) but none come close to HandsOn Gloves and their triple action (cleaning, massaging and hair removal) magic.
They're available in Black and Green and come in hand sizes S-XL. They even comes in kid sizes so they can lend a helping hand with pets. I tried the medium and they were true to size, fitting like a glove, thanks to the adjustable Velcro around the wrists.
Pricing: 
$24.99
Where to Buy: Amazon
Aromatherapy Deodorizing Soy Candles By Gerrard Larriett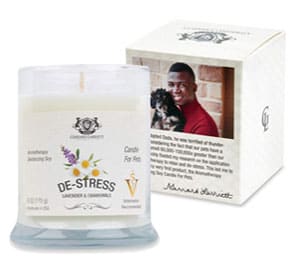 Gerrard Larriett's collection of aromatherapy candles are the perfect gift to freshen up the home for the holidays and help your pup's anxiety (especially when traveling or having guests over).
Thunderstorms frighten Gerrard's dog, Dada. After months of research, Gerard discovered that aromatherapy is an effective and natural way to help pets de-stress due to their acute sense of smell and herbs' healing properties. In addition to stress reduction, the candles also combat unpleasant odors.
There are more than a dozen candles scents available. Every one burns up to 40 hours and is handmade in the U.S. with all-natural, soy wax.
Pricing: 
$18.99
Where to Buy: Amazon
More Woof-tastic Gifts (For Pet Parents)
We hope you enjoyed these gift ideas and that your furry friends will get everything they they deserve this holiday season. Be sure to check out our guide for the humans on your list who are dog obsessed too.
What was your dog's favorite gift this year?
We are a participant in the Amazon Services LLC Associates Program, an affiliate advertising program designed to provide a means for us to earn fees by linking to Amazon.com and affiliated sites.
Disclaimer: This website contains reviews, opinions and information regarding products and services manufactured or provided by third parties. We are not responsible in any way for such products and services, and nothing contained here should be construed as a guarantee of the functionality, utility, safety or reliability of any product or services reviewed or discussed. Please follow the directions provided by the manufacturer or service provider when using any product or service reviewed or discussed on this website.