To sustain this free service, we receive affiliate commissions via some of our links. This doesn't affect rankings. Our review process.
Whether you are looking for a holiday gift for your pooch or just want to treat your dog because you love them so much, we have some ideas for you! We've researched and found twelve of the best dog gifts for our gift guide. Who needs an excuse to go shopping for man's (and woman's) best friend? And, what better way to show your dog how much you care for them year-round than with one of these woof-tastic gifts.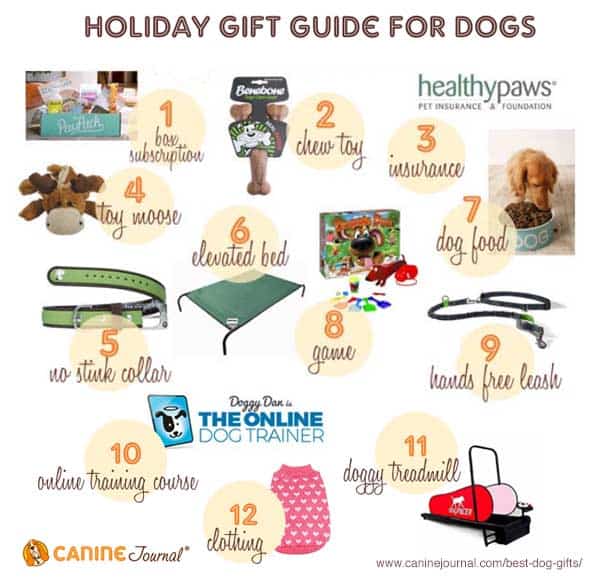 Canine Journal's Guide to the Best Dog Gifts
1. Dog Subscription Box – Have a box full of goodies sent to your door each month. Your dog will have a blast tearing into this gift. Included in the boxes are items like toys, treats and other dog related items. These boxes are great for keeping your dog happy, and new items are sent each month!
2. Benebone Bacon Flavored Chew Toy
 – This bacon-flavored wishbone chew toy is loved by our four-legged friends. It's a long-lasting treat and will provide hours of delicious chewing for your dog. If the toy begins to wear out (deep teeth marks, cracks, breaking apart, etc.), then be sure to replace it immediately!
3. Healthy Paws Pet Insurance –  You love your pet more than life itself, right? And you like to have some financial security that your hard earned cash will not be at risk should your pet get hurt or fall ill? Well, we've dealt with this first hand when our pup Lily got bit by a Copperhead snake! Her life was literally saved, and our bank account too because she had a health insurance plan. Pet insurance gives you peace of mind and is there for you when you least expect it but need it most. We recommend Healthy Paws as not only the best option but an affordable way for pet owners to rest assured they're in good hands. Use this Healthy Paws link to get a 10% discount or enter the Coupon Code SAVE10 to save on your policy! Learn more by reading our Healthy Paws Review.
4. KONG Cozie Dog Squeaky Toy
– This is available in more than ten different stuffed animals. This plush squeaky toy provides hours of fun without making a mess. Your dog can go to town chewing on their new furry friend and know its durability means long-lasting fun for years to come! All for less than $10! Now that's something to bark about.
5.
No Stink Dog Collar
– Whoever heard of a no stink collar? Not us – until now! And if your dog has ever rolled around in anything, well stinky, then you know what a genius idea this is! For the third year in a row, this collar has made our list of best dog gifts! The collar is made to provide comfort for your pup without trapping bacteria which can lead to itchiness and bad odors. Made from a 100% waterproof material so your dog can play and get wet without you worrying about him being dirty or smelling terrible as a result. Choose from over a dozen colors. You will love this, and your dog will look fashionable too! Bonus!
6. Coolaroo Elevated Pet Bed
 – This bed is lifted off the ground to give your dog a comfy place to lie down. It's available in three sizes and easy to move. The canvas is breathable and allows breezes to flow through, so your dog is kept cool.
7. Auto Ship Dog Food – Humans can get food delivered. So why can't pups too?!? Have your pet's favorite meal delivered right to your doorstep and never worry about running out of dog food again! Read our full review of auto ship dog food options where we take a look at some of the pros of setting yourself up for auto-ship. We also explore various types of auto-shipping programs so you can find the right one for you. And when you commit to a long-term buying relationship, there are often great savings to accompany your purchase. Did we mention that you won't have to lug that heavy bag of food to the checkout counter ever again? Now, this is a gift that truly keeps on giving.
8. Doggie Doo Game
– This game is more for you than your dog, but it's still a fun idea, and your dog will have fun watching you play we're sure! This hilarious game is great for kids and families and may convince someone else in your family to clean up your dog's actual "doo" when you're on walks!
9. Mighty Paw Hands-Free Leash
– Enjoy your favorite physical activity with this hands-free leash system. It's perfect for running, walking or hiking with your buddy without the tangled mess. The adjustable belt goes around your waist, and the collar has a quick-release feature that provides both convenience and comfort. And, it comes in a variety of sizes so you can exercise without worrying too much about the tangle.
10. Online Training Course – Spend more time with your dog by training him to do different things—whether it's a new trick, how to stop pulling on the leash or when to speak. Your dog loves nothing more than to have your attention and spend time with you. Being his trainer gives you and your dog the best of both worlds. He will learn new things, and you get to spend time with one another.
11. Doggy Treadmill – We know you and your dog may want to avoid the outdoors during the winter months, but it's still important for your dog to get the exercise he needs. Dog treadmills can help your dog exercise without the two of you freezing your paws (and feet) off. See how a dog treadmill works by watching the video below.
12. Clothes and Shoes – Can you handle the cold but your dog gets a bit chilly? Getting him a coat and boots is one of the best gifts you can give him for the winter. He wants to play fetch with you, but the bitter cold makes it miserable to be outside. Help him stay warm by clothing him head to paw.
What is your pet's favorite toy or what is the best dog gift you've ever received?
We are a participant in the Amazon Services LLC Associates Program, an affiliate advertising program designed to provide a means for us to earn fees by linking to Amazon.com and affiliated sites.