Have you been pondering giving your dog a DNA test but heard that they're unreliable? You'll be happy to know; that's not the case with Embark's newest at-home dog genetic testing kit.
Thanks to recent scientific advances, Embark now offers the most accurate at-home dog DNA test available on the market — for breed identification AND genetic health risks.
Embark Dog DNA Test Overall Rating
4.75/5.0
Our team determines the overall rating based on several factors, including ease of testing, health screening options, breed identification accuracy and detail, pricing, customer support, and more.
Pros & Cons Comparison Table
| Pros | Cons |
| --- | --- |
| Tests for 350 breeds, types, and varieties | Breed + Health test is relatively expensive |
| Identifies 200,000 genetic markers, twice as much genetic information as most other companies | |
| Genetic mutation testing for 215 canine health conditions | |
| Results back in 2-4 weeks | |
| Free replacement swab if yours gets damaged | |
| Includes a relative finder, matching your dog's DNA to possible family members | |
| Charitable work with animal shelters | |
| Live chat or email available if you need help interpreting test results | |
| Positive customer feedback that Embark is the most accurate dog DNA test | |
| Ability to get raw DNA data | |
Key Features
Most scientifically advanced at-home dog DNA test available, testing for 350+ breeds, types, and varieties
Simple cheek-swab test
Results in 2-4 weeks in most cases
Tests for 215 known canine genetic health problems
Screens for 35+ physical traits
Looks at 200,000 genetic markers — twice as many as most competitors
Developed by veterinarians and partners with Cornell University's College of Veterinary Medicine in ongoing research into genetic testing for dogs (you have the option to include your dog's DNA data in their bioinformatics research).
Contributes funding and genetic testing kits to animal shelters in the U.S. and Nepal
Official dog DNA test of the Westminster Kennel Club
Embark has published the first novel discovery made from non-human direct-to-consumer genomics data, the genetic basis of blue eyes in Siberian Huskies
With Embark's Dog DNA Breed Identification Kit, you get:

Breed Identification: a breakdown of your dog's breed mix
Family Tree: a family tree that goes back to great-grandparents
Relative Finder: a list of pups in the database that are related to yours
Breed Mix Match Buddies: Find and view other dogs with similar breed mixes

Embark eGift cards are available in $50, $75, $100, $125, $150, $200 increments. Give one to a friend or family member so they can pick out their own DNA test kit.
Price
Coupon
Looking for the latest Embark promo code? Visit or dedicated Embark coupon article with the most up-to-date seasonal offers and discounts.
What Did We Discover With Our Dog's Embark DNA Tests?
Breed + Health Mixed Breed Dog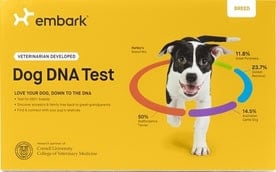 Michelle, the co-founder of Canine Journal, had the opportunity to try this test out on her rescue dog, Bella, thanks to a free sample from Embark (this did not bias our review). Previously, she had tried another DNA test on Bella using Wisdom Panel but was very disappointed in the results. Below is her testimonial.
Wisdom Panel said she was a mixed breed Pit Bull/Bulldog, with no signs of Labrador Retriever. However, for anyone that has ever met this dog, she is a lab through and through. Mixed breed? Yes. But no Lab at all? No way! We were very surprised and felt a little like we had wasted our money on the Wisdom Panel test.
Embark, on the other hand, gave more accurate results with the majority being Pit Bull and Labrador Retriever and some minor genes for Chow, Husky, Golden Retriever, and "Supermutt." In other words, I would've paid for this test to know her true genetic makeup the first time around had I known (and had it been available when I did the first test). Sure, it's more expensive but better than throwing away money on a test that was only partially accurate.
Embark also surprised me by sending health-related genetic markers for Bella. Per her DNA reading, Bella is not at risk for any genetic concerns, but she is a carrier for Progressive Retinal Atrophy (PRA) and Progressive rod-cone degeneration (PRCD Exon 1) which are both eye conditions. She is spayed so this will not be passed along to future generations, and we can rest assured that she should continue to be healthy – hooray!
An Overview Of My Experience With Both Wisdom Panel And Embark: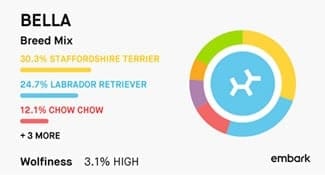 The test process is the same for both companies (cheek swab and mail in the sample).
The waiting period for results were fairly comparable (1-3 weeks with Embark vs. 2-3 week with Wisdom Panel).
The price is higher for Embark ($150 for Wisdom Panel ($80 if breed only) vs. $199 for Embark ($129 if breed only)). Be sure to check above for promotions to get a lower price on Embark.
However, if I am spending the time and money to get a DNA test for my dog, I would rather have a more accurate result. So, if I had to do it again, I would pay the extra cash for Embark, especially since it also provides health concern information, too.
What Does Embark's "Wolfiness" Score Mean?
Bella got a high wolfiness score of 3.1% (most dogs score 1% or less). Does that mean she's part wolf? No, but she has inherited more wolf genes than many other dogs. A wolfiness score below 10 doesn't mean your dog is a product of a recent dog-wolf mating.
Almost all wolfiness scores below 10 are from ancient wolf genes that have been passed down multiple generations — possibly even dating back to 15,000 years ago when people began domesticating wolves.
Purebred Dog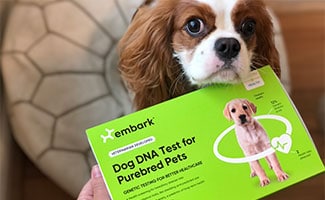 Sadie tested the purebred kit on Georgie, her Cavalier, King Charles Spaniel. It was easy to activate the kit, swab Georgie's cheek, and send in the results. They ask a series of questions about the dog's personality and behaviors during the setup, collecting data for ongoing research efforts. Embark sends email updates throughout the testing process, letting you know when the kit is received, sent to the lab, and when the results are ready. From mail-in to results, it takes about two weeks.
The results showed that Georgie is, in fact, 100% Cavalier. It also indicates your dog's genetic diversity and level of inbreeding, explaining how closely related his ancestors are. The lower the percentage, the healthier your dog is likely to be. They compare the gene diversity to other purebred dogs in the Embark database. The test provides a wolfiness score and predicts your dog's age in human years (Georgie is 13 months old, the equivalent of 18 human years).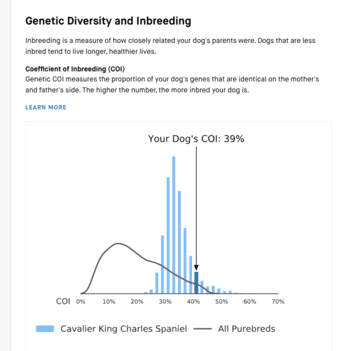 The relative finder shows other dogs who took Embark's test and ranks them by those who share the most DNA. Georgie has a 64% overlap with another dog who lives in the same geographic area. Using Embark's messaging, Sadie reached out to the dog's parents and confirmed the dogs are related (Georgie's grandfather was the other dog's dad).
Embark gives a detailed report of health conditions your purebred is at risk for if any. Georgie inherited both variant copies for Intervertebral Disc Disease (Type 1). Your summary provides an in-depth interpretation of the health results, what having the variant could mean for your pet, and how common it is for your breed. You also receive an email from a Veterinary Geneticist at Embark with more details.
All the results are sharable via PDF, public link, or email, making it easy to send to your vet, breeder, or anyone else who might be interested in the results. You can also change your privacy settings to keep the information private.
How Does Dog DNA Testing Work?
Check out Embark's video to see how their dog DNA test works and what it can tell you about your pup.
Is The Embark Dog DNA Test Worth It?
Embark is slightly more expensive than its competitors. However, if you want to know all you can about your dog and feel confident in the results, we believe Embark is worth it. Its genetic health screening is, paws down, the best you'll find for an at-home dog DNA test (Embark blows other DNA dog tests out of the water). You also get breed identification results from the same DNA test.
Be sure to check out our dog DNA test reviews and best dog DNA test article to see how other tests compare to Embark. Learn more about Embark DNA in our interview with its veterinary geneticist and also with its co-founder Ryan Boyko.
If you genetically test your dog and find that it is predisposed to certain chronic illnesses, you may consider pet insurance. Read our pet insurance comparison to see which company we ranked #1.
Tagged With: DNA, Review