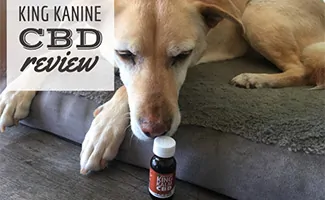 CBD oils and treats for dogs are one of the fastest-growing, all-natural remedy trends this year. Based on what pet CBD experts say, one of the most trusted manufacturers for these products is King Kanine — a company founded in 2015 that specializes in a select few all-natural pet CBD and grooming products.
King Kanine claims their products contain the purest CBD (0% THC) and all-natural ingredients you'll find, but do their oils, treats and other CBD products — and company practices — live up to what they promise?
King Kanine Review

Product Name: King Kanine
Product Description: King Kanine offers pet CBD products.
Summary
King Kanine produces effective and safe CBD and other all-natural products for your pets. Their commitment to quality and transparency regarding ingredients and testing results establishes them as a dependable producer of some of the purest and best CBD oils, treats, and topicals available. Although their products may be expensive, compromising purity and safety to save money is not advisable.
Our team determines the overall rating based on several factors, including quality of CBD and ingredients, variety of products, third-party testing of products, pricing, customer support, and more.
Pros
Fully tested by a Certified ISO-17025 Lab (all results available on website & with product packaging)
CBD derived from non-GMO and organic hemp
All CBD & ingredients are pesticide and solvent-free
Gold-standard CO2 process used to extract CBD from hemp plants
Treats are cooked at a low heat to maintain quality
Treats made from all-natural, organic, and gluten-free ingredients
CBD oils and treats are for dogs and cats
Made in the USA
30-day money-back guarantee
Cons
Treats are expensive compared to other CBD dog treats
Treats only available in one strength (3mg CBD)
Some negative reviews about poor customer service
Key Features
Learn More About King Kanine In Our Interview With Its Co-Founder
Products & Pricing
Shipping is free in the U.S. with all orders over $100. Products ship within 1-2 business days.
CBD Products
KING KALM CBD Oils (For Dogs & Cats)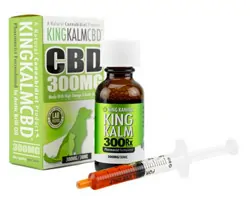 Each bottle contains 30ml of CBD oil. The following prices are based on the concentration of cannabidiol in each bottle. Ingredients include naturally occurring broad-spectrum CBD and arctic krill oil.
Click here to jump down to our dosing section to know which bottle to purchase (based on your pet's weight) and more information about CBD oil dosing.
KING KALM Crunch (For Dogs & Cats)
These all-natural CBD cookies for dogs and cats are formulated by licensed pharmacists with naturally-derived cannabidiol. Each treat contains 3mg CBD, and there are approximately 30 treats in each bag.
KING KALM Soothe
This 4-oz topical CBD anti-itch spray reduces inflammation and soothes pain and itching due to dermal abrasions, hot spots and dry, cracked skin.
Ingredients include CBD oil, aloe vera, chamomile, tea tree oil and colloidal silver.
KING KALM Balm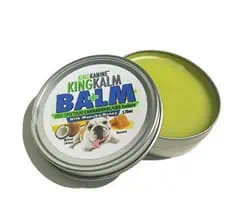 Use this 1.75-oz jar of topical CBD balm to moisturize your dog's paws and to help protect their feet from rough terrain, hot pavement or when it's snowy and icy.
Ingredients include natural beeswax, CBD oil, coconut oil, manuka honey and essential oils.
KING KALM CBD Mange & Mite Management Spray
Helps soothe pets suffering from skin or paw problems. The spray includes CBD and soothing antibacterial ingredients. It works well in treating mange in dogs and ringworm in cats.
Pet Grooming Products
KING KLEAN Natural Dog Shampoo
This 16-fl-oz all-natural dog shampoo is hypoallergenic, eco-friendly and non-toxic. Ingredients include coconut oil, jojoba oil, lemongrass, aloe vera, olive oil and rosemary oil.
Klean Paws
This 1.75 oz foaming pet claw cleaner is non-toxic and formulated to kill 99.99% of all bacteria and germs that dogs carry around daily. It also kills ringworm and roundworm (post-larval state) and softens paws. Active ingredients include Benzalkonium Chloride (BAC) and Triethylene Glycol.
KING KOMB Deshedding Tool
KING KLEAN Pet Bed Spray
Deodorizes your pet's bed and eliminates odors left on other fabrics like furniture and auto upholstery. Kills 99% of bacteria and has a natural lemongrass scent.
KING KLEAN In Between Bath (Pet Odor Eliminator) Spray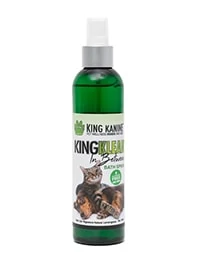 The aloe vera and lemongrass scent is gentle on pets leaving their coat feeling smooth and smelling great.
Coupon
Learn about the latest and greatest King Kanine promos at our dedicated King Kanine coupon page.
King Kanine CBD Oil Dosing Guidelines
Knowing which concentration of CBD is right for your pet and how much to give him can be confusing, for sure. Here are some helpful guidelines from King Kanine, but consult with your vet before giving your dog any amount of CBD.
Which CBD Oil Bottle Do I Purchase?
How Much Do I Give My Pet?
Individual dosing depends on your pet's exact weight, existing health conditions and whether you're using CBD for general wellness, therapeutic effects or for medicinal purposes. Each KING KALM CBD oil comes with a detailed dosing chart. You can also find this chart on their website on each individual CBD oil product page (just to the left of the product's picture — click on the chart to enlarge).
How Often Should I Give It?
King Kanine recommends administering CBD oil 1-2 times a day. Their website also includes this advice: "Due to recent studies and customer reviews, splitting the recommended dose into two servings has proven most effective."
How Do I Use The Syringe?
Check out this brief video to see how to use their oral dosing syringe.
Personal Account Of King Kanine CBD Products
The founders of this website have a 12-year-old, 50 lb Lab mix, Bella, that suffers from arthritis pain. They use King Kanine's CBD Oil (150mg) daily and also tried the King Kalm Crunch Blueberry Apple Flax Blaze treats.
Bella responds well to 1.5 mg a day of the 150mg CBD, and luckily, 1.5 mg of the 150mg CBD oil is equivalent to about 1/2 a treat, so they can be used interchangeably for Bella. She loves them both — the treats, because, what Lab doesn't love treats? But, she also loves the oil because it is mixed with krill (fish) oil, making for a tasty snack as well.

Bella is noticeably less restricted in her movements and can do more exercise on days when the King Kanine CBD products are administered. The best part is that we don't have to worry about side effects since there are no known concerns.
Our Final Verdict
King Kanine's CBD and other all-natural products are effective and safe for your pets. Their devotion to quality and transparency of ingredients and testing results makes them a trustworthy manufacturer of some of the best, most pure CBD oils, treats and topicals you'll find.
While their products don't come cheap, you don't want to trade purity and safety to save a few bucks. We want only the best for our furry friends! Be sure to see how King Kanine compares to other top manufacturers in our article, best CBD oil for dogs.
Tagged With: CBD