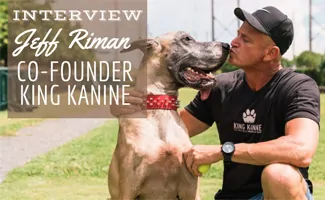 The CBD (aka Cannabidiol) industry is growing in the dog industry and beyond. And for a good reason. Its natural healing properties are an effective way to treat health issues, decreasing pain and anxiety in canines.
King Kanine (one of our top picks for best CBD oil for dogs) is at the forefront of this frontier and is setting a "high" bar for others with its high-quality sourcing, testing and standards. Learn how the company got started in CBD, more about its mission and what's next for the company in our interview with King Kanine's co-founder and CEO, Jeff Riman.
What is the origin of the King Kanine name?
While creating a de-shedding tool for my Great Dane Mojo and looking for the name that most fit the product, the word king always came to mind. Mostly because I consider him the king of all dogs due to his size and presence. The word king stuck.
Describe your CBD industry path. What have you learned?
Our mission was always to have natural products, especially after creating our King Klean shampoo. We noticed that shampoos and other pet products were using ingredients that were synthetic and very possibly unhealthy for pets such as petroleum, alcohols, etc.
As we got more involved in natural and organic solutions for our pets, we were introduced to cannabidiol by a professional athlete who was getting involved with CBD due to its therapeutic and natural properties.
After learning how the ECS (endocannabinoid system) works and knowing we were looking for a more natural therapeutic solution for our pets, we knew we had to be involved for the sake of our pets and others' (pets).
How is CBD regulated and how do you ensure you meet legal requirements?
It has been the utmost importance to lab test our formulation, dose quantity, and purity. By doing so, we assure our customers and retailers that if they are selling or buying directly from us, they are getting the best product available.
All King Kanine CBD products are independent third-party lab tested. These stringent Full Panel Tests include a Certificate of Analysis. By doing this, we are both self-regulated and setting an industry standard.
Where do you source the plants and how do you extract the CBD to make oil?
Although our sources and processes are proprietary, we use a supercritical CO2 extraction method for our raw goods.
What are your best-selling items? Why do you think they're popular?
Thankfully, all our CBD products sell very well. If we had to choose our top picks, we would say it was our King Kalm CBD 300mg oil and our King Kalm Soothe spray. The 300mg oil is our strongest concentration and works best for larger pets and those suffering from very serious ailments.
Customers want the best for their pet, so naturally, it seems that they are choosing the strongest concentration for healing. The King Kalm Soothe has proven to be an alternative for those wanting natural relief for their pet's itchy skin, allergies and other topical issues.
What's the difference between a topical and edible CBD product?
The difference between a topical and an edible is the absorption mechanism.
A topical CBD oil absorbs through the skin and heals from the outside.
An edible CBD oil is digested and heals from within.
CBD is proven to heal both internally and externally, so the choice is mainly based on the issue that the pet is having. Both have proven to work, and that is why we have products that heal in various ways.
What challenges has King Kanine encountered and how has the company overcome?
One of the biggest challenges we've had was the introduction of our CBD products. When we first started to promote these items most people didn't have a clue what it was and the few that did also confused it with Marijuana. Getting people to understand that there is no psycho-active component in CBD and that their dog won't get high was what we talked about most.
King Kanine has received many awards in a short period. To what do you attribute this success?
We think that there are three factors in being successful in the pet space these days: Quality, transparency and credibility. King Kanine has worked hard to establish each of these qualities, and it didn't take long for the industry and even other pet owners to notice this. Giving us these awards was a way for the industry to acknowledge companies that are also helping to create this change.
What do you see in the future for the CBD industry (for dogs and otherwise)?
No question the CBD industry will continue to grow and develop. There is new technology and ways to formulate CBD that will be even more effective. Nano-technology being at the forefront.
We think the goal here would be to have some of the best products with the highest efficacy. If we do this right, there will be so much less need for synthetic or prescribed meds that can be toxic.
Video: Interview with Jeff Riman and Lynnette SanMiguel
Jeff and his co-founder Lynnette recently sat down with High Times to discuss the medicinal qualities of their products and why it's not "weed for dogs."
What's next for King Kanine?
Ironically what's next is more of what we've been doing: Sustaining. We will continue making the products as clean and pure as possible. We will also continue catering to our customer's needs, offeringr them the best natural solutions.
We will be developing new products for early 2019 and hope to be at the forefront of the natural and CBD pet space.
Thanks Jeff for taking the time to share your valuable insights. Learn more about King Kanine in our in-depth review, the best CBD Oils for Dogs and 8 things you should know about marijuana and dogs.
Tagged With: