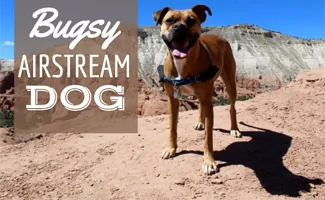 Bugsy the Airstream dog loves adventure! That might come as a surprise to anyone who knew her when she was plucked from the winter streets and brought to the pound in 2015, terrified, starving, and sickly. When she first came home, she was scared of everything outside: loud bangs, people, cars, trains, bikes – basically anything that moved or made noise.
Packing a skittish beastie into an Airstream and roaming around the country didn't make complete sense, but in each new place, she relaxed and blossomed more, and soon became a confident, expert traveler. Now she's a fun-loving, hiking, trail running, swimming, diving, and stand-up paddleboarding fool, who splits her time between her Airstream located (often but not always) near Charlottesville, VA, and a cabin on Smith Mountain Lake, VA. While she's super enthusiastic about life, she also loves to eat and sleep and is an all-around amazing dog. Get to know Bugsy in our latest Top Dog interview.
Tell us a little about your recent cross-country adventure
Hi, Canine Journal readers! I'm Bugsy, a rescue dog from Virginia, and I live with my two humans in an Airstream. Last Spring the three of us set off from Virginia on an epic three and a half month loop south through Texas to Arizona, up into Utah and Colorado, and back east via South Dakota and Michigan.
We started the Airstream Dog blog to share our trip with our family, and along the way, we found that there's a lack of information out there regarding RVing and visiting National Parks with dogs. So we expanded the blog to cover those topics in the hopes of helping other travelers. For example, did you know that in most National Parks, dogs are only allowed where cars can go? Outrageous! After returning to Virginia, we moved into the Airstream full-time! So I am truly an Airstream Dog.
How did you and your parents find one another?
It had been a year since my parents lost my predecessor, a black Lab named Vader, and they were in the very early stages of considering a new dog. They came to the pound for a casual meeting with a different dog with whom they did not click, and as they walked by the cages on the way to the exit, our eyes met, and that was that. I was emaciated, terrified, had dandruff, scars, and kennel cough, but my happiness when I got to chase a ball in the pound's yard was contagious!
What is the coolest place you have visited and why?
I love to hike! My favorite stop on our big cross-country trip was Grand Staircase-Escalante National Monument in Utah. It has the incredible scenery of the nearby National Parks but is dog-friendly and way less-traveled.
What do you love most about traveling around the country in an Airstream?
Seeing and smelling new places (and wacky new animals, like elk and bison) is so exciting. We hike or run in every destination, so I get to explore a lot. However, I get a little scared of people (unless I know you, then I love you), so meeting new neighbors at each stop is a challenge for me.
Video: Dogs of Airstream
Bugsy isn't the only one who loves riding in the silver bullet. Check out this quick video montage of other cute pets who live life on the road.
What's your best dog travel tip?
I have so many tips to share! Here are three important tips (and I am assuming you already know the rules about leaving your dog in the car to prevent heat stroke).
First, if you think you may want to pop across the border into Canada or Mexico from the U.S. (we live in the U.S.), bring proof of rabies vaccination to show at the U.S. border when coming back in.
Second, if you're staying at commercial campgrounds, be aware that some campgrounds discriminate against certain breeds, and some have size restrictions. Be sure your dog fits the campground rules before committing. (We travel with my DNA test results in case I need to prove what I am made of).
Third, keep some dog food and water in the car, so if we're all out exploring and having fun and it's getting close to dinnertime, we won't have to call it a day and head home just so that I can eat.
What's your best trick?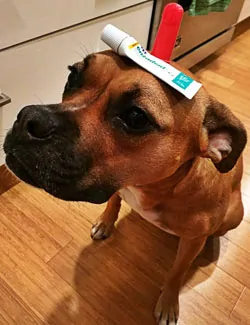 On rainy days in the Airstream, we do tricks to keep me from getting bored and driving my parents crazy. I just learned bow and spin, but my best trick is my ability to balance anything on my head!
What do you feel is your best feature and why?
My big, brown, intelligent eyes, which compliment my toothy underbite smile.
What is your favorite sport?
I may not look it, but I'm an expert swimmer and diver! Dock diving is my favorite (my parents credit my quarter Labrador for that).
What is the most important message to share about your way of life?
Airstreaming (well, RV travel in general) is wonderful because when you travel with an RV, you're bringing your house with you! That's easier on the dogs and the humans. It allows you to make any new destination your home for as long as you'd like.
Is there anything else you'd like to share with our readers?
Get out there and find your adventure, and bring your dog along for the ride!
Amen to that Bugsy and thanks again for taking the time to share your paw-some adventures with us. Check out more tips for being on the road with pups in our dog travel articles. You can also follow Bugsy on Instagram!
Tagged With: Adoption